At the T-junction of the present-day Via Nazionale and the Via Vittorio Emanuele Orlando in Rome, lies the Piazza della Republica. Glancing up from your Café Latte you will see a large but somewhat nondescript Romanesque building – part ruin, part cathedral and part museum. This is what remains of the largest civic bathhouse in ancient Rome – indeed the largest in the Roman empire. In fact, Baths of Diocletian is probably a bit of a misnomer, because they were actually built by Diocletian's co-emperor, Maximian, though Diocletian was the senior of the two and pulled the political strings for both of them. Oh, and I might have misled you about Seneca — he did live above some baths, but not these ones, as he died 250 years before Diocletian's co-Emperor built them 🙂 According to Chris Legare, a possibility is that he might have lived within the Baths of Agrippa, located right behind the Pantheon in the Campus Martius area of Rome – these baths were completed in 25 BC.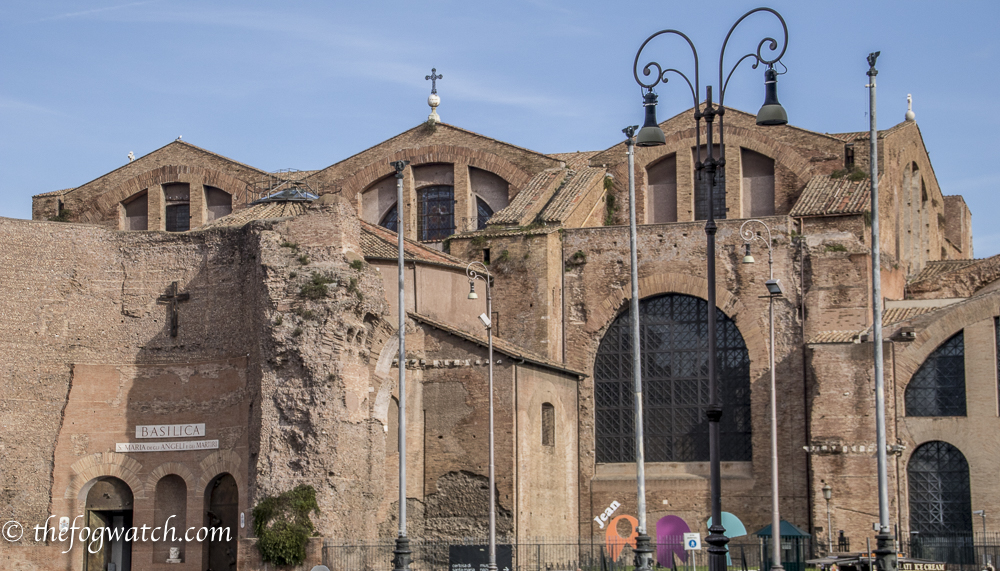 The baths were in part a response to a series of public health crises that regularly brought Rome to a standstill. Rome was built on a drained swamp, and mosquito and water-borne diseases were rife. Previous emperors had recognised that hygiene played a role in disease control, and so, in addition to running water, and an enormous sewer system – the Cloaca Maximus – a series of public baths were built for the general population. And it became part of the daily routine to socialise at the public baths before returning home to dine, or before eating at one of the many restaurants and fast food outlets along the Roman streets.
Little did the Romans realise that while their intentions were sound, their knowledge of sanitation engineering was flawed. The sewer water and the stormwater ran through the same system, so any blockage meant that raw sewage flowed down the streets – which particularly in Summer, must have stunk unbearably. In addition, the system of baths with their flow-through of hot, tepid and cold water provided the perfect breeding ground for water-borne bacteria, leading to a series of deadly epidemics, which decimated Rome's population. These included malaria, tuberculosis and typhoid fever, as well as various forms of gastroenteritis.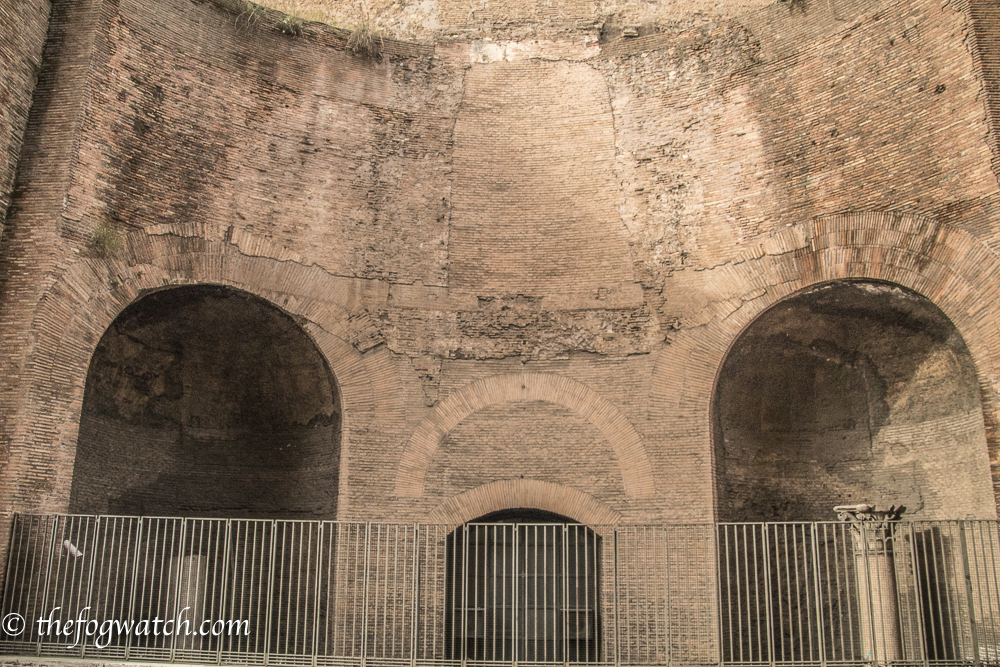 Seneca, for his part, was a Roman Stoic philosopher, statesman and dramatist – and was known for writing quite bluntly about life in Rome. He had a fashionable apartment overlooking or perhaps above the Diocletian baths complex – which included a gymnasium, sauna, the baths, two libraries and doubtless a brothel. The complex was built to cater for the rapid population growth in that part of Rome, so it was a busy new centre just up the road from the Forum. And Seneca hated them. It wasn't that he was averse to taking a bath – hygiene was important to all Romans, but he was often disturbed by the noise. The equivalent today would be having an inner-city apartment next door to a large fashionable hotel which hosted a loud rock band every night.
In a letter to Lucilius (number 56), Seneca observed:
Beshrew me if I think anything more requisite than silence for a man who secludes himself in order to study! Imagine what a variety of noises reverberates about my ears! I have lodgings right over a bathing establishment. So picture to yourself the assortment of sounds, which are strong enough to make me hate my very powers of hearing! When your strenuous gentleman, for example, is exercising himself by flourishing leaden weights; when he is working hard, or else pretends to be working hard, I can hear him grunt; and whenever he releases his imprisoned breath, I can hear him panting in wheezy and high-pitched tones.

Or perhaps I notice some lazy fellow, content with a cheap rubdown, and hear the crack of the pummelling hand on his shoulder, varying in sound according as the hand is laid on flat or hollow. Then, perhaps, a professional (sports commentator) comes along, shouting out the score; that is the finishing touch.

Add to this the arresting of an occasional roisterer or pickpocket, the racket of the man who always likes to hear his own voice in the bathroom, or the enthusiast who plunges into the swimming-tank with unconscionable noise and splashing. Besides all those whose voices, if nothing else, are good, imagine the hair-plucker with his penetrating, shrill voice, – for purposes of advertisement, – continually giving it vent and never holding his tongue except when he is plucking the armpits and making his victim yell instead. Then the cake seller with his varied cries, the sausageman, the confectioner, and all the vendors of food hawking their wares, each with his own distinctive intonation.
I've no doubt we can all relate to the weight-lifting poseurs, the loudly broadcast sports channels and the bathroom singer, and I can just imagine all that being magnified as they try to out-do the raucous din of late-night drinkers and spruikers!
Of course, all that has passed into history, and now a majestic Catholic cathedral designed by Michaelangelo occupies what was once one of the libraries, thereby turning a profane place of excess and debauchery into a sacred and tranquil space.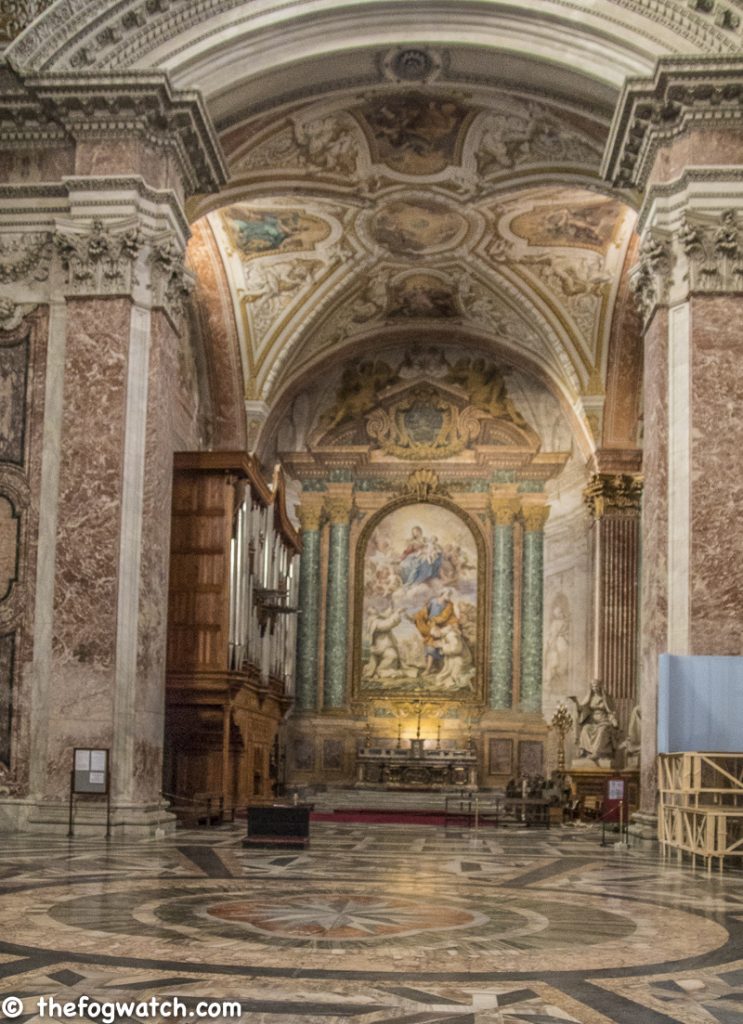 In addition to the interior, Michaelangelo was also commissioned to design the accompanying cloister and Charterhouse. The cloister was likely entrusted to a pupil, Giacomo del Duca, as Michaelangelo died in 1564, and work commenced on the cloister a year later. It was completed in 1600. It is likely that Giacomo de Duca was involved at least at the beginning, though it is unclear if he saw the completion. In the end, it was an extraordinary piece of architecture.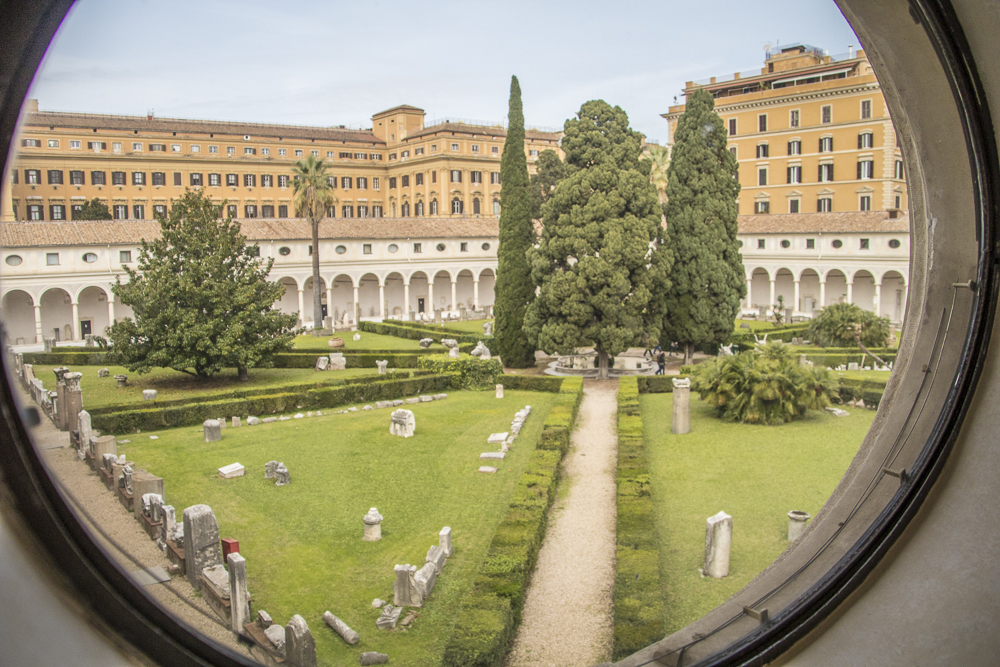 Diocletian came closest, perhaps, to wiping out Christianity in ancient Rome, through persecution and torture of Christians in an effort to reinstate the old pantheon of gods. So it is with some irony, that the very religion that Diocletian tried so strenuously to suppress, now occupies a building intimately linked to Diocletian's name.