The Well-Stocked Kitchen – painted 1566
In 1566, the painter Joachim Beukelaer warned us about the dangers of Facebook, Pokemon-Go and distractive technologies. Perhaps not literally, but he illustrates the point beautifully in his painting: The Well-Stocked Kitchen. In this painting, we are drawn first to the kitchen maids in the foreground, then to the abundant display of food.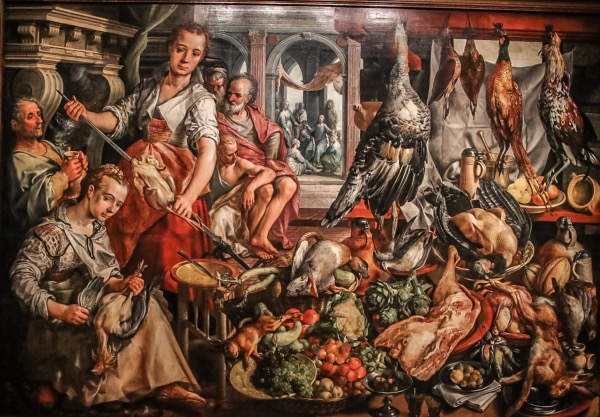 All of this is designed to show us how easily we are distracted from perhaps the more significant scene deep in the background – which is a representation of Christ visiting Martha and Mary. But of course our attention has been drawn by the brighter colors, the shiny objects, the sensual world, and it would be easy to miss the figures in the background and their significance.
Modern sources of distraction
So too, today, we are easily distracted by the latest car, the latest smart device, the most colourful and shiniest of toys. All of which can easily blind us to more basic human values, and the actual world around us. How often do we see people sitting together deeply engaged in text communication with other people, far removed.
Now, there may be good reason for such behaviour at times – when we simply can't be physically present with our significant other, or perhaps there are urgent arrangemements to be made, that simply can't wait until after our companions have departed.
Perhaps our attention is so arrested by the succulent artichokes and onions and meaty delicacies embodied in a 60+ Hertz refresh-rate on our screens, that we fail to notice our companions have each fallen silent and that they too are gazing and tapping like urgent woodpeckers on their smart devices in deep communication with others not physically present.
There is clearly a place for such technologies. The challenge is to know when to switch them off and foreground those who willingly share their presence with us despite the lure of the endorphin-inducing screen – or a well-stocked kitchen.