Amsterdam is very bike friendly and you can hire bikes at reasonable rates – or buy a used one from €50 – and maybe sell it at the end of your holiday. There are special lanes for bikes (which are also used by motor scooters(!)) and they seem to mostly have right of way. Amsterdam is also pretty flat so a push bike can be a pretty good option – if you can stay aware of the tram lines!
But there is another 2-wheeled option – a tour by Segway – these are the self-balancing scooters with side-by-side wheels. And they are very intuitive and great fun to ride. The only requirement is that you are able to stand for about 2 hours – for this reason the tour companies have both a lower and an upper age limit (16-70 years).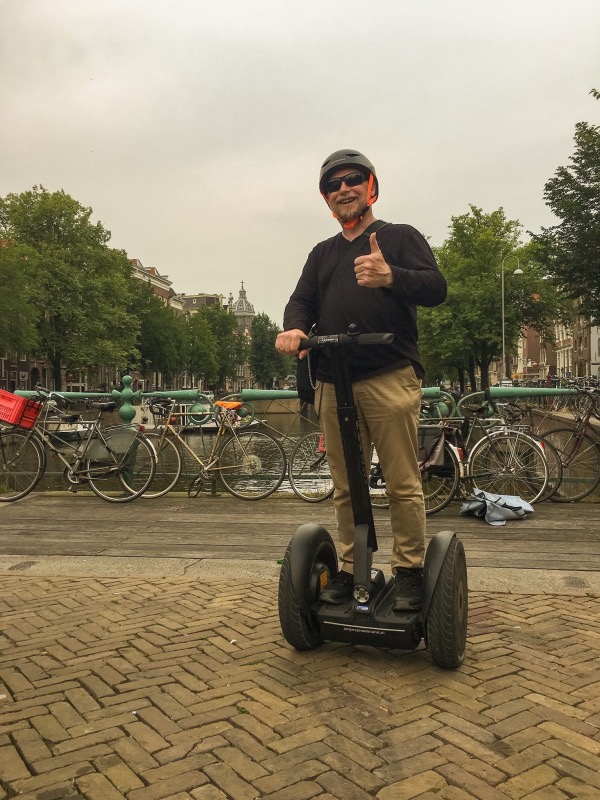 Bookings are essential and the meeting place is on IJDok near the Centraal railway station. I took the tram to the station. Trams are another great way to travel since they are modern, quiet and comfortable. And soon I joined the tour leader, his student and the other tourist (it was a week-day).
After a few minutes practice (both of us on the tour had ridden them before) we had a safety briefing then off on a follow-the-leader tour. We broadly followed the path of one of the main canals – with some detours to places of interest. We explored the 'golden age' architecture and headed into the museum quarter – including a run through the tunnel that goes through the Rijksmuseum where we could see the box designed to lower Rembrandt's 'The Night Watch' to safety in the event of a fire or flood (much of the Netherlands is below sea level).
Honestly, the Segways are so much fun it almost didn't matter where we went as long as we could glide along leaning gently in whichever direction we wanted to go.
Our host gave knowledgeable and amusing commentary on the highlights which took in many canal crossings on small bridges, down narrow streets with cafes and shops, and on some streets which were filled-in canals. One we stopped at was filled in because the river flowed much faster than the canal water – which stagnated and stank so much the locals petitioned to have it filled in.
There was a story of how Amsterdam's flag came to be – it is three XXX with a line through. The story goes that the three Xs (or Saltires) refer to the three 'Dangers' faced by old Amsterdam – fire, flood and bubonic plague. Apparently a fire in the 1300s led to an ordinance mandating that all subsequent buildings were to be in brick – so there are now only a couple of timber buildings left in the whole city.
There was also a story of Napoleon's occupation in the early 1800s. Napoleon gave the Kingdom of Holland as it came to be known, to his brother Louis to govern – thinking it would be a puppet kingdom. But Louis found the Dutch more to his liking, and he increasingly came into conflict with Napoleon for taking the Dutch side over his brother's.
We saw Anne Frank's house and the old Jewish district, as well as the Chinese quarter. We also passed the Vondelpark – the famous green belt with its ponds.
And so we glided from place to place, taking in the views and the stories until it was time to head back – definitely €65 well spent. In this case the tour operator was 'BestDam Segway Tours' – which has consistently received good reviews on Tripadviser.
I thoroughly recommend this tour (Disclaimer: I have no affiliation with this company and received no benefit from them).