The Camino de Santiago (French way/Camino Frances) is an 800km/500 mile trek. It is a traditional Christian pilgrimage route from southern France, over the Pyrenees, and across northern Spain. The route is open for anyone to walk, whether for fitness, tourism, spiritual or religious reasons.
The distance is not to be undertaken lightly and it is important to keep your backpack as light as possible – after all, you will be carrying it for around one million steps over a wide variety of terrain and weather conditions.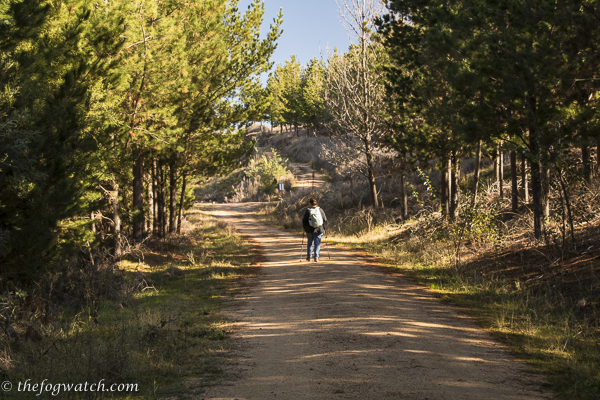 Accommodation is typically in municipal or private albergues, or hostels. So at least you don't need to carry a tent or your own cooking utensils, but by all accounts, it is a not insignificant trek.
I made a video showing what I have chosen to pack – your mileage may differ (see below) 🙂
Some people view the Camino as an opportunity to unplug from the world and escape the frenetic pace of contemporary society. Indeed some are critical of those who stay in touch through social media. For me, social media provides a means for my family and friends to follow our progress; and a chance for me to share with others this great experience – and perhaps inspire others to consider walking their own Camino.
One of my passions is photography. Most people take a phone/camera or small point-and-shoot camera. These can produce great images, especially in good light. But for me, they are not great in low light, and many interiors such as churches or museums challenge those cameras. So my one concession to weight is that I will be taking my DSLR camera, albeit with just one lens.
Pilgrims in past ages would travel from place to place and keep journals, write letters and maintain such communication as they could with those back home. So I see no contradiction in taking some light technology to help deepen the experience through providing access to information, translation of menus, or simple navigation, as well as to communicate with those close to me but distant geographically. For me, there is no distinction between a modern pilgrim asking for wifi and the medieval pilgrims who asked for paper and ink.
I hope this video helps others considering a long trek, such as the Camino – and I welcome comments here or below the video on YouTube 🙂
________________________________________
INDEX – If you wish to follow our journey from the beginning, or jump in to any of the Camino posts,
here is a link to the index page – which can also be found in the navigation bar at the top of this blog
________________________________________
You can have these posts delivered to your in-box by entering your email address and clicking the 'subscribe button to your left, then respond to the confirmation email in your in-box 🙂