Through the medieval town
We set off from our accommodation — a C15th house in the old Jewish Quarter (the Juderia district)— through the narrow medieval streets bustling with small shops selling clothing, spices, nuts, and tourist trinkets, and a few bars with early locals drinking strong coffee and smoking strong cigarettes. Around the corner, heading for the Mezquite cathedral we followed the wall up to the gatehouse. Through the massive gates, we entered a large courtyard with orange trees fed by an intricate system of irrigation channels.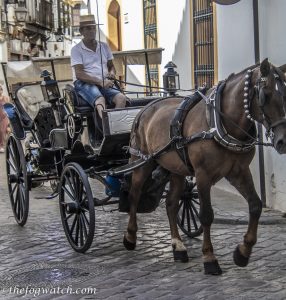 The Roman Stoic philosopher Seneca was born here in Cordoba — which was once a thriving Roman town under the patronage of Emperor Octavian, known as Caeser Augustus. This will be surprisingly relevant as we visit the Mezquita (Mosque-Cathedral). 
The sun was hot even this early, and we sought the shade as we queued briefly for an entrance ticket. 
The Mezquite Cathedral
From the outside of the Mezquite cathedral, the building looks quite low and relatively nondescript, aside from the bell tower which gave a Renaissance gloss to what was formerly a minaret. But it is the onion-shaped arches that give the clue to this place.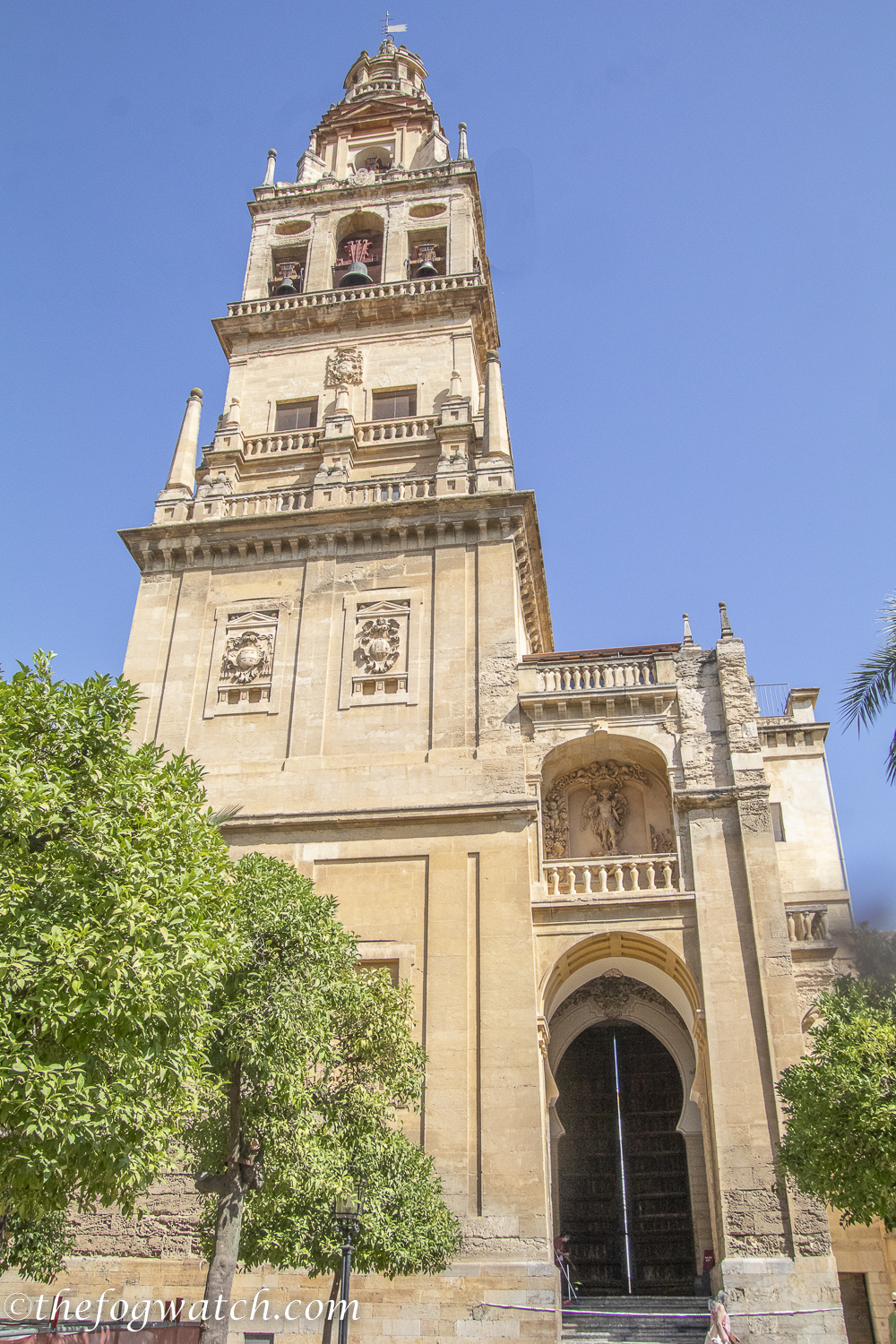 After the Romans were conquered in 507AD by the Christian Visigoths who took over, themselves overtaken 200 years later by the Islamic Moors — made up of Arab and Berber invaders — Cordoba became the capital of the Moslem province of Al Andalus. The mosque was begun in 786 AD at the direction of Abd ar-Rahman I who took control from the governor in 756.
The mosque was completed in just one year, helped along with recycled materials from Roman and Visigothic buildings, notably their columns and capitals. For a while, Moslems, Christians, and Jews shared a relatively tolerant society based on their common Abrahamic religious roots. They studied in the same universities, exchanging science, literature, and philosophy. The Arabs had preserved many of the Classical Greek and Roman texts and had advanced mathematics, astronomy, and medicine — giving the West Arabic numerals (derived from Hindu numerals from India) as well as engineering expertise. The intricate stone lacework in the spires of Burgos Cathedral was quite likely derived from observing Islamic architecture.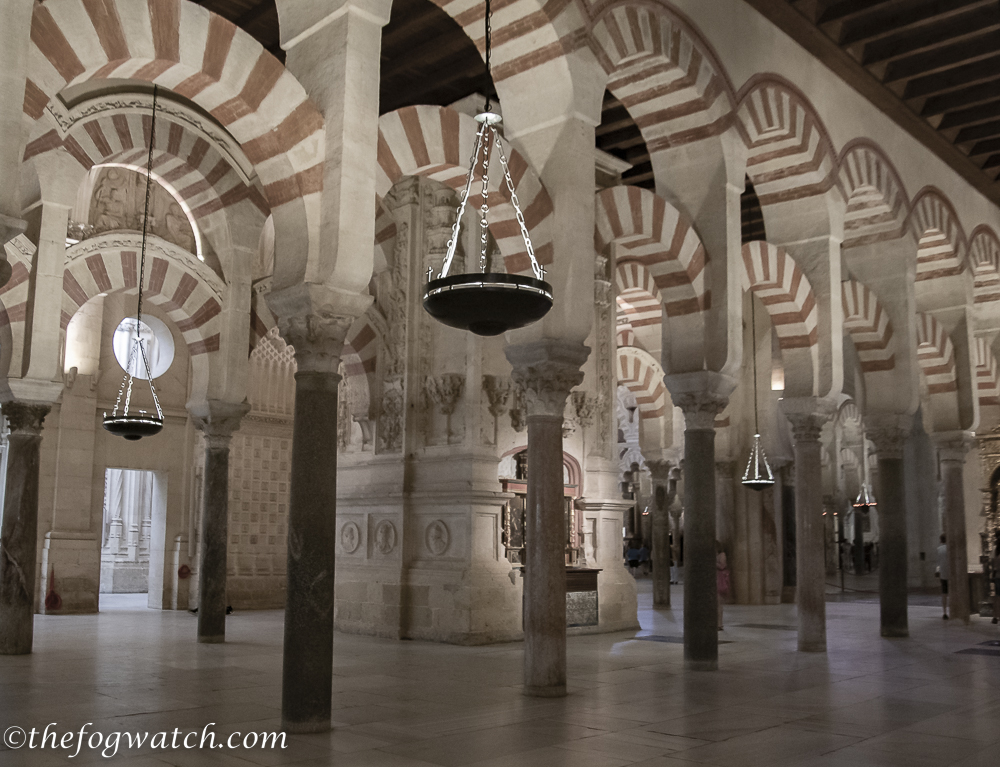 Camino connection
When Charles V pushed south to displace the Moors in 1236, he found and returned the bells stolen by the Moors from the Cathedral of Santiago de Compostella — which the Moors had turned into lamps for the mosque in Cordoba.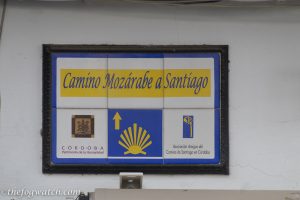 That was a surprising link to the Camino de Santiago from this far-flung town. Cordoba is also one of the Camino starting points for the Mozarabe Camino — a long, dry, and dusty route to Compostella! 
The mosque which became the Mezquite cathedral was built on a square plan, housing a prayer hall and an open courtyard. But the inside is breathtaking! As your eyes get used to the reduced light the first thing you notice is the sense of space – this building covers an immense area and before you is a truly dense forest of pillars and vaulted arches. And, like a forest, there is a certain intimacy as the space is broken up with myriad bays and open corridors. And it is about ten degrees cooler owing to the stonework, the citrus trees in the courtyard, and the grilled windows laced with intricate geometric designs.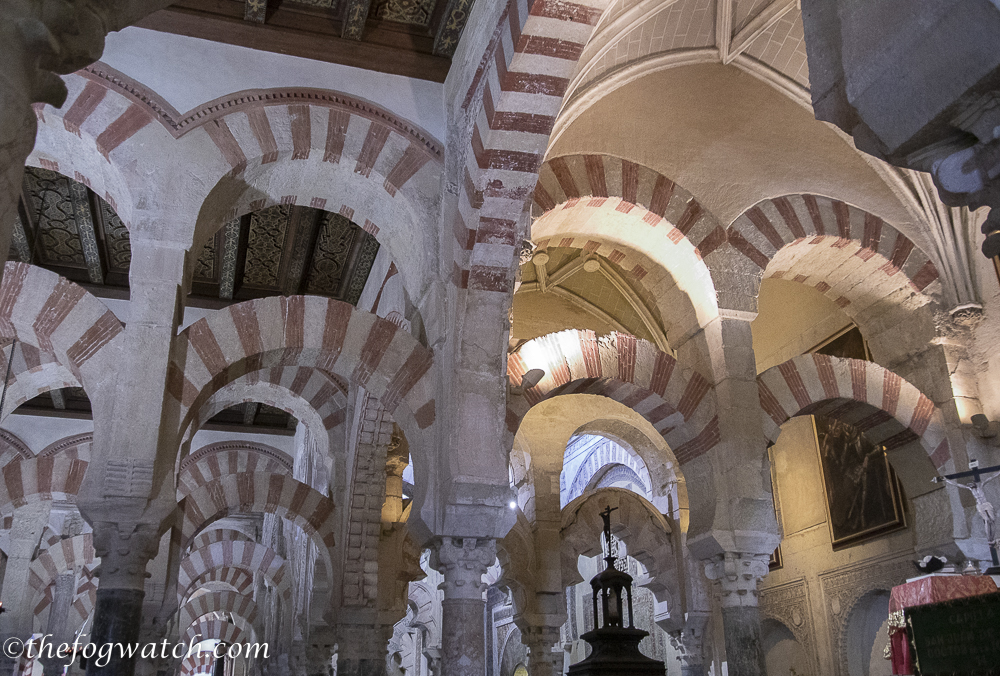 I looked up at the 2-3 layers of arches upon arches and realised that the re-used and somewhat mismatched columns weren't tall enough for what the design needed, so more arches were added above the initial ones. The result is a forest of red and white striped arches stretching off into the distance.
Santiago Matamoros
Looking around for the Cathedral component, I found an altar in the centre of the prayer hall  — it looked like a Renaissance island in a sea of Islamic art. But whereas in northern Spain, the images of St James the Moor-slayer (Santiago Matamoros) are being moved to quieter areas out of consideration for those of other faiths, here, by contrast, St James Matamoros is prominent, sitting proudly to the left of the main altar. Do we sense some Christian insecurity here? Even today?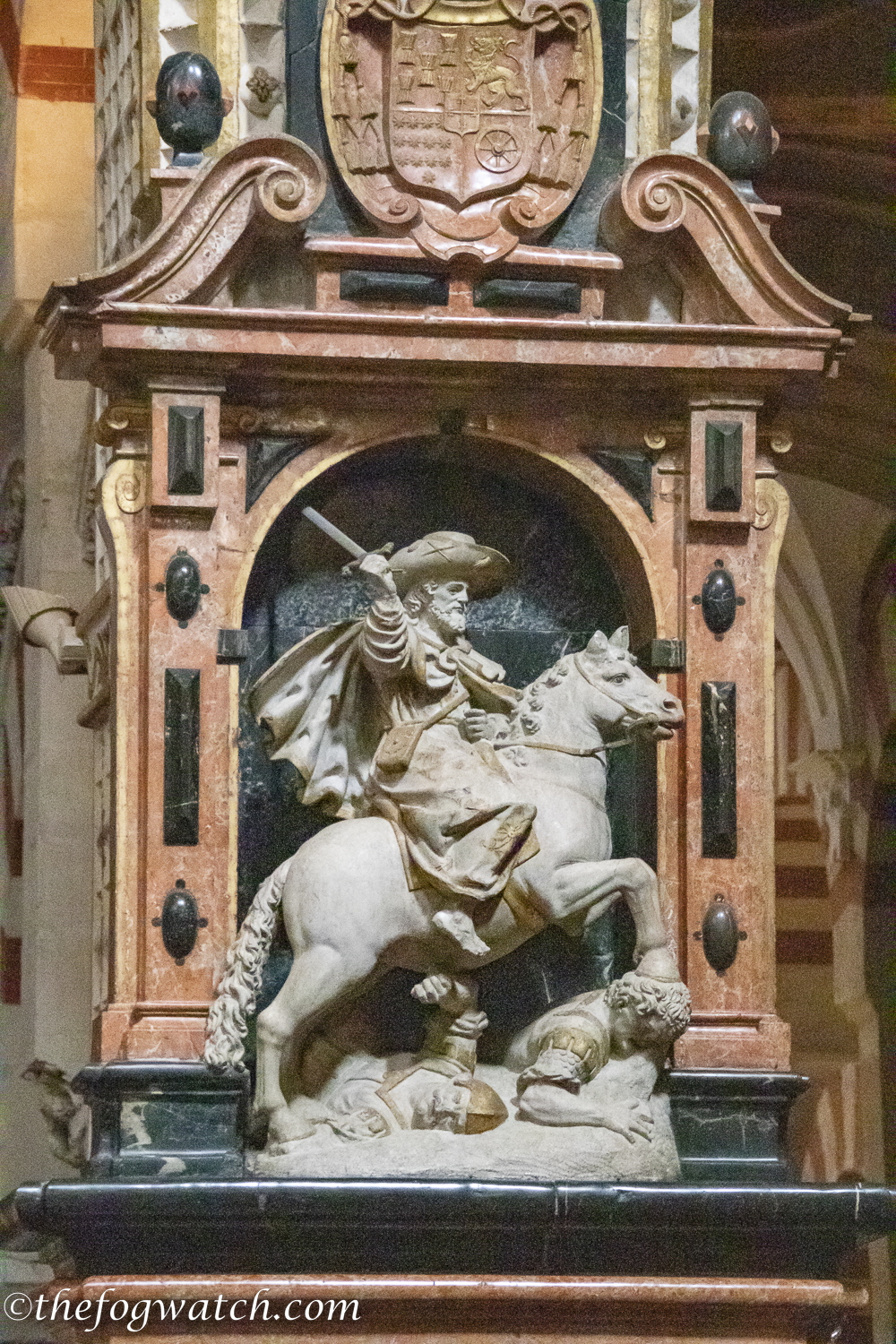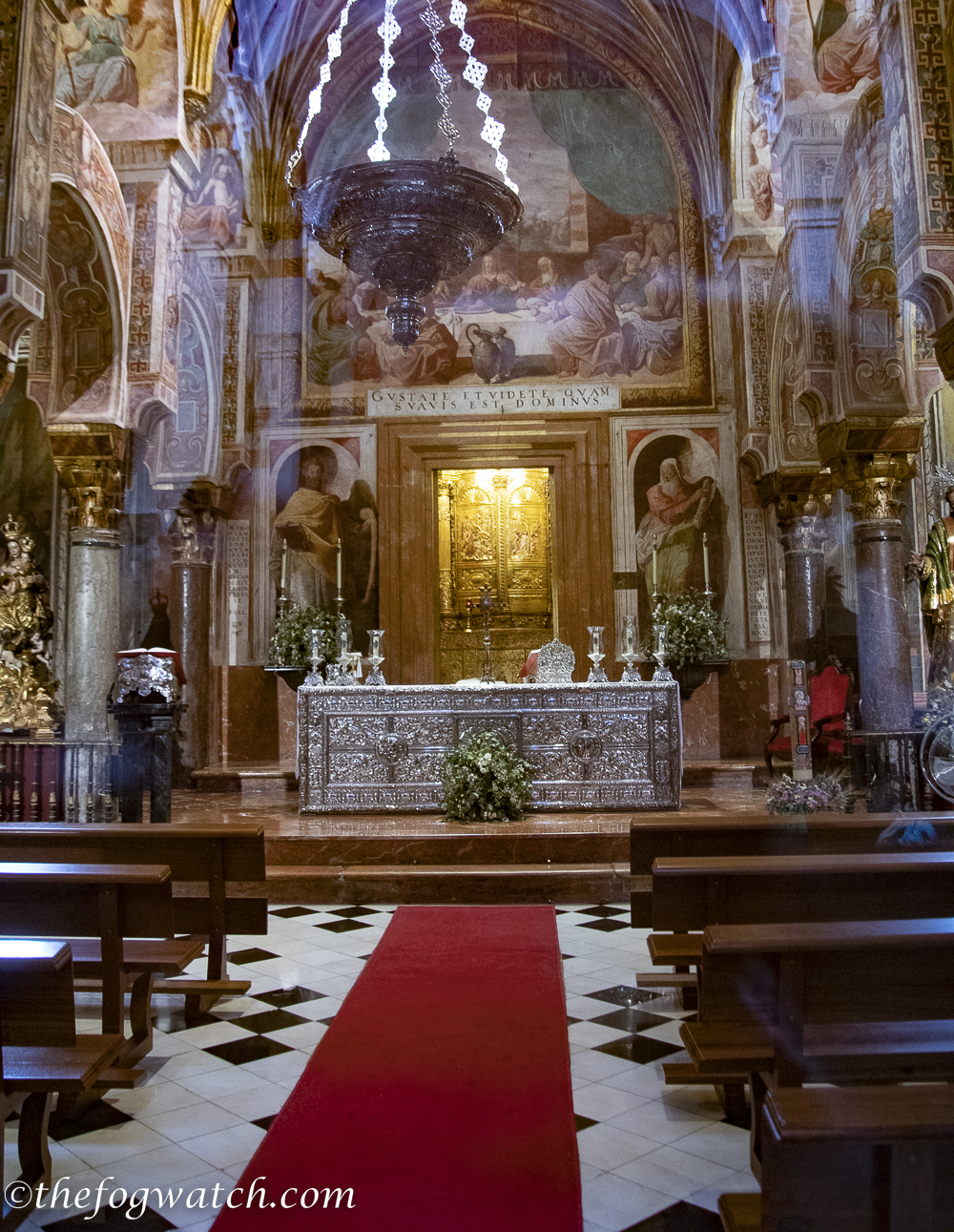 The niches around the outside contain a series of chapels, each dedicated to a particular saint, so, for example, if you've lost something, then a quick prayer to St Anthony (San Anton) should do the trick. Worried about a pandemic? Then San Roque, patron saint of plagues, is your man.
The big surprise for me is how plain and almost crass the Christian bits look after the detailed and intricate geometric patterns of the Islamic decorations.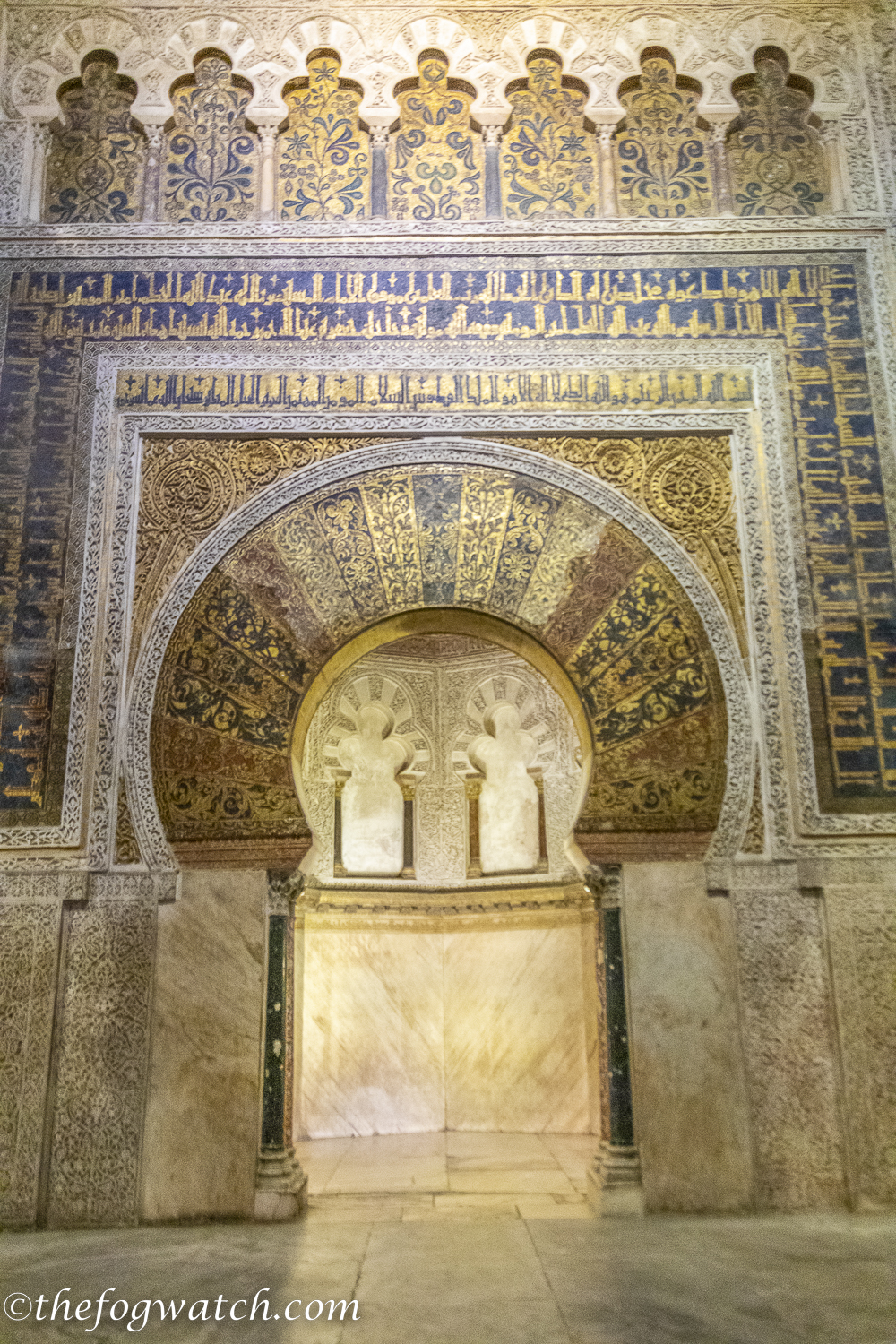 Taking a look down, we see the stones covering the remains of bishops interred in the mezquite cathedral. Several are marked with a skull and crossbones — and no, that doesn't mean they were pirates 🙂 Apparently, in early Christianity, you needed to preserve at least the skull and two thigh bones in order to be bodily raised at Christ's second coming. This minimalist form says a lot about medieval ideas of what it is to be human — the ability to think/perceive/speak, and the ability to move around.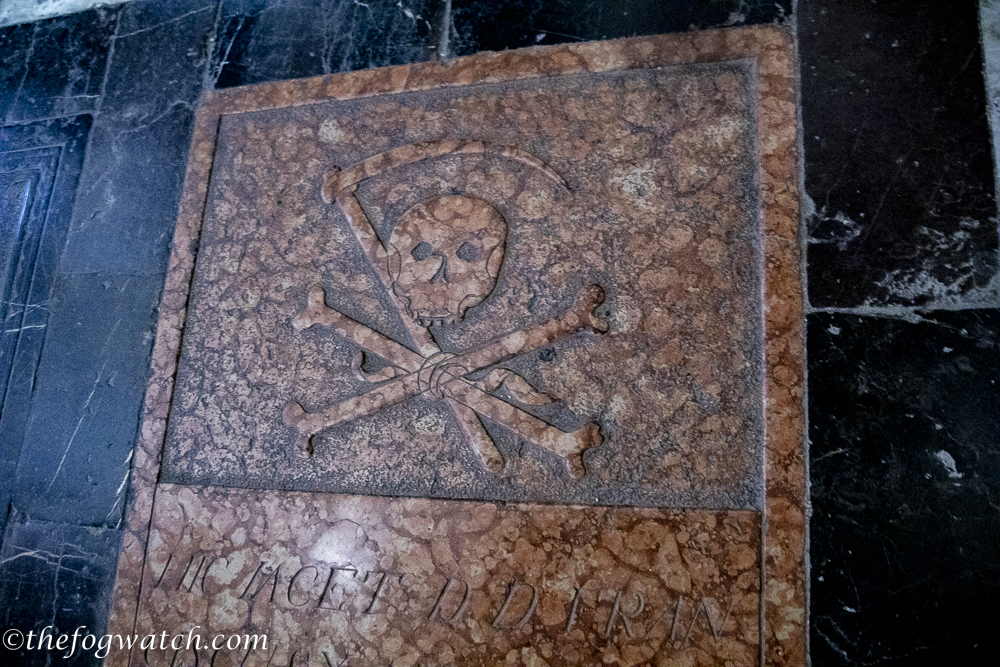 Memento Mori
These memento mori bring us back to Seneca (remember him?). He reformulated Socrates' saying: "Remember, you will die" (a literal translation of 'Memento Mori') as an injunction against procrastination. But it is also a reminder that no matter how wealthy or powerful we think we are, we are only temporary custodians of that power or wealth. When Marcus Aurelius — Roman emperor and philosopher — was given a triumphal procession into Rome, he had an offsider whispering in his ear: "Remember, you will die" — so that he would not become too proud or think himself too powerful. In the end, Death will come equally to us all.
Seneca
Seneca writes to his friend Lucilius: " Let us prepare our minds as if we'd come to the very end of life. Let us postpone nothing. Let us balance life's books each day… the one who puts the finishing touches on their life each day is never short of time." There's a lot in this — if you think that each day could be your last (and one day it will be) then putting things off until later may mean things are left undone. If you sleep on an argument, there may not be a chance for reconciliation. So seize the day! This message was sadly underlined by two deaths back home in my own family within two days of each other, while we were traveling. Memento Mori is an effective way to refocus one's priorities!
Also, if at the end of the day you can review, and say to yourself "I have done everything I could and to the best of my ability", then you will sleep well and you won't be stressing over things you meant to do but didn't get around to. And it's a reminder not to get too caught up in one's dreams for the future — unless you are taking concrete steps right now to achieve that future. And at the same time, Seneca is telling us not to let anxieties about the future get in the way of the present. The future we are worried about may never happen. But here we are, now, in the present, and mindful of what is around us, and mindful of the people in our lives. 
What does it mean for us?
While that might sound like a version of 'life is short, eat dessert first.' Seneca tells us it's also about taking responsibility for what you do today, here, now. So, take that trip, eat that chocolate-filled Napolitana, and buy those clothes. But be mindful that all this is temporary, so consider how each action may have consequences for those we leave behind, whether it's our carbon footprint or our direct impact on those around us. Don't put off that phone call. Work to live. And make the best of each day however you conceive that to be. 
[This post is dedicated to the memory of Bill Murray and Diedre McSherry]