What about the mind? You reach Logroño, and by now you are getting settled into the Camino's routine, and you are starting to feel like a pilgrim on a pilgrimage. But what does that even mean, and how might we think about it? What makes this different from, say, a walk in the country, or a hike in a wilderness trail, like the Bibulman Track in Australia, or the Appalachian Way in the United States?
It's time for a rest day, and about now, I'm beginning to take stock of this journey – and quickly realise that I've survived the hardship and sublime views of a mountain range, the terrain has become more even, and I've stopped thinking about my knees. The daily routine has become, well, routine.
Slowly, your awareness has extended past your body, past the track, and you begin to notice the world around you. Your gaze is guided in part by looking for the many and varied locations of the yellow arrows that keep you on the path. But with that is a growing awareness of the gossamer cobwebs glistening in the morning dew.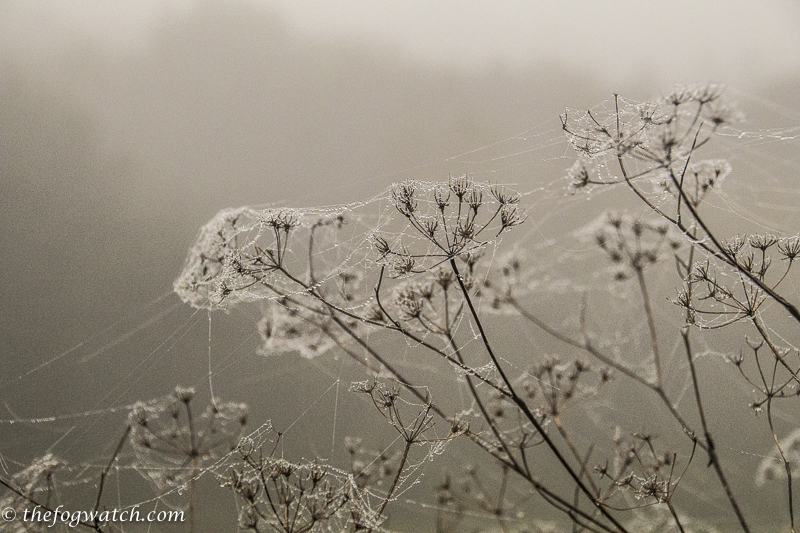 And the way the light casts your shadow before you as you walk steadily westwards.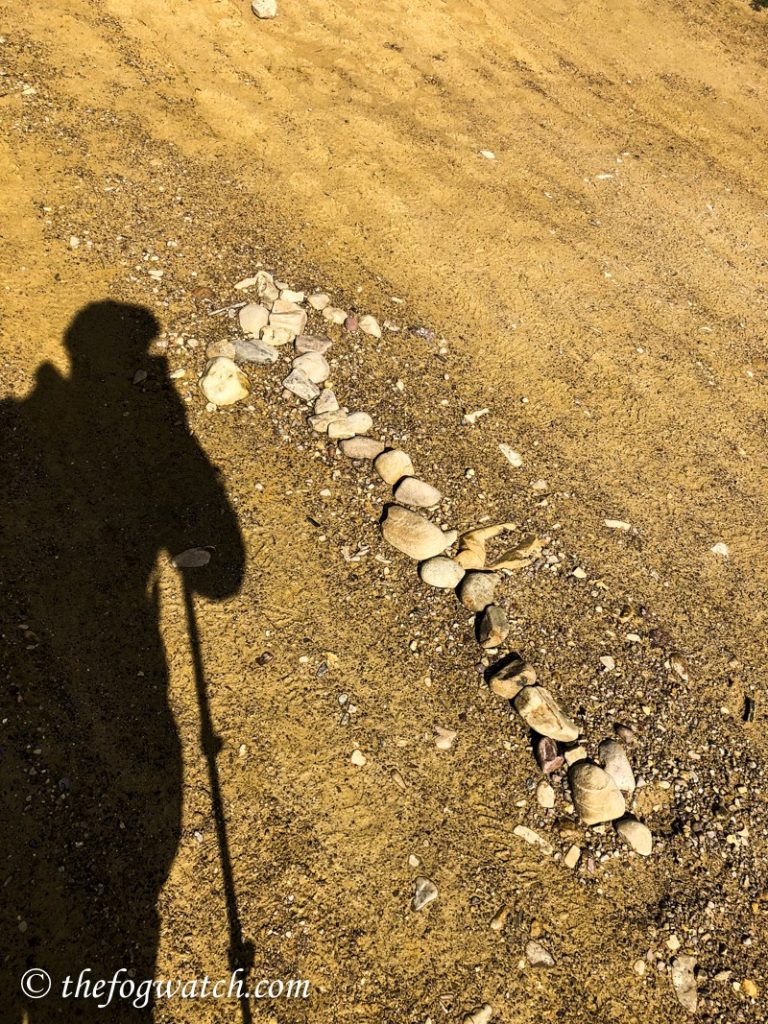 Talking with fellow pilgrims, you realise how quickly you've gone from the standard Pilgrim greeting of "Buen Camino!" to hearing and discussing your innermost thoughts with a complete stranger – and neither has any idea of each other's work or car or material life, but somehow none of that matters here. Everyone is equipped with a backpack, two changes of clothes and their own reason for being – here, now, in this place, on the Camino. What we share is our humanity, our strength and our frailty. What brings you here? How do you feel about that?
If the first section of the Camino is about the physical, the second is perhaps more about the mind. Of course, it's not as simple as that, because without a strong sense of our why, it is difficult to maintain the tenacity to keep going when the going gets tough, such as crossing the Pyrenees, or the descent into Zubiri. Conversely, some pilgrims overcome infirmities of age and disease by exercising a strong act of will. These people know why they are walking, and will overcome all obstacles to reach their goal.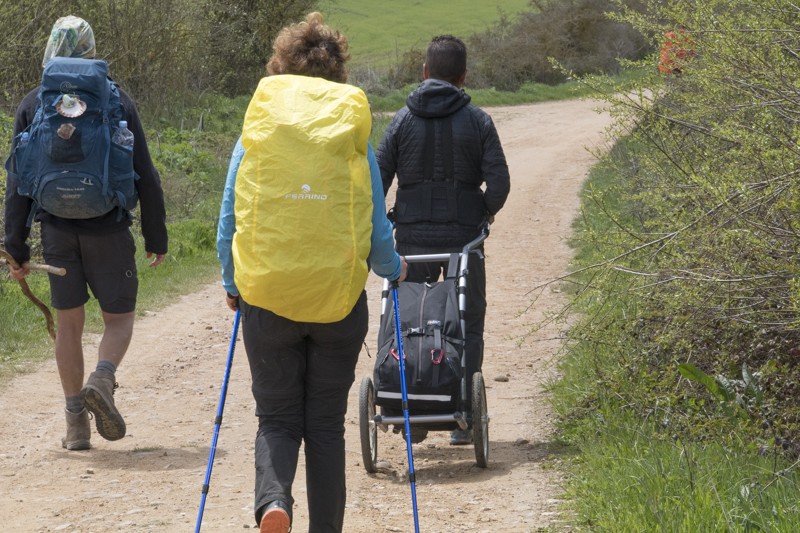 Understanding why you are doing something is arguably fundamental to achieving anything in life. For me, this is another Camino lesson that is applicable to every aspect of our daily lives.
The first part of the Camino has physically broken us down and rebuilt us as pilgrims. Now we wear that identity of 'pilgrim' as surely as we wear the scallop shell, a symbol of the many paths converging on Santiago de Compostela, but also symbolising how people come together from all over the world, united on the road to Santiago. And for me, it also symbolises the way walking the Camino serves to integrate all aspects of my personality – my many 'selves' – within that identity of 'pilgrim'.
It is a strange shift, and a powerful one. Through the physical act of walking, we are writing our bodies into the landscape. And we are writing ourselves into the thousand year history of this pilgrimage.   Others too will walk in our footsteps after us, just as the Camino has written itself over ancient pre-Roman trade routes. It is a never-ending story.
In Navarre we are walking on actual Roman roads – built perhaps 1800 years ago in the 1st – 4th Century AD – we are walking as much through time as we are through space.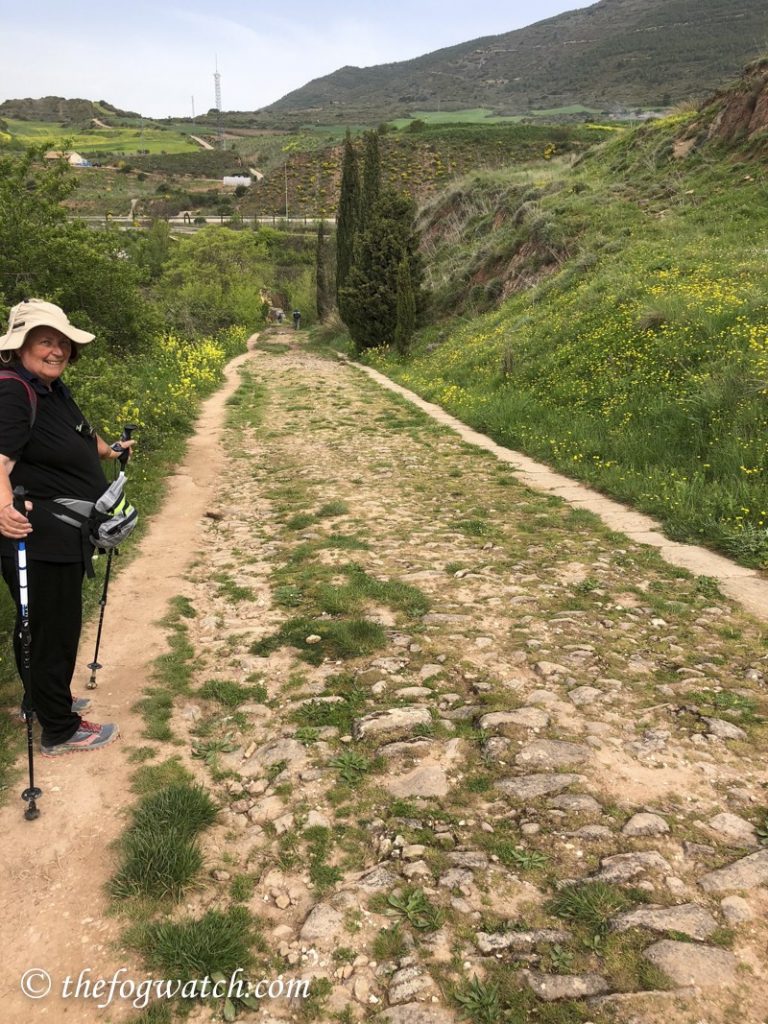 As you walk the long and very straight road from Torres del Rio to Sansol, it becomes apparent that this, too, is a Roman road – identified by its single-lane width, holding just enough space for two carts to pass, and a deep ditch on either side.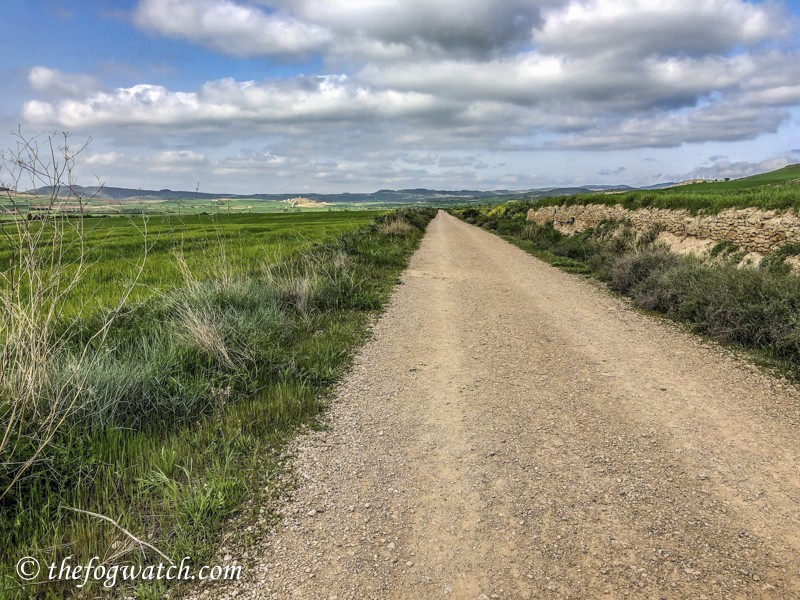 The sense of deep time is reinforced when we stay in a hostel called La Casa Magica in Villatuerte – a C13th house, much extended over the centuries – as I realise that this house was inhabited some five hundred years before European arrival in Australia. Now we are part of that story too.
You see, Sharon and I had been walking for some time with Camino friend and fellow travel blogger, Tara, (http://travelfarenough.com) so we decided to get a triple room in La Casa Magica. What we didn't realise was that the term ensuite had lost something in translation. A large double bed was at one end of the room, a single at the other – so far, so good. But the toilet bowl stood literally at the head of the single bed, with a makeshift screen being all that separated the two functions. And standing proud in the middle of the room, in all its clear perspex glory, was the shower. We looked at each other and fell about laughing. I quickly decided that male facilities would be the ones downstairs… It was a memorable stay!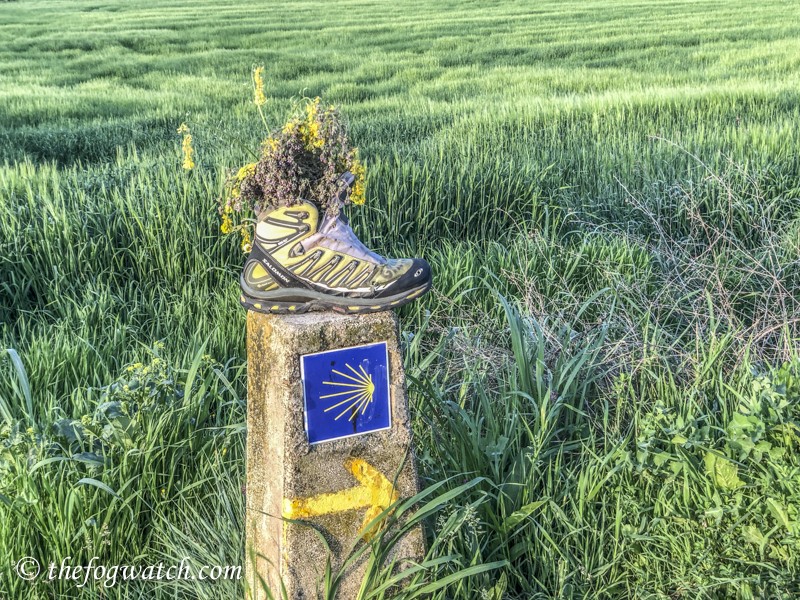 Another boot sits atop a Camino marker, showing three forms of wear:
The wear on the boot from the pilgrim
The wear on the pilgrim from the boot (probably why it was discarded)
And it sits atop a waymarker, showing where the pilgrim needs to go to stay on the route to complete their journey
As we near Najera, we pass Roland's Hut – a recent symbolic construction – reputedly near the place where Roland (a Frankish military leader under Charlemagne) killed the Saracen giant Farragut in a David and Goliath battle in 778AD.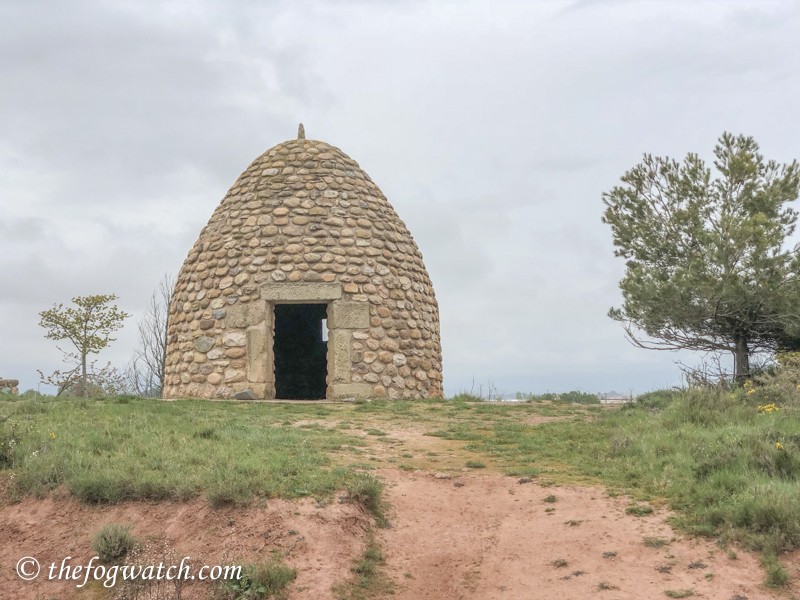 On towards the regional city of Burgos, we pass through the village of Atapuerca. Here we find the most ancient story of our human ancestors. The oldest hominid remains in Europe were found here, dating back 1.2 million years. Neanderthals followed, then modern humans with substantial overlap between species. It is from here we derive our 3% Neanderthal genes. My own DNA shows traces back to Atapuerca – my personal genetic story too is intertwined with the deep history of this place. It is extraordinary to think that this area has been continuously inhabited by humans and proto-humans for such a period of time.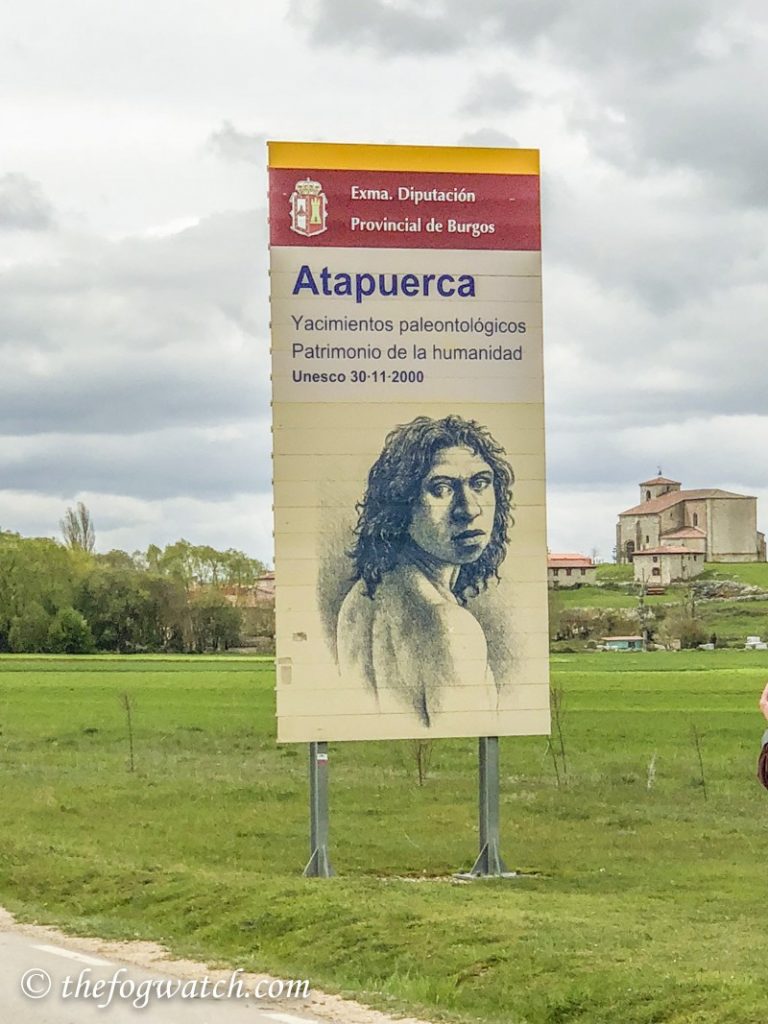 The physical process of walking, coupled with time for reflection amid the community of pilgrims, brings our minds in touch with our ethical and moral compass. This part of the Camino teaches us to look outward from ourselves, to notice the world around us and to care for and respect each other. It is time away from our daily routine, embedded in a simple life in which we refocus our awareness of other people from a deeper awareness of ourselves. And so we enter the gates of Burgos and marvel at the French Gothic cathedral with its stained glass to rival that of Chartres. It is an embodiment of mind.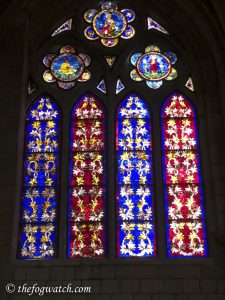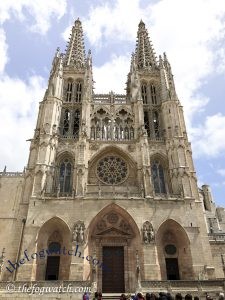 ****************************
If you'd like to read more about our Camino Frances in 2016 and 2018, visit the index page here for all my Camino posts
or click on the link above 🙂
****************************
Why not have these posts delivered to your inbox? Just enter your email address and click the 'subscribe' button in the left margin, and don't forget to respond to the confirmation email in your inbox 🙂