The day dawned bright for our journey onward to Estella
"Next there is Estella, which is fertile in good bread, excellent wine, meat, and fish,
and full of all sorts of felicity" ~ Codex Calixtinus
We departed our hostel before sunrise and headed down the hill as the first rays of the sun caught the distant cliffs turning them an incandescent orange.
It was spectacular. The well-made path of cobblestones edged with rocks, leads down to what many understand as a Roman bridge. There is even a sign to the 'Puente Romano'.
The path straightens, with a raised centreline of rocks in the Roman style. But recent archeology points to this being more likely a medieval road. It was possibly built by roadmakers who had seen the remnants of Roman roads and copied the style of construction. There is little evidence that a Roman road went through this particular area either entering or leaving Cirauqui. And the area does not have Roman artifacts associated with the road to Estella. There certainly were Roman roads that went through Navarre. But they were further north and bypassed Puente la Reina and Cirauqui. We will encounter them a bit later on.
Crossing the 'Roman' bridge is now easier with work being underway to stabilise the path leading onto it.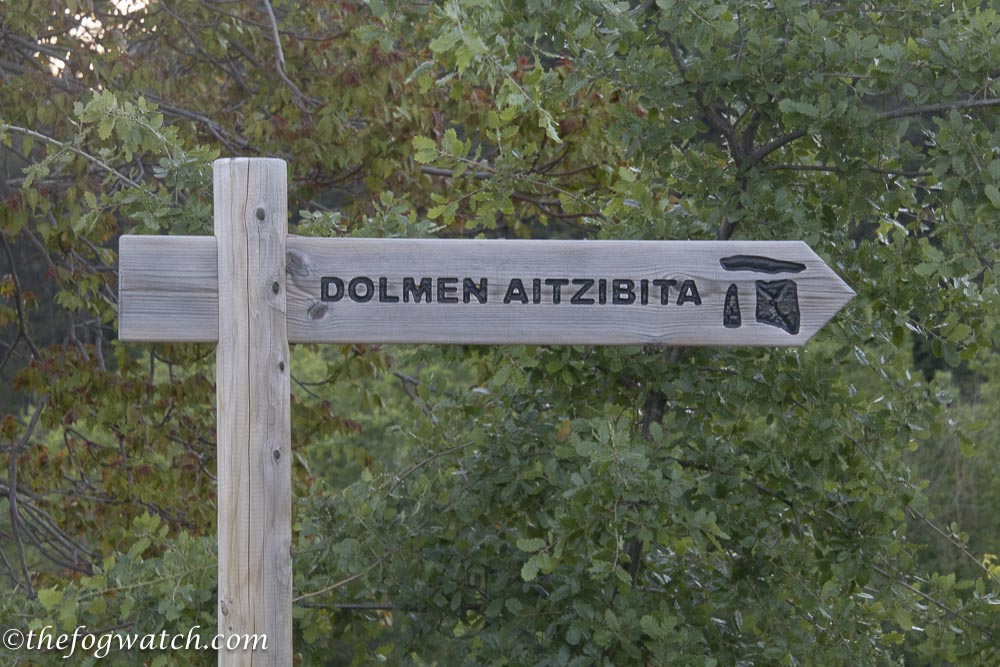 And soon after, we saw signs pointing to a Dolmen — an ancient standing stones monument. But after walking off the Camino path for about 2km we realised that this would perhaps be a car trip. We seemed to be getting no closer to finding it. And with that, we retraced our steps back over the bridge to the Camino track.
The first cuckoo of our trip started up as we headed toward Lorca. We found a German-run Albergue and bar where we had breakfast — eggs, tortilla patata, and coffee. This is a good way to set us up for the day. The Bar Frontàn is right opposite the C15th Romanesque church of San Salvador.
On to Villatuerte — home to the famous La Casa Magica albergue where we had stayed on our two previous Caminos. It was closed when we tried to book there. But it literally reopened that day under new management.
On the way in, we met an Australian pilgrim from Adelaide who flew in via London's Heathrow airport, but his bag failed to arrive, so he had to buy all new gear in St Jean Pied de Port. He had been unable to get in touch with a human being at Qantas to discuss compensation. But he was quite stoically philosophical about what had been a major setback. As the stoics say, some things are simply not in our control, and what matters is our attitude to the loss of material things.
The fields of barley swayed and rippled in the morning breeze, like waves on a huge green lake. We walked for a while with a guy from Michigan USA— he was pulling some serious kilometres – 30-40 each day as accommodation had been tight. I hoped he was able to find a slower pace so he could absorb some of the cultural aspects of the Camino, rather than just pound the pavement looking for his next bed. I wondered if he would find his Camino family, or if it was just a through-hike for him. Either way, it was his Camino. And hopefully, our conversation and slower pace were like a break for him — a reviver for his journey.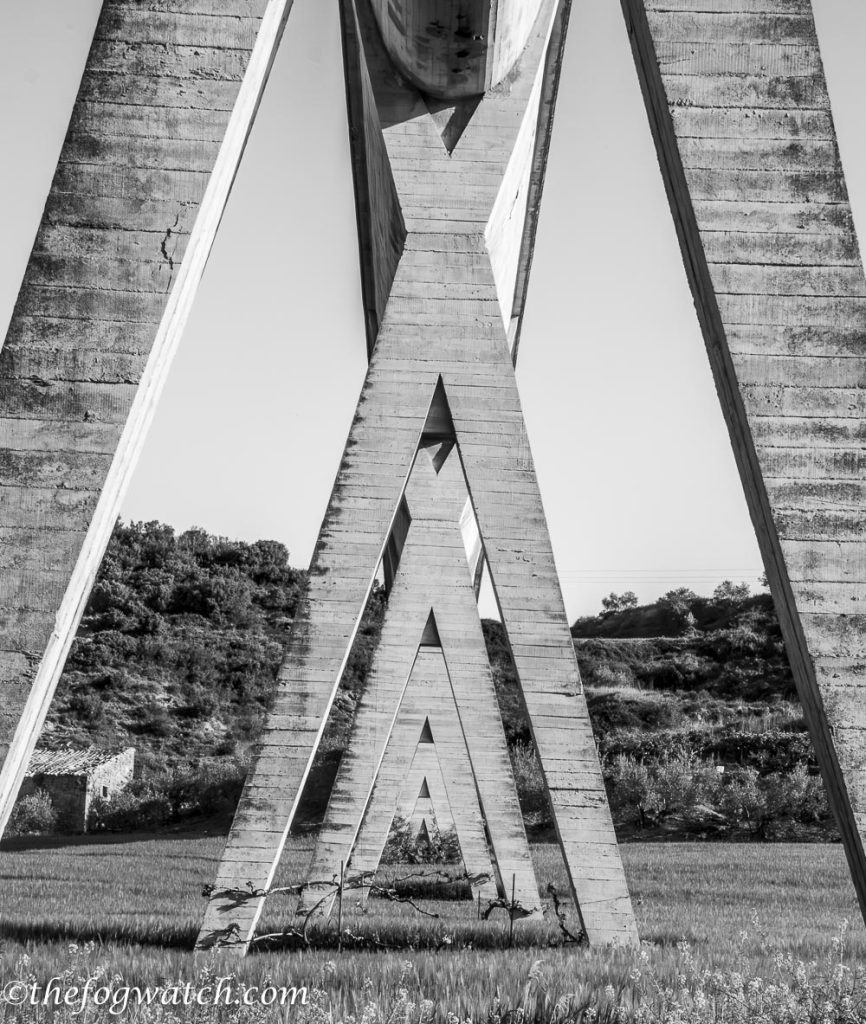 We passed beneath a modern aqueduct — a cement version of the Roman water system — a design that is still good today, using gravity to transport water across the landscape.
As we entered Villatuerte, we were met by smiling Guardia Civil police who said if we needed help just dial 062 as they are a special police force just for the Camino. They had a QR code on their car to download their app 'Alert Cops'. We thanked them and went on to find a cafe. Security is evidently a major focus this year. Tomorrow we hit the 100km mark.
We found a cafe for a cup of tea and a chance to use their facilities. There are few public toilets on the Camino. But every bar has them, so we use those for the price of a cuppa. This is a courtesy, as they keep them clean and supplied with toilet paper). It is the Pilgrim Way. We found a vending machine that seemingly supplied …um… everything(!)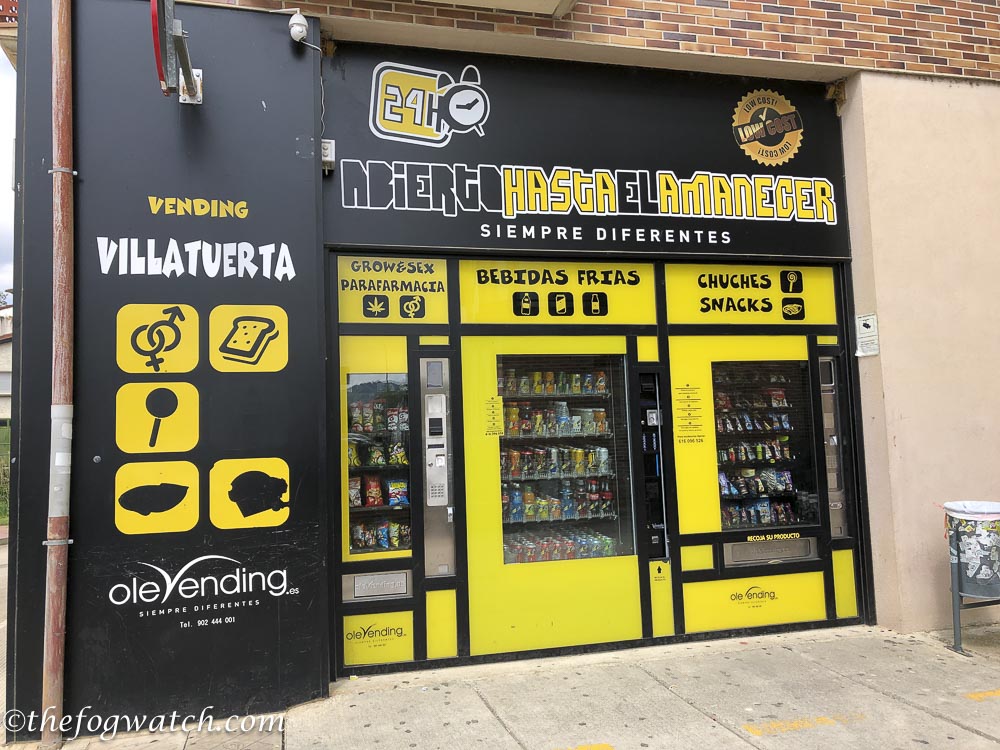 Suitably refreshed, we headed on over the river and into Estella via the Azucarerero Bridge. A sign informed us that the bridge was built in the C12th, connecting the town with the Frankish quarter. Originally, each burgh was encircled by its own walls, and the bridge had two towers at its access points. A stark reminder of the violent and uncertain security situation in the medieval period. The bridge was originally called St Martin's Bridge. But its current name apparently was an ironic reference to the stench produced by waste from the butchers' shops that flanked the river — they used to dispose of their offal and other waste by dumping it in the river.
Our first priority was to find an ATM machine to replenish our cash. The Camino runs on cash. So every few days we replenish from ATMs, much as pilgrims did in medieval times using the Knights Templar as bankers. At that point, we realised that we needed to activate our data to find the Pension (B&B) we had booked. It turned out to be back over the bridge on the edge of the town.
We arrived at a nondescript door, finding only an empty foyer with a locked door off to one side and a narrow staircase. I phoned the proprietor, expecting to wait for some time while they came from somewhere across town. Instead, a door opened upstairs and a woman emerged beaming from ear to ear welcoming us with a cheery '¡Buenos dias!' (you could almost hear the exclamation mark at both ends of the phrase), beckoning us to follow her. She had no English, but using a translation app we were able to have quite a conversation.
The Pension was small, but comfortable and very clean. We showered, rested, and went for a walk around town.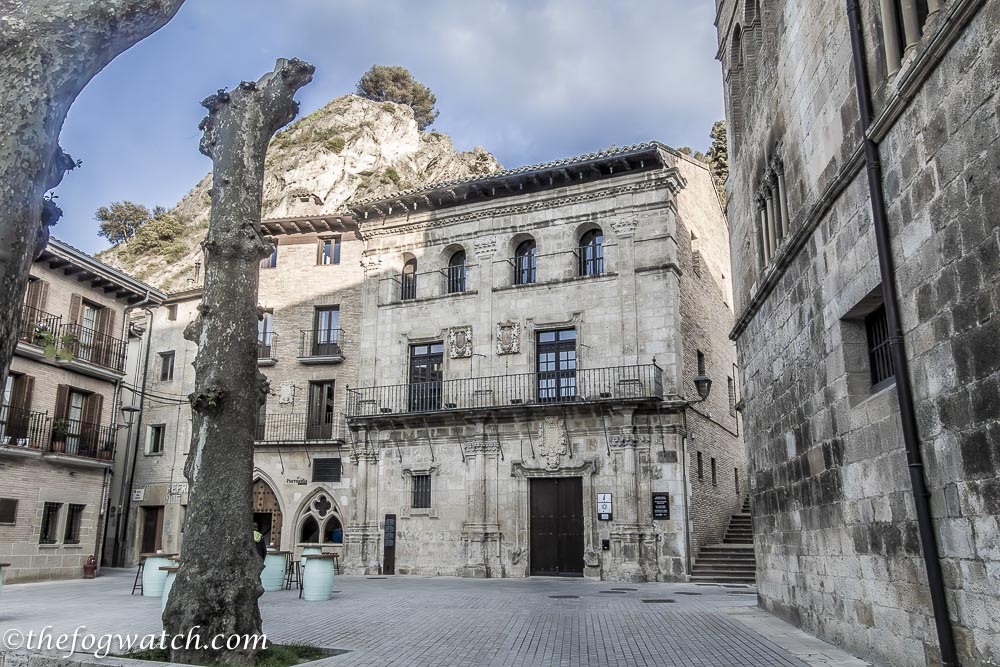 There are many C16th-C18th buildings, often with explanatory plaques detailing some of their history. In Basque, Estella has two names, Lizarra (meaning 'old church') and Erizarra (meaning 'old town'). According to Gitlitz and Davidson (The Pilgrimage Road to Santiago, St Martins Press/2000), the town came to prominence in 1090 when King Sancho Ramirez signed off on plans to build a commercial centre here for foreign (French) merchants, and to encourage the settlement of French migrants who came from the south of France along the pilgrim road.
The Palace of the Kings of Navarre — actually a civic building built in the C12th — may have been a market hall, but in the C15th it was the residence of the Marquises of Cortes. These were members of the royal family who held the positions of the Marshals of Navarre. They eventually granted the title of the Dukes of Granada de Ega. One of the pillars depicts the confrontation between Roland and the Saracen giant Farragut at the Battle of Roncesvalles at the time of Charlemagne.
Estella was clearly set in productive land, and today it remains a prosperous town. Around the end of the C12th Peter the Venerable wrote:
"In Spain there is a noble and famous fortified city [Estella] which by its location and the fertile land that surrounds it,
and for the large population which inhabits it, is far superior to the other fortified towns in the region" ~ De Miraculis Book 1 ch 28.
And as the poet, musician, and podcaster, Dan Mullins might say: "Spero te invenire quod quaeris alicubi per viam" (I hope you find what you're looking for, somewhere along the Way).