"Dos personnes para Leon, por favor Señor" – and with that, we had two tickets – thanks to the Translate app from Google. We were at the bus station in Burgos, with half a dozen other pilgrims planning to skip the Meseta, each for their own reasons. We had done the maths: with our prior travel in Europe, and only a 90 days visa for the European Schengen Zone we realised that at our current pace (slow turtles) we faced the prospect skipping a section now, or risk not completing the Camino before our visas ran out. For my own part, I felt oddly sheepish, despite being comfortable that we had made the right decision. It was an interesting reaction – and completely unjustified from a logical/rational perspective. So something else was in play here. Thinking it through, I suspect a lot has to do with societal expectations and the normative power of what is considered by some to be a 'proper' pilgrimage.
But I've always thought that 'real' pilgrims don't judge other pilgrims. Indeed nothing was said to us by any other pilgrims to suggest we were doing anything wrong, so really what I was dealing with were my own assumptions about what societal expectations would be. At that point, I took a deep breath, exhaled, and decided to let it go as a passing and irrational thought. We each walk our own pilgrimage in our own way, whether we walk alone or with others. It is, like life itself, to be lived by each individual.
We had a quick breakfast at the bus depot cafe and waited for our departure time. Bus stations have their own atmosphere – a liminal space between here and elsewhere. It is an interesting psychological space as those departing have already made the shift to their destination, while those who arrive have yet to arrive in their minds. It is a space between spaces. It is like a tidal space for humanity, washed to and fro by large, comfortable, air-conditioned metal boxes. Before long, the people –ourselves included – are separated from their baggage and stowed in their respective holds.
Around 8 days walk (147kms) went by in three hours – it felt a bit strange, but we have undertaken to walk this section next time. Through the window, we saw the gently rolling wheat fields go past – resembling closely the countryside of the mid-north of South Australia where I grew up.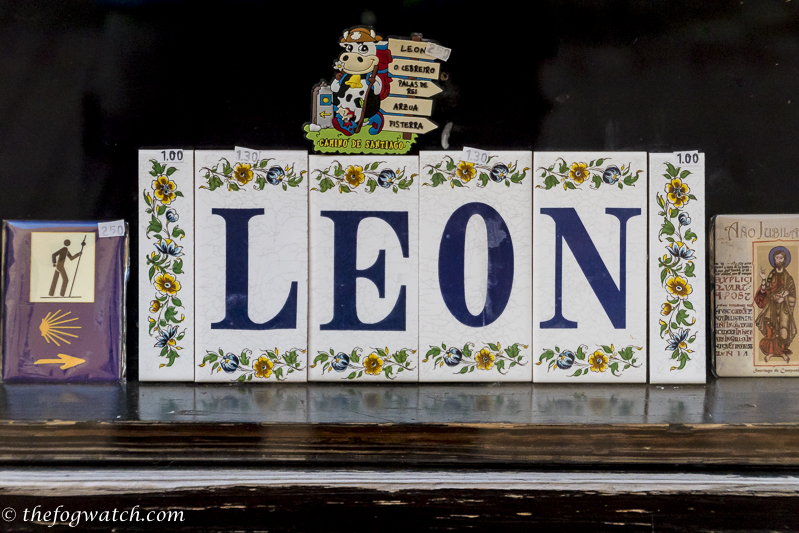 On the recommendation of an Australian friend, we booked a Pension which is on the Camino route, yet just ten minutes walk from the Cathedral. We booked for two nights.
We found the tourist Bureau opposite the cathedral and got a map and directions to a hiking shop – time to procure a fleecy top and some gloves! (It's been getting quite cool in the early mornings).
And so to the Cathedral. We were told it has the best stained glass outside of Chartres – but honestly, I think the two are on a par with each other. The windows have wonderful foliage motifs.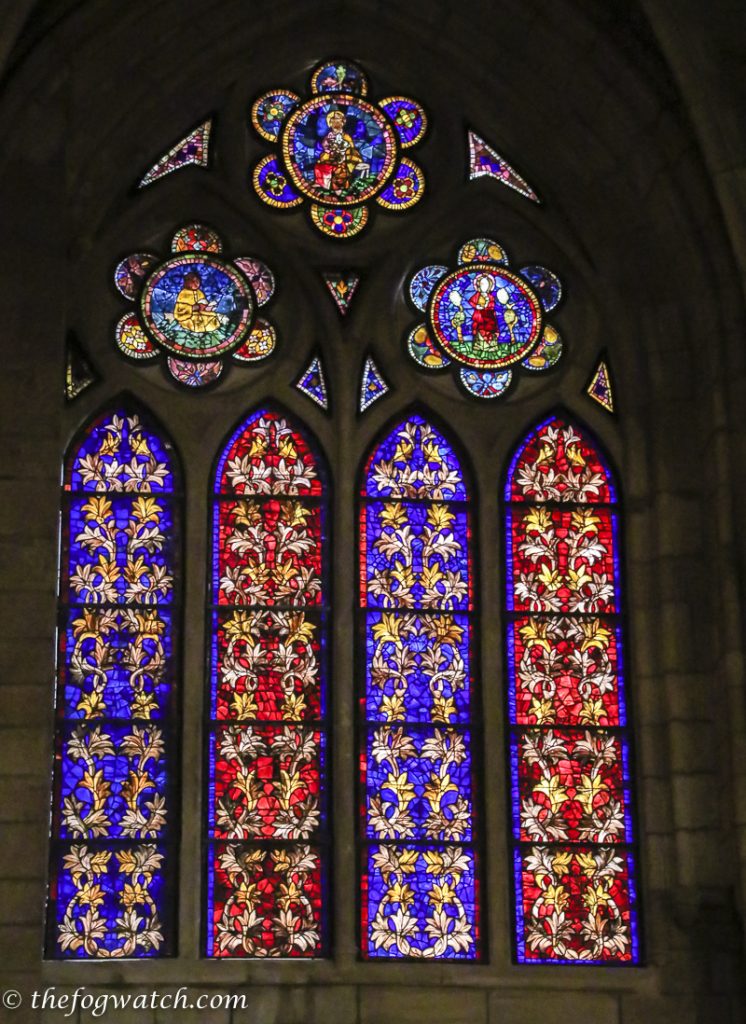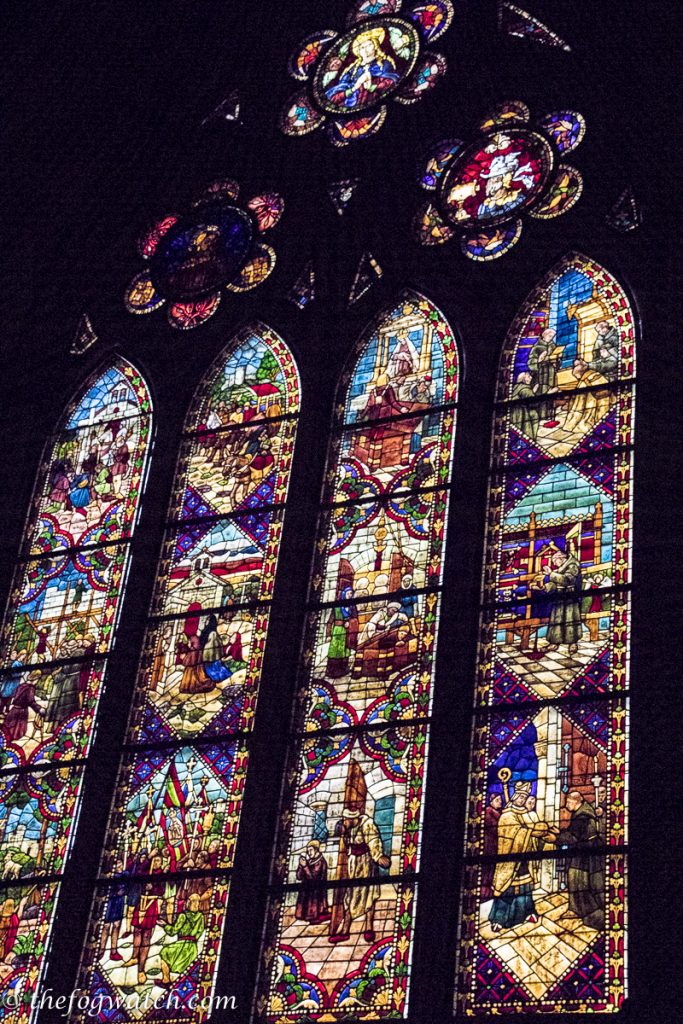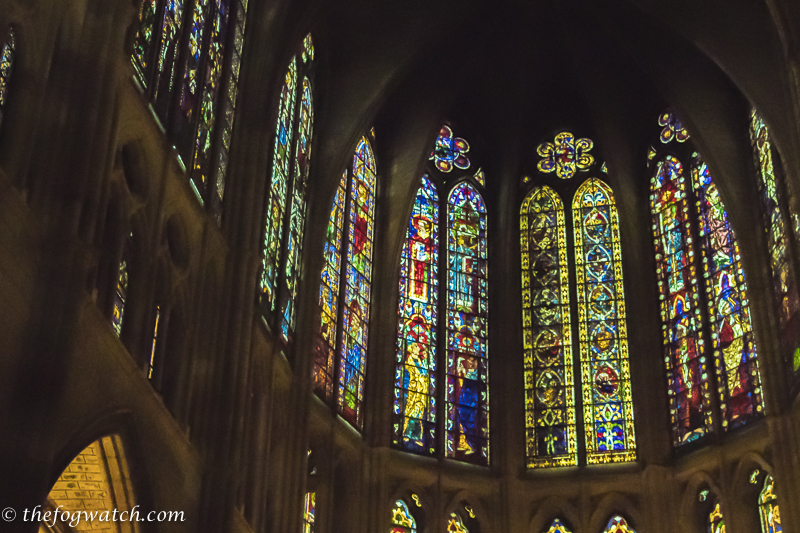 And the altar-piece was not the usual ornate carving, but rather, a Renaissance painting suite. Unlike Chartres, the Catedral del Santa Maria in Leon has a remarkable unity of style, because it was built in just 50 years.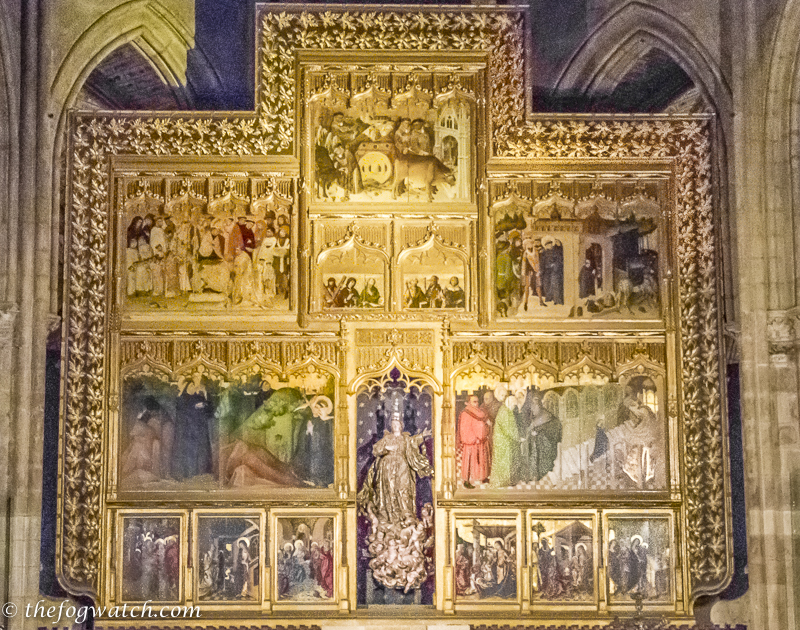 The Cloister was another wonderful surprise – every inch is covered in carvings. It is probably the most ornate cloister I have seen to date. The cloister also contains decorative elements that have been removed from the Cathedral façade for conservation.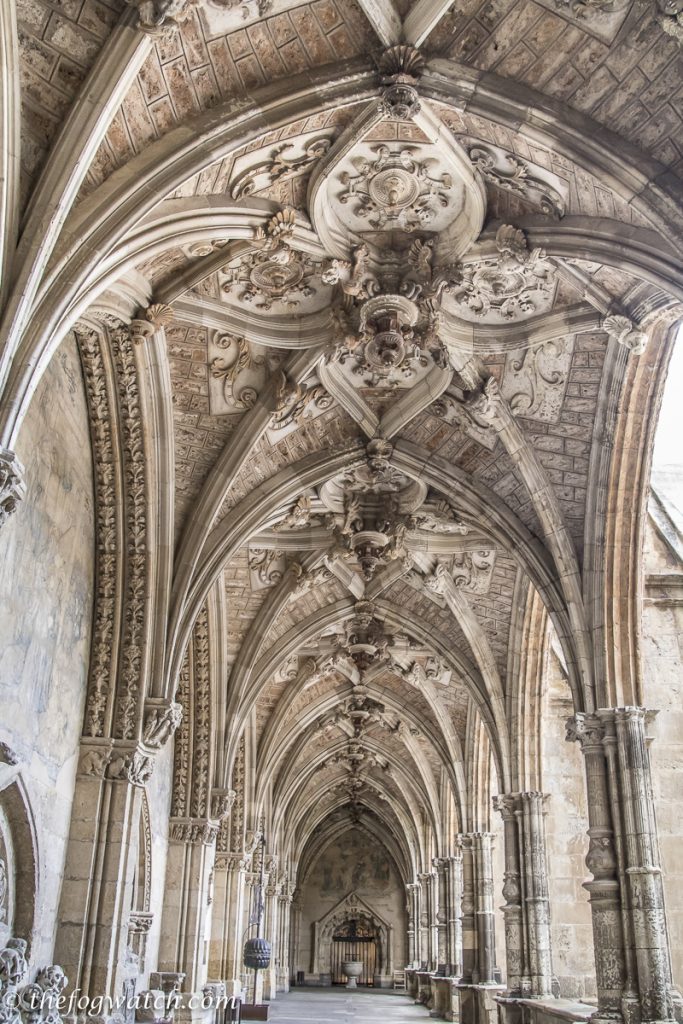 On the walls were remnants of wall paintings dating back to the C13th, depicting stages of Christ's passion.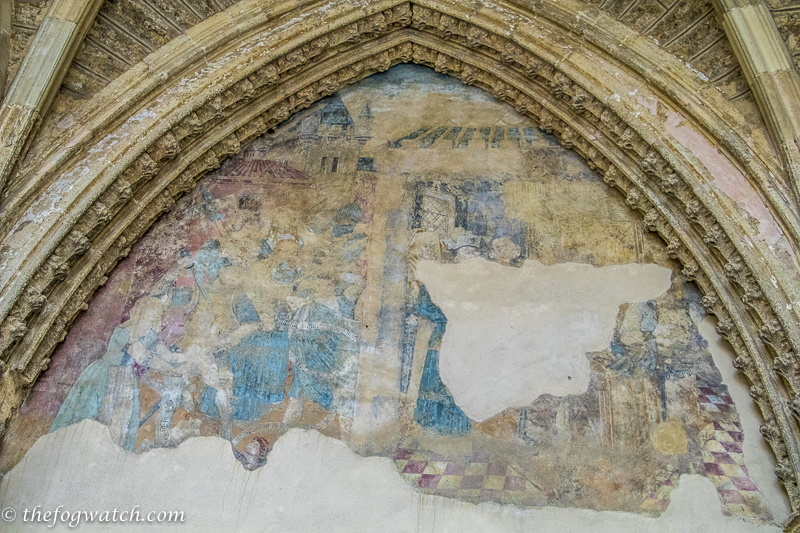 The Cathedral parish museum held textile remnants from the C12th and C14th. Then there were the carvings, reliquaries, paintings and elaborate metal chalices and sceptres and icons. It is well worth a visit!
On the exterior were a number of functional gargoyles designed to direct rain away from the foundations.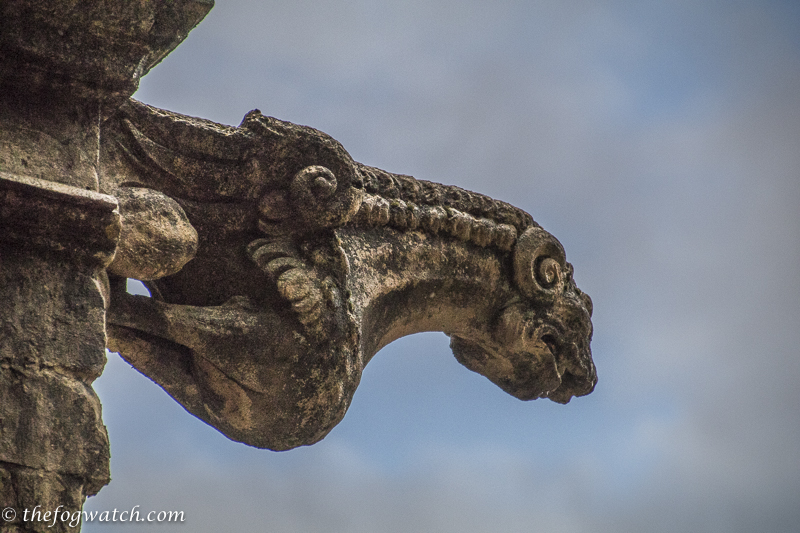 Finally, we were off in search of dinner, with its vino tinto accompaniment on the main street. The sunset through the  town hall tower shone golden through the windows.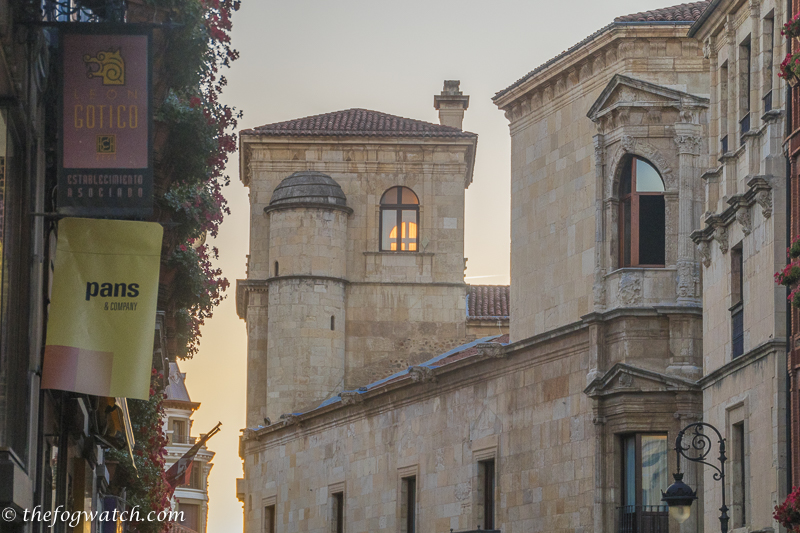 Sadly, the dinner was pretty ordinary, and the wine was the inverse of a miracle, as it appeared to be turning into water at an alarming rate. I was reminded of the words of the Codex Calixtinus:
This country is full of royal treasure, of gold and silver, fabrics and the strongest horses, and flush with bread, wine, fish, milk and honey. It is however lacking in firewood and the people are evil and vicious.
The former is certainly true even today, and Leon appears to be relatively prosperous albeit that some corners are being cut in the service of marginal profit in some quarters.
But the sunset and the glow of the stained glass and wonderful carvings sustained us through dinner, and so we made our way to the Pension for the conclusion of the day.
________________________________________
INDEX – If you wish to follow our journey from the start, or jump in to any of the Camino posts,
here is a link to the index page – also found in the navigation bar at the top of this blog
________________________________________
You can have these posts delivered to your in-box by entering your email address and clicking the 'subscribe button to your left, then respond to the confirmation email in your in-box 🙂