It was a bit misty and overcast as we made our way to the outskirts of Leon.
At Virgen del Camino we stopped for breakfast overlooking the industrial outer suburbs of Leon. The Tortilla patata was rich and the coffee smooth. Both would give us energy for the walk ahead.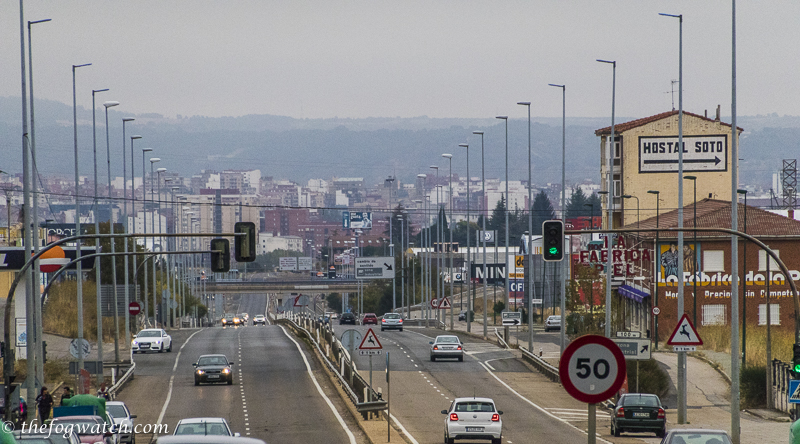 On the way out, we passed what looked like Hobbit houses – with doors and windows, and a roof made from soil and thatch as though burrowed into a hill. Many even had chimneys out the top! One even had a well-trimmed hedge.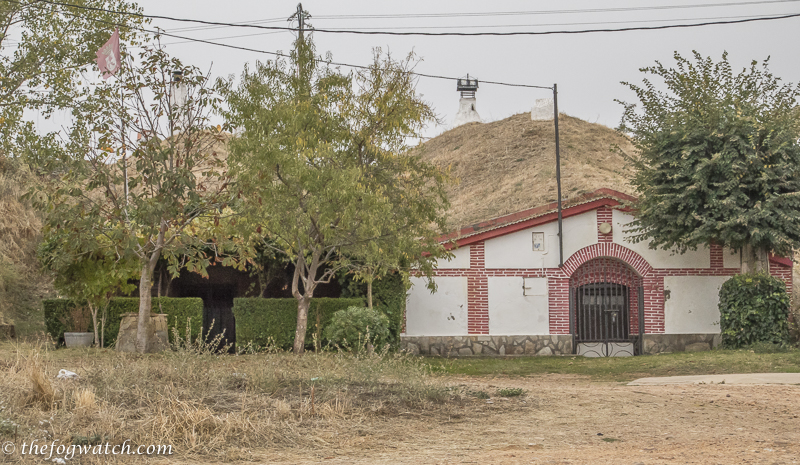 We were told they were grain stores, but they looked for all the world like what would have happened when Hobbiton was overtaken by the outer industrial suburbs of Leon.
We consulted our TrekRight app and decided to take the 'alternative' route. This took us away from the road into the quiet rural countryside. It reminded me of parts of South Australia. The route took us past a steel sculpture of a pilgrim.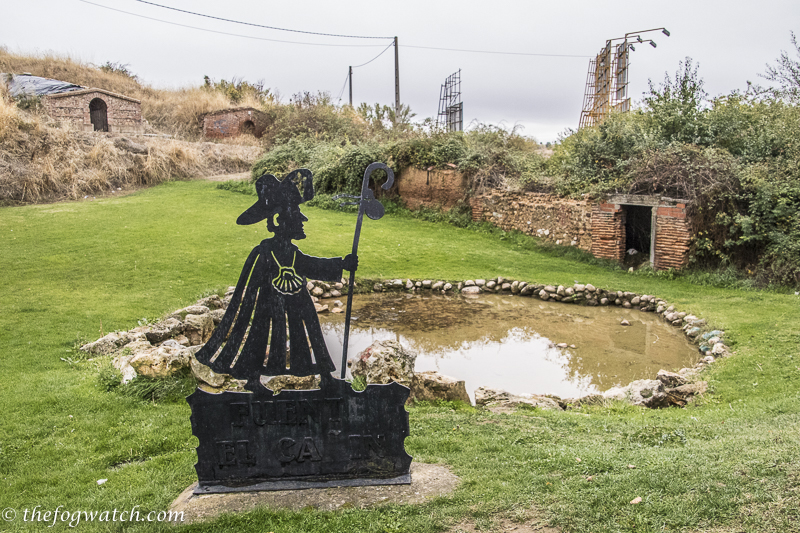 Rain threatened and there was a cool wind, so I put the rain cover on the pack and wore my Goretex jacket – I didn't need it, but it would have been slow to extract from my pack if we had run into a sudden squall.
Towns were fewer on this route and this way had fewer pilgrims. At Fresno del Camino I couldn't resist photographing the abstract anthropomorphic power line supports as they marched away across the countryside.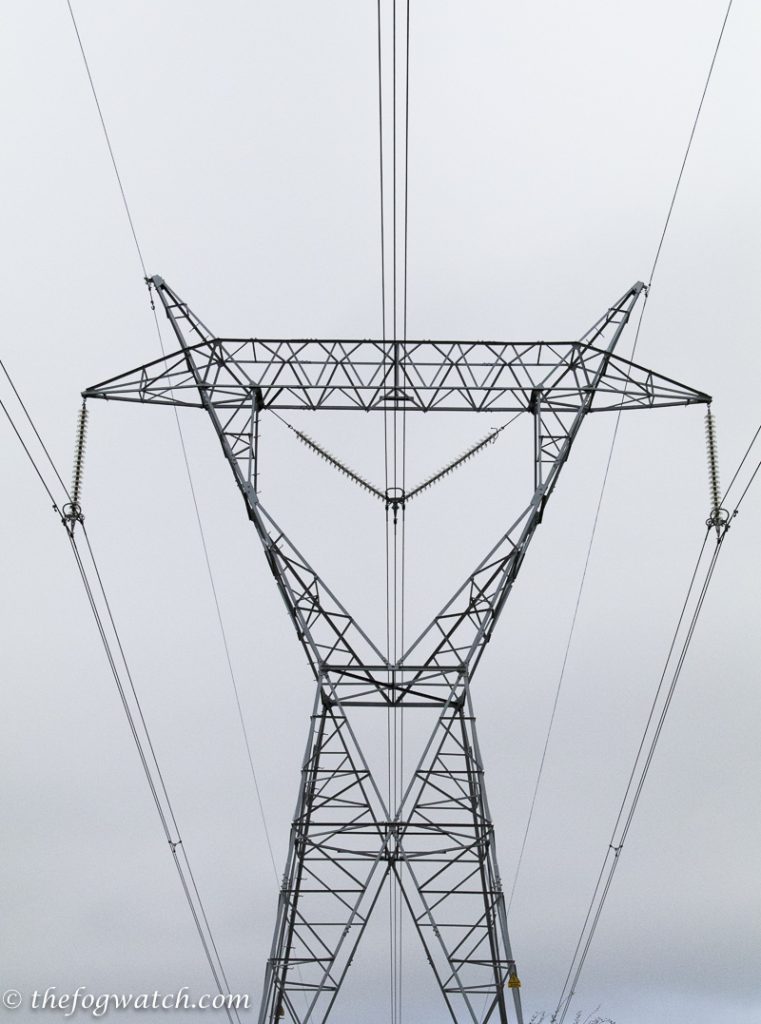 After about 5kms we came upon a hamlet with a welcome coffee stop – and what a welcome! We were greeted like old friends and the coffee was excellent – and came with a complementary tortilla morsel.
As we entered Oncina de la Valdoncina I noticed what appeared to be a ruined church with one wall of a tower still standing, but the church was complete and the bells were still there in the niches of the flat bell-stand, on which perched the stork's nests awaiting next year's breeding season. The stork nests stood empty, like so many half-completed apartment blocks – remnants of lost dreams and missed fortunes.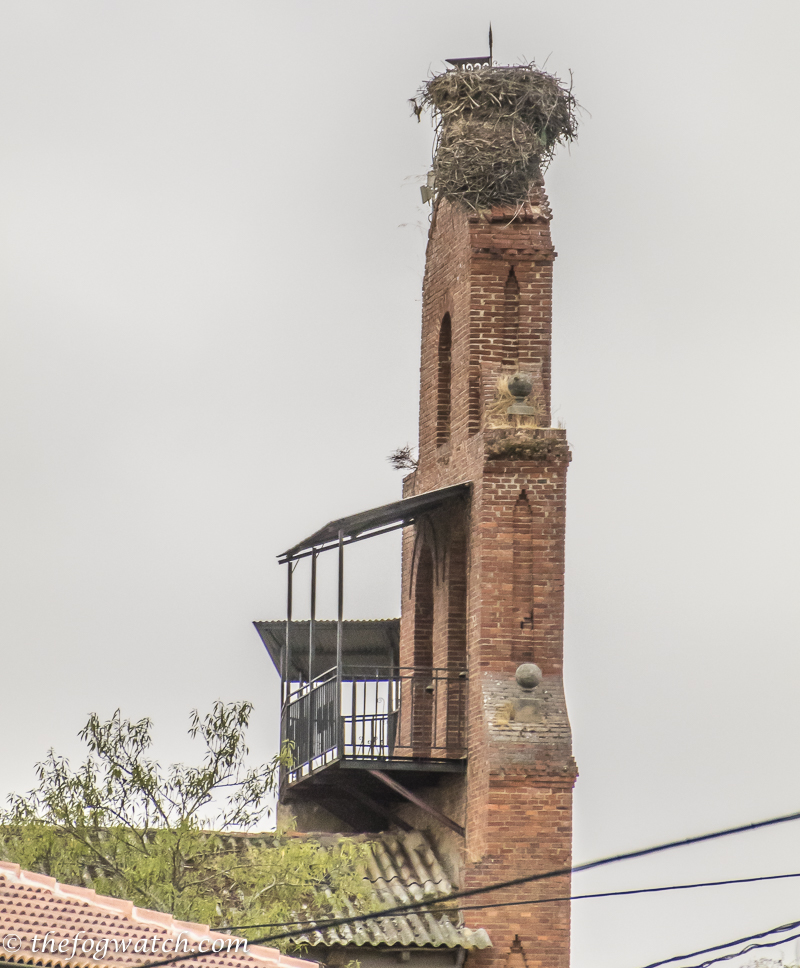 As we left Oncina de la Valdoncina we saw more hobbit houses – and these did indeed look more like grain stores.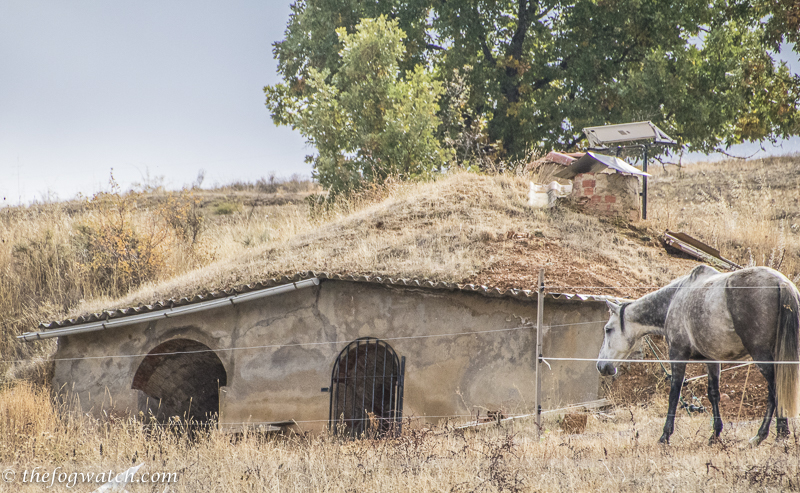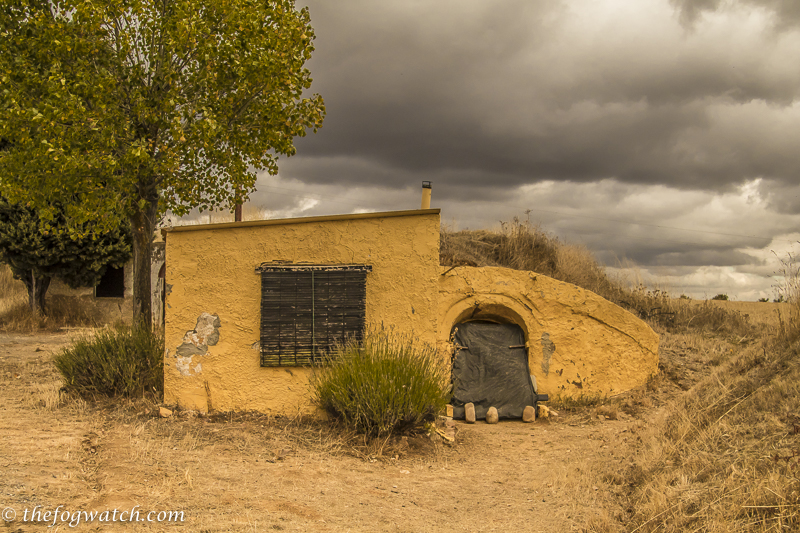 With the weather closing in, we continued on. We passed more abandoned boots on the road – this at Chozas de Abajo.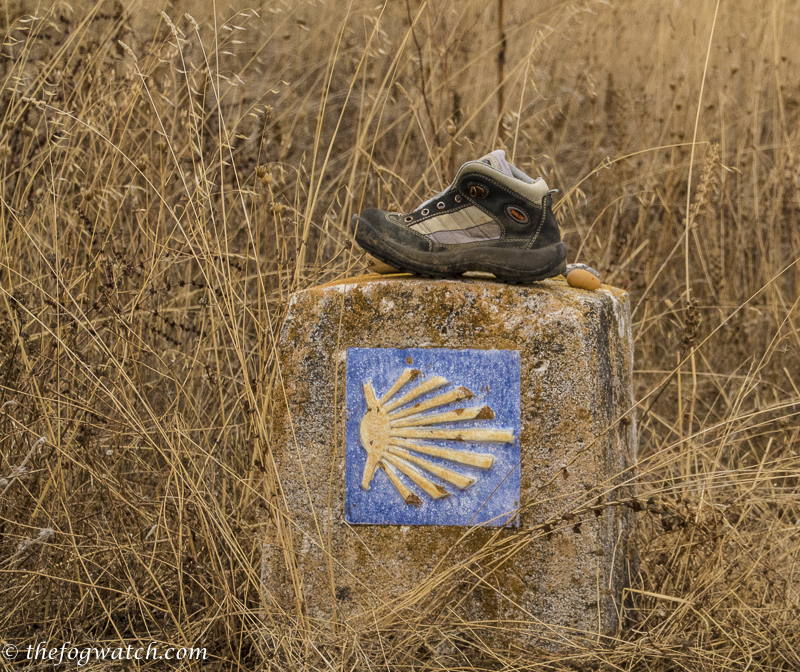 Our boots and shoes had held up fairly well, compared with the many we saw by the wayside. It appeared that by now, many were either causing blisters or were delaminating with the sole separating from the upper part.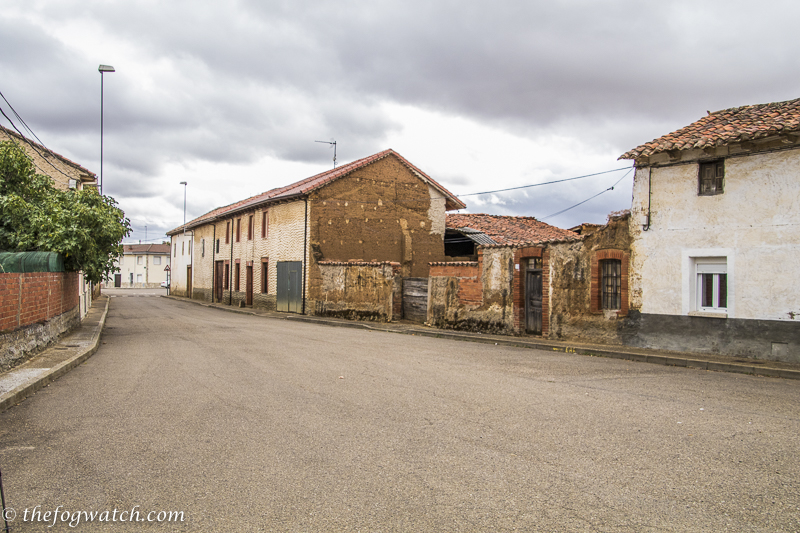 We were quite relieved to arrive in Villar de Mazariffe where even the drain covers were emblazoned with the Camino shell.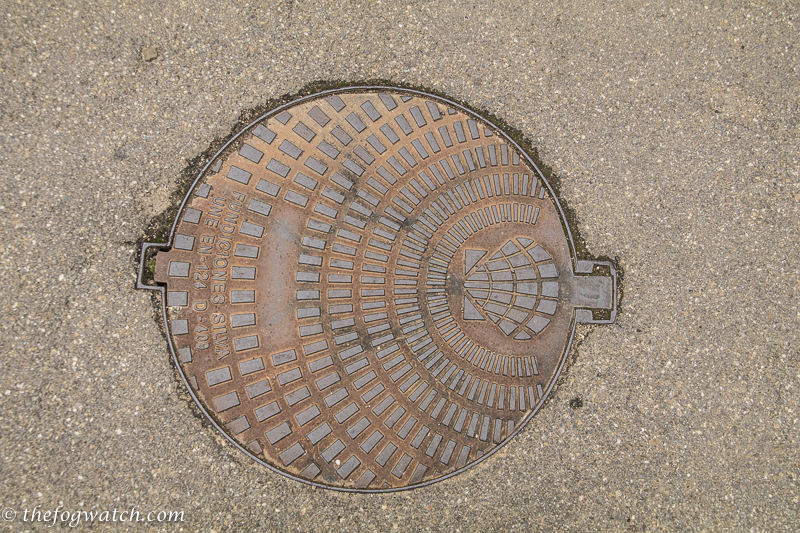 As we entered the town, we passed a large mosaic in the garden of an Albergue, depicting the arrival of pilgrims.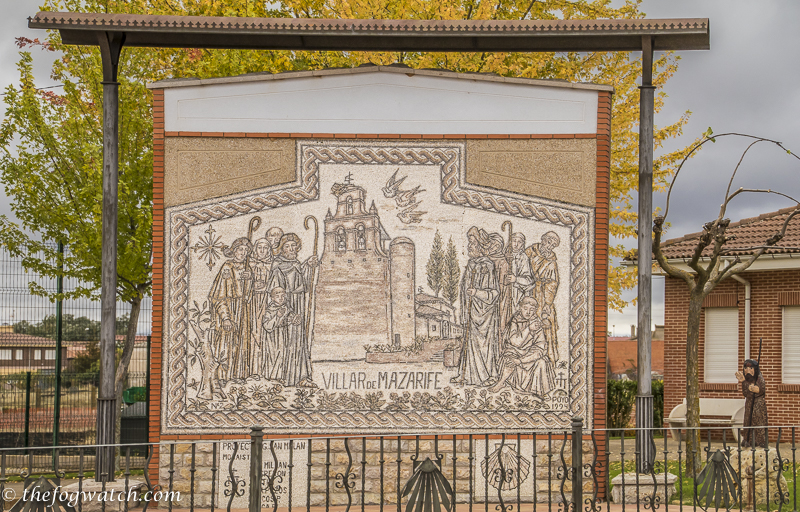 Over coffee, we had called ahead to reserve a double room at the Albergue de San Antonio de Padua – it turned out to be a great place to stay. We had a wonderful vegetarian meal and delightful conversation with other pilgrims over dinner setting the world to rights. We discussed the pace of change in society, and how might future generations of children be schooled for a life of several careers, many not invented before they enter the workforce. I might have suggested that they teach philosophy and ethics – teach people to think and solve problems creatively and to behave ethically.
The lentil soup arrived with the words 'Buen Camino' written into it by the chef. It was spicy with the smoky flavour characteristic of Spanish food. We all applauded and toasted our hosts.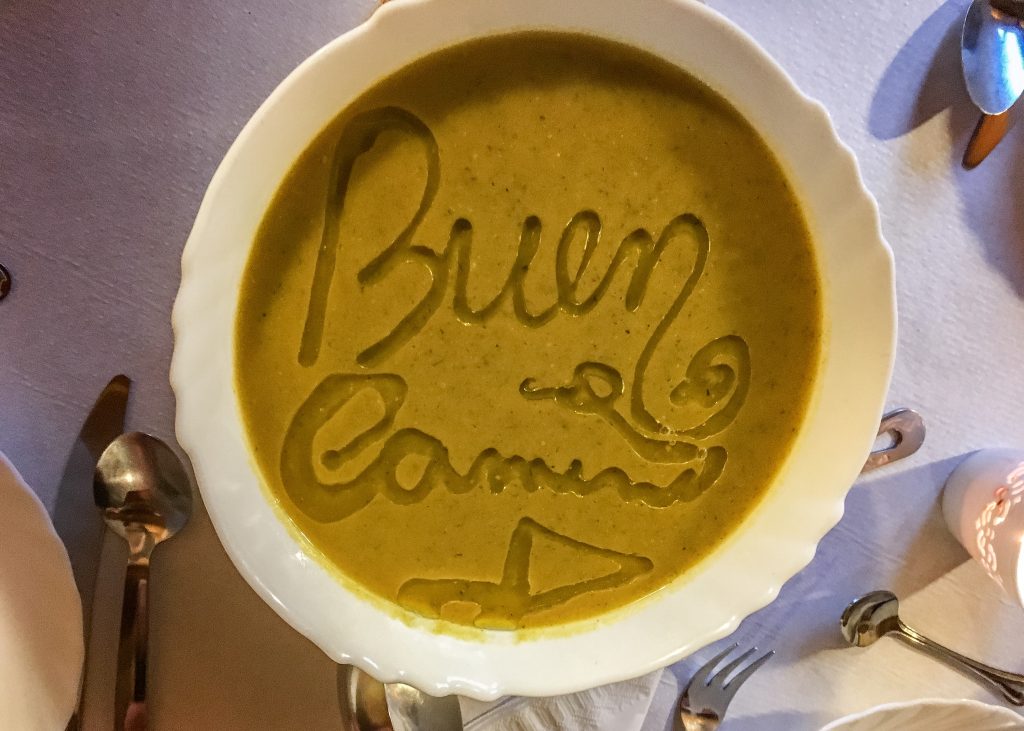 ________________________________________
INDEX – If you wish to follow our journey from the start, or jump in to any of the Camino posts,
here is a link to the index page – also found in the navigation bar at the top of this blog
________________________________________
You can have these posts delivered to your in-box by entering your email address and clicking the 'subscribe button to your left, then respond to the confirmation email in your in-box 🙂