Once we reached the outer suburbs of Ponferrada we were soon walking past market gardens. We stopped at Columbrianos for coffee, enroute to Villafranca del Bierzo. Then on to Fuentes Nueva (New Fountain) where there was an amazing small church with frescoes painted in the dome and a wonderful altarpiece.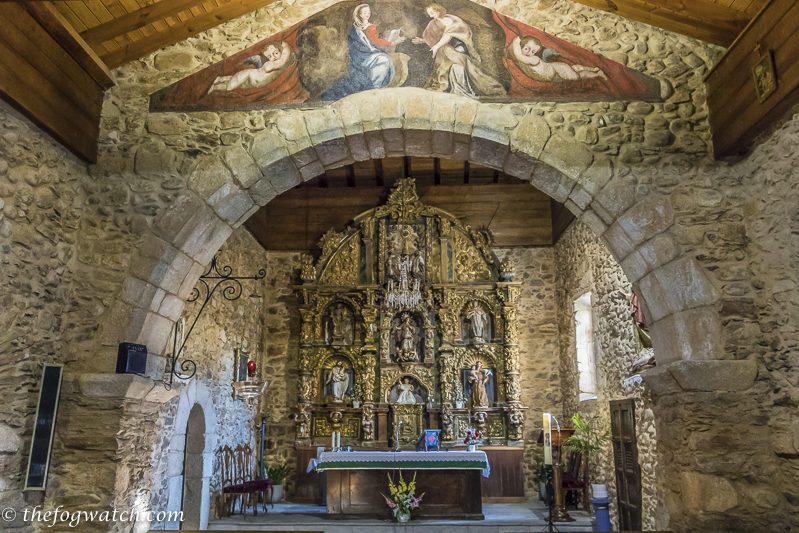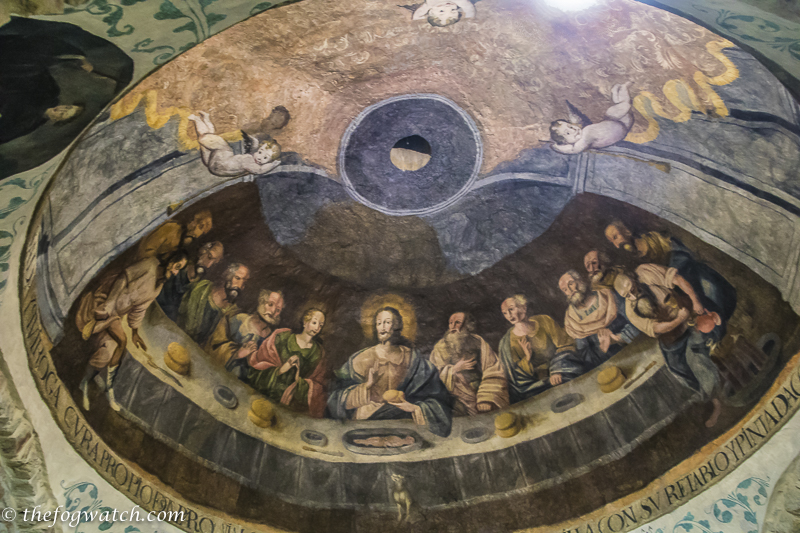 Back in the countryside, we passed a woman harvesting corn with a scythe in a way that probably hadn't changed for 300 years.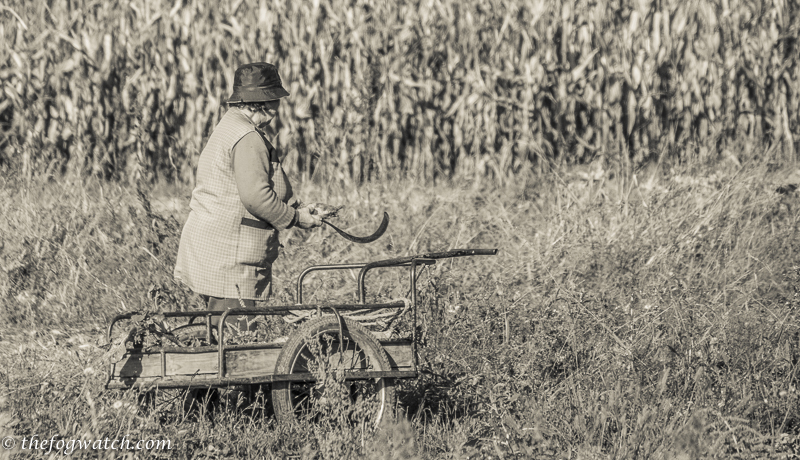 Cacabelos
Cacabelos, with a population of around 5,500, saw us walking through a light industrial suburb. The last thing we expected to encounter was music. Bagpipe music, coming from a shed that looked more like a small workshop than a music studio – the Castro Bérgidum was a school for traditional folk music from the region.
There was some striking street art – some of the best we have seen on the Camino.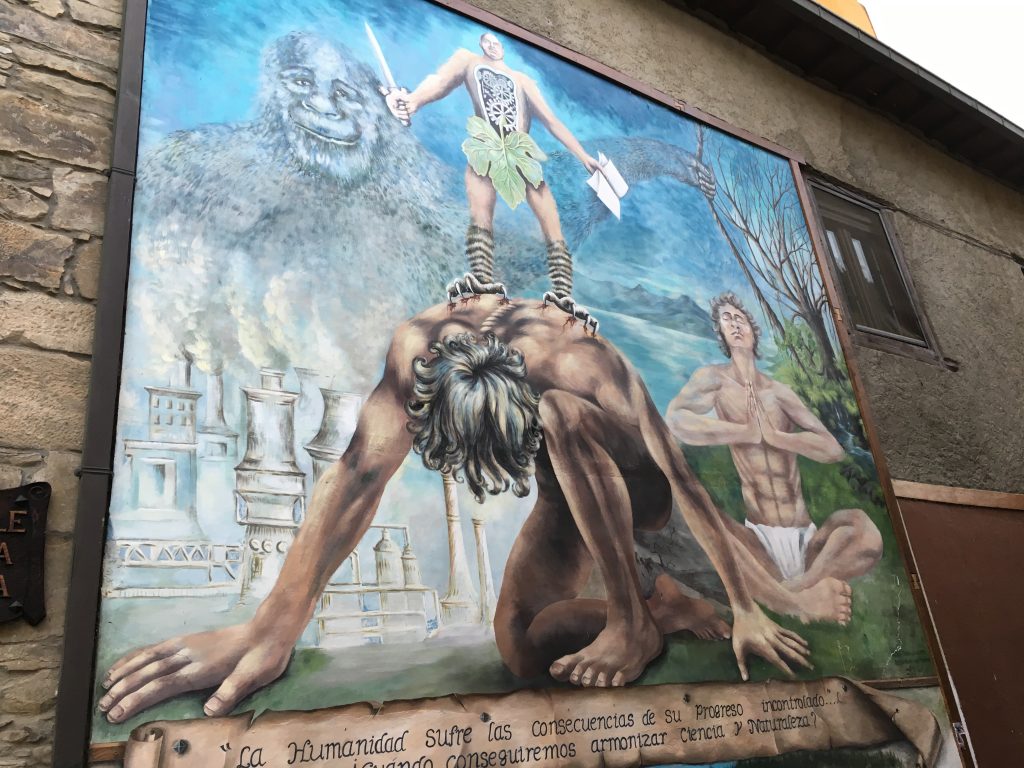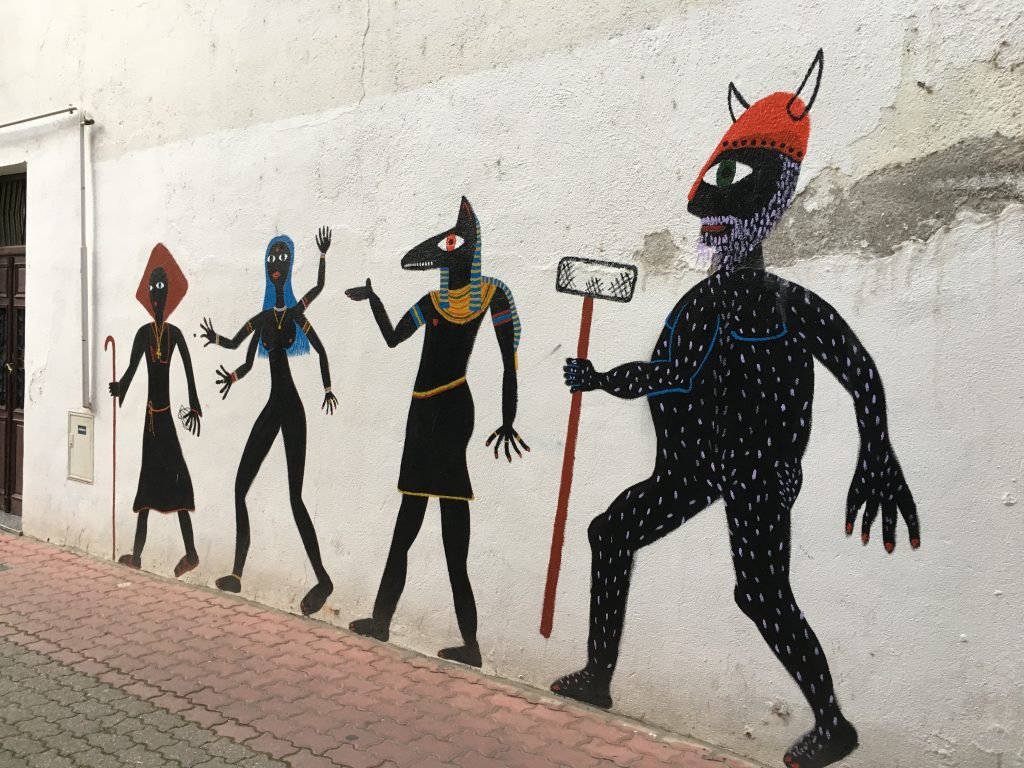 Moving on past the town we headed up a hill, at the top of which we encountered a villa framed by trees.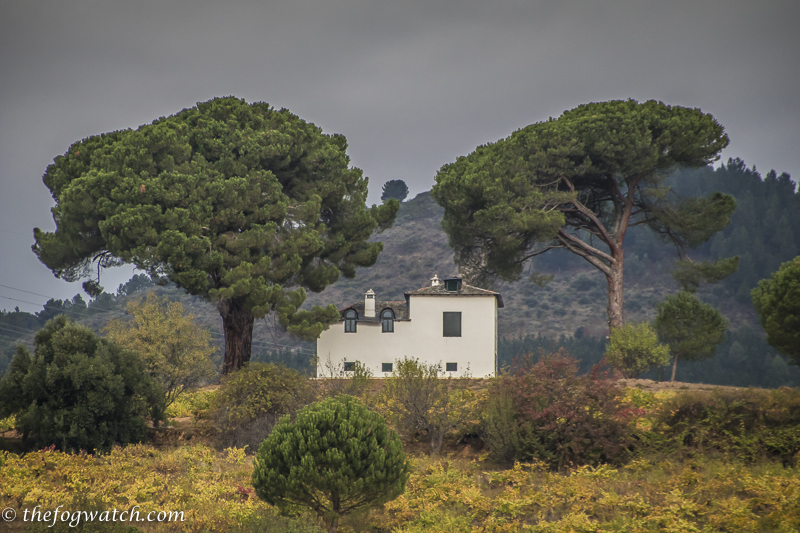 And then as we turned the corner we saw massive heroic sculptures emerging over the hedgerows as though planted in the field like a crop grown from marble and granite. It was a rural sculpture studio, and we were reminded of images from 1930s Soviet Russia – heroic and blocky, yet with a barely restrained passion characteristic of Spain itself.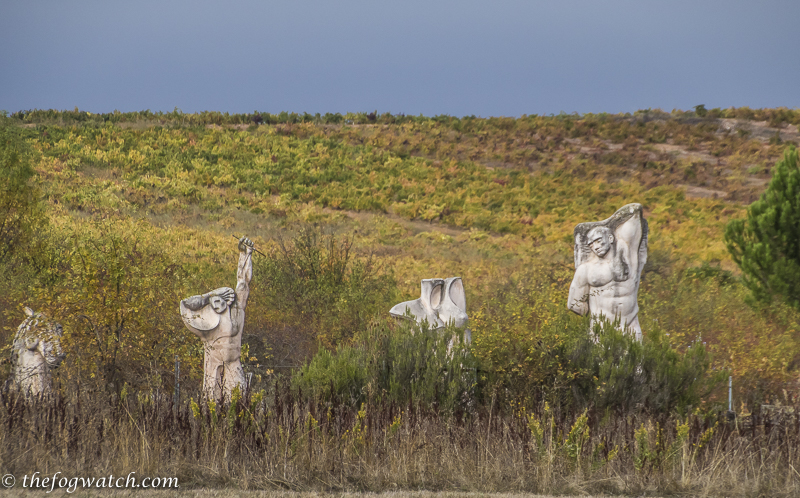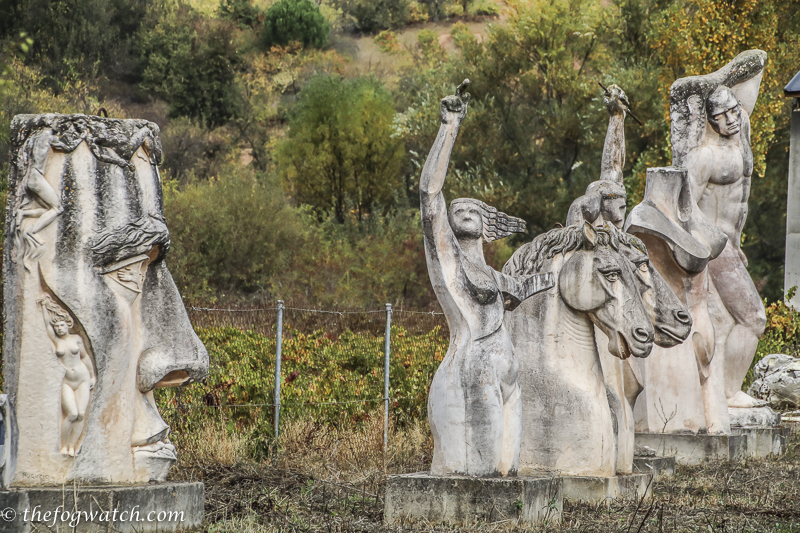 Villafranca del Bierzo
As we entered Villafranca, we passed the C12th Romanesque church of Santiago. We were told that the church housed a Puerte del Perdon – a door of pardon. The idea was that if a pilgrim was too frail or sick to make it all the way to Santiago de Compostela, they could pass through that door and receive the same plenary indulgence as if they had gone all the way to Santiago itself.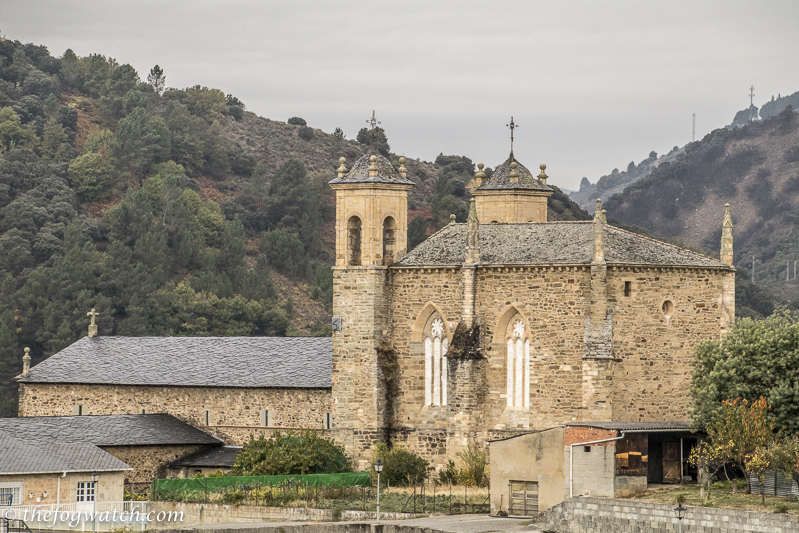 And then, as though to underscore our privileged position as visitors to a country hard hit by the Global Financial Crisis, we encountered a building, half demolished, where it was evident that whole families had just walked out, leaving all their belongings behind – the TV, the books in the bookcase – it was a poignant reminder of the anguish of people who perhaps had suffered a foreclosure on their home as the banks called in their loans. It was a story of despair. This was no orderly renovation, but rather an abandonment, as abrupt as a bushfire, yet likely caused by the stroke of a bureaucratic pen in complete disregard for the family catastrophe it caused.
Our Australian friend told us she would be staying in the Albergue Ave Fenix – a colourful and friendly Albergue at the top of the hill. We stopped to check it out, and received the friendliest of welcomes. But on a hunch, we decided to investigate the monastery at the bottom of the hill, next to the Town Hall. It had been recommended to us by Lucas, our Belgian Camino friend.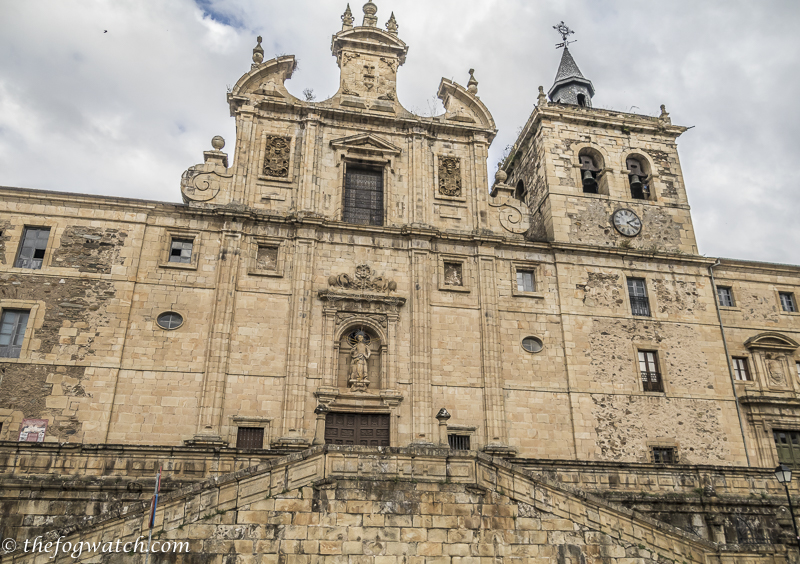 It turned out to be the Hospideria San Nicolas El Real. This was on the site of one of the original five medieval Pilgrim hostels. It was built in the C17th and had been a convent and a Jesuit-run school, and was now a hostel. About 20 monks still lived there as a working monastery, and it was little short of a palace. The view across the courtyard was pure High Renaissance. There was a well at the centre of the internal courtyard, and, noticing the profusion of windows in the upper floor across from us, I wondered if this had once served as a Scriptorium where manuscripts would have been copied and illuminated with fine imagery. It would be above the level of the shadow cast by the building and would let in far more light than the standard floors.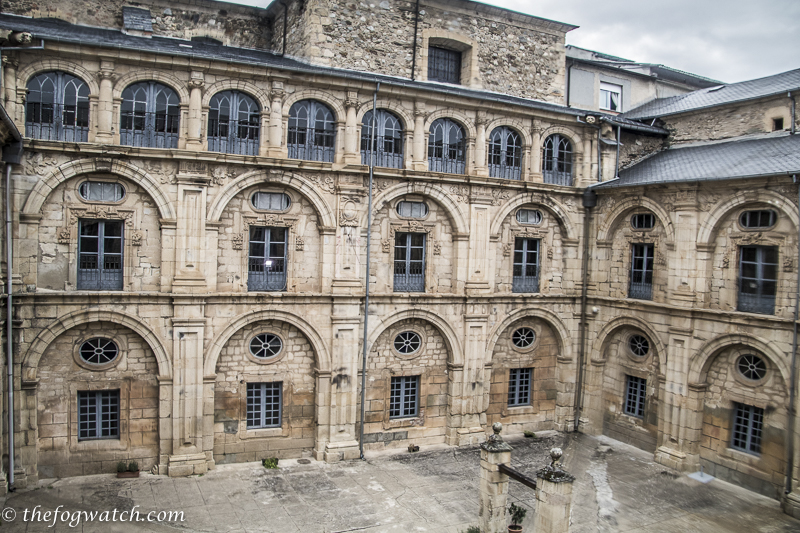 We paid for a double room €40 and it even had an en-suite! And as though to make us feel even more welcome, there was a painting of my namesake, St Jerome hanging in the hallway outside our room.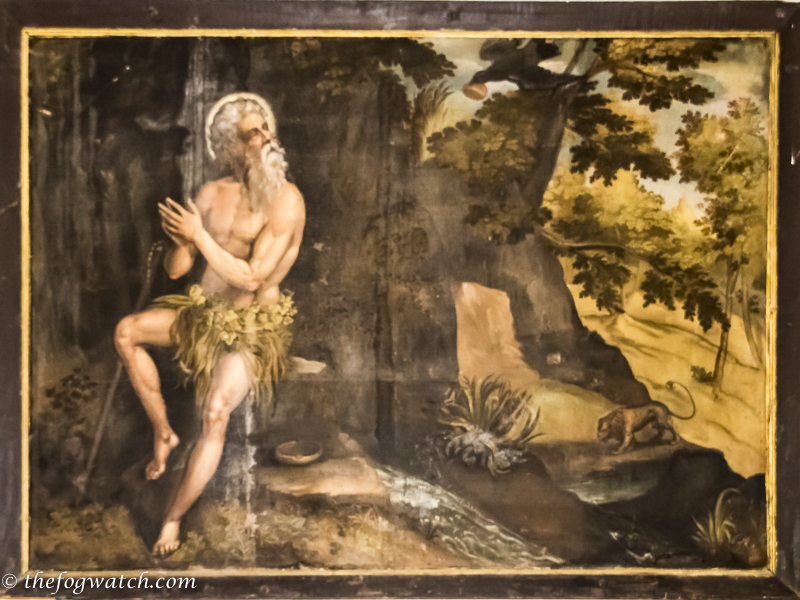 I took careful note (and photos) so we could locate our room again, as the corridor looked much the same in each direction.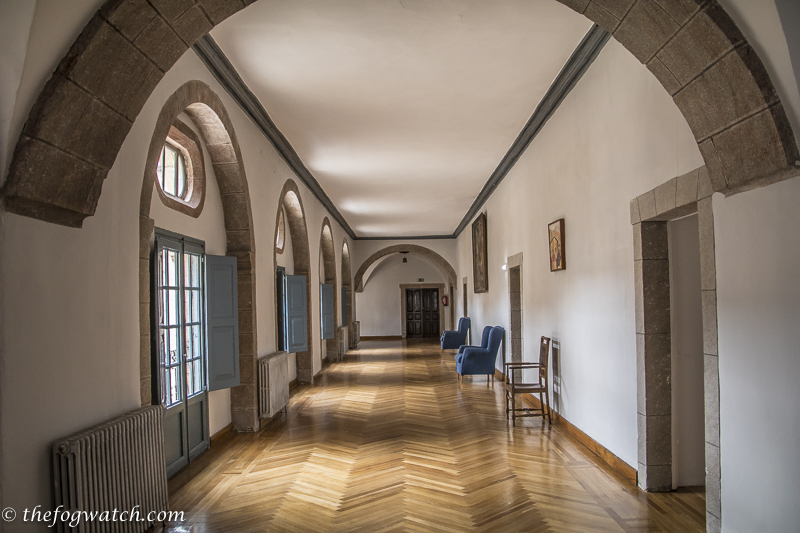 Soon it was time to meet up with Lucas, our Camino angel. We joined him on a wine tasting of La Bierzo's finest wines.
Lucas was on his 13th Camino, and had walked from Belgium. He was 78 and had walked every year since he had turned 65, when he had walked from Antwerp. He had volunteered several times as a hospitalero and he had walked practically every route. Was he walking for religious or spiritual reasons? 'I used to be very religious' he laughed, 'but the more I have walked the Camino, the more of an atheist I have become.' He still sings with the monks, he still attends Mass – these days for the companionship and cultural experience. I was intrigued. He was certainly a man after my own heart. And I had something to discuss with him. We had considered bypassing O Cebreiro to catch up with others in our Camino family. Our reasoning was that at the end of the day, the people we had met were more important than the mechanics of the Camino. In a way, it was a turning point in how we viewed this journey. But then Lucas spoke in his quiet way. 'O Cebreiro' he said, and smiled, '… is a beautiful place. If I make it up the hill and die in O Cebriero I will die happy.' And he pointed out that some people rush on, and that simply provides an opportunity to meet the next wave coming up behind. He was, of course, right. And from his recommendation, we decided there and then that we would definitely include O Cebreiro.
We sampled more of the vino tinto and discussed the merits of some of the other routes. At length, the conversation wound down. Then Lucas asked if he could introduce us to a real regional speciality – one that is never listed on the wine menu, nor is it offered to strangers. But clearly, he was no stranger to this place. 'Have you ever tried agua argienta?' I thought for a moment – silver water – it has to be a liqueur of some description… 'No, I've not tried that.' I said. 'Ah, well, you are in for a treat, as there are two types, so perhaps you should try both – a plain and a herb flavour'. And so they appeared, as though in a magic realist novel. It was like an Irish Potcheen, or perhaps a good vodka. And they were smooth, and strong, and delicious. We both thanked him for a wonderful evening and paid for the drinks. And with that, we walked back up the hill to our palatial accommodation. We slept well that night, buoyed by our encounter with our atheist Camino angel. I wondered if we would meet again sometime.
________________________________________
INDEX – If you wish to follow our journey from the start, or jump in to any of the Camino posts,
here is a link to the index page – also found in the navigation bar at the top of this blog
________________________________________
Why not have these posts delivered to your inbox? Just enter your email address and click the 'subscribe button to your left, then respond to the confirmation email in your inbox 🙂