Pedrouzo was shrouded in mist as we set off to reach Santiago de Compostela. Day 41 of our Camino, and it's All Saints Day. Some time ago we wondered if we could reach Santiago by this date, knowing that it would definitely be a day on which the famous Botafumiero (giant thurible, or incense burner) would be swung in the Cathedral. Would we find the fabled 'secret pilgrim'? To find out, we need to do some walking!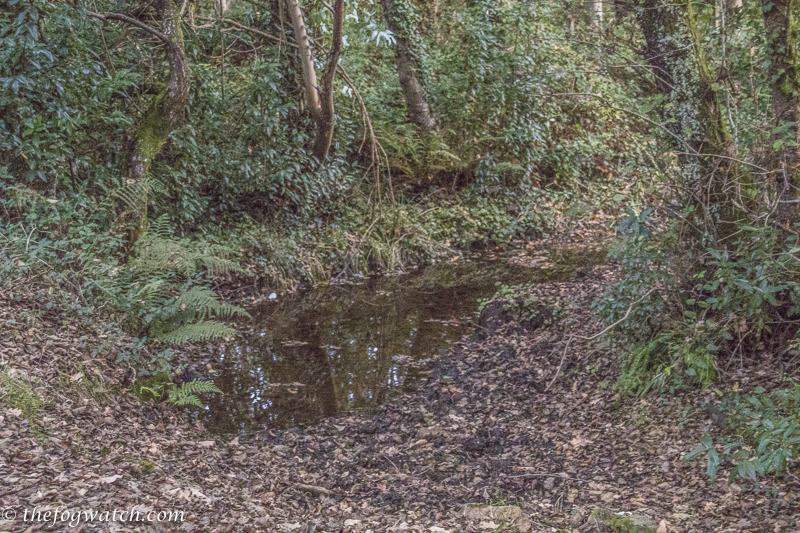 It had rained overnight and there was still some water on the track. We left Pedrouzo at first light, initially testing our night-vision as we glimpsed the dark shape of the town through the trees amid the encircling gloom.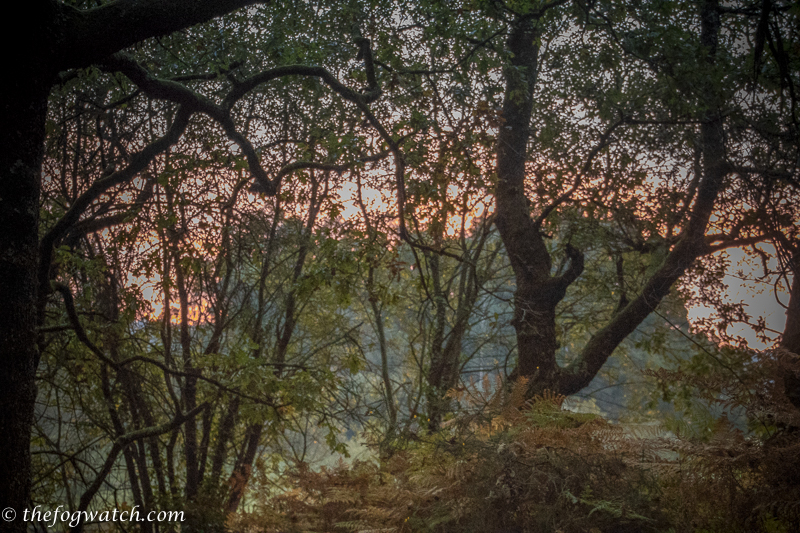 We passed some Camino graffiti: 'Se Siempe tu mismo' which translates roughly as 'always be yourself', next to an outlined yellow arrow. I think that if you have walked the Camino, then by now you are already aware that you walk your own path on the Camino as in life – so it's probably a bit of a statement of the obvious. Nevertheless, it seems some people feel the need to leave pop psych wisdom daubed over people's walls right along the Camino. I suppose it beats profanities and expletives, but it does detract from the ancient ambience we find right along the route.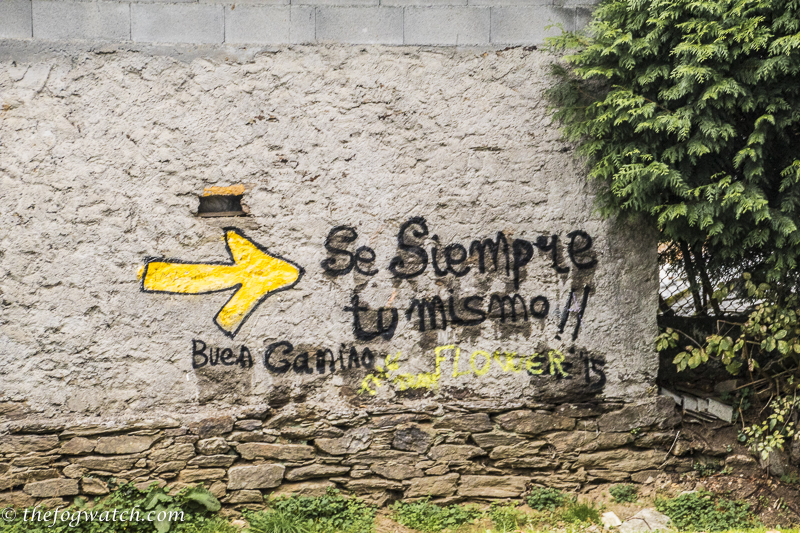 We found an official Camino marker ringed with a cyclist's inner tube. Was it symbolic of an inner deflation? Or a speedy repair to enable a mounted pilgrim to continue, perhaps with the lesson that where there's a wheel there's a way…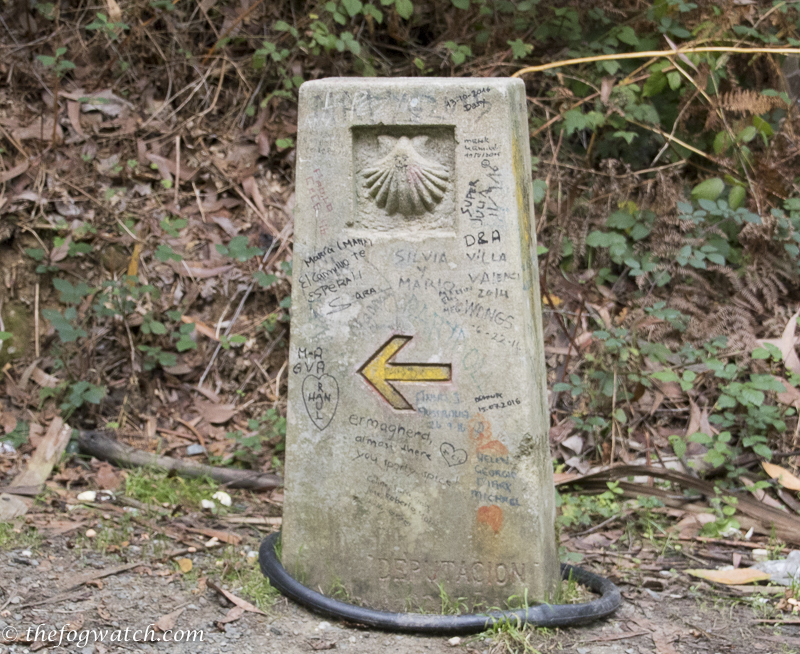 Not long afterwards we passed a more traditional older-style Camino marker, beautifully carved from stone by an unknown skilled stone mason. A couple of offerings had been placed on top, probably quite recently.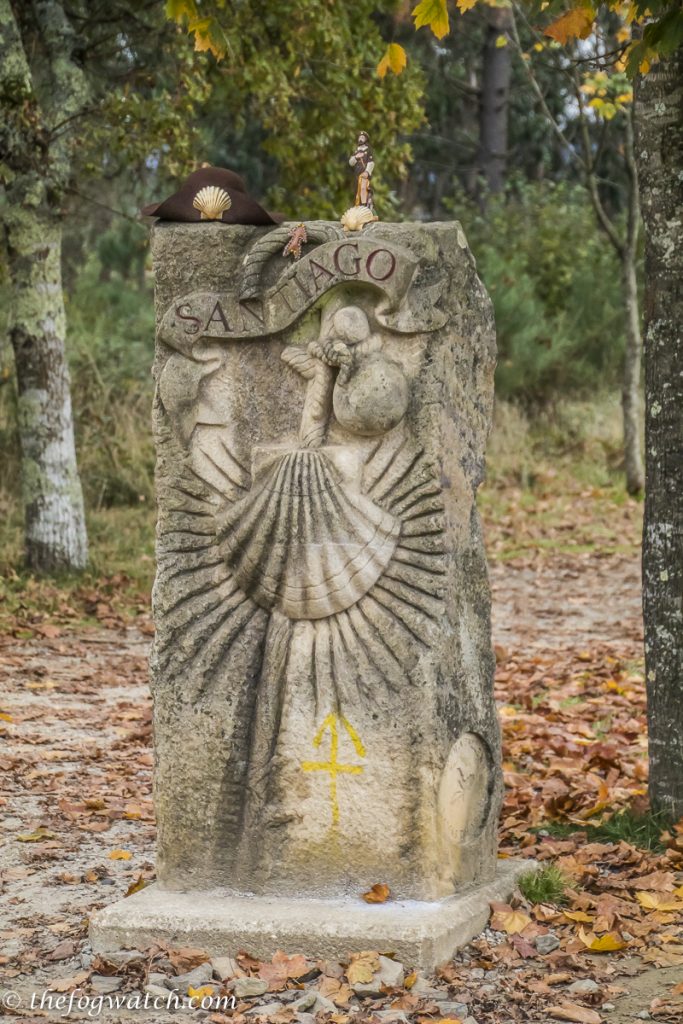 The path took us through delightful woodland and the going was gentle. We appreciated that, as the cumulative fatigue was taking its toll.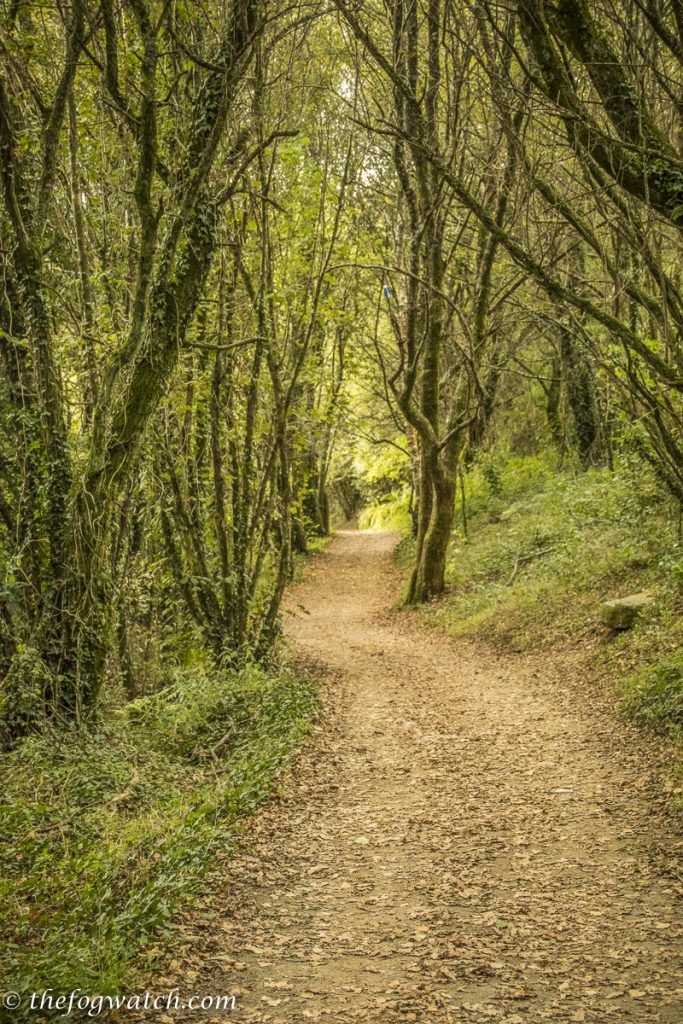 Interestingly, we found ourselves walking in this scenery, barely noticing that the woods off to the side cleverly concealed the fact that we were walking around the end of the runway of Lavacolla airport. It was peaceful, and unseen birds sang in the morning sunshine.
Nearby we encountered what appeared at first sight to be a dump. We were next to a foetid, polluted stream and in a small clearing every tree and every shrub was festooned with ribbons and bits of clothing, and boots and picture mementos. An orange chemical substance was oozing into the stream. I puzzled for a while, before realising that this desecration of the landscape was the fabled Lavacolla, the traditional bathing spot for pilgrims over the past thousand years, just a few kilometres from Santiago. You would not get very clean by washing in this place!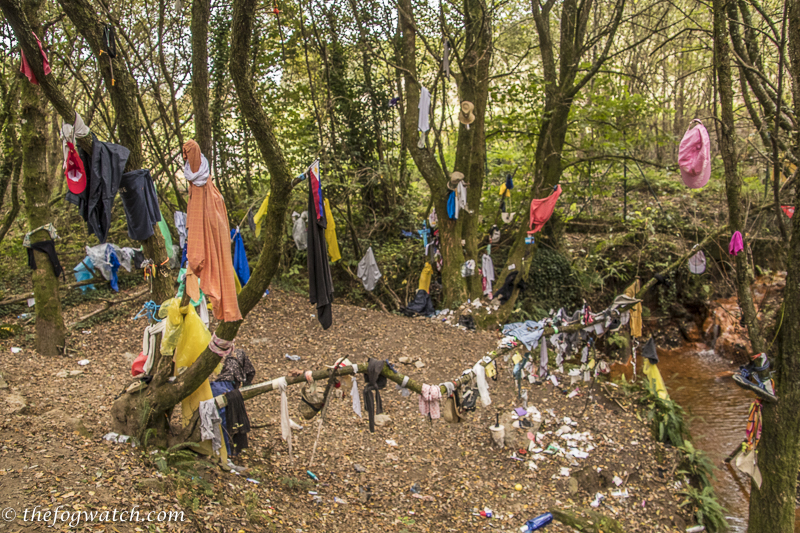 According to the Codex Calixtinus, it is customary to wash oneself thoroughly in the river at Lavacolla, so as to be clean when arriving in Santiago:
There is a river in a wooded place two miles from Santiago called Lavacolla, in which French pilgrims, out of respect for the Apostle, wash not only their private parts but, stripping off their clothes, clean all the dirt from their bodies.
I took one look at the orange ooze seeping into the river and decided to hold off until we reached our hotel….
This semi-fortified chapel stood in marked contrast to the informal bathing spot we passed a few minutes before.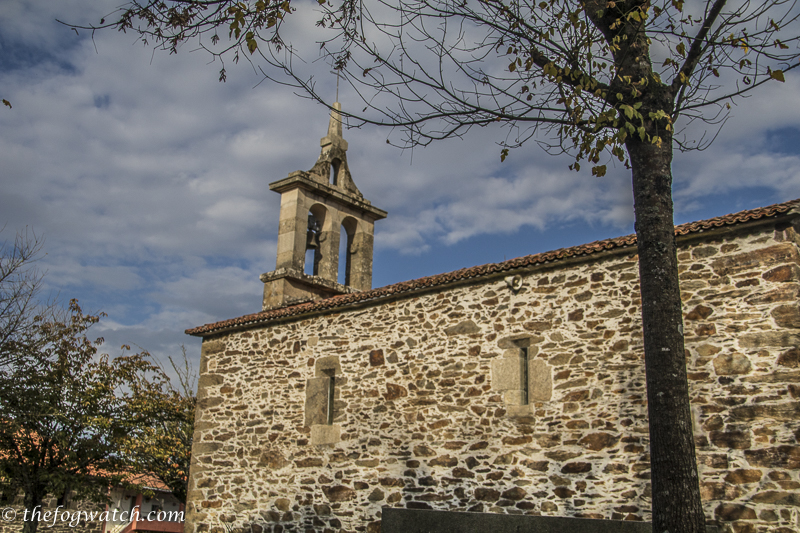 And we were clearly beginning to head into civilisation in the form of the hamlet of Villamaior. This Horreo was one of the better-maintained ones, possibly owned by the church, as shown by the cross surmounting one end.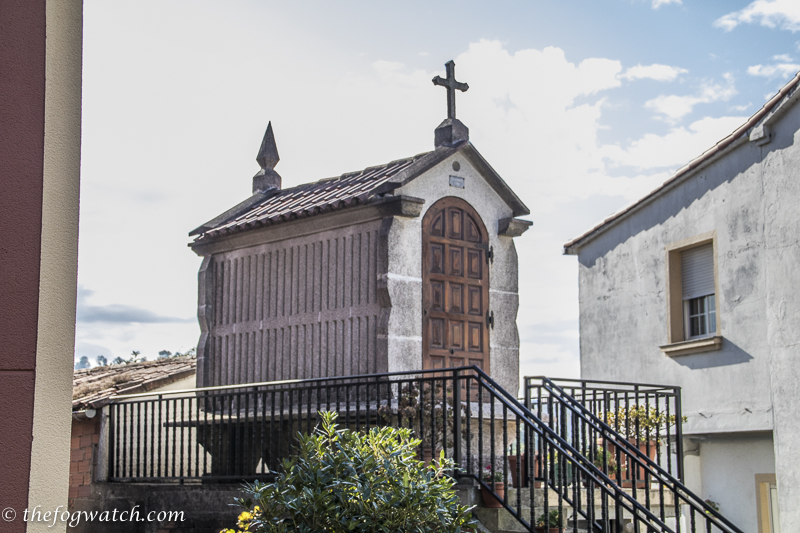 We passed a house with stylised plaster heads depicting children on the gateposts. They were striking in their simplicity. I wondered what message they were supposed to convey, or indeed what they properly represented.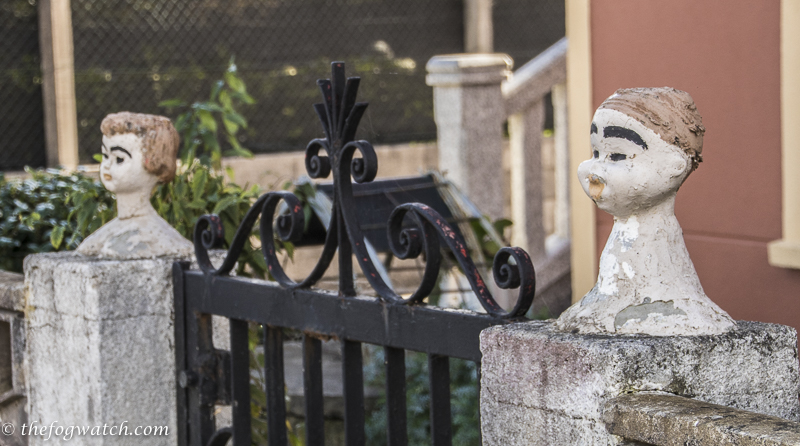 Soon we were climbing again, heading up to Monte del Gozo. The Capilla san Marcos stood gracefully beside the path as though to wave to the passing parade of pilgrims, gradually becoming more numerous as we approached Santiago.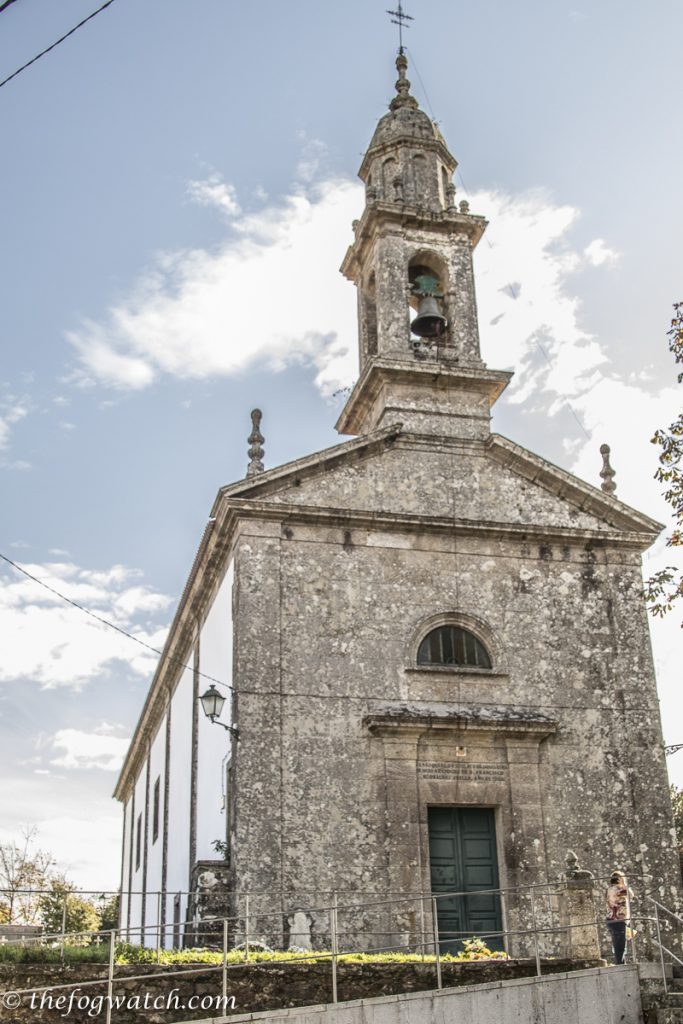 Near the church was an ancient cross and it appeared that the Virgin Mary was pierced with a sword – the anguish of a mother who saw the death of her son.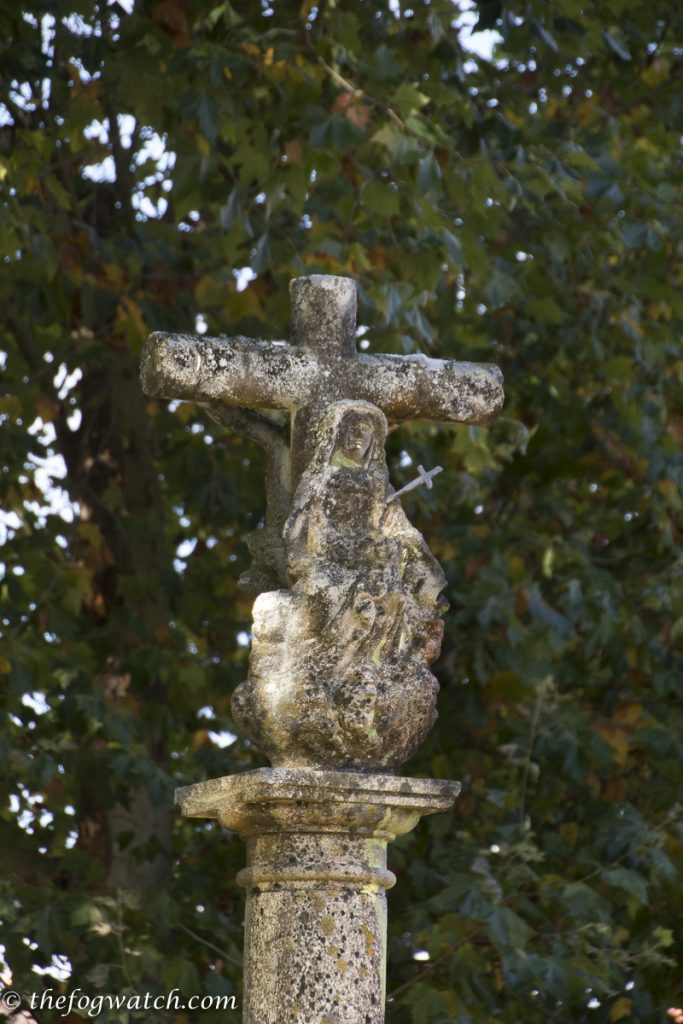 And then the famous 'Don't STOP Walking' sign providing encouragement to exhausted pilgrims. Not far now! This must be one of the most photographed road signs on the Camino!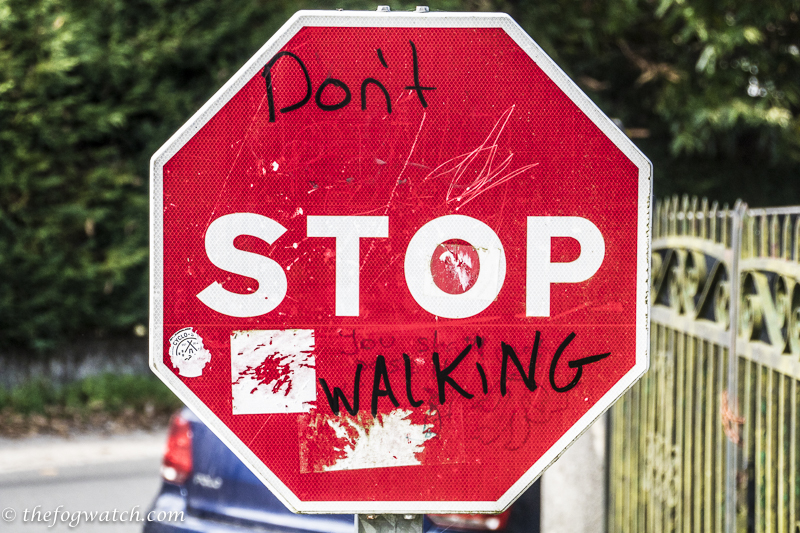 We climbed and saw off to one side a famous landmark – a monument to the pilgrimages of Pope John Paul II and St Francis of Assisi. We were at the Monte Del Gozo – the Mount of Joy.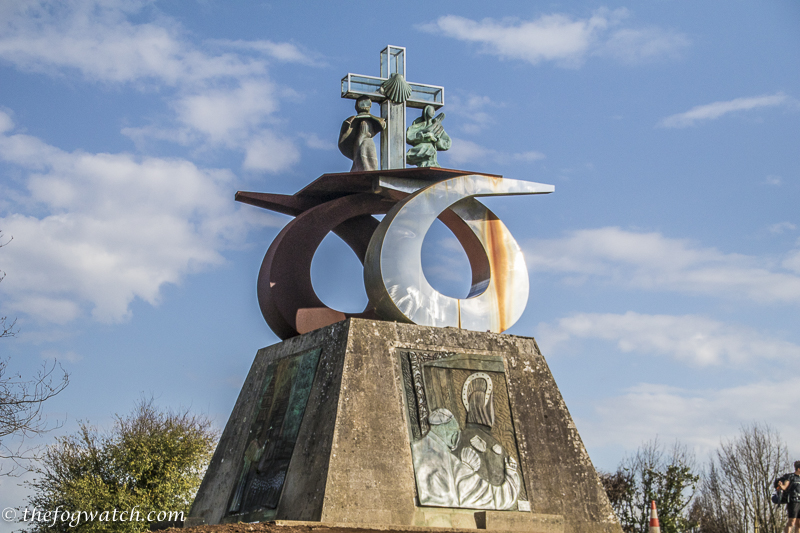 From here, it is said, you can see the twin spires of Santiago cathedral on a clear day. Follow the gaze of the statue of two pilgrims, but the cathedral is not easy to spot among the sprawl of Santiago.
Then it was down a long flight of steps to meet the road and the bridge over the railway line. There were disturbing gaps among the rotten wooden floor to the footbridge and I made sure to stay within the line of the steel support girders clearly visible beneath the loose boards. It was not the best sight for two tired pilgrims.
And then we were on the outskirts of the city. We passed a statue with a plaque labelled El Templario Peregrino – the pilgrim Templar. Perhaps these days he was there to protect the pilgrims from the Spanish traffic.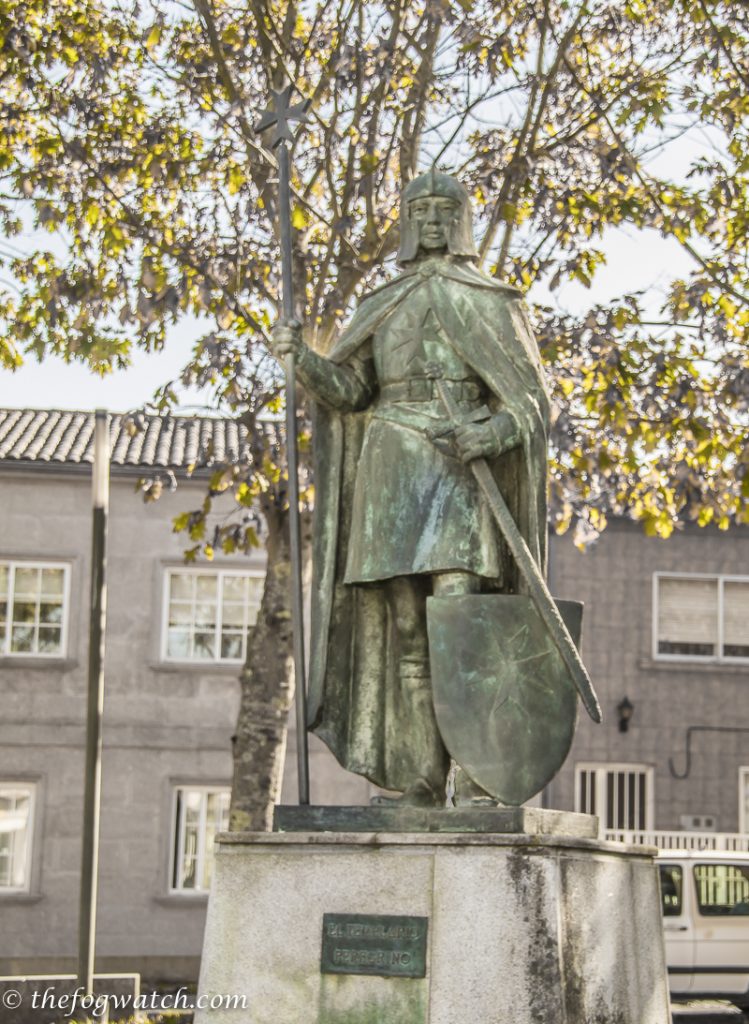 We saw a sign to beware of walkers, tractors, mopeds and horses and carts. We decided to be vigilant because you never know when a horse and cart will come bounding out in front of a speeding tractor or moped!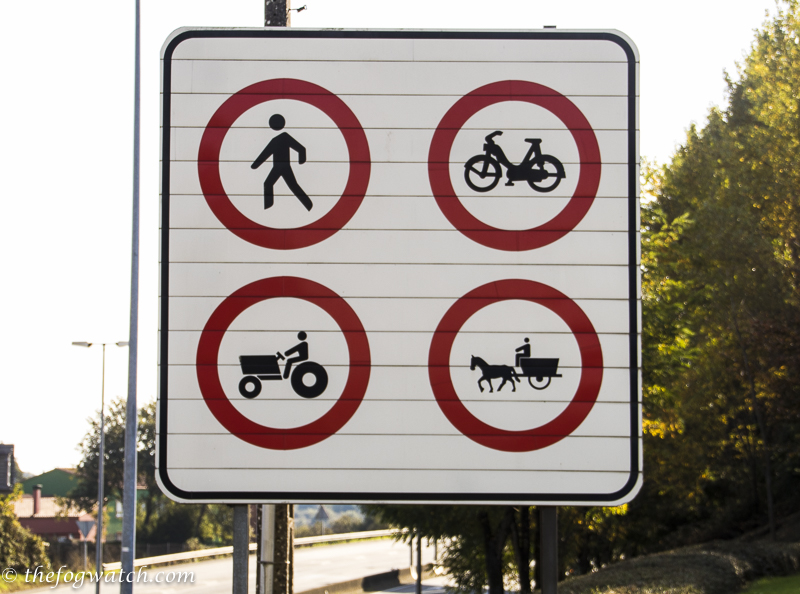 Just beyond a roundabout, we passed a modern monument to prominent people associated with the Camino. It was like a portal and we passed beneath across the park.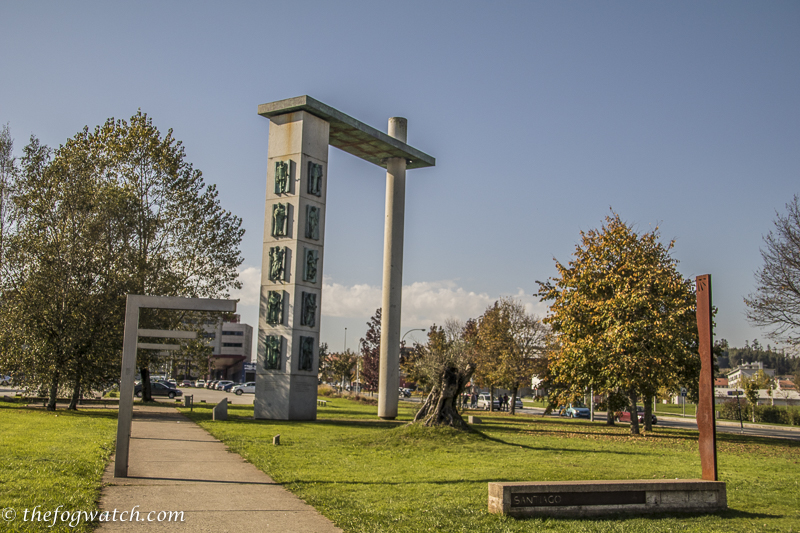 And we found the way marked with bronze camino shells – our guides in many towns. The converging lines symbolising the coming together of all the various pilgrim routes to meet at Santiago de Compostela.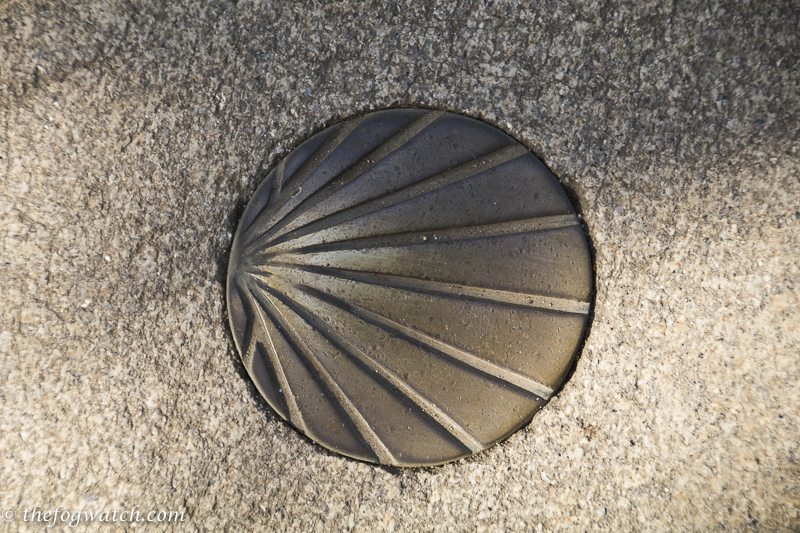 Soon we were walking the city streets, past shops and cafes, with a spire of the cathedral tantalisingly ahead.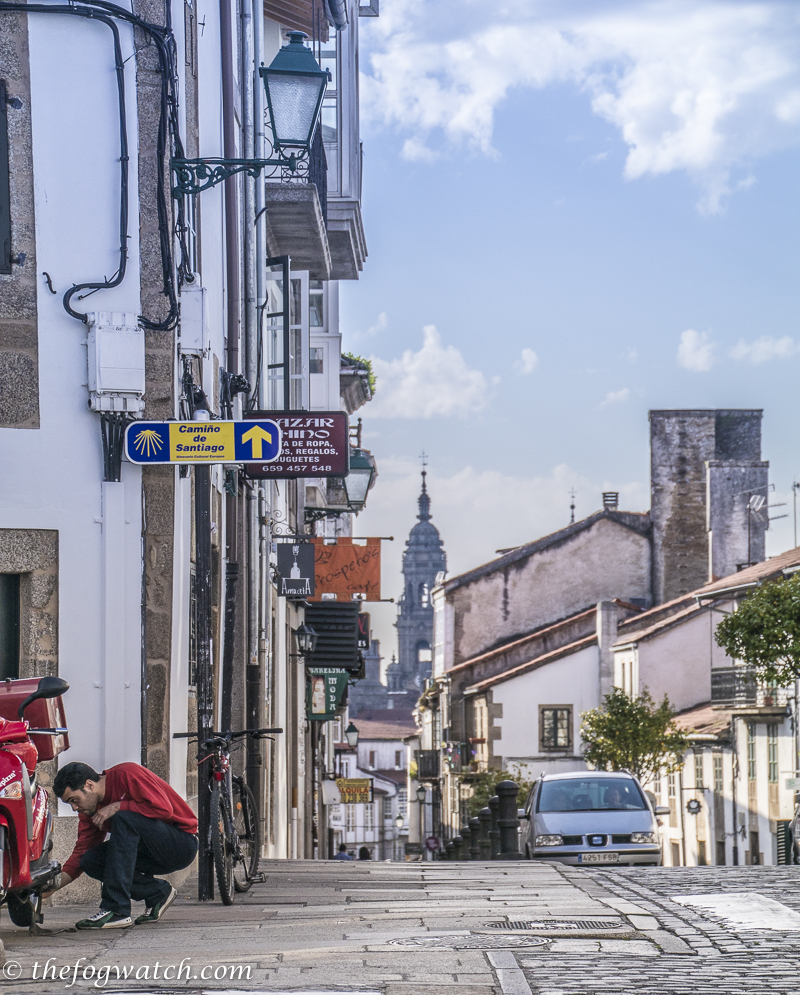 Embedded into the path we found an inscription from UNESCO. It read: 'Europe was made on the pilgrim road to Compostela'. The field of stars. And at once it became clear. Here is a path that transcends national and local boundaries and has brought people together in common cause. It is a path that brought artisans, craftsmen and philosophers together to exchange ideas and to open our minds beyond the narrow parochialism of our individual countries. It is a path that today brings people together from all over the world, from Australia, Canada, USA, UK, France, Germany, Latvia. Italy, Slovenia, South Korea, Japan, China and Spain – and that is just some of the nationalities we met along the road. All bound by an ideal, and a sense of altruism. All walking in the footsteps of a thousand years of pilgrims from across the world.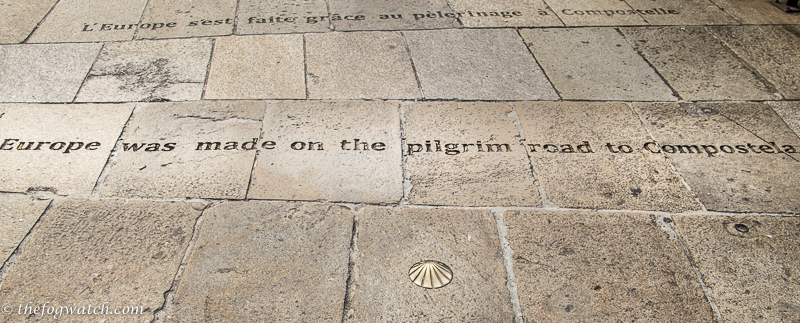 We soon lost sight of the Cathedral spires among the buildings around us. We followed the bronze markers and tried not to get lost in the maze of a town built on medieval streets.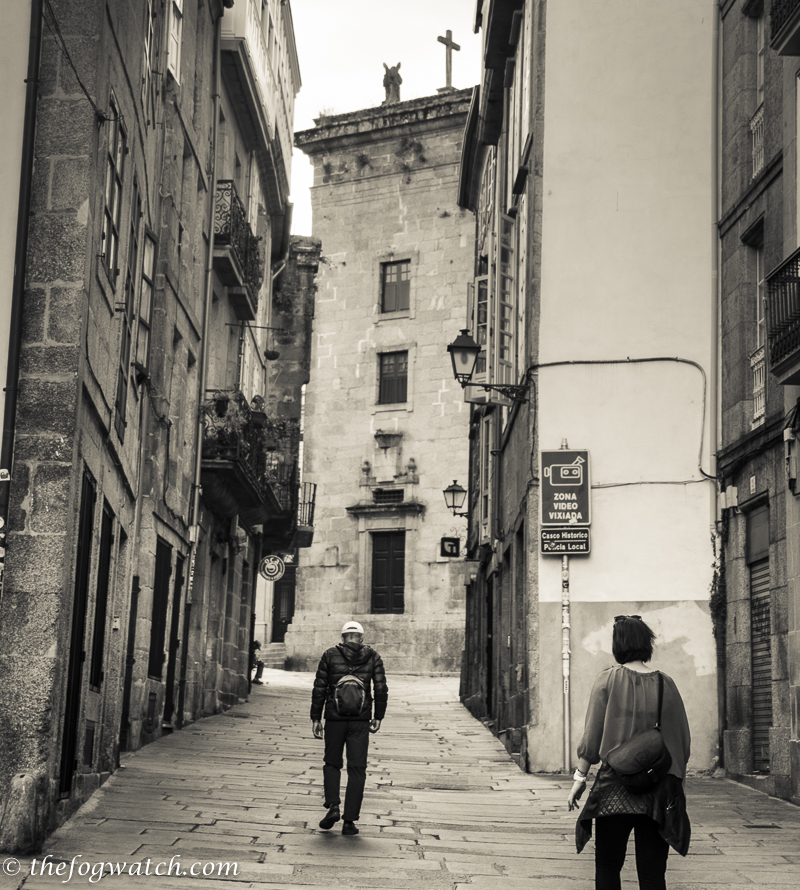 Then we encountered some steps, and a piper was playing. I grabbed the phone and tried not to take a tumble on the stairs. We descended past the piper, then all at once we entered the square.
I looked around and saw the Cathedral for the first time. We both burst into tears and embraced. We had done it.
Whether we wept from exhaustion, or from the realisation that we had accomplished something truly extraordinary is immaterial. We had walked a million steps and traversed 800kms/500 miles, we had crossed three mountain ranges and we had walked an ancient path to give thanks for a good life. And we had walked the ancient Way of St James.
Somehow, we are no longer the people who started out on this journey. Our perspectives have shifted. And we have learnt many things about ourselves, and about our fellow human beings. And it was good.
We set off to find our hotel – we have booked a week here and hope to meet up with some of our fellow pilgrims, our Camino family. At the hotel we were congratulated and welcomed for one of the best hotel stays on our entire trip.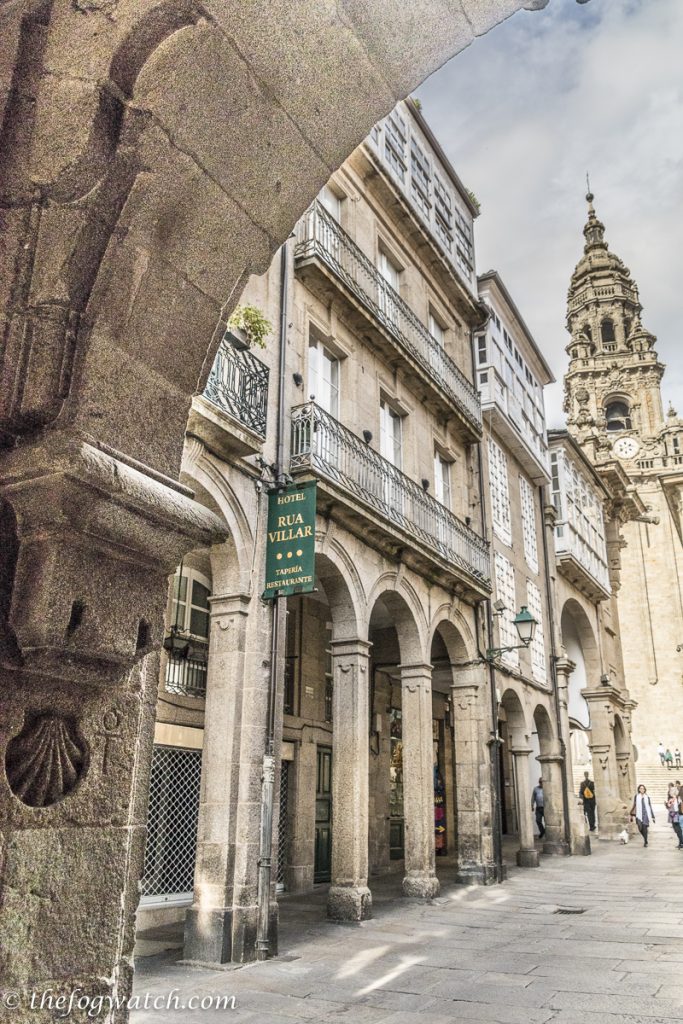 With a light drizzle in the late afternoon, we were amazed and blessed by a spectacular rainbow over the Cathedral! Some might take that as a sign. There is no doubt we will return here. But for now it is time to rest, then tomorrow we receive our Compostela certificates, meet some friends and attend the Pilgrims mass. Until then, Buen Camino!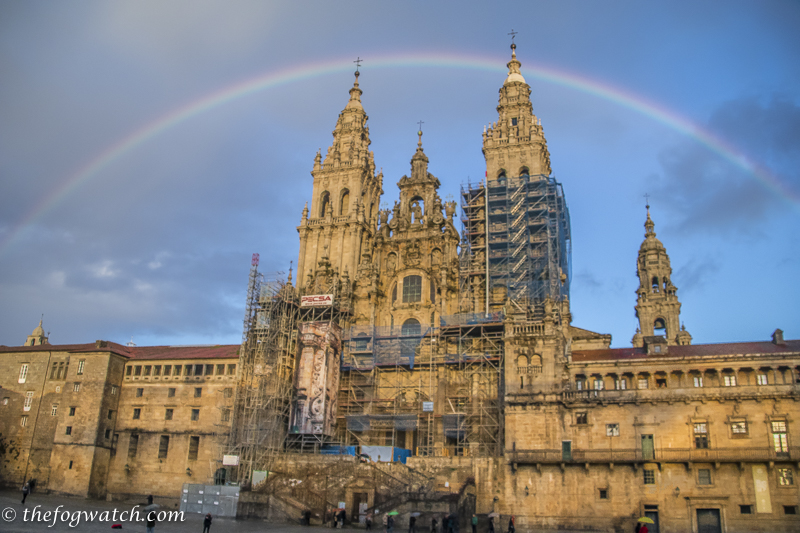 ________________________________________
INDEX – If you wish to follow our journey from the start, or jump in to any of the Camino posts,
here is a link to the index page – also found in the navigation bar at the top of this blog
________________________________________
Why not have these posts delivered to your in-box? Just enter your email address and click the 'subscribe' button in the left margin, and don't forget to respond to the confirmation email in your in-box 🙂