Up early, we walked with our headlights on – or rather Sharon did – my headlamp was no longer functioning. On to Palas De Rei (Royal Palace). The moon gave a wan thin smile as the Way climbed yet another Alto, or mountain. The air was crisp and cool and the first glimmer of dawn promised a spectacular light.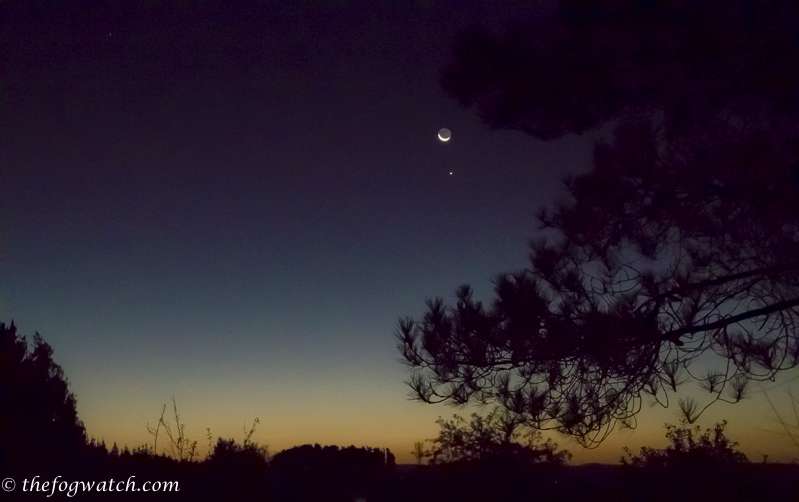 And so we climbed. Breakfast at Ventas de Narón – toast and coffee, then Sharon and I ceremoniously binned the headlamps. They were inadequate to the task and. Next time we will buy decent ones.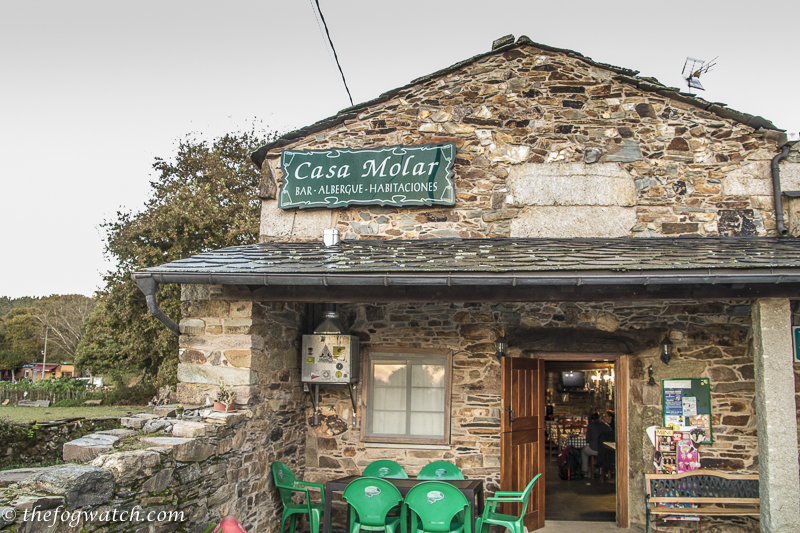 We set off again and discussed the wonderful comments you have been making on my blog and on Facebook. By now I was ready to wax lyrical about the moss-covered stone walls, the mystical trees, the dark secrets of the stones whispering of Romans and Charlemagne, Templars, and witches. The delicate traceries of cobwebs heavy with dewy diamonds, the call of the birds and the scampering of squirrels were all part of the magic of the Camino. My reverie was abruptly interrupted by a white van lurching around the corner and splashing me from a dung-filled puddle. For some reason Sharon seemed to avoid me for much of the rest of the day, muttering about wanting to be upwind… An unaccountable agricultural odour persisted – even in the coffee shops – and didn't really depart until I had done the day's clothes washing… There's a Camino lesson in there somewhere…
We passed a cross at Lameiros on the Sierra Ligonde hillside.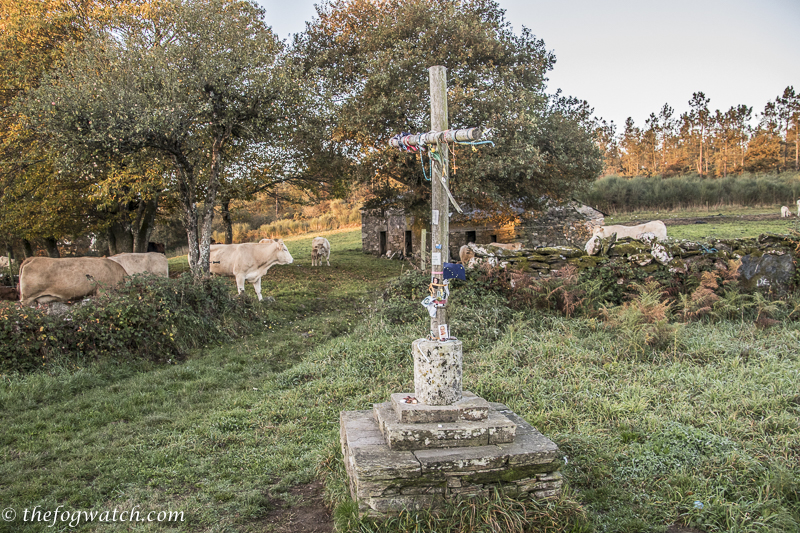 At Alto de Ligonde we could see islands of hills floating in a sea of clouds. Of such stuff, dreams are made.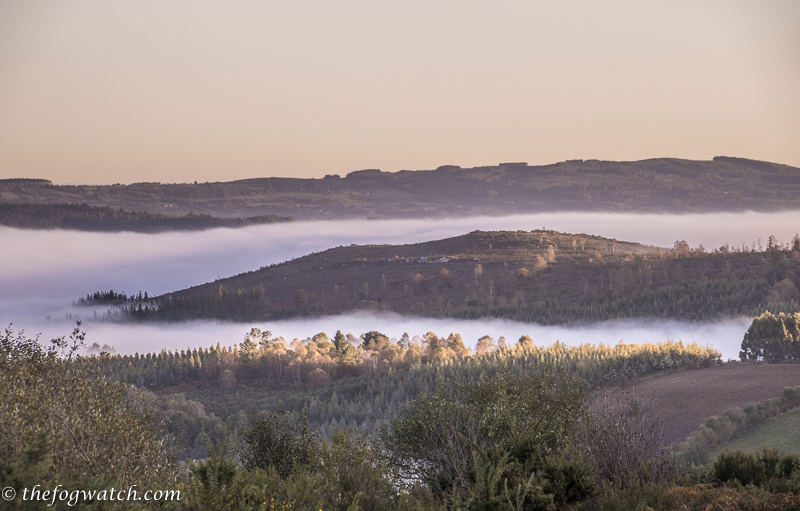 We descended passing hamlet after hamlet, village after village with no coffee shop to be found. At Ligonde we passed an ancient cross with a crudely carved latin inscription. On one side was a naive madonna and child, on the other the crucified Christ. The cross was placed in 1670 and marked the sight of a pilgrim graveyard. It was not always as safe as it is today.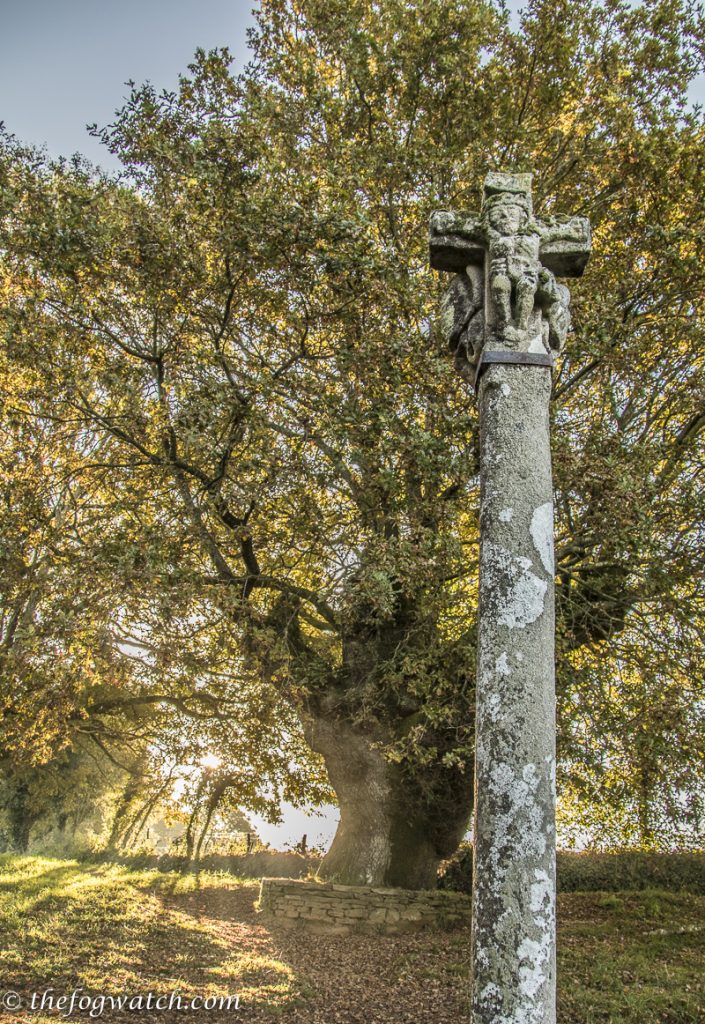 We passed tall stands of eucalyptus trees – planted by the Dominican monk who founded the Western Australian monastery of New Norcia.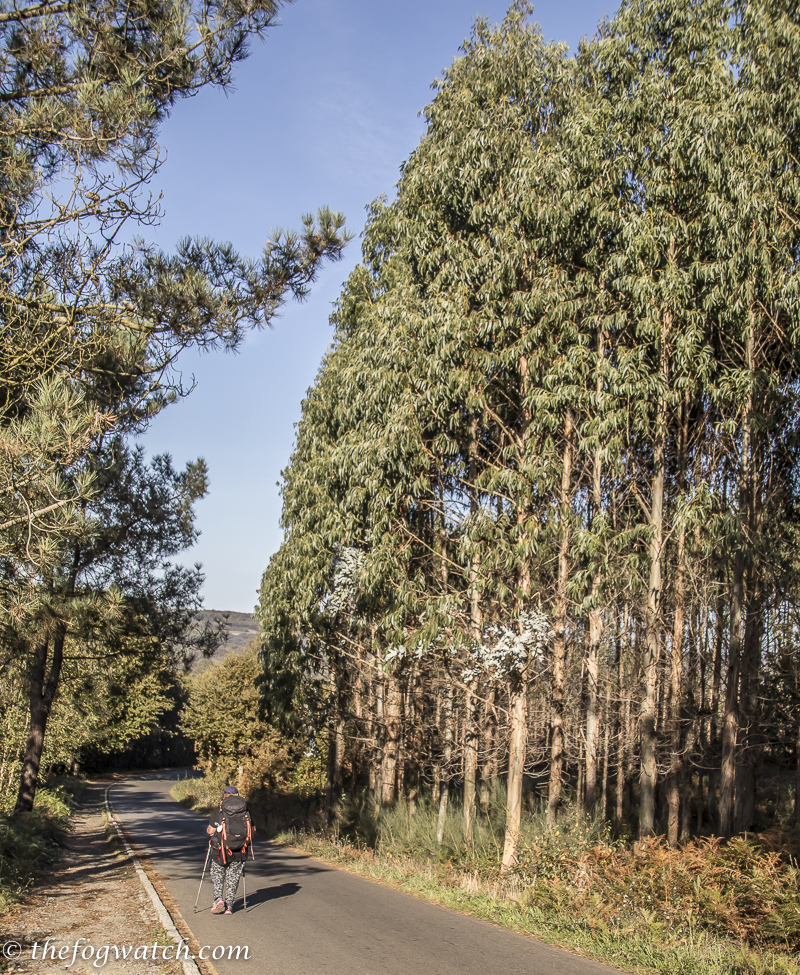 Brunch at Brea was most welcome.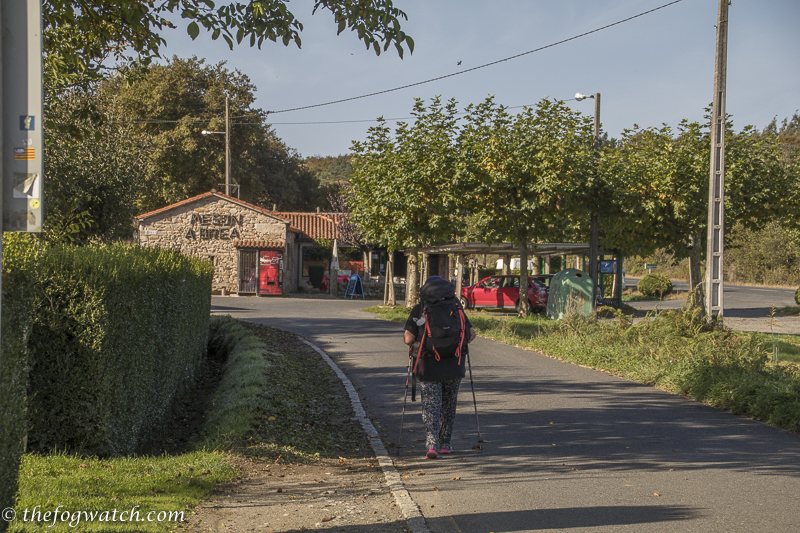 Here the path is being rebuilt and we could see where they had left ancient stones in place lining a creek ford.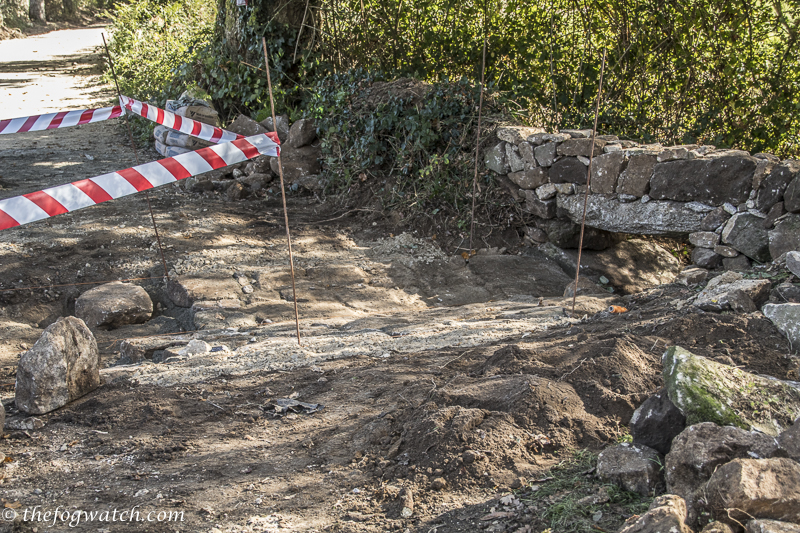 Again the trees formed a tunnel overhead with their intertwined branches. It was most picturesque.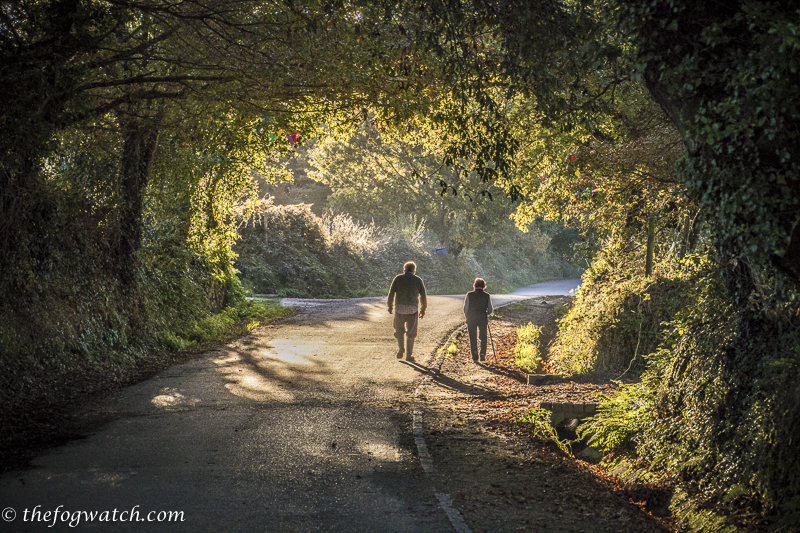 We had seen structures like small houses on stilts which were for drying maize or corn cobs, but at Rosario we found one formed like a giant wicker basket, formed of woven branches with a thatched roof.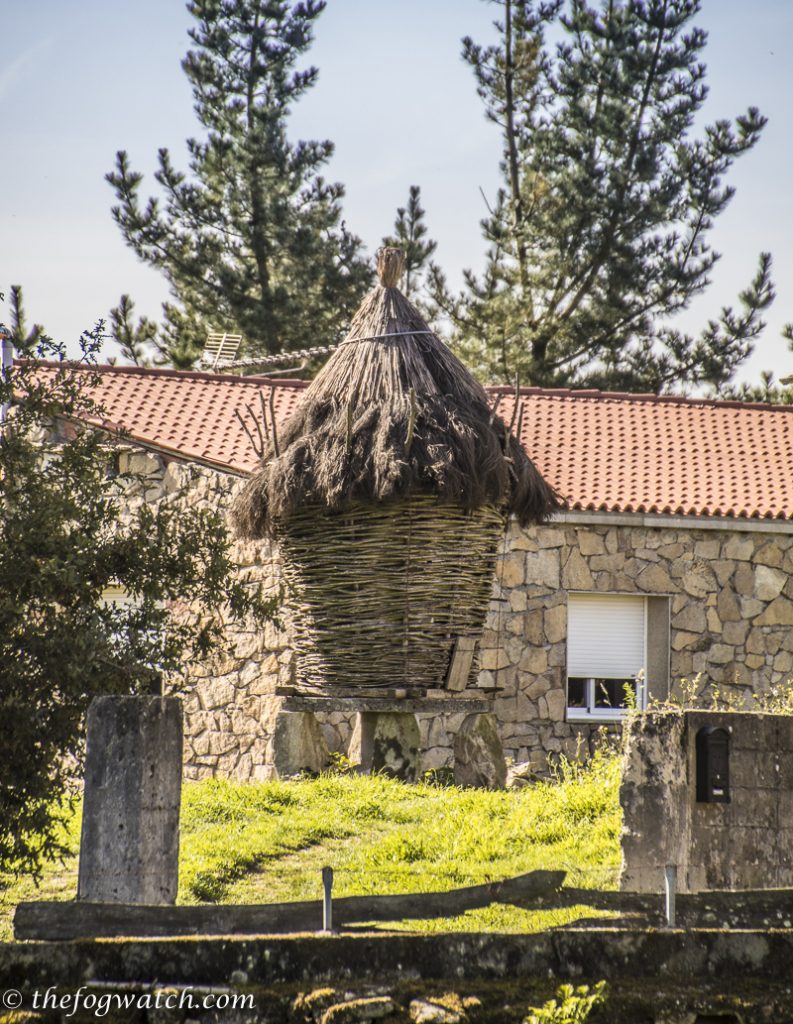 And on the right, a genuine weeping angel statue – Don't Blink! [Dr Who reference]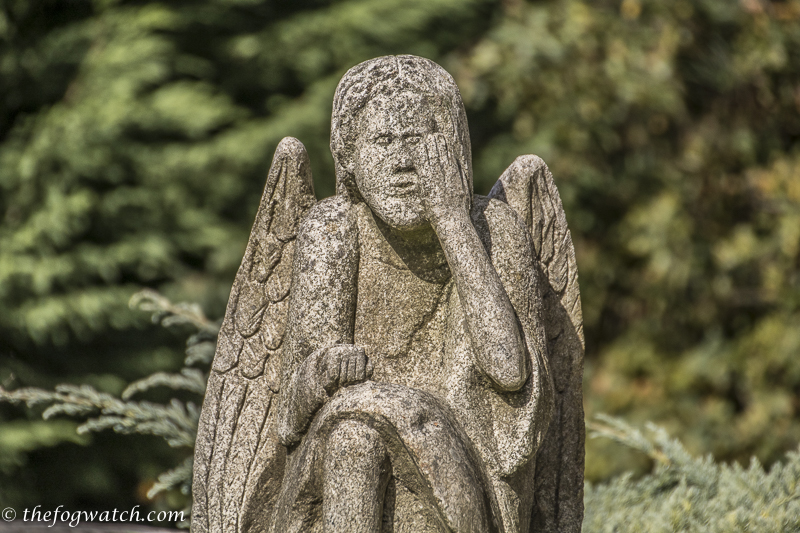 The modern Albergue looked inviting – very fresh and new looking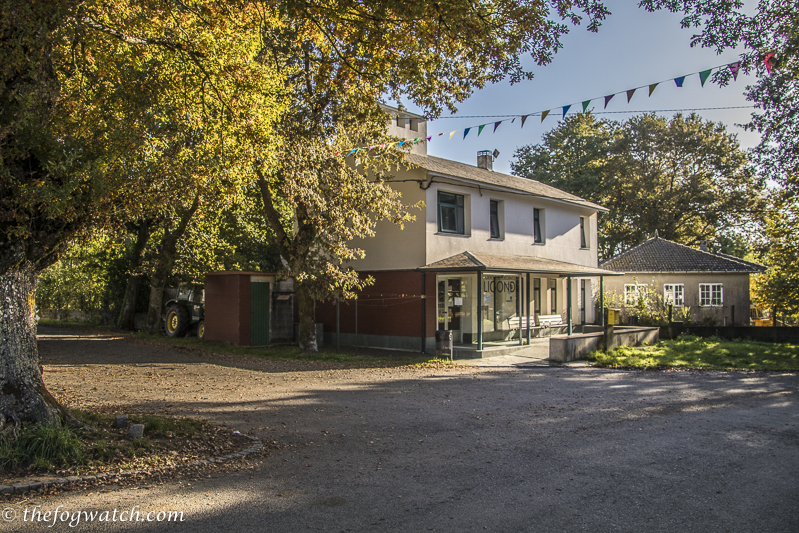 More tree tunnels followed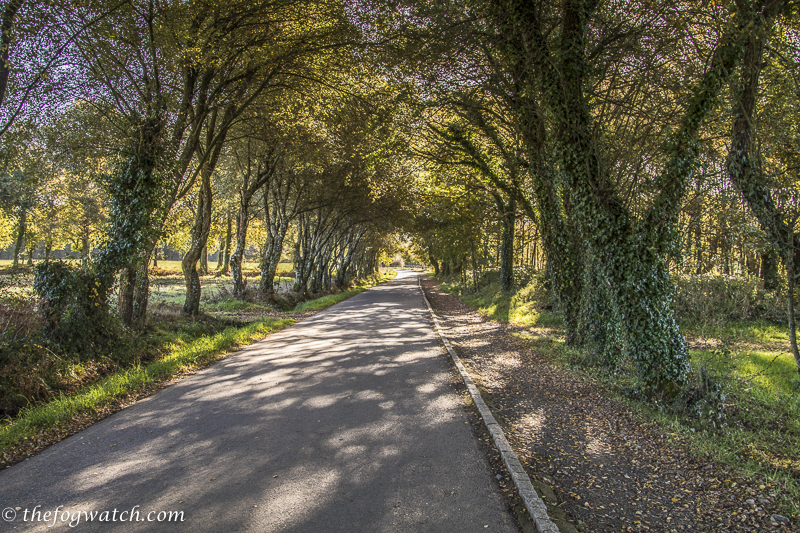 And off to the side were glimpses into mystical woodland, and it would be easy to see where Celtic legends of fairies and magic arose, from the shafts of dawn sunlight piercing the mist and cobwebs among the shadows of the trees. It is a place of the imagination.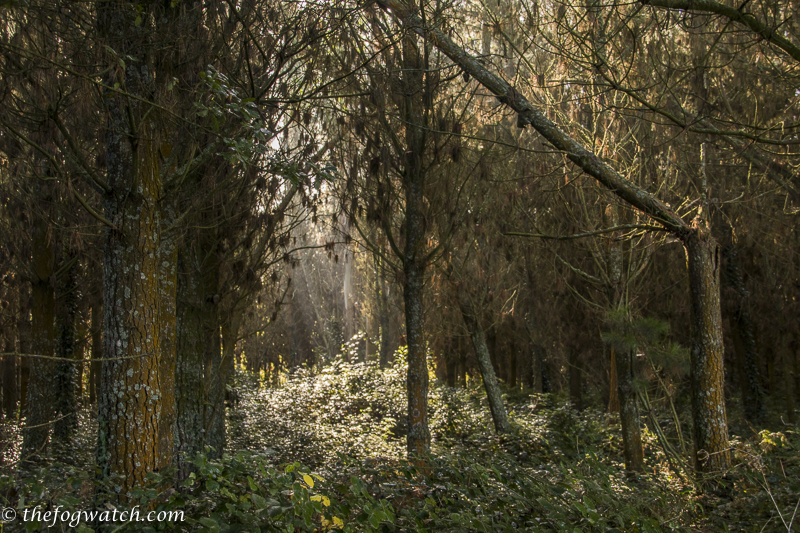 Then on to the medium sized town of Palas de Rei. We found the municipal Albergue on the main street, but after ten minutes waiting and calling out in the foyer, we could raise no-one. So we headed off and found a room in an Albergue around the corner and decided to stop there for the night. It was 27 degrees Centigrade (80.6 Fahrenheit) and warm weather for walking. The cafe con leche in a local bar amongst other pilgrims was delicious.
One farm we passed on the outskirts had a graphic 'Beware of the Dog' sign – it left us in no doubt that the place was protected. When we saw the dog, it was apparent that it lacked only a saddle – it was one of the largest dogs I had ever seen. But it was chained, and basking in the sunshine inside the fence so it took no interest in us.
On the way into town we saw the broken dreams represented by half-finished houses – victims of the Global Financial Crisis.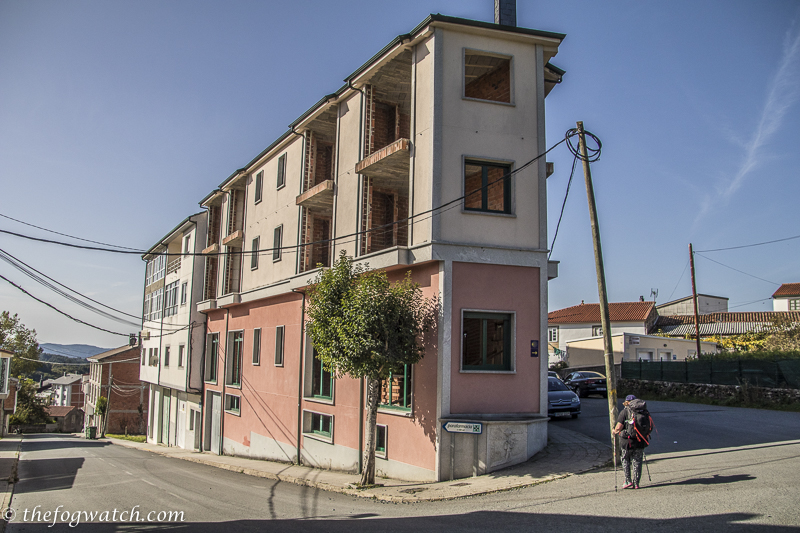 This door caught my eye – it was simply beautiful and expertly crafted!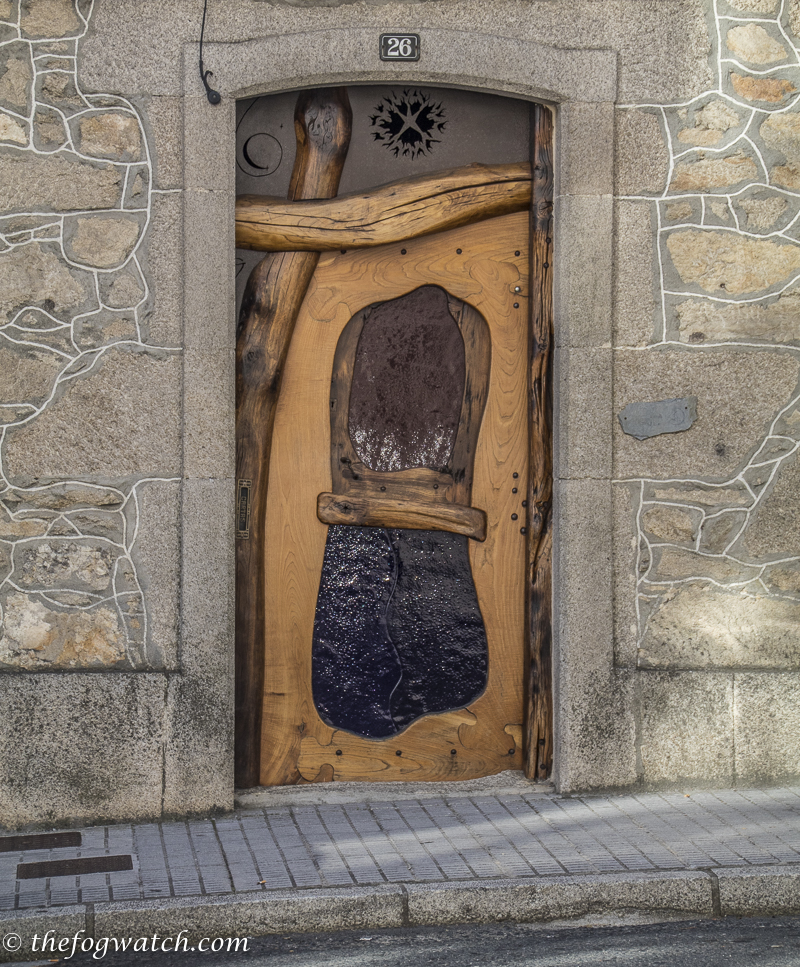 Palas de Rei itself is a decent size – population around 3,500 – and has a good range of shops, bars and restaurants. It lies in Galicia not far from Lugo. The Iglesia de San Salvador de Vilar de Donas is well worth a visit – it is a C12th Templar church, which runs regular pilgrim masses. At the top of the hill you can also find a castle. The presence of such castles is a reminder that we are privileged to have a safe passage on our pilgrimage route. It was not always so.
________________________________________
INDEX – If you wish to follow our journey from the start, or jump in to any of the Camino posts,
here is a link to the index page – also found in the navigation bar at the top of this blog
________________________________________
Why not have these posts delivered to your in-box? Just enter your email address and click the 'subscribe' button in the left margin, and don't forget to respond to the confirmation email in your in-box 🙂