It was the end of daylight saving, and we awoke to find Dawn almost upon us – an hour earlier than we had expected. So we breakfasted quickly and headed out of town, realising that the kilometres were rapidly counting down. Arzua beckoned.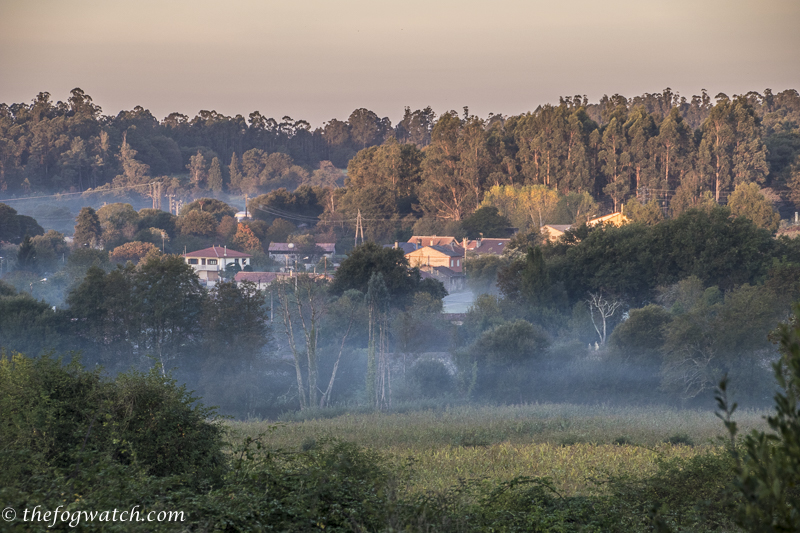 We headed out into majestic woodlands, then fields of cows – of which much evidence lay on our path.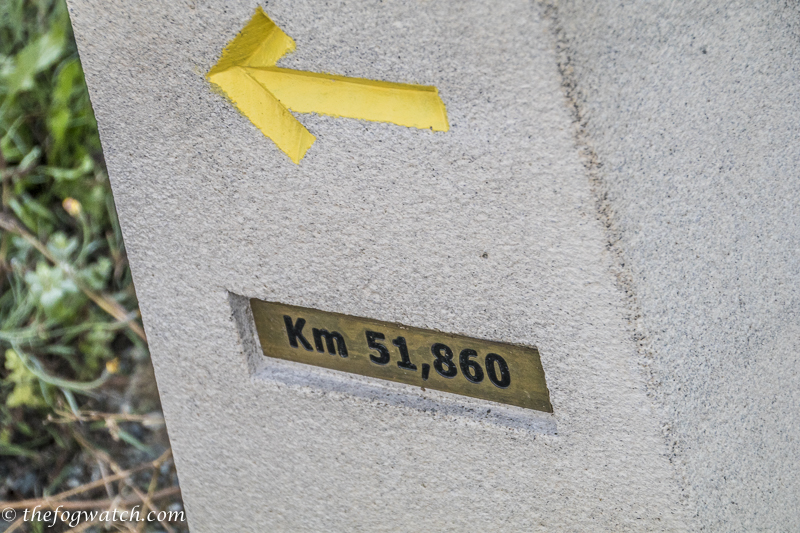 We encountered a small crudely fashioned wooden cross – dated 19 October 2016 – someone had perished nearby even as we walked!
And then we passed through villages with ancient Camino marking crosses and a wonderful old Romanesque church.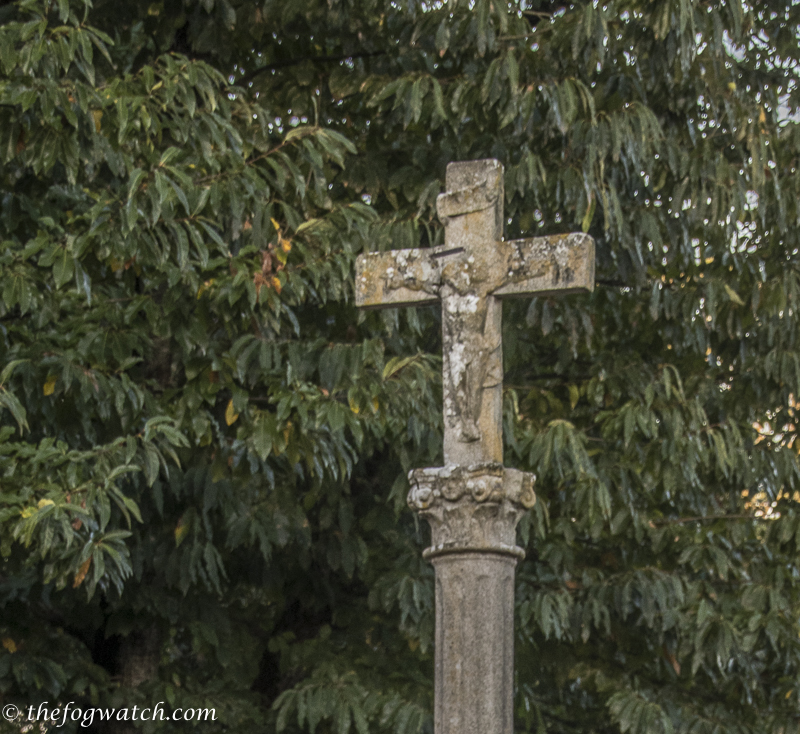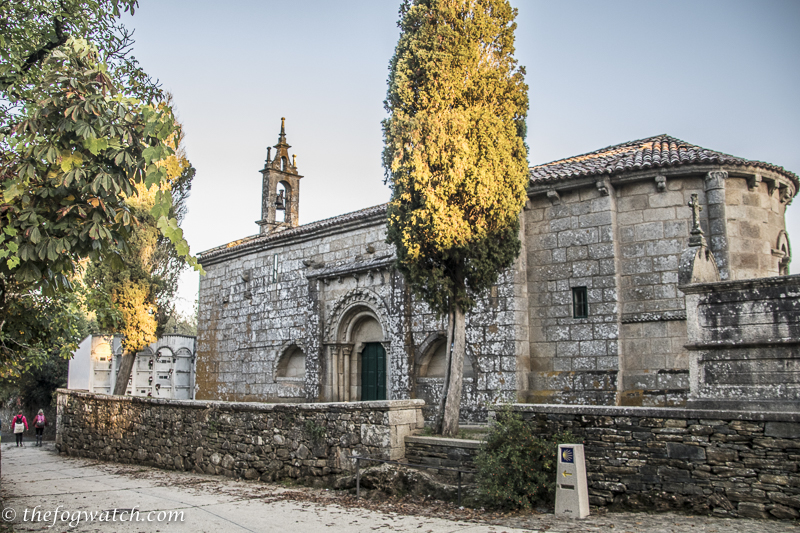 Ascending through more farmland and woodland, we climbed a scenic hill.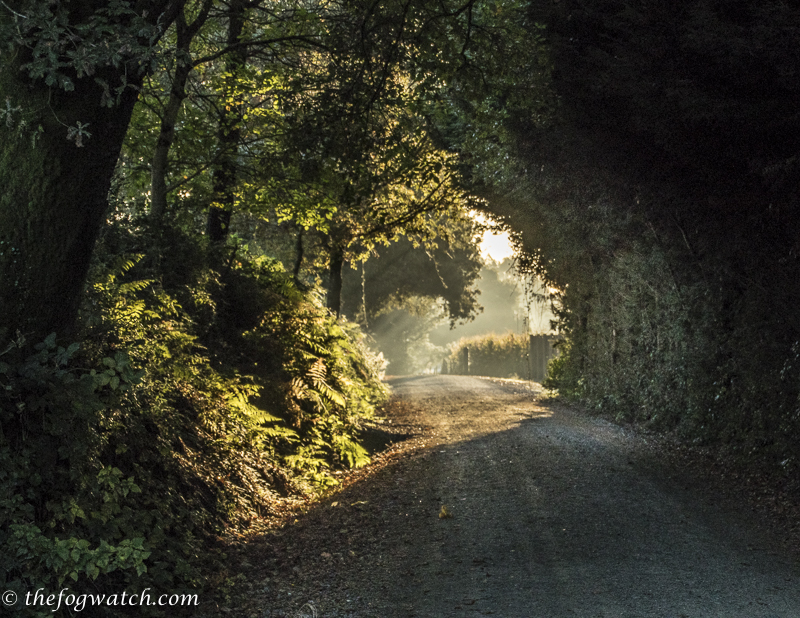 where we encountered the 'Donkey pilgrim' in a clearing. He was travelling with his donkey, and had set up a small donativo stall selling fruit and drinks. The donkey looked resigned, if relieved, at being temporarily freed from the cart's traces.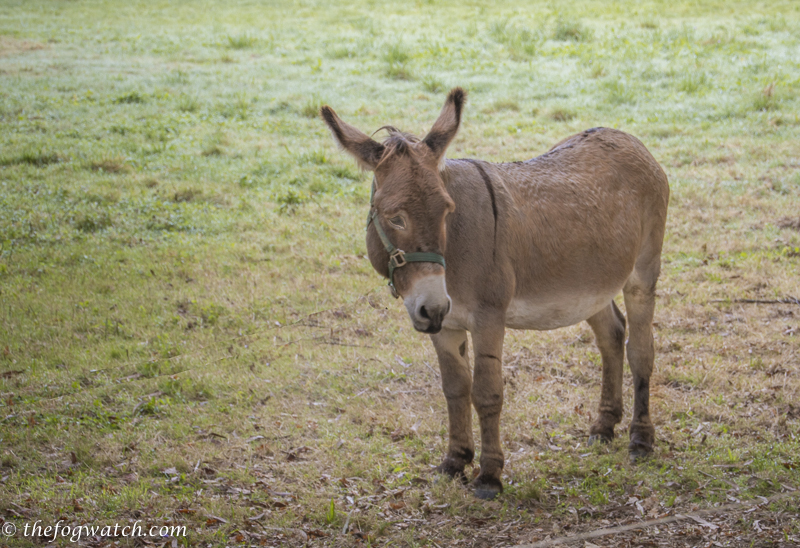 The Donkey pilgrim had his own stamp for our credential. And all this was next to a stream traversed by what appeared to be a neolithic style bridge – it was a beautiful setting. The bridge, surprisingly, had a name – the Puente Rio San Lazare.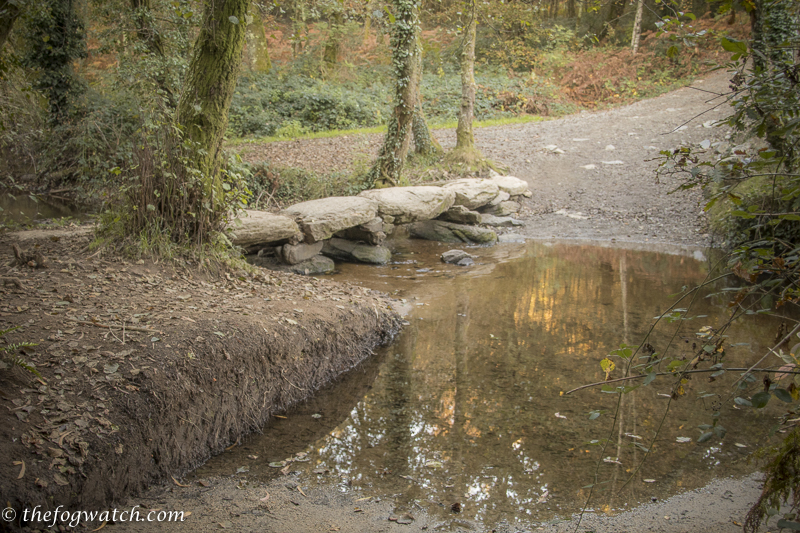 We passed horses in fields – they took an interest in us – I guess they hoped we had picked up some of the apples that had freshly fallen from the trees. I was just glad none of the apples had hit us on the head!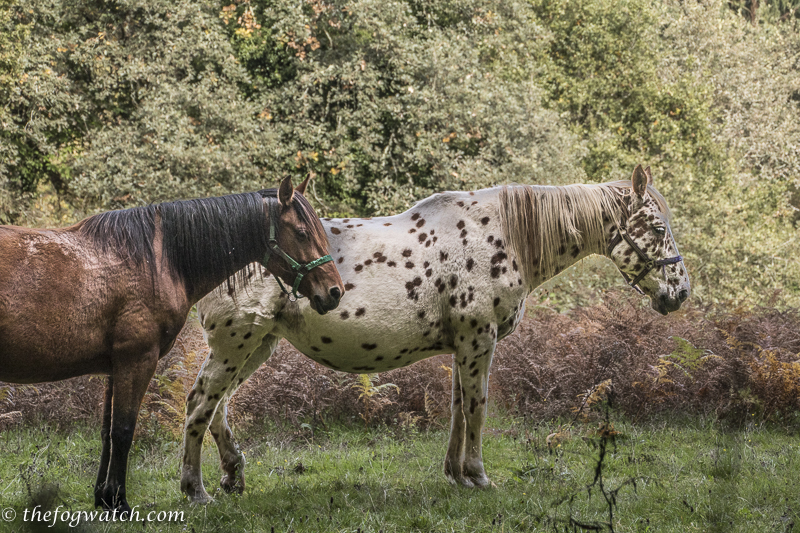 We stopped at a kiosk selling fruit and bought some raspberries. We asked where they were from and he gestured behind – there was a field full of ripe raspberries – the freshest I think we have ever tasted!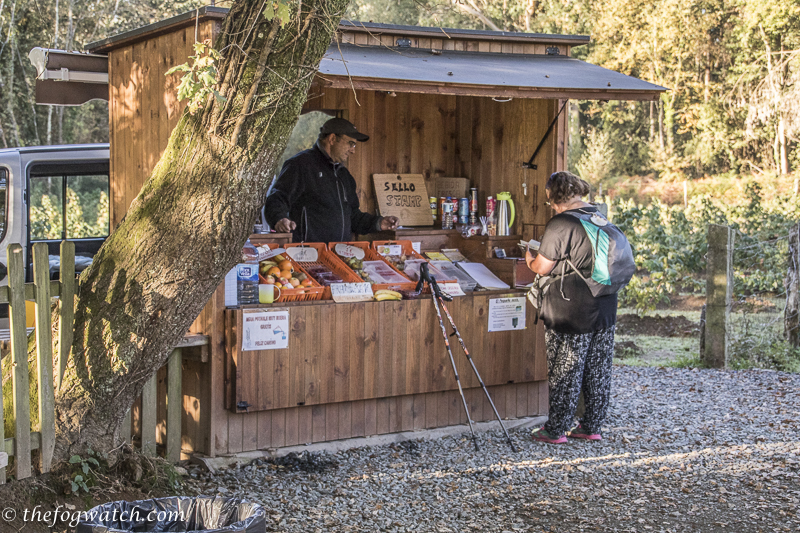 The raspberries were wonderful – and they were freshly picked that morning!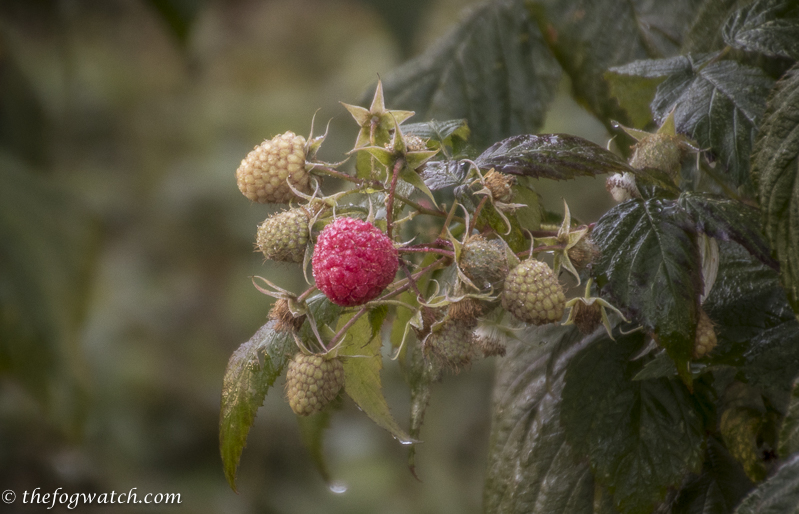 Meanwhile, the stallholder's dog lazed on the path in the sunlight.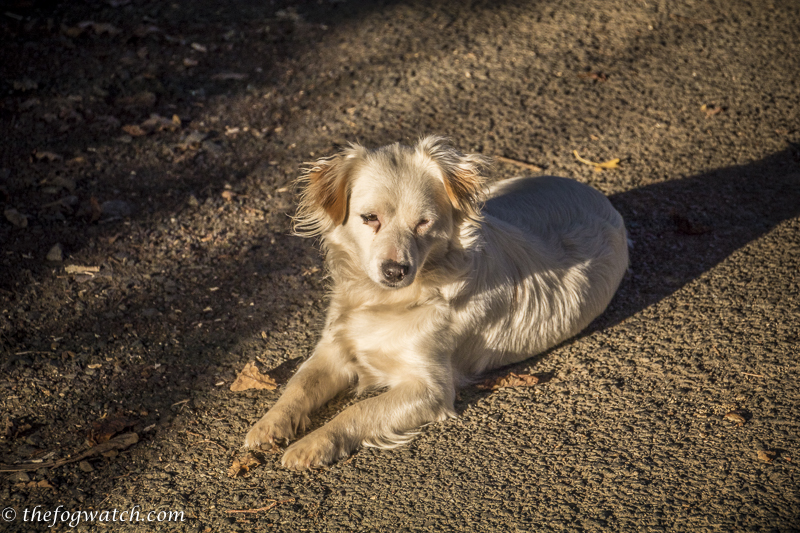 At Boente we were able to stop for a cafe con leche and a bite to eat.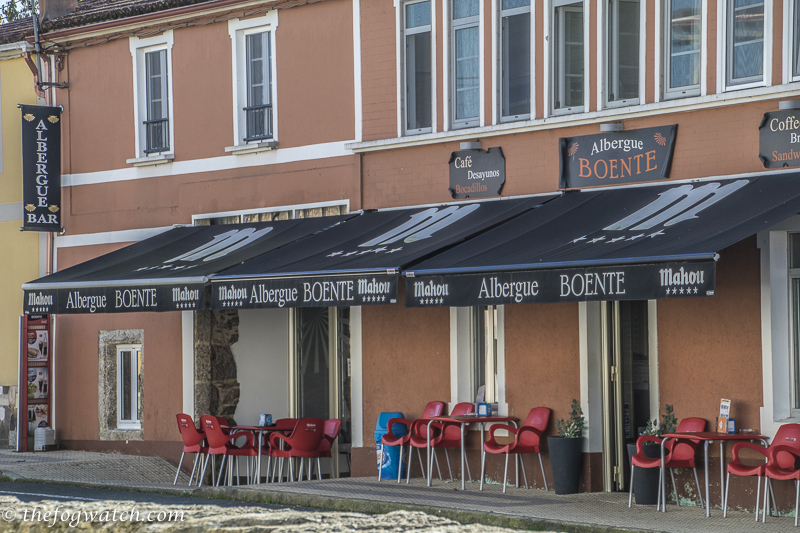 We went into the Boente Cruce Igrexia Santiago – the church of Santiago, which has an image of the Saint above the altar.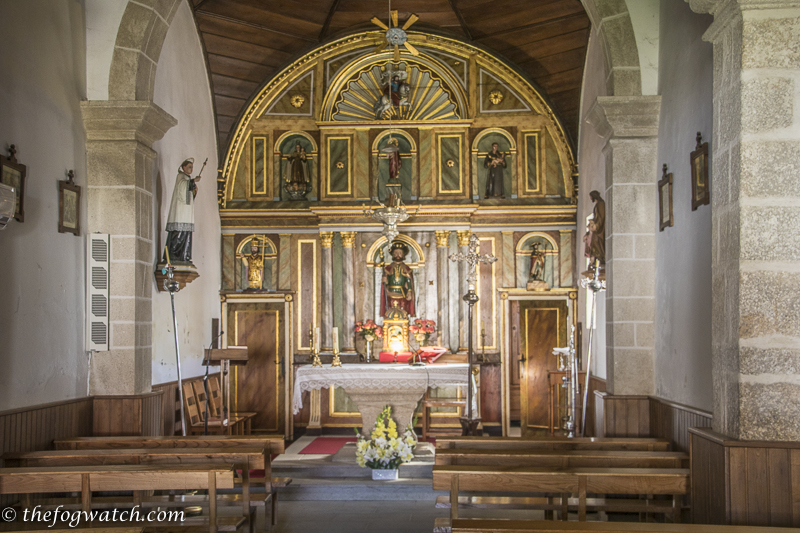 The church itself is well looked-after. And we were told that the local priest regularly comes out to bless the pilgrims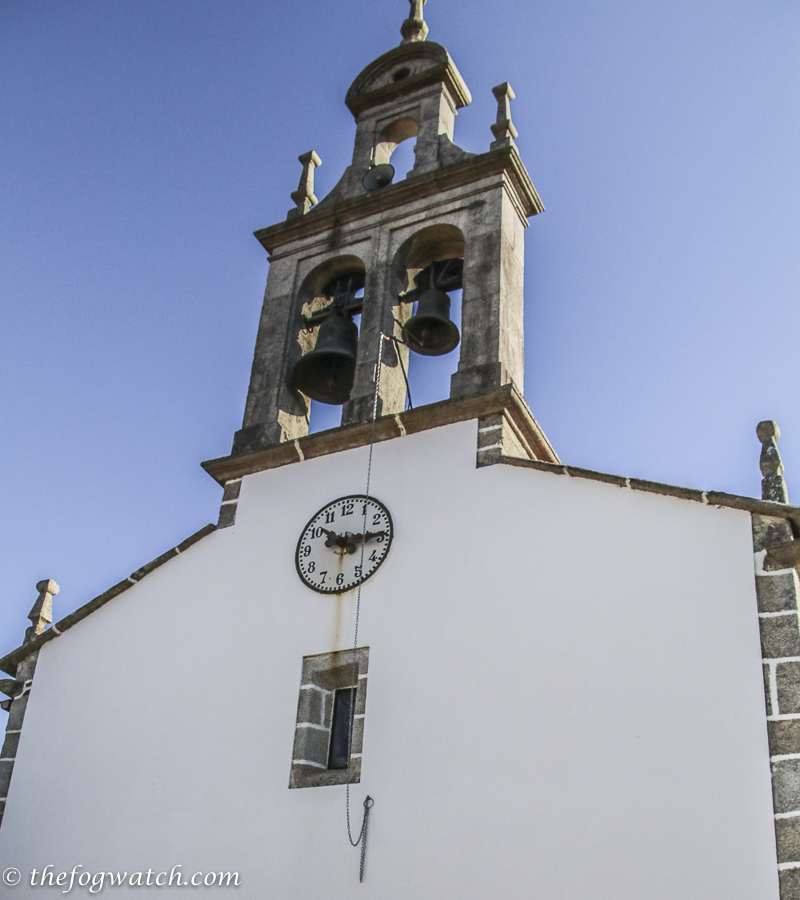 Then it was out via Cruceiro and beneath the underpass which took us into the Boente valley. We celebrated passing the 50km marker.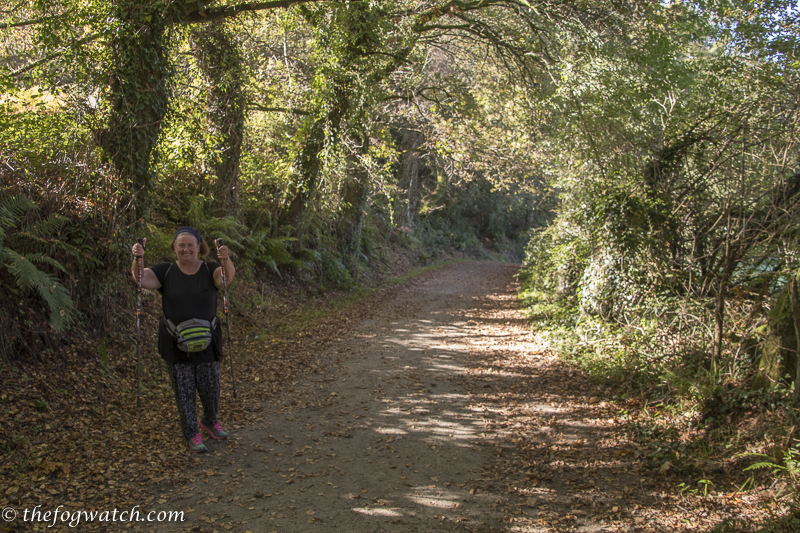 Heading into Castañeda we saw a horreo with its door open – and again we could see the corn cobs drying in the interior.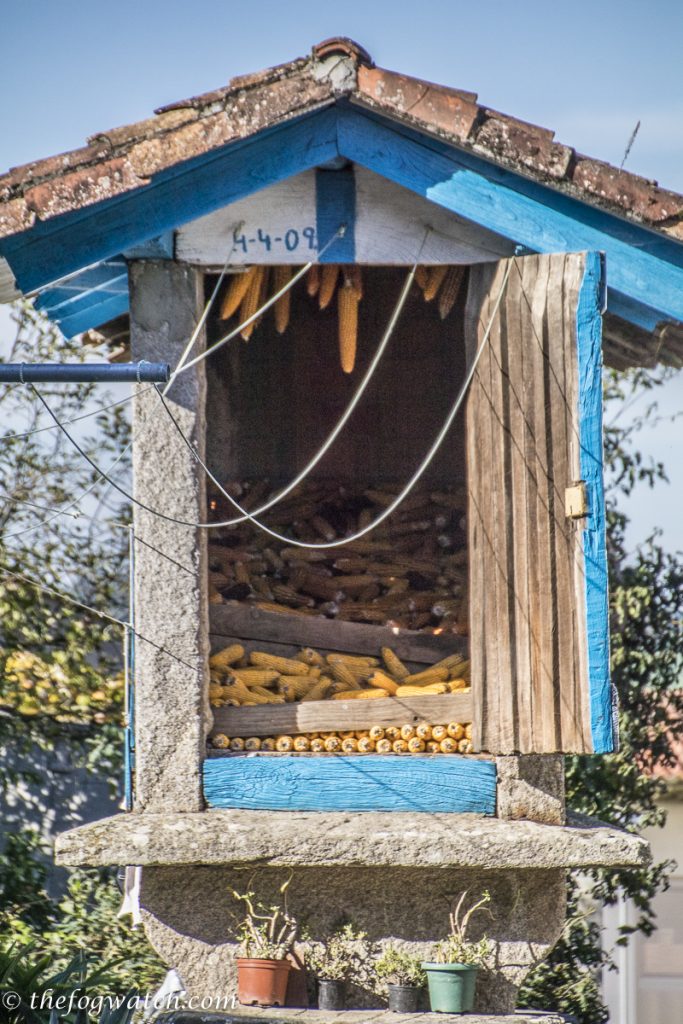 A sign heralded the township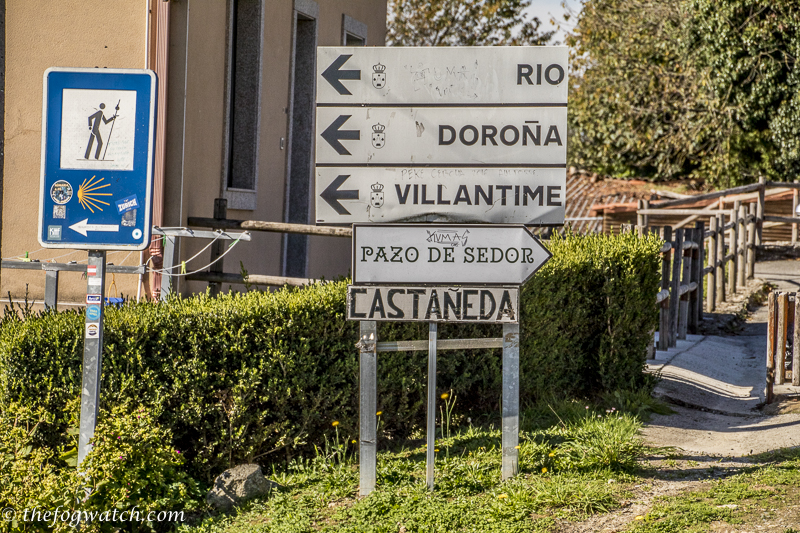 As we came into the town itself, we were passed by a group of horse riders on a tour. One rider was even carrying his dog on the horse!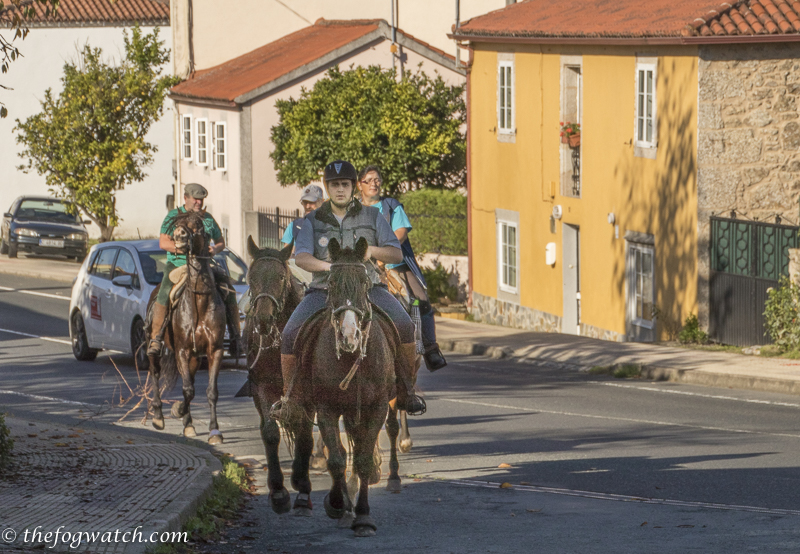 According to my Brierley's Guide:
"It was here in Castañeda that the pilgrims would deposit the limestone rocks they had brought from Triacastela to be fired for the lime used in the building of the Cathedral at Santiago."
 Then back into the rural countryside. But not for long.
Next to the river Iso, we came to Ribadiso da Baixo. And here, just over the medieval bridge, we found a renovated ancient pilgrim hospital – one of the oldest still in existence.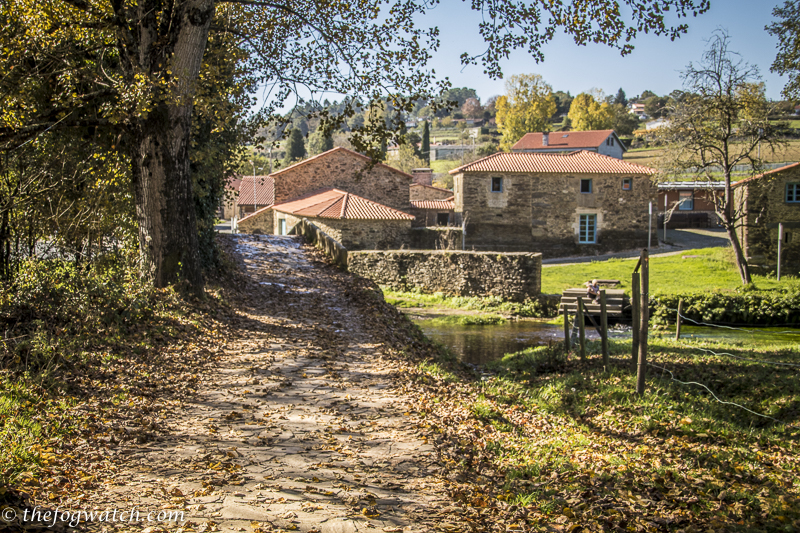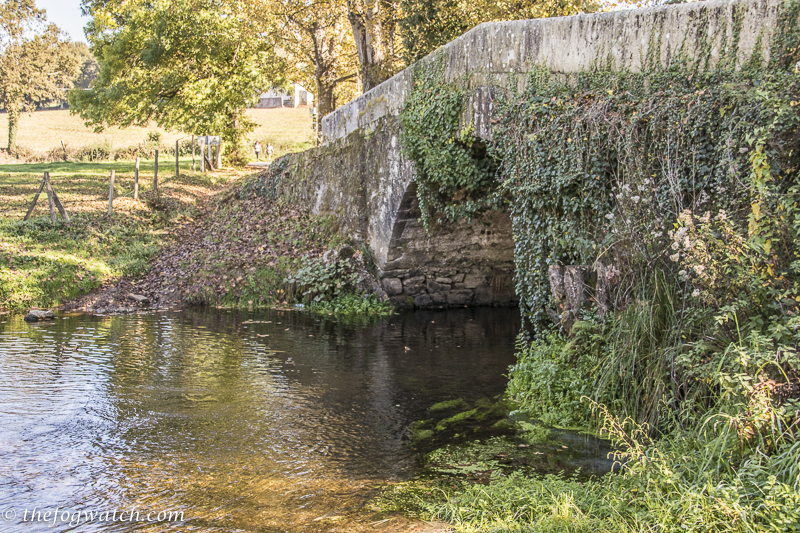 We headed out through the tunnel under a major road, then onto a track that ran parallel to the road all the way to Arzua. And we stopped to smell the … um …  dahlias…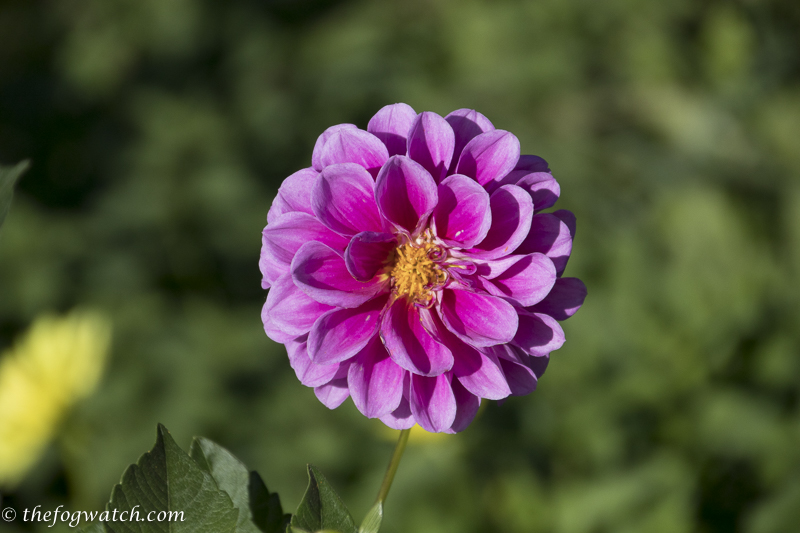 As we climbed towards Arzúa (yes even now there are hills(!)) we heard the sound of sleigh bells and sure enough, a covered waggon, pulled by two horses came down the hill towards us at some speed. It seemed courageous to us, but I guess the driver knew what he was doing as they negotiated the steep downward gradient with great skill and the horses didn't seem worried. I pulled out the phone and videoed them passing.
By now many of the friends we have met or walked with have arrived in Santiago – we are among the last of our cohort, but using social media and text messages we were able to congratulate our friends on completing their Caminos. It will be our turn soon.
Entering Arzua, we passed a building festooned with philosophical musings collected from passing pilgrims.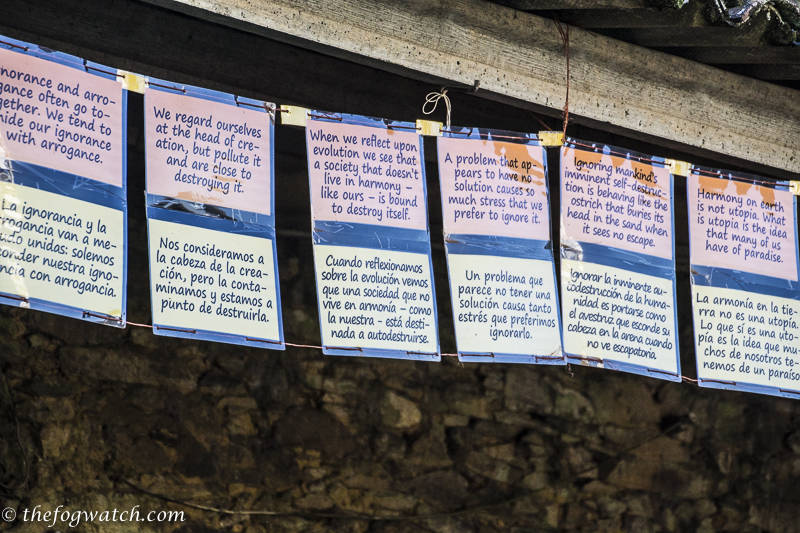 I felt it strange to be coming towards the end of this extraordinary adventure. And bittersweet too as, despite the pain and the walking, we will return to return to modern life changed.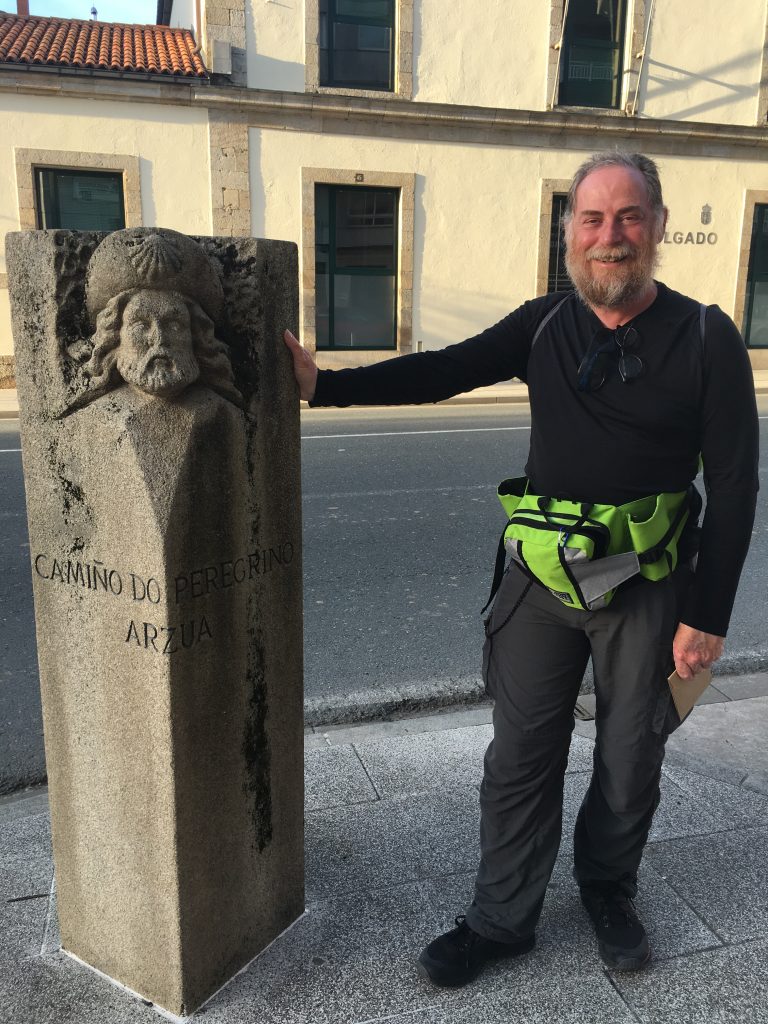 We will be armed with new insights about ourselves and the country through which we have passed – perhaps like ghosts – visible for but a moment, then gone in an instant. Our lives too, are as an instant when measured against the millennia of continuous human occupation in this region.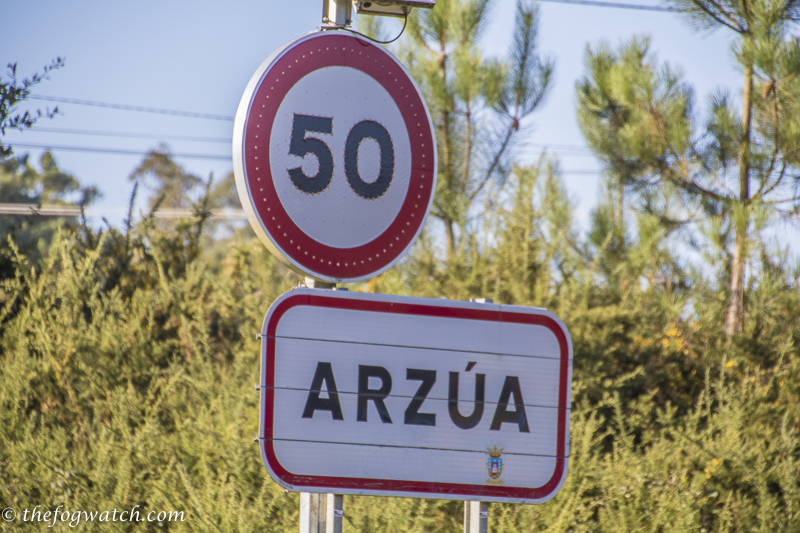 ________________________________________
INDEX – If you wish to follow our journey from the start, or jump in to any of the Camino posts,
here is a link to the index page – also found in the navigation bar at the top of this blog
________________________________________
Why not have these posts delivered to your in-box? Just enter your email address and click the 'subscribe' button in the left margin, and don't forget to respond to the confirmation email in your in-box 🙂