"The Camino is a wonderful metaphor for life – what's your take on that?" Camino podcaster Brendan Bolton posed this and many other questions when he interviewed me recently. You can catch the interview here on Project Camino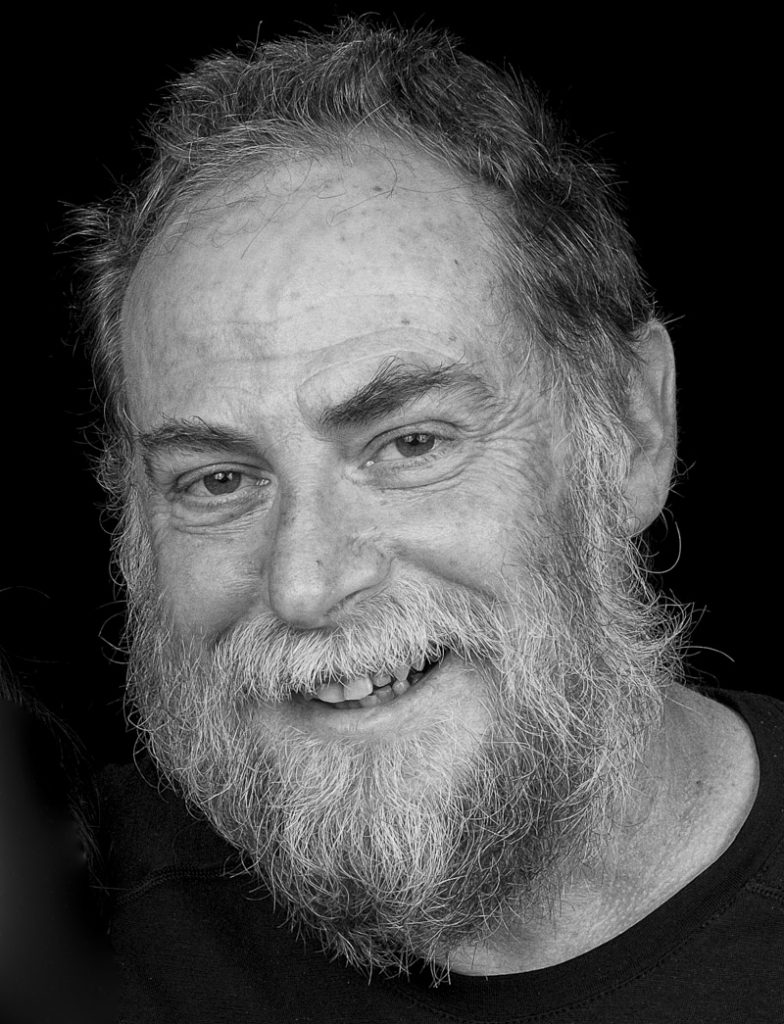 My response was three-fold. Firstly, yes it is indeed a great metaphor for life in that it is a journey in which pretty much anything can happen, and it is up to us to find our resources within us to deal with life's frustrations and joys. That said, unlike the Camino, in life we don't know how much further we have to go to reach our final destination.
Secondly, the Camino builds a connection with 1000 years of pilgrims in whose footsteps we walk. We are now part of that story, and theirs is part of ours. Something happens on the Camino that appeals to us to change into a better version of ourselves. In the process of becoming a pilgrim, we begin to identify as a person with more compassion for others, more willingness to help others, and we become kinder to ourselves too.
Thirdly, the Camino provides an opportunity to take stock and remind ourselves of how precious is the gift of life – to walk with gratitude.
Walking with your life partner
One thing I was asked about, but did not really have time to explore in the interview was: how was it walking with my wife – Sharon walked both Caminos with me and each time we were rarely more than a metre or so apart throughout the journey. Some couples walk apart, meeting up at the end of the day, while others walk alone, leaving their partner back home. All of these are valid ways of walking the Camino – in some cases walking alone means that people come out from the shadow of their partner, and discover their independent strengths.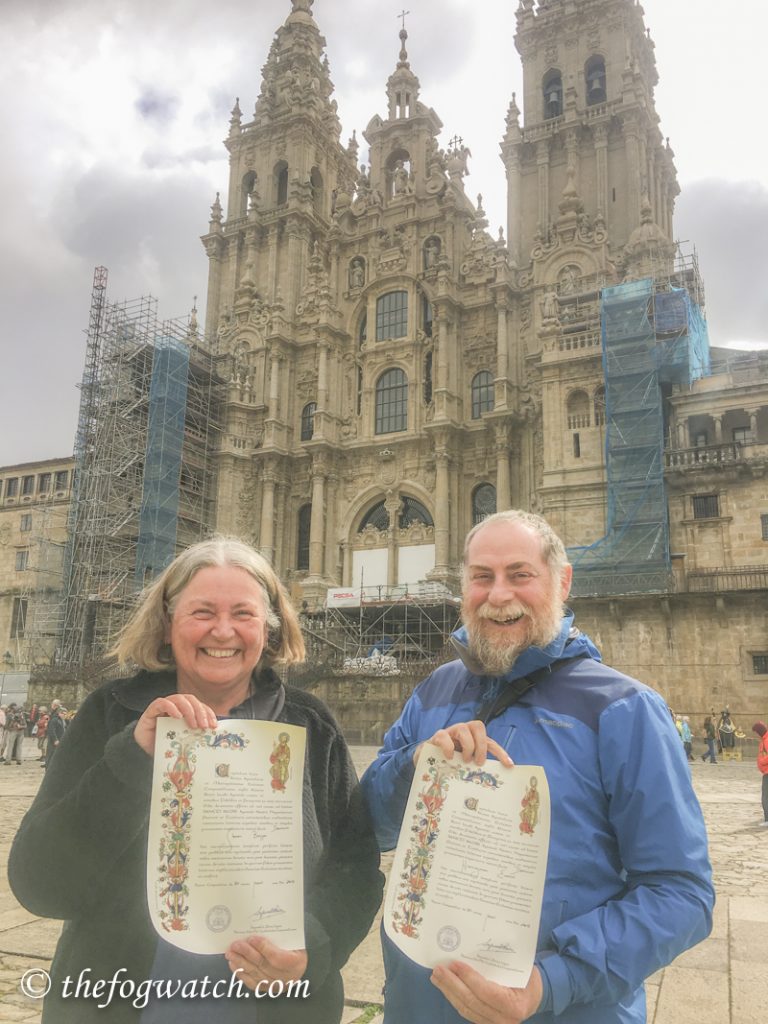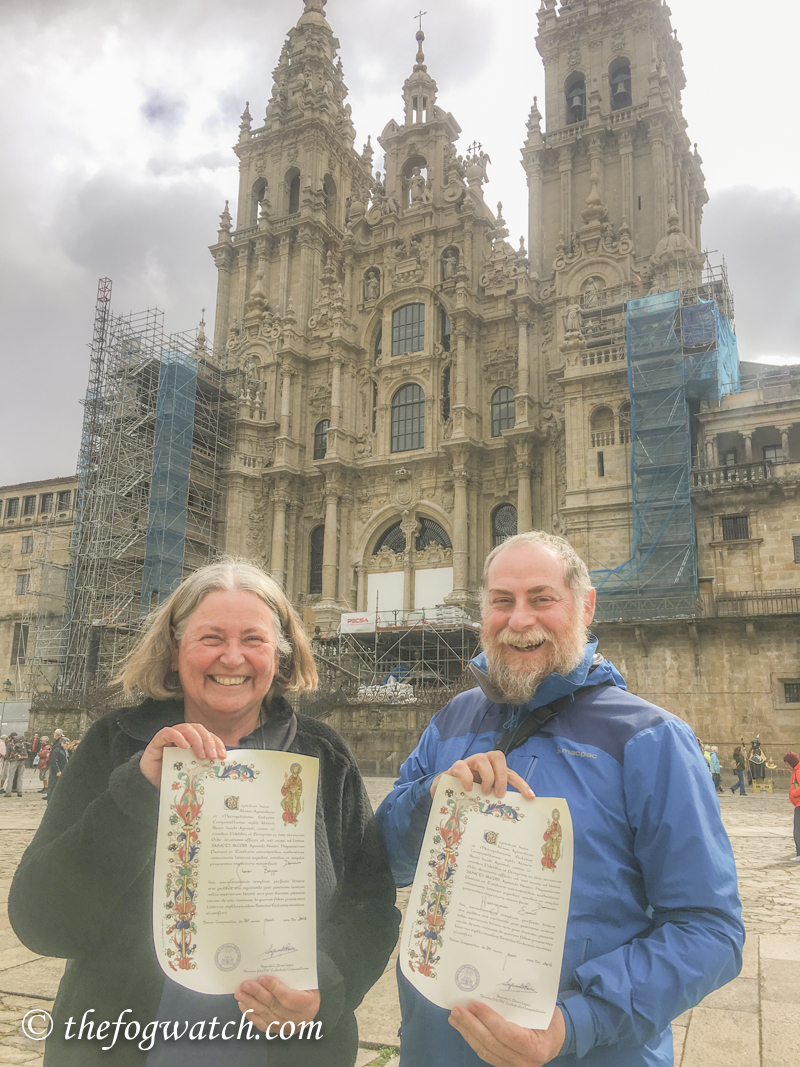 But for us, we chose to walk together, to share the experience together. So how was that? In a word: wonderful! Walking together, we took the opportunity to truly share our thoughts and feelings. Sharon describes it as rediscovering who we were when we met. I had become quite jaded with life during the course of a career focussed on national security, which entailed in part considering the worst aspects of humanity and what people can do to each other. What I found on the Camino was, for the most part, a compassionate and considerate community. And that went a long way towards restoring my faith in people. My wife noticed the change in me, subtle at first, and more pronounced as we went along.
We walk our own Camino
It is true that we each walk our own Camino – and that is also true for the two of us. We each had our things to learn and discover about ourselves and each other. We each had our burdens to leave at the Cruz de Fero. But in that process, we also grew closer to each other. I think those who walk apart from their partner must miss something, which is the transformation people go through when experiencing something big in their lives. If only one partner walks the Camino, the other misses the growth and change that occurs in the first. Like with any peak experience, I'm not sure it is easily communicated, unless you have experienced it yourself. How wonderful then, to experience it together and to grow together as a result.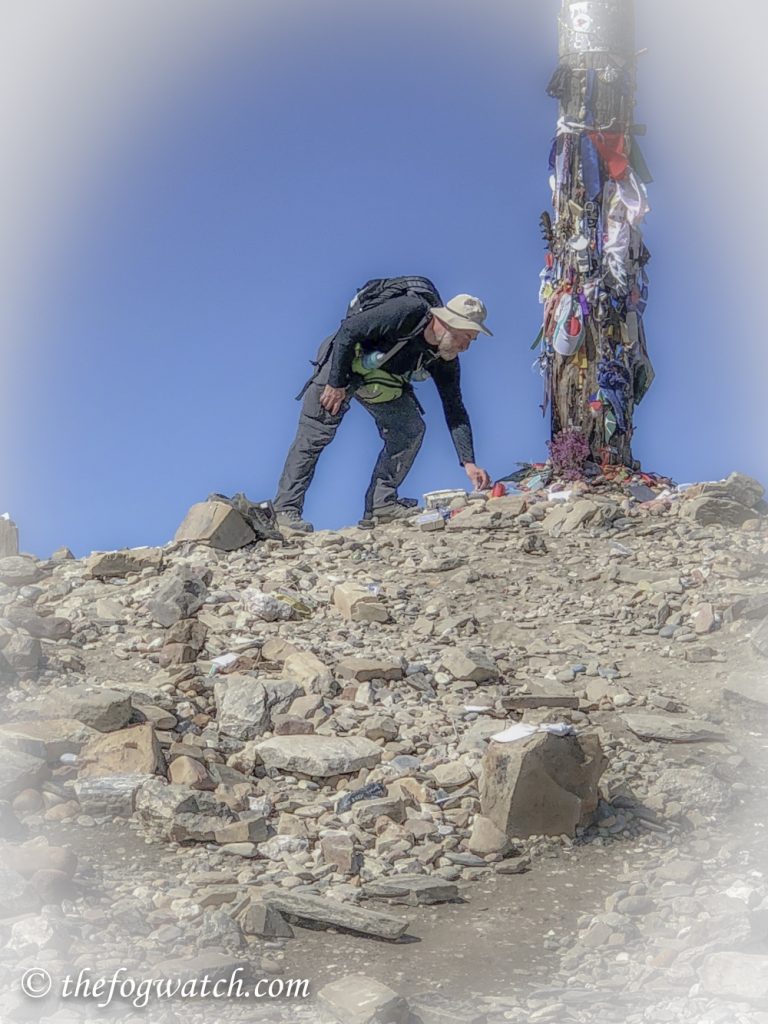 The Camino reduces us to the basics – a change of clothes and a backpack, a walk towards a common goal, and basic accommodation, food and water. There are no status markers, and there is a basic honesty and authenticity in that. As a consequence, I think it makes people more 'real' to each other. There is nothing to prove. It is not a competition or a race. It is not about how 'authentically' you undertake your pilgrimage – it simply is what it needs to be for whoever undertakes it. And walking with my wife helped reduce life's obstacles.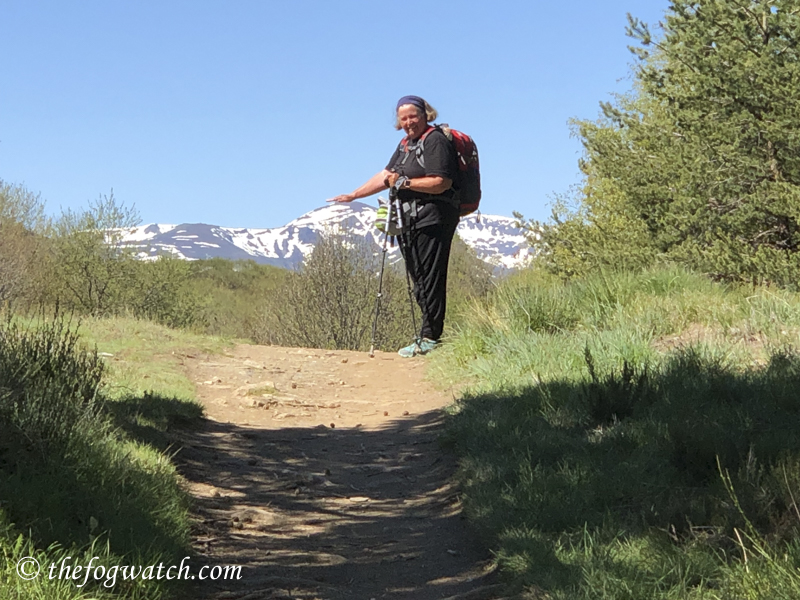 The Camino gives you what you need
Brendan asked for my take on the idea that the Camino doesn't give you what you want, rather, it gives you what you need. I guess we all come to the Camino with some expectations, but it is not a picnic, and it is not for the fainthearted. Anyone can walk 20 kilometres once, but to do so for day after day provides a cumulative physical toll that requires you to have a certain level of tenacity to see it through. But you are also seeing it through with many others who are sharing the experience. And you learn to ask for help when needed, or to offer it in turn when required. The Camino bonds us with each other, and by extension with those who have gone before and those who will come after.
We have it easy compared to those who went before. We passed ruins of ancient pilgrim hostels, we walked on Roman roads, and periodically we see castles and fortifications – a reminder of the banditry and conflicts experienced by pilgrims in earlier times.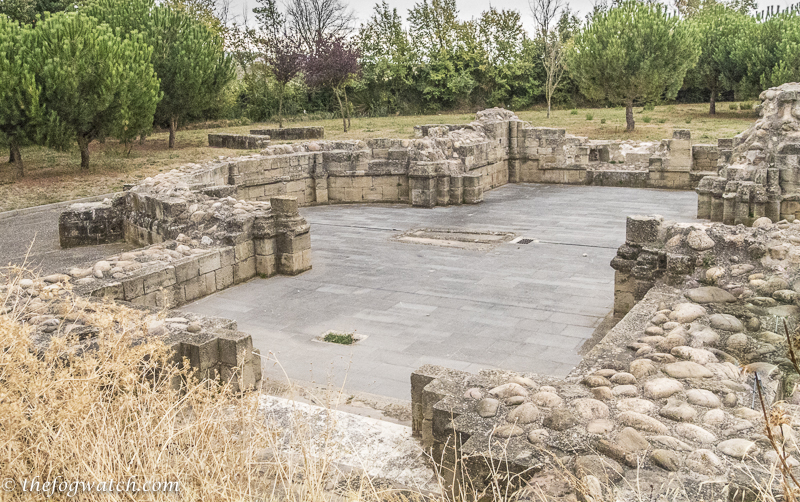 A rich history
It is a rich history. We crossed the Pyrenees from France on the route taken by Napoleon and ultimately the route by which the remnants of his army were driven back by the Basques. We saw reminders of Charlemagne's campaigns against the Moors, and the site of a David and Goliath rematch between Roland and Farragut. And ultimately, Charlemagne was driven back by the Basques. Napoleon had not learned the lessons of history!
Some people complain of industrial areas on the Camino – yet it was ever thus. The Romans mined gold at Las Médulas (not to be confused with the painting by Velazquez "Las Meninas" as I stated in the interview) – Las Médulas was the largest open cut gold mine in the Roman Empire. There were medieval fulling mills beside the bridge at Trinidad de Arre.
We walk on ancient trade routes – sometimes on actual Roman Roads – if you are walking on a narrow long straight road with a deep ditch on either side, you are most likely walking on a Roman road. At times we walked even on the original Roman surface of the road. It makes sense – if you were a pilgrim in medieval times you would not be travelling across contry, you would use pre-existing roads that carried local and distant trade from mines and farmlands to the sea.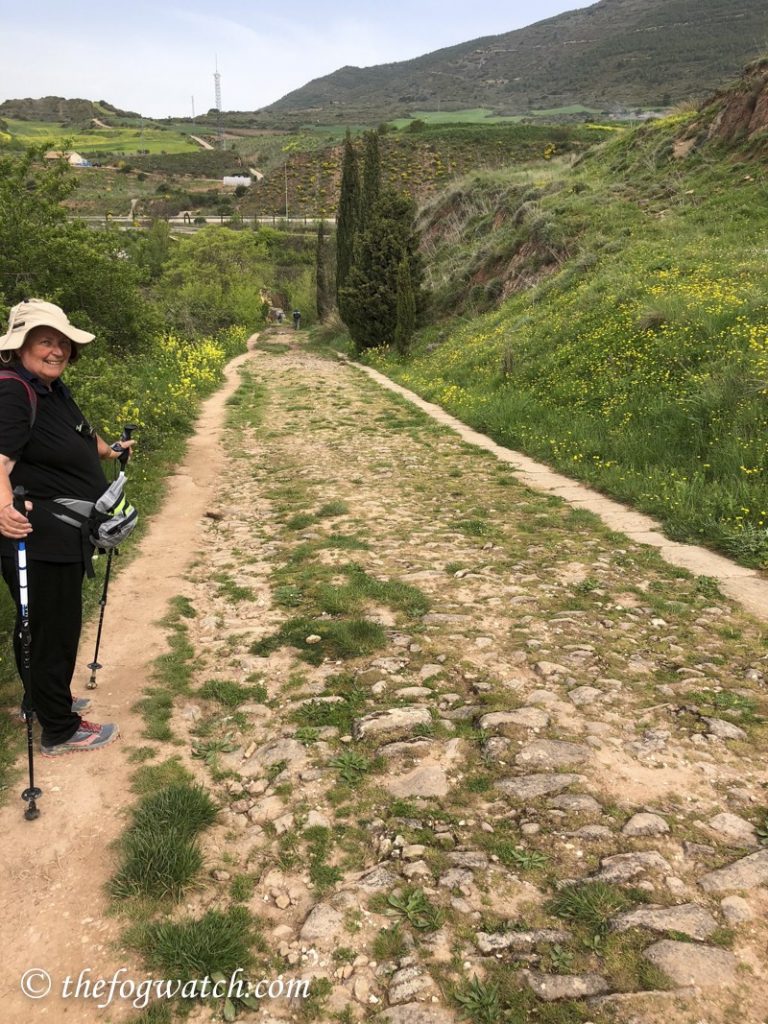 Indeed the area around Burgos was home to Neanderthals and Homo Antecedentes – early hominids – from 1.2 million years ago. We walk upon a deep history!
Taking the Camino home
So how do I take the Camino home with me? I ask myself 'what would a pilgrim do?' I try to be more compassionate with myself and others. The Camino teaches us that each day has a new destination – it is important to live as you walk, mindfully – take time to smell the roses, be present, take each day as it comes, and soon, step by step, it all adds up to something a bit epic.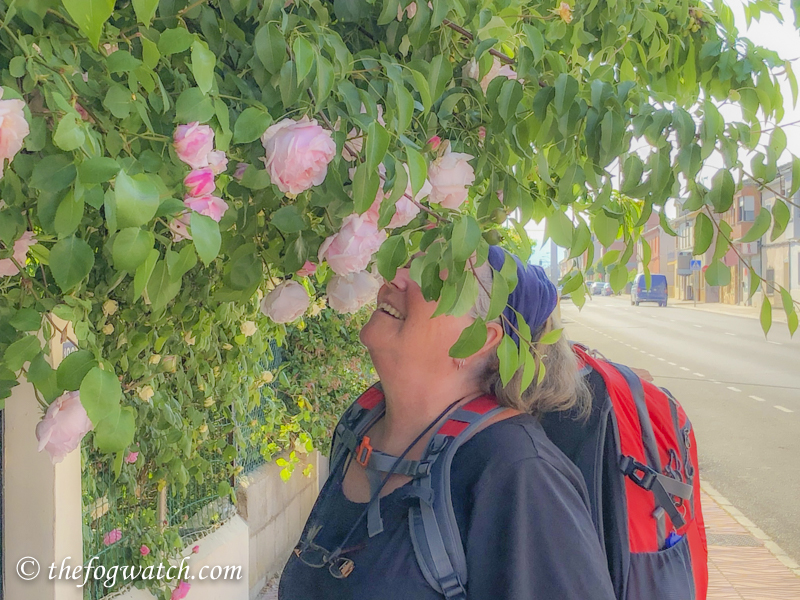 ****************************
Why not have these posts delivered to your in-box? Just enter your email address and click the 'subscribe' button in the left margin, and don't forget to respond to the confirmation email in your in-box 🙂