After a sparse breakfast, (I'm beginning to wonder if the Spanish DO breakfasts!) we had a delightful walk through light woodlands, with a few short steep climbs. The light through the trees is wonderful.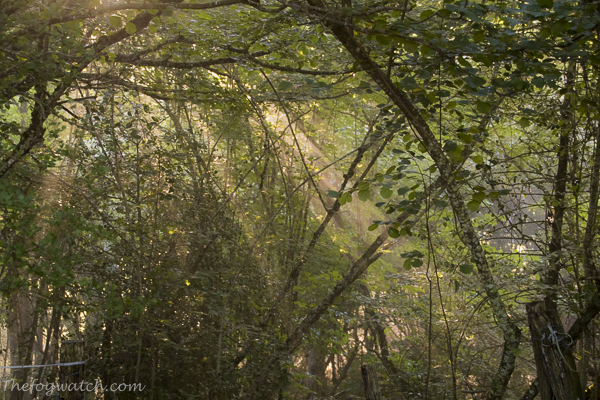 Welcome to Basque country
We walked to Viscarret/Guerendiain (the latter being the Basque name) for lunch and coffee. The village is picturesque, and we are greeted with a booming 'Welcome to Basque country' – a preface we heard at several shops along this part of the Way – before taking our order. And everywhere there was graffiti proclaiming 'This is not Spain' in Spanish and English.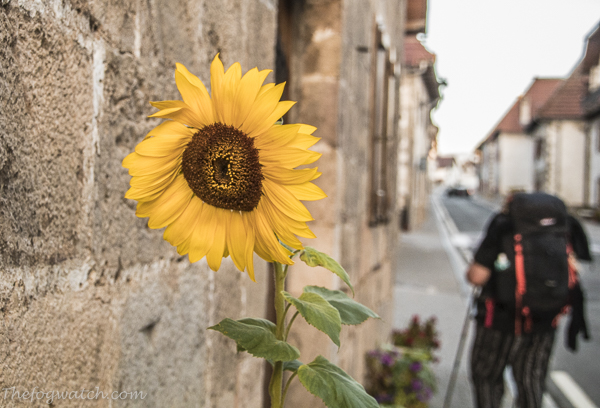 It struck me then, that the locals identified far more strongly with their Province than with the notion of a nation. We would encounter this time and again along the Camino, whether in Navarre, La Rioja, Castille/Leon, Astorga, or Galicia. Spain, we came to realise, is less a country, and more a loose confederation of regions. The Basques were not wealthy or prosperous, and I sensed that the pilgrimage route was the lifeblood of their economy, along with wine, agribusiness, forestry. But I wondered if they resented their economic dependence on us pilgrims – the Basques are a proud people.
The 12th Century Codex Calixtinus says of the Basque people:
These are an undeveloped people, with different customs and characteristics than other races. They're malicious, dark, hostile-looking types, crooked, perverse, treacherous, corrupt and untrustworthy, obsessed with sex and booze, steeped in violence, wild, savage, condemned and rejected, sour, horrible, and squabbling. They are badness and nastiness personified, utterly lacking in any good qualities. They're as bad as the Getes and the Saracens, and they despise us French. If they could, a Basque or Navarrese would kill a Frenchman for a cent.
Thankfully, times have changed. A lot. But the Basques do maintain their traditions and customs, and have a strong sense of loyalty to their region. Indeed the Basque separatist movement is alive and well, fed, no doubt, by a sense – real or imagined – that Madrid's largesse is kept largely in the South. Spain has been hit hard by the Global Financial Crisis, and unemployment remains high – particularly in the rural areas.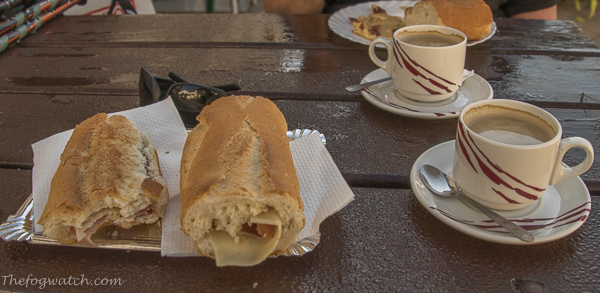 Notwithstanding all that, our reception at Juan's Bar was friendly, the wifi worked well, and the loos were clean. We ate lunch slowly in the sunshine. The ham and cheese bocadillo was huge – one would feed us both. The coffee and water were refreshing; Sharon's omelette was, well, swimming in olive oil [see also: bocadillo].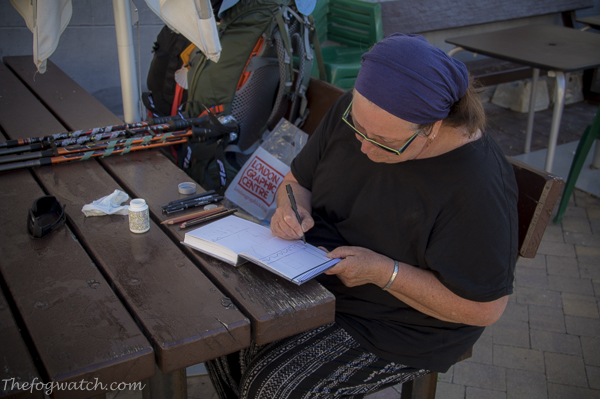 Sharon sketched while I found things to photograph – like this sundial on the wall of Juan's Bar.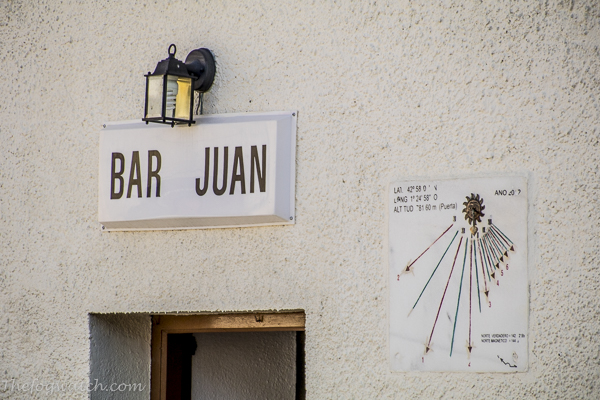 A close call
Suitably refreshed, we went on to Linzoain, thinking to find accommodation there, but it turned out to be a tiny hamlet, with no sign of an Albergue. So on to Zubiri. The weather was getting warmer, and we were beginning to question the wisdom of pressing on. We went up a steep hill, rocky underfoot. Then it was steep down for a long way. It was a 900-metre climb. But there was a picturesque old cemetery at the summit.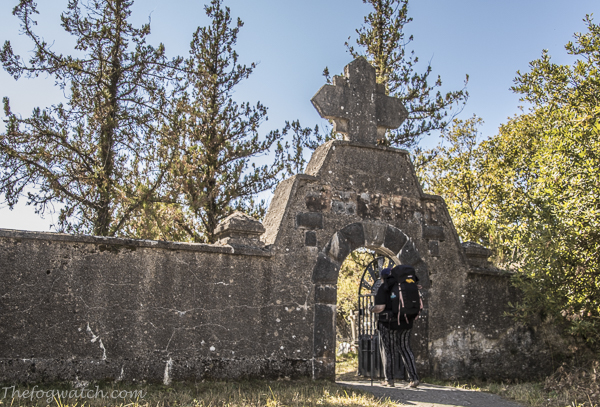 Getting short of water (we should have refilled at the fountain in Linzoain), we pressed on. The technique of tacking across from side to side seemed to help a bit. We passed a ruined medieval pilgrim shelter.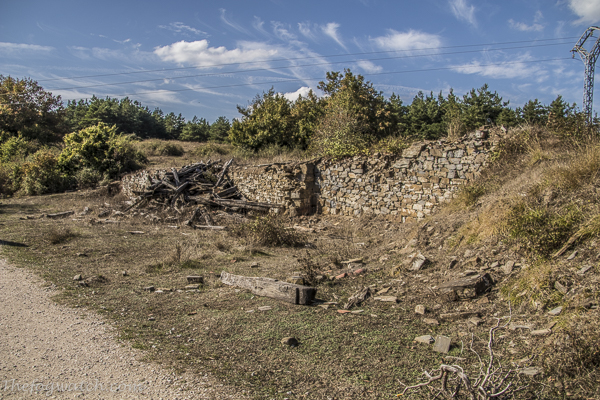 Eventually, we reached the Alto de Erro, finding the path at a crossroads with a busy main road. And like a dehydrated desert dweller we saw an apparition – actually a coffee and drinks van. We went nuts with water and coffee and orange juice to rehydrate. Some were consuming beer – but they may already have rehydrated. We were now just 3kms from Zubiri. The drinks van presented us with one of the many eccentricities along the Way in the form of a box full of underwear and bras. There was a sign noting that single women might attract a mate by leaving behind a bra, or single blokes a piece of underwear… I didn't put it to the test.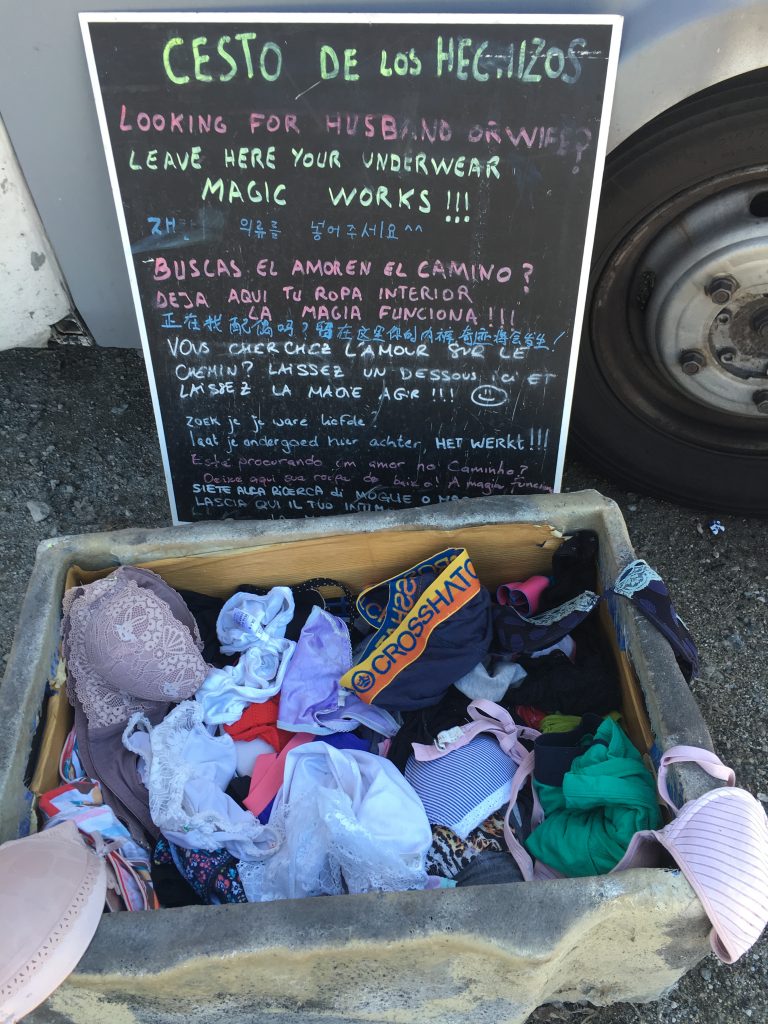 We thought that being 3km out of Zubiri, we would be there within the hour. We were mistaken. Leading down to Zubiri was a long steep descent on loose rocky ground, forcing us to pick our way carefully. We crossed the medieval bridge into Zubiri at around 6.00pm.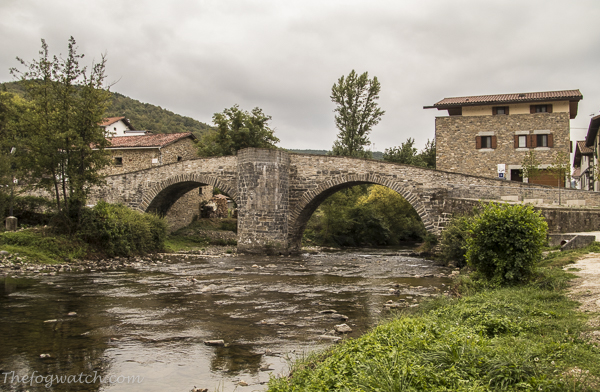 Every Albergue was full [one had one bed left, but we needed two]. We were catching the remnants of the bubble of people who had left St Jean a couple of weeks before (900 pilgrims left SJPdP on 1st September alone!). We realised we had tarried too long over lunch and that we really needed to get to our night's accommodation probably no later than 3.00pm.
The next town was around 5km away and Sharon's feet were very sore from all the stones. After walking the length of the main street, I saw a hotel sign, so we went to enquire. A lucky late cancellation meant we scored the only double room left in Zubiri! A close call indeed! We checked in, then headed to a tapas bar for steak, salad and chips before retiring for the night.
We took stock for the day: Sharon's feet were sore, mine were a bit sore but okay. The packs are great – very comfortable, and no blisters so far.
________________________________________
INDEX – If you wish to follow our journey from the beginning, or jump in to any of the Camino posts,
here is a link to the index page – which can also be found in the navigation bar at the top of this blog
________________________________________