The air was thick, stuffy and heavy with humanity as I woke around 0230am. 26 bunks, all full, and only two small windows slightly ajar. There was no air movement. I forced myself to settle in a bid to conform to the 07.00am rule. Several people snored, making for quite a pilgrim chorus.
At 04.00am the first phone alarm went. Gradually the sounds of creaks and slithering sleeping bags trying to slip from view were followed by successive light-wedges as one-by-one the pilgrims began to bump out their bags and prepare for early departure. At 06.00am we did the same.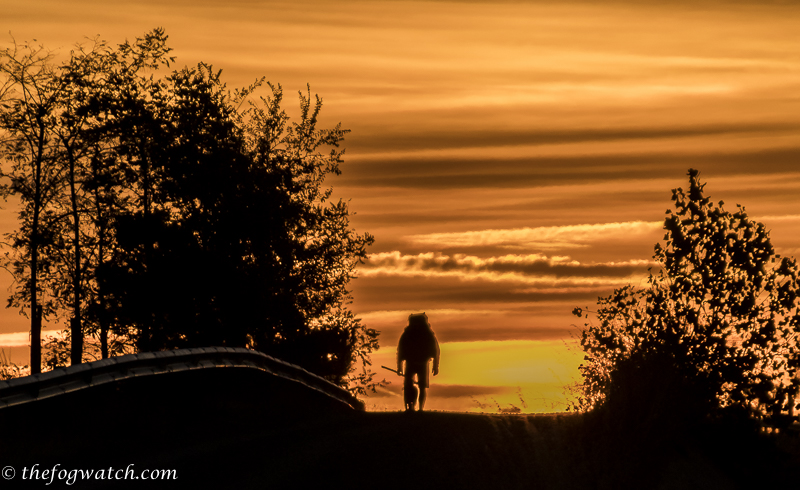 Soon we set off at a good pace, sticks clacking against the pavement, we headed out of town. As the street lamps stopped we set our headlamps and went in search of Camino arrows to guide our way.
We followed one path as indicated and soon came to a junction with no markers. We re-traced our steps back to the bridge and found our correct diversion on a narrow path that led down beside the bridge and away from the road.
Sunrise, as I looked back at Santo Domingo de la Calzada, was amazing. We stopped. Soon we encountered a cross with a couple of benches where we rested for a few minutes.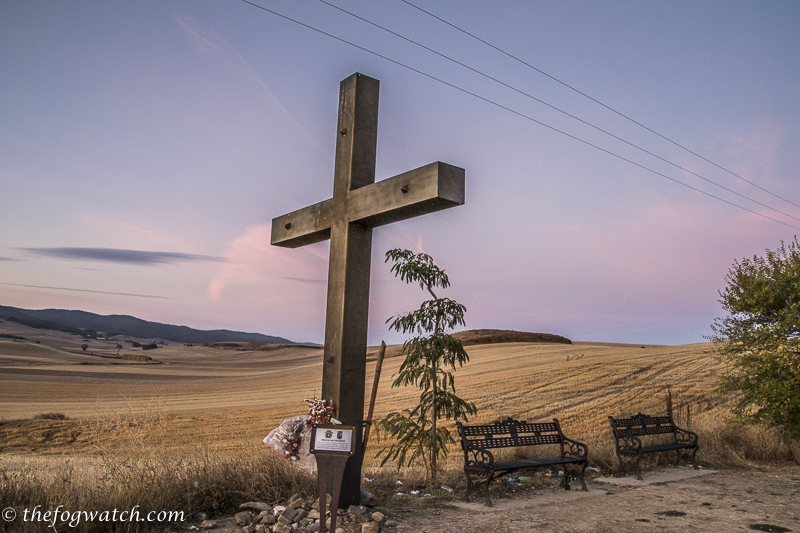 There was a sign:
"Cruz de los Valientes
Esta cruz recuerda una disputa medieval entre Santo Domingo de la Calzada y Grañón por la propiedad de una dehesa. Hoy, olvidadas esas antiguas demandes, hermana a ambas localidades."
The English translation comes out something like:
Cross of the Braves
This cross recalls a medieval dispute between Santo Domingo de la Calzada and Grañón for the ownership of a pasture. Today, forgotten those old ladies, sister to both localities.
The terrain was mostly fine gravel path and some road patches as we wound our way through rolling hay fields.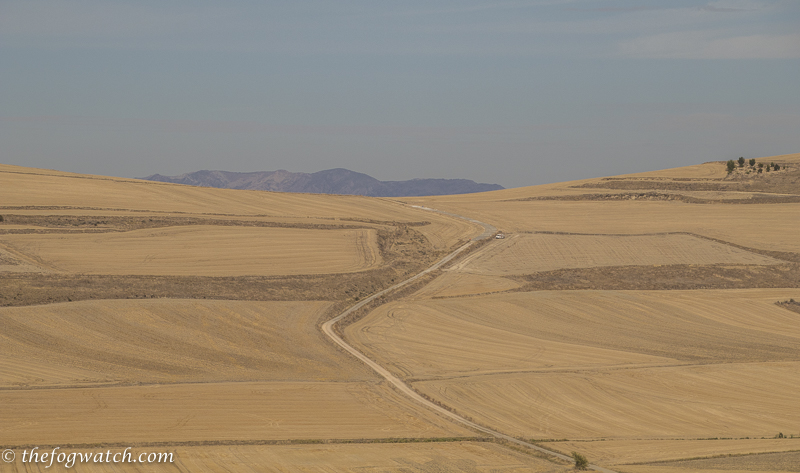 On the underpass to a freeway there were giant Camino shell symbols.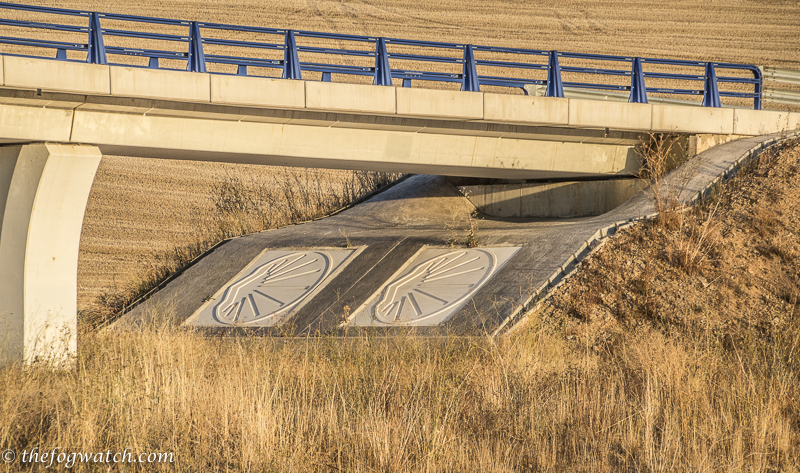 At Grañon we stopped for breakfast and coffee in a bar opposite the church – there was a guitar and two chairs raised on a platform as though for regular music sessions. Pretty sure this is the place our Camino friend Bernadette from Australia had told us about.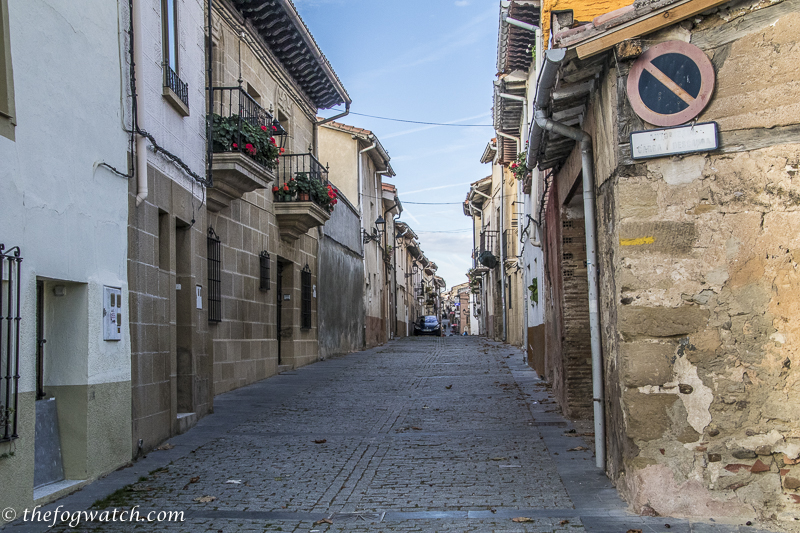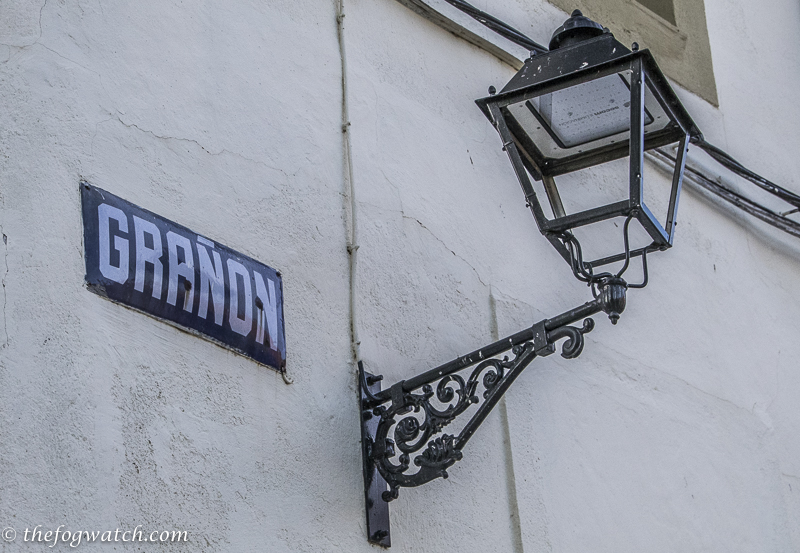 Redecilla del Camino was next, and as we entered the town we noticed an old cross on a bollard – it turned out to be the judicial marker for the town – marking the land boundary at the start of the main street.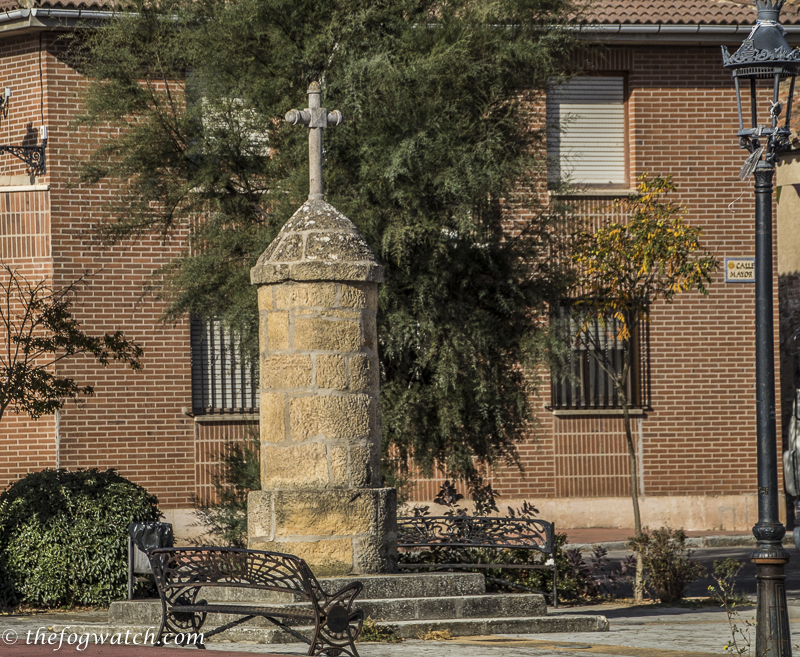 The church – Iglesia de la Vergen de la Calle – proved fascinating. The C17th-C18th rococo decorations were quite spectacular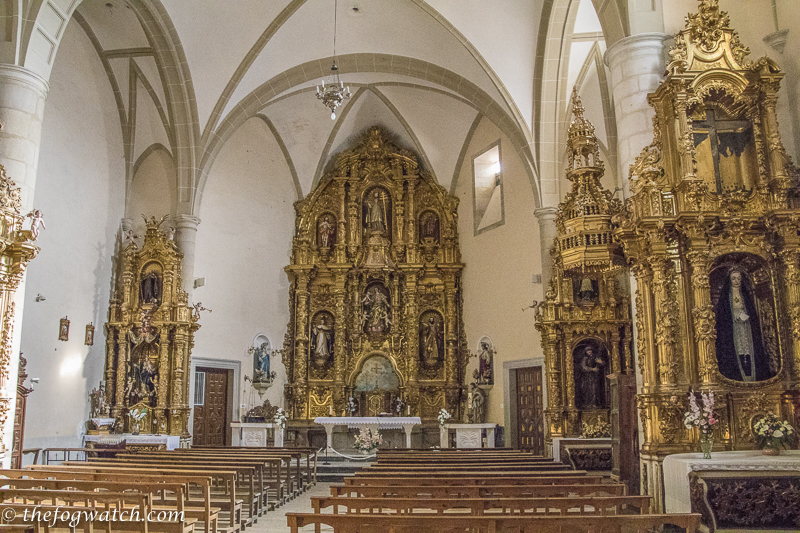 But there was more. Off to one side near the entrance was a C10th baptismal font – something many people will have just walked past as it was in an alcove off to one side. But it was quite an extraordinary piece! It is said that Saint  Dominic (Santo Domingo de la Calzada) was baptised here in this exact font.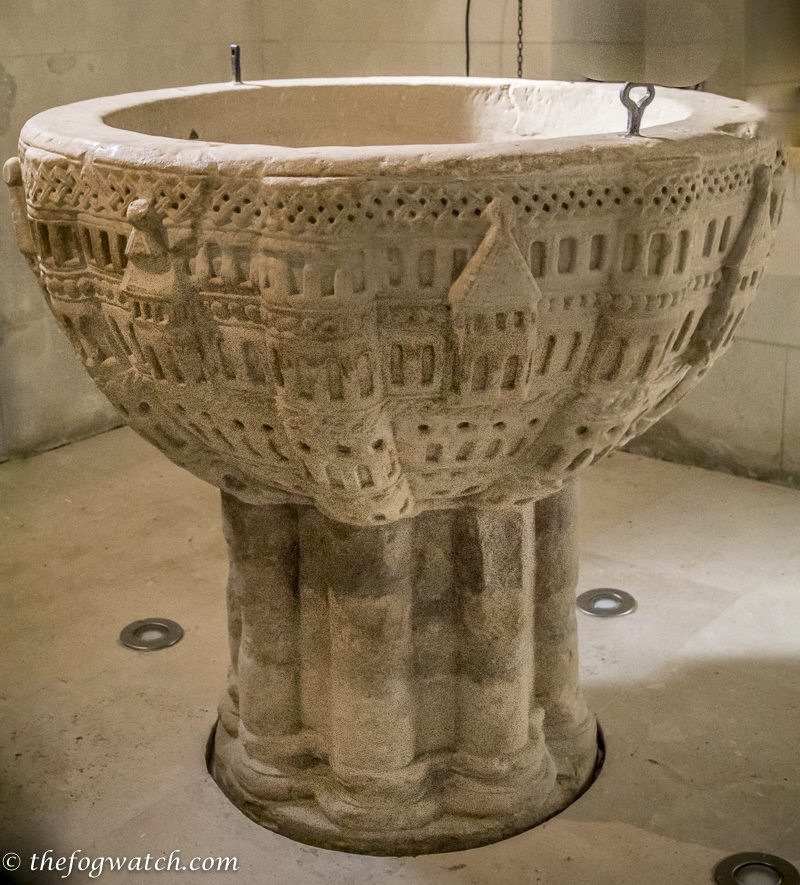 And the organ was a triumph of Art Nouveau design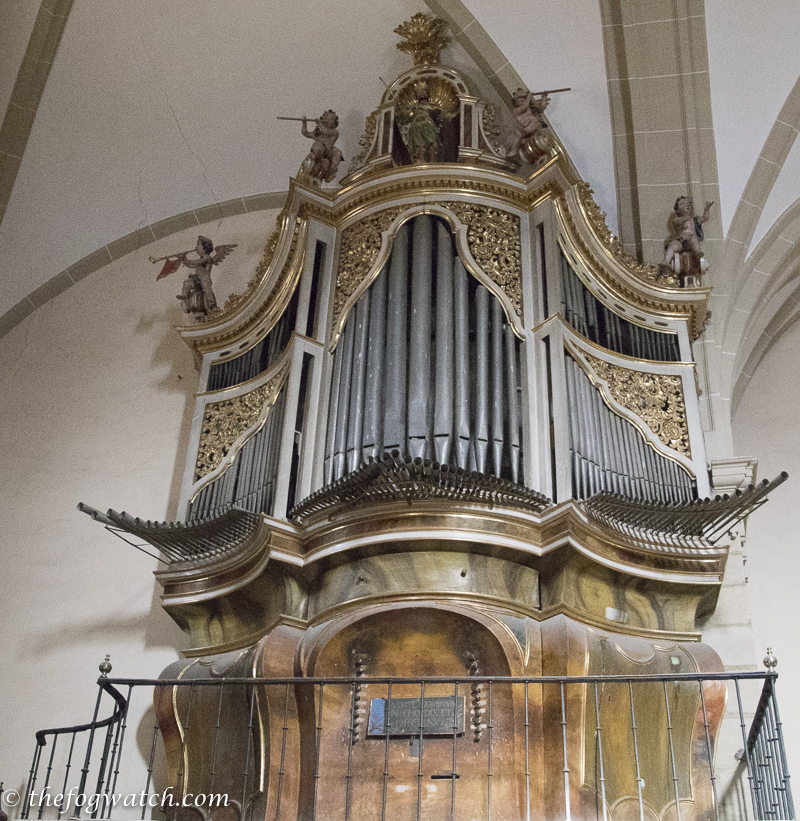 Soon, however, it was time to move on. The trail markers often held discarded shoes or boots – too often with major name labels, like Puma or Adidas. In some cases it was wear, or they caused blisters…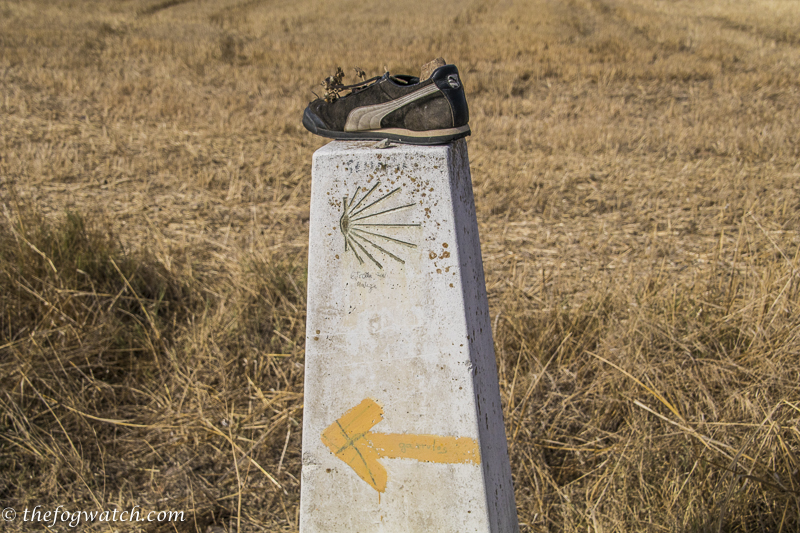 In other cases the sole had become delaminated from the shoe or boot, making an otherwise good boot unwearable.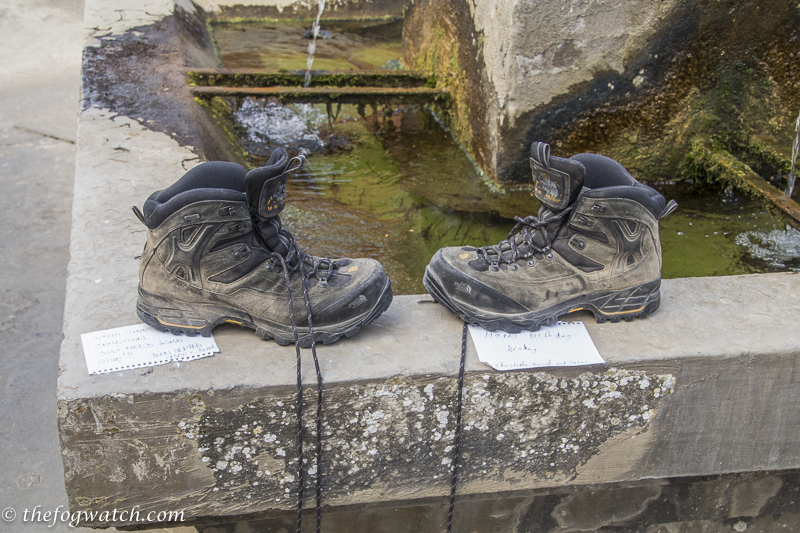 We stopped at a rest area in Viloria de la Rioja for some lunch – a bocadillo and some fruit.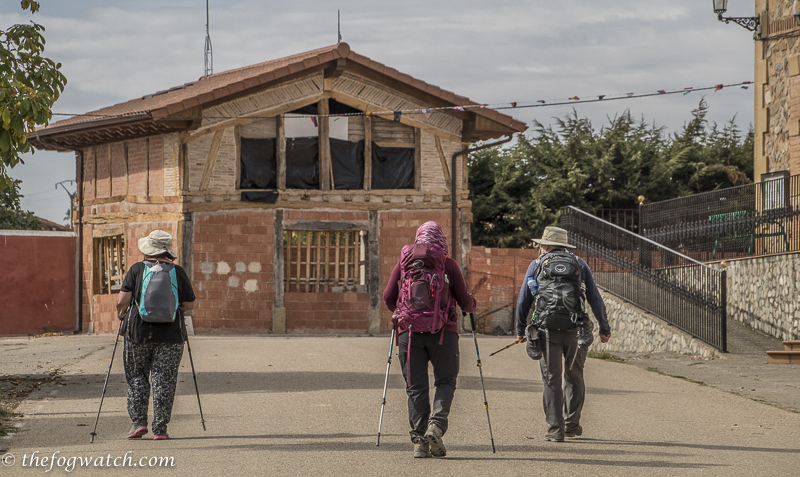 While there, a group of French pilgrims arrived, looking around for a table. I welcomed them in my basic French and they came over to join us. The French pilgrims often keep to themselves, but meeting them part way in their language quickly breaks down the barriers, and they were soon offering to share their food and wine with us, before we parted company and headed on through the village.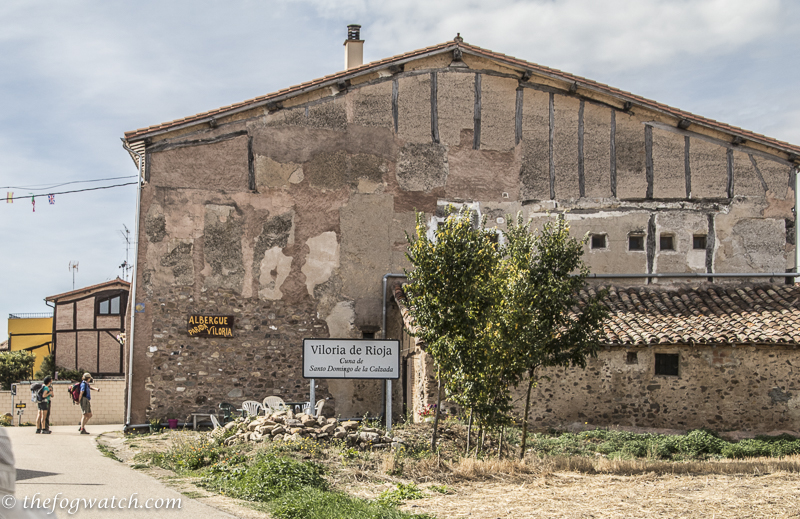 Then it was on to Villamayor del Rio, just 50km from Burgos. It lies on the Velorio River – hence its name Mansion on the River – from an ancient tradition which celebrates the river as a source of good fortune. Perhaps an ancient pagan tradition as life-giver.
On the approach we noticed caves in the cliffs behind – perhaps a hermitage – they certainly looked as though they had been occupied at some point, hundreds of years ago.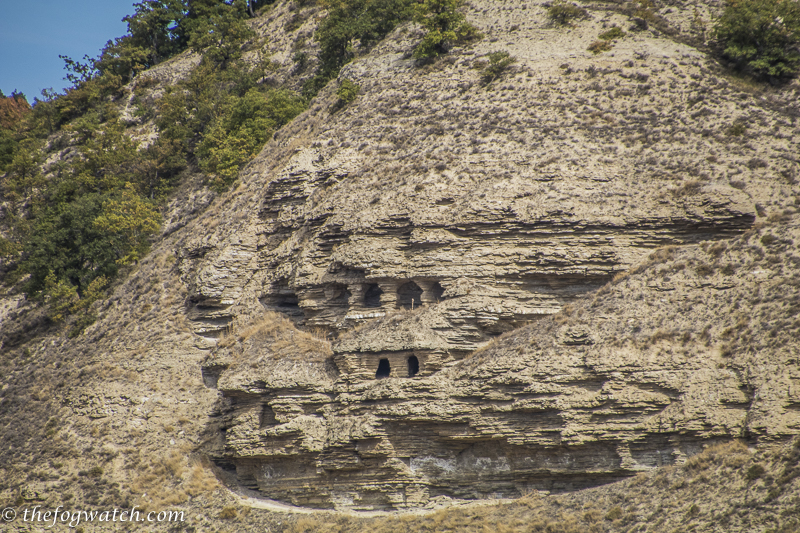 We found an albergue off to the side of the town, and we headed over to claim a bed, before walking back into the town for dinner, then returning to rest.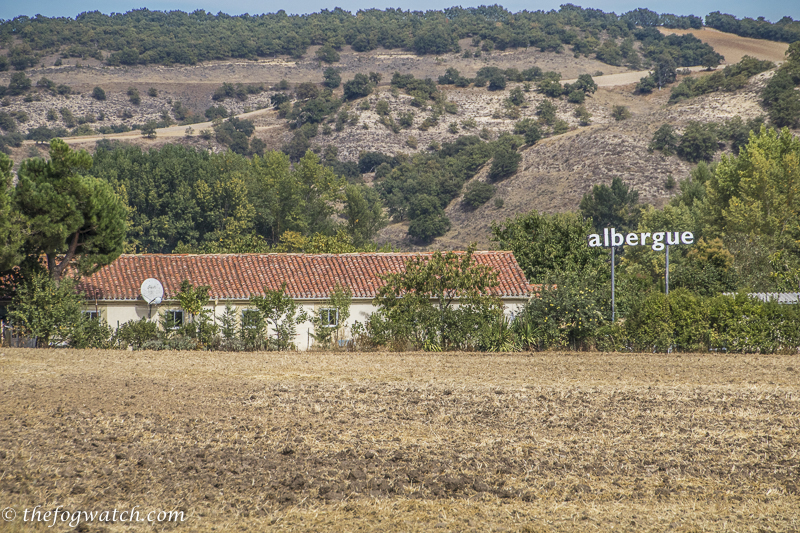 There is time to think on the Camino, and we discussed how the Camino might have changed us. What lessons have we learned thus far?
Firstly, each day brings something special. It may be the birds and wildlife, the architecture or the views. Above all, it is  the small things – the little kindnesses, the simplicity of life on the Camino, and how we weigh ourselves down with stuff, both physical and mental. But most of all, the people, the sense of community on the road. I wonder if the Camino simply attracts a particular kind of person – altruistic, thoughtful, and with a taste for vino tinto…
The Camino is a social leveller – everyone is there with a backpack, two changes of lightweight quick-dry clothing and nothing extraneous – perhaps with the exception of the woman bringing her crochet and an extra blanket, or the person with over a kilo of medicines for all contingencies – but aside from that, there is no room for status markers, so each person encounters each other at the most basic level.
One learns that modern life is cluttered with stuff, and the reality is that we don't need much stuff. A roof, food, good company and a life of the mind. Oh yeah, and a couple of changes of clothes. Modern living is full of things. And our stuff reflects our state of mind – perhaps some of it is noise to dampen the pace of modern living, but whether your stuff is organised or messy, the Camino reminds us that most of it is just clutter. There is something quite liberating about that.
Walk, eat, sleep, repeat. It is the rhythm of the Camino.
Sometimes we were criticised for carrying a camera, an ipad and even a smart phone. I can see what they were getting at. Some people cannot leave work at work, and so they are not on the Camino when they are on the Camino. But I think that such technology can be used appropriately to enrich and enhance the experience of the present.
The camera taught me to see things I would never previously have noticed – including the spectacular sunrises. The ipad enabled me to record much of the experience for future reference, and to enable others back home to share something of the experience – and perhaps inspire others to undertake such an adventure.
As for the phone – it proved indispensible for booking accommodation, for checking the weather, and to reassure us that we were on the path, or to guide us gently back to the Way. All of which was about being more, not less, present on the Camino.
But of course everyone will have their own view and that is what this process is all about. We all walk our own Camino.
________________________________________
INDEX – If you wish to follow our journey from the beginning, or jump in to any of the Camino posts,
here is a link to the index page – which can also be found in the navigation bar at the top of this blog
________________________________________
You can have these posts delivered to your in-box by entering your email address and clicking the 'subscribe button to your left, then respond to the confirmation email in your in-box 🙂