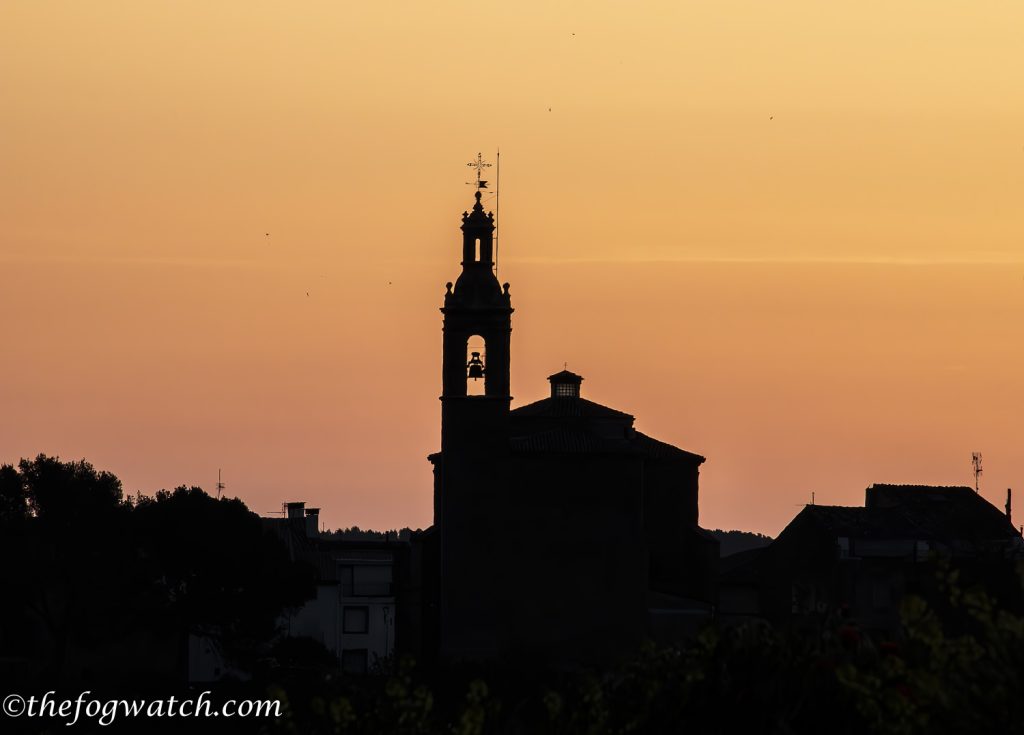 Sansol dawned spectacularly beneath a fiery orange sky. With around one kilometre before reaching Torres del Rio, we were still too early for breakfast. We passed an octagonal church with a fortified tower — a style associated with the Knights Templar. The Church of the Holy Sepulchre was built in the C12th — inspired by its namesake in Jerusalem. Its simple interior dates from the C13th. The church was closed this time. So we admired it from the outside, before moving on. It was a steep climb out of Torres del Rio. And the sunrise was spectacular.
The path took us up through light woodland and opened out to a field of stacked stones in carefully balanced piles. Many messages lay among the stones along with trinkets of symbolic value — a doll or toy, perhaps a rosary. The stacks seem to be part of a meditation process that some pilgrims enjoy — the mindful placing of stones, carefully balanced so they don't fall. 
The C16th hermitage of Virgen del Poyo lies opposite. Sadly, like so many such churches, it was closed when we passed.
We descended steeply at a sign telling us that it would be a 10% gradient.
It's time to lengthen the trekking poles a little and use them as brakes so we don't build up too much momentum or strain our shins. We zig-zagged down the steeper parts – it reduces the slope and the stresses on our knees. I heard that technique referred to as 'technical walking'. It works regardless of the term.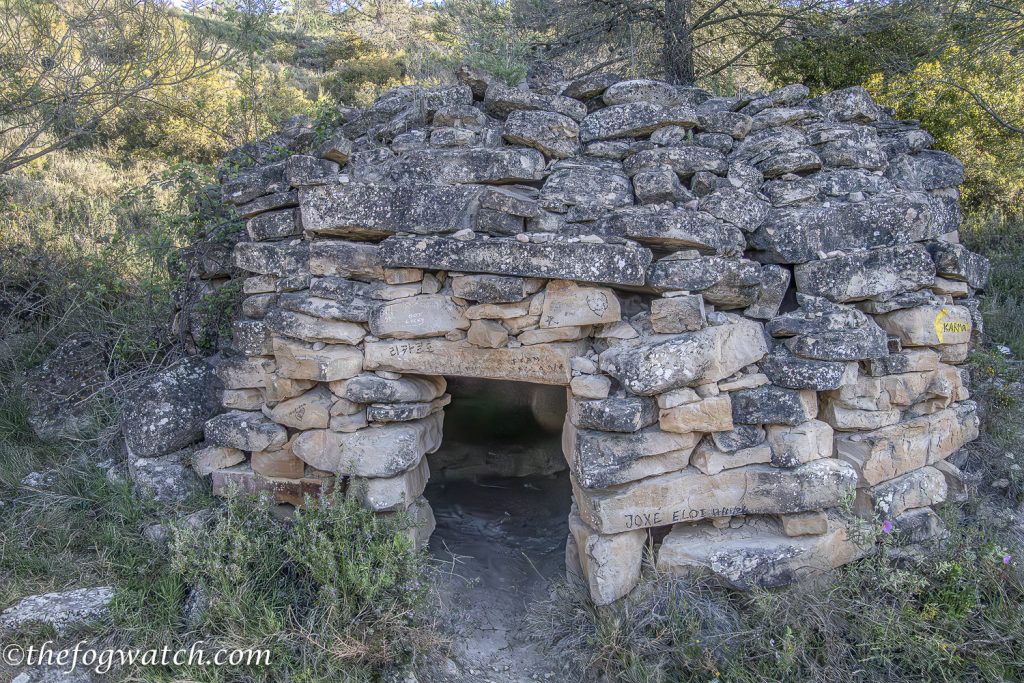 On the descent, we pass an old shepherd's hut or hunter's storm shelter. Out here, the weather can close in suddenly, and a farmer (or even a pilgrim) can get caught in a sudden violent downpour or hail storm. We saw a few such shelters along the way. A pilgrim with a sense of humour had written "Donativo Albergue" over the entrance. I peered inside and it looked as though it had a stone bed — long disused, although perhaps the occasional mendicant pilgrim might use it for wild camping. 
  Gradually, the landscape opened out onto barley fields and vineyards as we descended into a valley. We caught our first glimpses of Logroño in the distance — our destination for the day. And we were so ready for a rest day.
A sign to Logroño told us we had 13.5km to go to reach our destination for the night. The track met up with the road and we walked into Viana at 10.00 am. Time to find some breakfast!
We entered the town through an ancient gate — part of the original town walls. 
Taking a look inside the C13th church dedicated to Santa Maria, we saw a beautifully carved and gilded Renaissance retable behind the altar. The artistry of these carvings is a remarkable achievement done for the glory of God. And it is here today to inspire locals and pilgrims alike to reach for greater things.
As for the gold — it is just a few microns thick as a coating over wooden and plaster carvings. The gold was likely mined in Spain near Ponferrada where we can still find the remains of the largest open-cut gold mine in the entire Roman Empire.
I confess I get a bit disappointed at those who would cancel the church for such displays because I prefer to look at it in context as a remarkable expression of human culture. And yes, I do recognise that Spain and Portugal certainly engaged in rapacious looting in the newly European-discovered Americas.
But it's also equally possible that the gilding wasn't part of the gold looted from the New World. That plunder was more likely to have funded the ongoing conflicts around that time, and to provide a guarantee for the Spanish currency. As we may never know the full truth, I think it's important not to rush to judgement about what we see in the churches and museums along the Camino. But let's get back to the idea that artisans and craft workers inspire us to reach towards the finest expressions of human culture, even during times of conflict and pandemic.
Perhaps there is a continuing story here for the Camino as a whole, on the importance of feeling part of something greater than ourselves. This seems especially the case in today's fast-paced and secular world, where people are increasingly reaching for their own version of spirituality, regardless of the formal rituals of the Church.
The Camino provides a space for reflection, but also an identity as part of a thousand-year tradition of pilgrimage. Just as those who built the cathedrals or decorated them, felt they were part of something that would outlive their individual lives, so too, we who walk the Camino become part of the story of Europe.
By being part of something larger than our individual lives, we can then aspire to work towards being better versions of ourselves, both on the Camino and after we return. We are reduced to our humanity so that we can become better exemplars of what it means to be human. Perhaps this, more than anything is what draws people to walk the Camino — and draws them back again and again, to touch base with what it is to be human, to be part of a community, and to understand how to treat each other with a little more kindness and compassion on our return to our daily lives. 
Viana is the last resting place of Césare Borgia, a Cardinal, military General, and son(!) of Pope Alexander VI (Rodrigo Borgia) and his mistress, Vanozza dei Cattanei. Cesare once employed Leonardo da Vinci as a military architect and engineer, and he knew Niccolo Machiavelli. He was possibly the inspiration for Machhiavelli's The Prince. Despite his syphilis, Césare was a capable military leader and won back Viana for the Navarrese. Unfortunately, the victory didn't last long. He died in an ambush in 1508. 
There is a ruin of the fortified San Pedro church where you can still see the C14th paintings on the remaining ceiling and part of a wall. Napoleon used the church as a headquarters for his troops, and later, the Carlists used it during the Carlist wars by both sides of the conflict.
Onward through the vineyards we came across families celebrating a large communal picnic at the Virgen de los Cuevas. We admired the mural and smiled — the picnic spot is busy and well used. It's good to see communities getting together to relax like this.
Soon we found some shady woodland, before crossing a highway and entering La Rioja province. We are now in one of the best wine-growing areas in northern Spain.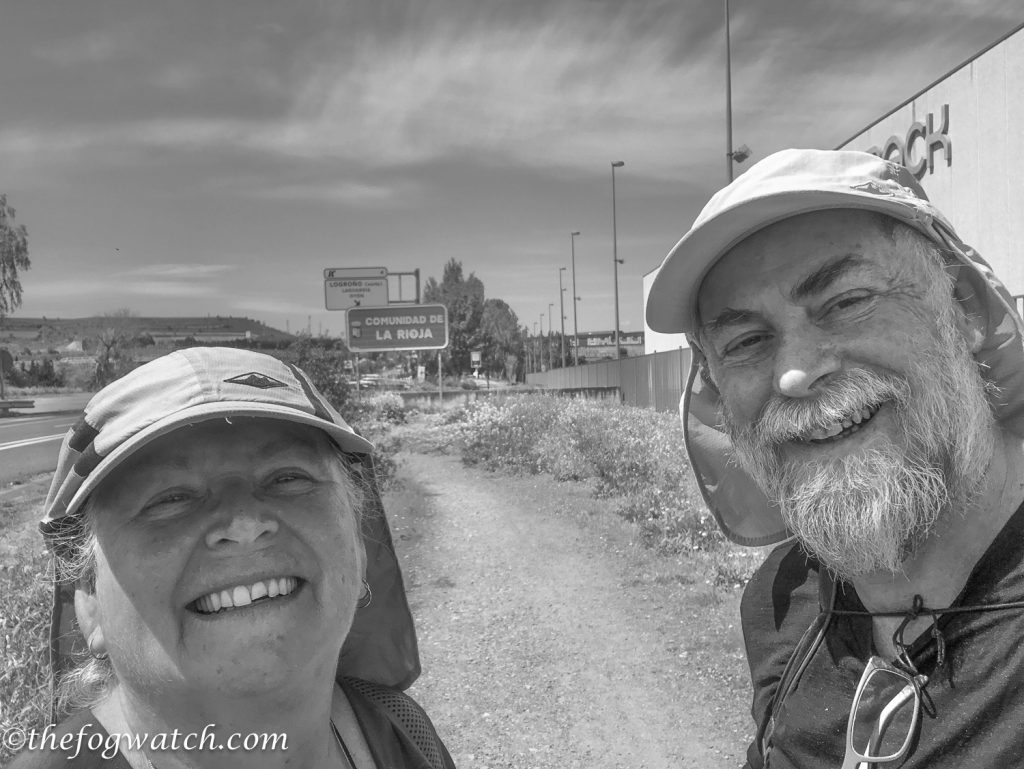 And soon Logroño came again into view and we could see the Cathedral clearly in the centre.
Climbing some stairs onto the bridge we stopped in at the local Pilgrim Information Office. We obtained a local map to help us find our accommodation. They also provided information on things to see in Logroño — as we have a rest day planned here.
Storks circled majestically overhead as we crossed the river and entered the town. The hotel (Sercotel Portales 87) was comfortable and well-located. So we checked-in, showered, and washed our clothes, before scouting out a place to have dinner.
We headed to the Cathedral with its spectacular spires and noticed some refreshing bars and cafés around the plaza. We found a place to eat, then headed back for a well-earned rest. And so to sleep.
Our journey has taken us today from Sansol, with its Templar-inspired church, past an ancient farmer's humble storm shelter. Then to the tomb of the illegitimate son of a Pope. Cesare Borgia rose to become a military General who won back Viana for the Navarrese. We marveled at the technical skills and artistry in the churches. And how those artworks, thinly gilded, have inspired people through the ages to reach for something greater than themselves.