The cockney street cry could be heard over the London traffic – such is the power of his voice. Then I saw the top hat and blazer from across the street in Covent Garden. "Anybody lost or needs information…" he called, and soon he was pointing out a location on a map for some visiting tourists.

[Click here to listen to the audio of the street-call]
As soon as he had finished, he continued with his chant until the next person came up to ask for information about London. I had to know the story…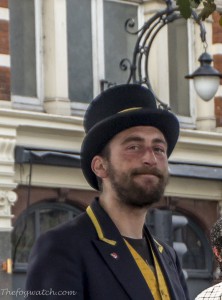 It turns out that he was a street-person – sleeping rough, an 'unfortunate' – as Jane Austen would say. But he is not a beggar or a pan-handler or con-artist. Having lived on the streets of London for some time, he realised he could offer a service. So he set himself up as an unofficial tourist ambassador for the city that he loves. And he is a great ambassador – he knows more about the local area than most of the official guides.
With a backpack full of brochures, and a well-thumbed local map, he offers information and receives donations from those he helps. He doesn't ask for donations – and most people are oblivious to his situation. But he is there, freely sharing his knowledge and local experience, day in, day out, cheerfully repeating his traditional London street cry: "Anybody lost, or needs information". I made a donation and asked if I could take his photo. And this is his story.
If you enjoyed this – you can have these posts delivered to your in-box by hitting the 'subscribe button to your left 🙂