Driving in France is like driving through the looking glass – at least for those of us who usually drive on the left and sit on the right.
The hire car was straightforward – I asked for the smallest they had, and it was only a little bigger than the car I drive in Australia. I get in – no problems – I drive a French car – how hard can it be? Okay so the gear shift is now done with the right hand – I can deal with that.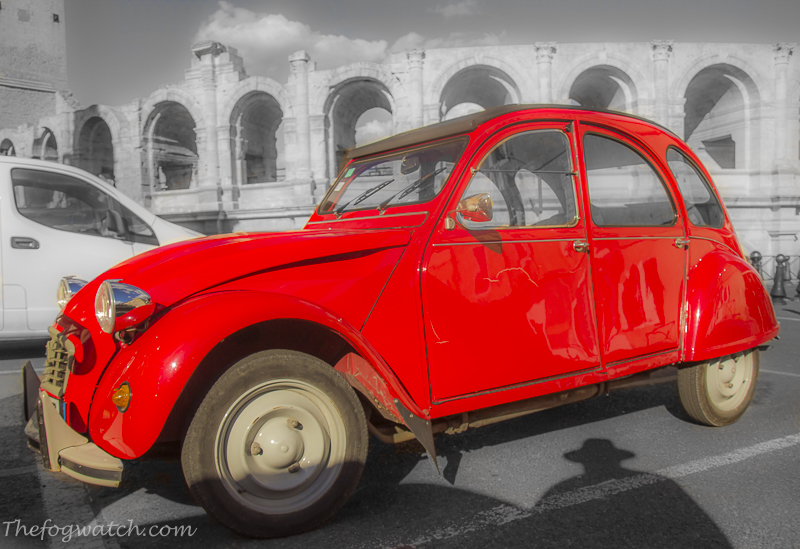 Remember the mantra – say it aloud!
I start and pull out, remembering my mantra "right is tight and left is loose" – I repeat that to myself a few times just so I'm clear on that – a right turn is like a left turn in Australia and vice versa. I hunt for a gear – any gear as long as I can pull away – and I find myself developing a dough-mixer style of selecting gears – it works. Sometimes.
Useful tip:
I recommend taking a timid passenger with you – they can be very helpful. "You're being British" I hear – oh yes that's code for 'I'm about to wipe off the passenger mirror on the parked cars – I quickly make the course correction.
Very handy having an audible warning device like that – if I start to drift to the right I get a faint 'oooh' rising quickly to a piercing shriek that I can no longer ignore – it's very effective – every driver should have one.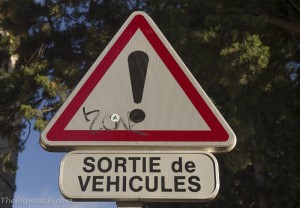 I approach a turn and mutter my mantra again. And here I learn a fundamental truth: roundabouts are a godsend! how else do people turn left in this country? I will never again criticise Canberra for its myriad roundabouts – OMG they are soooo useful! And France is full of them. The great thing is, that not only do they make left turns easy, they allow you to check the signposts, sometimes two – or even three – times until you are sure that you have the right road. Um… just make sure you enter the roundabout to the right and proceed anti-clockwise around the roundabout – otherwise it gets awkward (don't ask!).
Curious fact: you know you're in France when they grow wine grapes on the roundabout.
Two kinds of roads
There are just two kinds of road in France. There are toll roads – about ten lanes wide and traverse the country from top to bottom and every way across – mostly following the old Roman roads. Everyone travels the same direction and the speed limits are a sensible 130kph or 110kph if raining. Under every speed sign is the word 'RAPPEL' – it translates roughly as 'just a suggestion'. At least that's how the French drivers translate it.
The second type of road is a secondary road. In Australia we call these alleys. They are about 1.5 car widths with a deep ditch on either side – they must get some great monsoon rains to justify those small canals they call drains…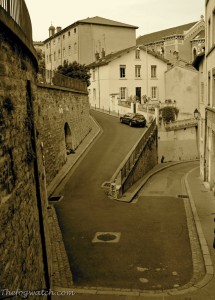 Thus begins a continuous game of chicken – which the French invariably win because they are fearless. The oncoming traffic which I estimate at double the 50kph speed limit holds their line close to the centre of the road. I try not to flinch as they approach. "Be French" I tell myself – and grip the wheel a little tighter – somehow they miss as they pass just millimetres from my wing mirror. I learn the trick – never show fear, and don't be British! Luckily my motorcycle training kicks in and soon I can sit comfortably in my lane – just to the left of the black oil strip in the centre of the lane. That seems to work, and within hours I am starting to relax and enjoy the drive.
But you do have to watch out for the British drivers in France as they constantly veer off to the right, or straddle two lanes of the tollway.
The French are great communicators – whether texting while driving or using their horn as an extension of their voice – they are happily doing everything but concentrate on driving.
And so to navigation. Rule number one – get a GPS. We didn't have one and while most major centres are clearly signposted, they will often route you through 2 or 3 small medieval towns without any signposting at all and usually that is where a crucial turn should have been made. Take Google Maps' time and double it.
In the narrow streets of the old towns – full of charm and narrow streets and blind corners and maniac scooters and dogs and chickens – most countries would position a convex mirror to protect the blind corners. In France they replace these with statues of the Virgin Mary… protector of travellers, set into a niche on the wall. Despite my atheist tendencies, I say a quick 'Hail Mary' and enjoy the drive.
Actually it is rather fun once you get used to it and I quickly learned to love the quirky little car 🙂
If you enjoyed this – you can have these posts delivered to your in-box by hitting the 'subscribe button to your left 🙂