It is now about 6 months since my wife and I completed our Camino Frances (time flies!), so it seems about time I took stock of some of the lessons I've learned and that I've gleaned from talking with other pilgrims. I have found most if not all of these to be things I've incorporated into my daily life.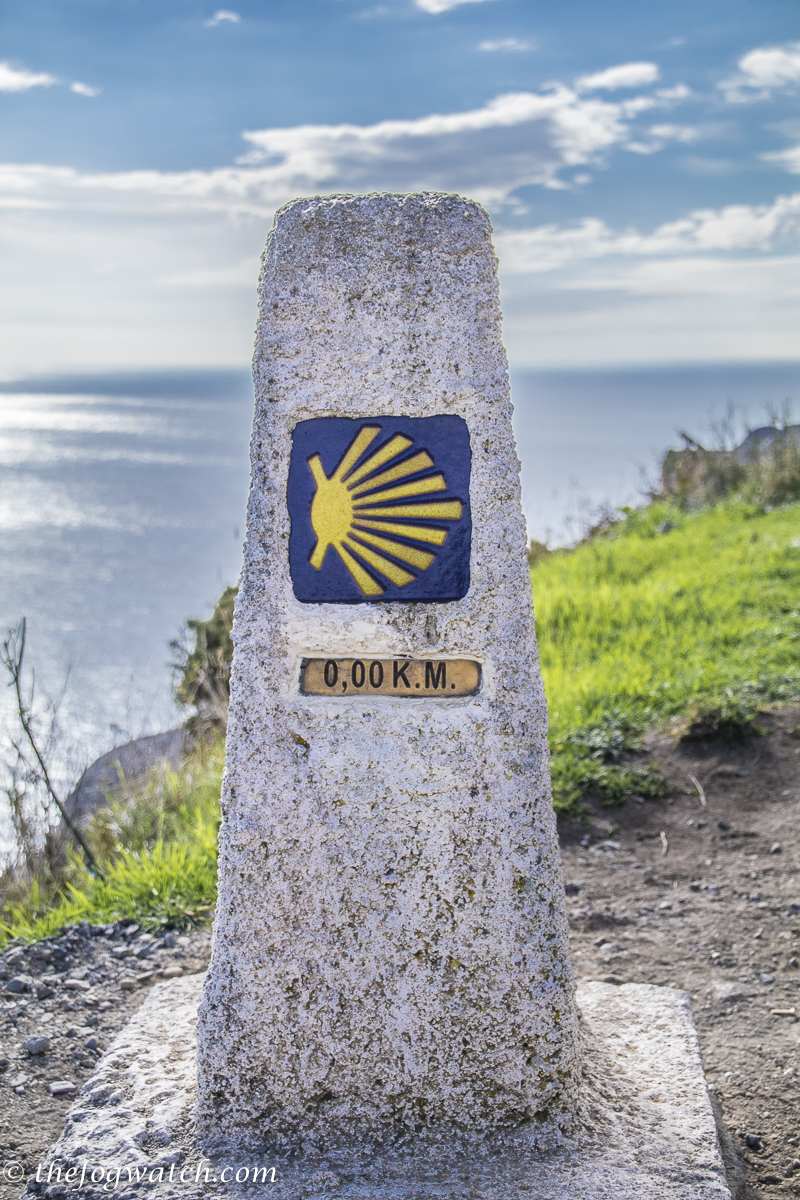 It's important to know the 'why'. This is one of the key lessons. Why do the Camino? I think this is the single most important factor in whether or not people complete their Camino. If you have that sorted, you will have what it takes to carry you through the hard bits – the difficult climb over the Pyrenees, or the long slog up to O Cebreiro, or to keep going when it's raining and muddy underfoot and you are uncomfortable. It is all part of the journey. We met a few people who wound up not completing their Camino this time as they were not solid in why they were doing it, and so were unable to find the resolve within themselves to continue. It is unfortunate, and at least in one case, we were suffering our own doubts after crossing the Pyrenees and felt unable to provide the necessary encouragement for them to continue. In my case, at least part of the 'why' was to give thanks for a good life, and to take time out to consider my new life in retirement from the formal workforce – it is a big life change. Everyone's reasons are different, but the key thing is the desire to see it through when the going gets tough. Anyone can walk for a day or two, but fatigue is cumulative and a walk that seems straightforward can prove challenging after 40 days. So the lessons around understanding why we want to do something will live with me for a long time to come, and it applies to everything we set our minds to do. This is not an original idea, it comes from a guy called Simon Sinek who summarises his key idea – 'start with why' – in this video.
We have too much 'stuff'. It seems pretty common that when people return from the Camino they begin decluttering. Ourselves included. Perhaps it comes from spending 6 weeks with nothing more than 2 changes of clothes, a backpack and a phone. And many people leave the phone behind. But the common thread is that you realise you just don't need much stuff to get through life. There is a great wisdom about buying things – if you need it, buy the one best item you can afford. It will do the job well, last for years, and you will not be wasting energy and resources.
It's about the relationships. In our daily lives, we dance around each other and there is a lot of 'face' maintaining activity as we get to know people. On the Camino we already have something in common – and we are reduced to our most basic appearance. We are removed from others' expectations of who we are. In addition, we are removed from our expectations of others' expectations of who we are. And this allows other aspects of our personality to come out. So it is easy to get real with people quickly. There is no time for long introductions, and our occupation or status is irrelevant – indeed those topics never arose. A casual conversation over coffee in Logroño quickly turned to why we were walking the Camino, where we were from, and who we are as people with questions of the meaning of life, observations of society and so on. The Camino has no time for bullshit. Several people we met briefly on the Camino remain in contact and are now firm friends. Although we each walk our own Camino, we have many fellow-travellers.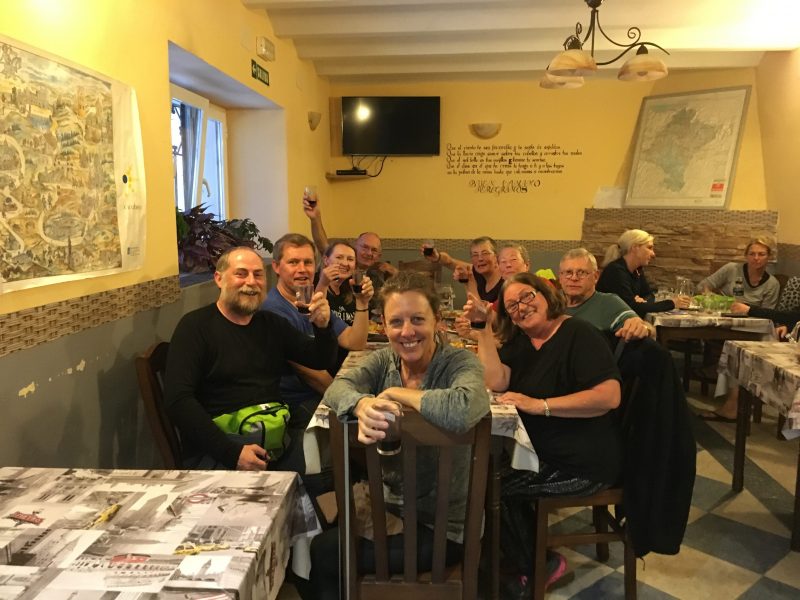 The value of slow travel. We are walking across a country. What a privilege to be able to do that in our fast-paced world! I had read classic novels in which protagonists described a town as 'two days away'. I now know what that looks like. Every town is on a hill, so you start the day by descending, then crossing a valley, perhaps a hill or two, then you climb towards your destination. You look back and see the distant hills and think 'I was there this morning – that's what a day's walk looks like'. And it is a great feeling. With life at walking pace, you see more, you hear more, you smell more and you touch more and above all you perceive more. And in the process you become more mindful of your surroundings. It is travel with all your senses. And you notice things – not just the sunrise over the mountains, but why that village is located there, and that piece of carved lintel that now forms part of a dry-stone wall.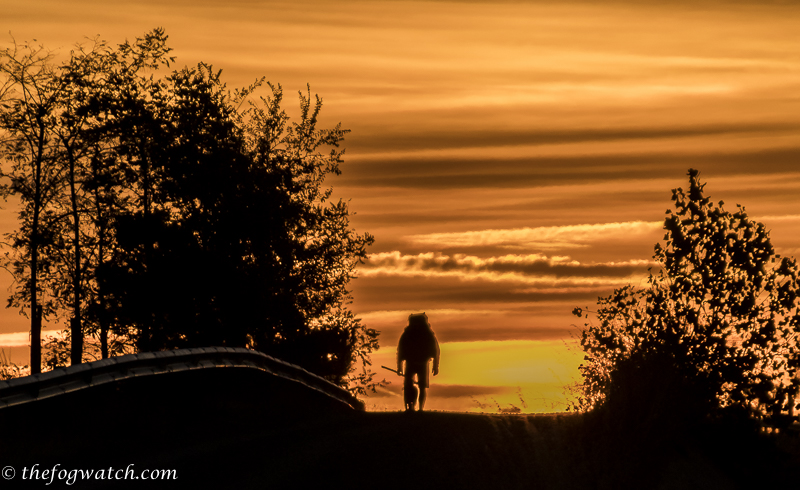 Forgiveness. There are several symbolic places at which there is a tradition of forgiveness – the Alto del Pardon (Mountain of forgiveness); the Cruz de Ferro – where you place a stone brought from home to represent your psychological baggage to be left behind at the cross, and so on. But what does this mean? I think it's about having an opportunity to step outside our daily lives, and to learn to forgive yourself for all those failings you beat yourself up over. And it's about tolerance and forgiveness of others. They have their journey to make, and like us they are only human with all the failings that that entails. The Camino is an opportunity to look into ourselves and find forgiveness for our own shortcomings, to take responsibility and to lighten up on ourselves and others.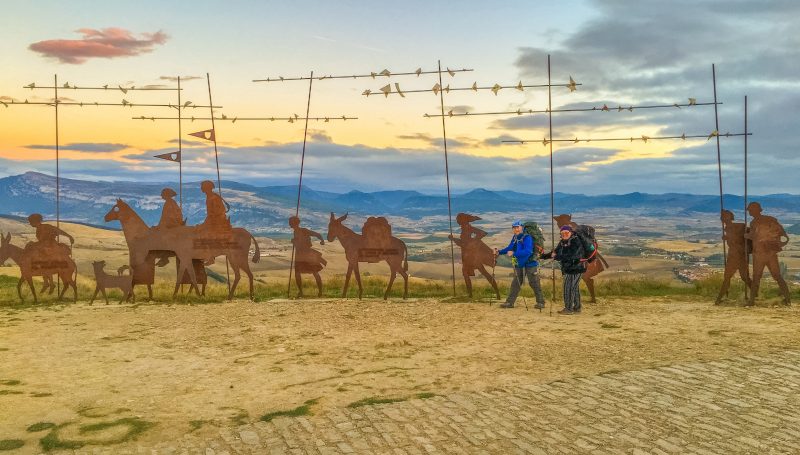 Finding yourself. Some people talk about 'finding' themselves on the Camino. I wonder if it is more about 'becoming' yourself. I am yet to be convinced that there is somehow a core person wrapped up in onion layers waiting to be unwrapped and discovered, because that would imply that we are unchanging and unable to grow – a noun, rather than a verb. For me, identity is not an extractive industry buried under piles of tailings. Rather I see identity as a process of becoming. It is an additive process, built on the foundation of all the choices we have made through life to the present. Just as each step on the Camino takes us further along the path, or perhaps diverts us for a time, we are always actively engaged in becoming who we are. By virtue of engaging in such a journey, you are extending yourself, putting yourself out there – and in the process discovering more of the reserves you have within. In that sense, the Camino is truly a metaphor for life.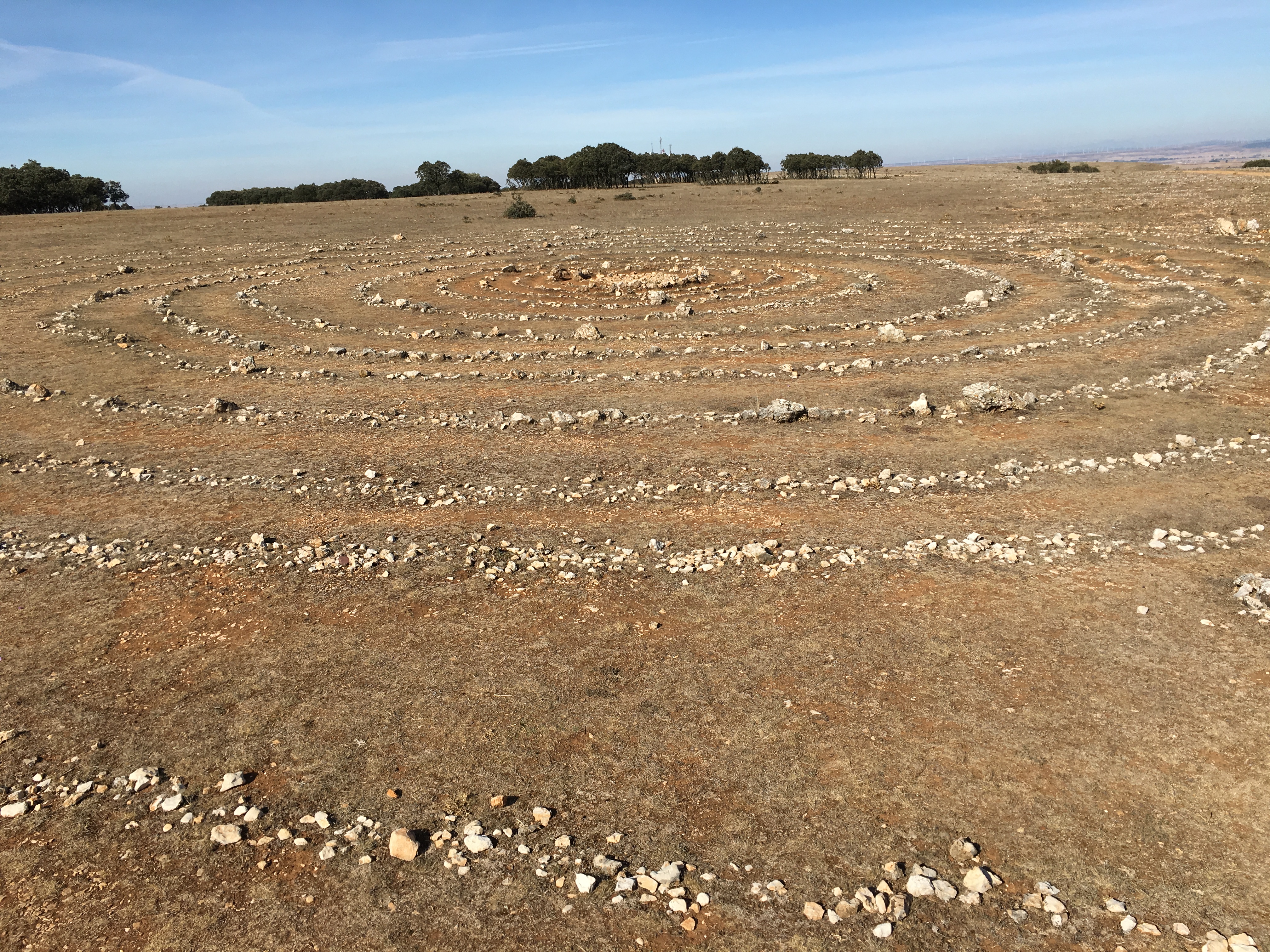 Real pilgrims don't… judge other pilgrims. I heard several people say things like you're not a 'real' pilgrim if you don't carry your pack, or you take a bus across the Meseta, or talk or sing or whatever. I even saw a sign that said 'pilgrims walk in silence'. I thought about adding a line to say 'pilgrims don't deface walls with judgemental sayings…'  Honestly, everyone walks their own Camino in their own way, and it is not up to others to judge. The author of the C11th Codex Calixtinus even talks about crossing the Meseta 'of course by horse'. So I don't think even they would have judged anyone for taking alternative transport at times. The only official requirement is to walk the last 100kms or bike the last 200kms. With or without a pack, it doesn't matter.   
We are part of a long history. To undertake the Camino we are following in the footsteps of a thousand years of pilgrims to Santiago. But we are also walking in Napoleon's footsteps as he crossed the Pyrenees. And we are following Charlemagne's footsteps as he sought to drive out the Moors. Here we walk through legends of El Cid and of Roland. But then you look down and realise you are walking on a Roman road – built 2000 years ago. we cross Roman and medieval bridges. But that is a drop in the ocean of time as we walk the flint hills used by neolithic farmers and paleolithic hunters and neanderthals and before them Homo Antecessor before even modern humans walked this land. It is land continuously occupied by hominids ancient and modern for 1.2 million years, even before Homo Sapiens existed. All these have walked beneath the river of stars. By walking the Camino we are writing ourselves into that history, taking our place in the story of Europe, and continuing the grand tradition. It is a personal story that we, in turn, will tell our children, our families and our friends. We too are pilgrims, and we walk our story.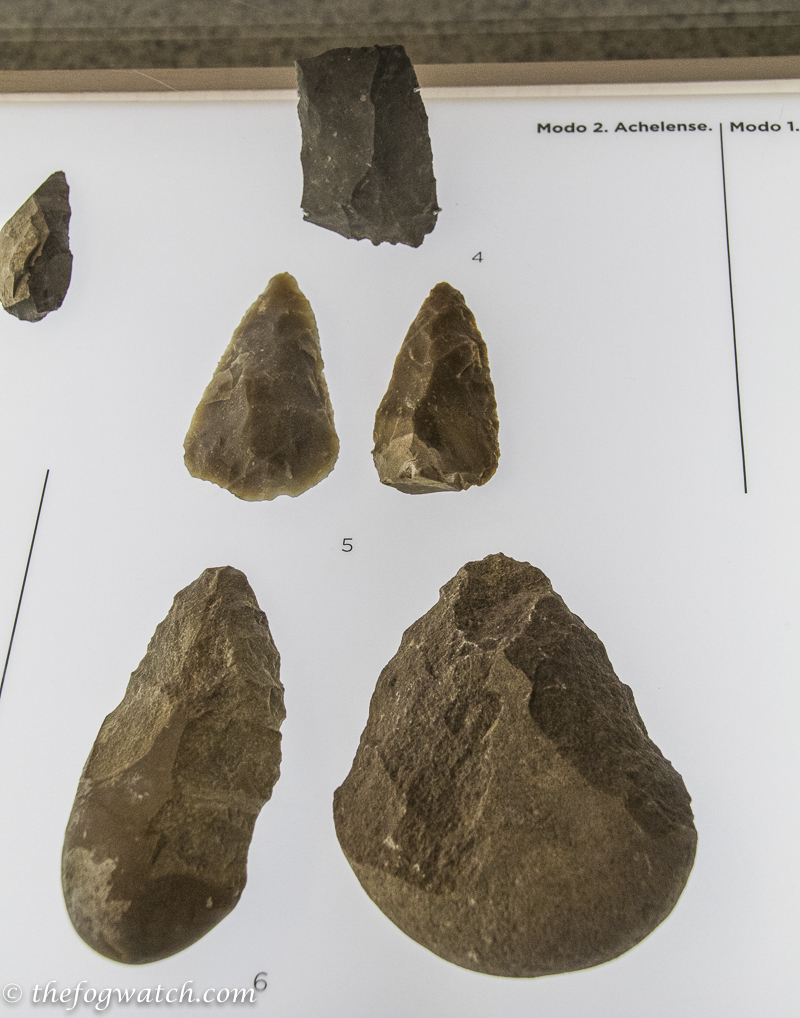 People look out for each other. The Camino seems to attract a generally more altruistic kind of person, and we saw this demonstrated time and again. People would provide emotional support or would help out in practical ways – sharing food, or stomach settlers or advice on blister care, or where to find the best tortilla in Spain (thanks, Kristine). Several times we were brought to tears by the kindness of strangers – a blessing from a nun or seeing someone stay with an exhausted pilgrim left behind by their travelling companions. We saw countless small acts of kindness and compassion. After a lengthy career dealing with the very worst of human nature, the Camino restored my faith in humanity.
Learn to let go – sometimes things don't go to plan, but there is usually a way to sort things out. There is a saying that 'the Camino provides'. And that is true as long as you are open to what it provides. So one of the things we learned was to accept what happens and either put up with it or take action to resolve the situation.
Care of the self. Body lessons are vital. It is important to learn to listen to your own body and take note of potential problems. If you have a hot spot on your foot, treat it immediately – before it becomes a blister. If you are feeling exhausted or emotionally drained, give yourself a rest day. If necessary, take a bus or a cab to the next town, or have your pack carried forward by one of the backpack courier services, such as Xacotrans. People are generous on the Camino and always willing to help others in need. But to be able to help others, you also need to look after yourself. It is like the safety briefing on the plane – in the event of loss of oxygen, fit your mask to yourself before helping others – otherwise, you risk neither coming through. And the Camino repays this care with interest! We both lost weight – around 5kg each. But the big changes were internal. My cholesterol numbers were a bit high before I started the walk – the bad cholesterol was high and the good cholesterol was low. There are limited menu choices on the Camino so I ate the steak and chips and ice cream and drank the wine and had the cakes along the way. On my return, the numbers had completely reversed – so much so that my cholesterol was back well into the normal range. Walking is a very natural thing to do, but it was only when walking in a sustained way – more than an hour a day, did it become truly enjoyable, as though this is what the body is designed to do. By the end of the walk, we decided that we finally knew how to do the Camino, if only we could start over with the level of fitness and endurance we had at the end! And yes, on our return to Australia, my wife and I have both maintained a walking habit – which will prepare us well for our next Camino, and for our future travels.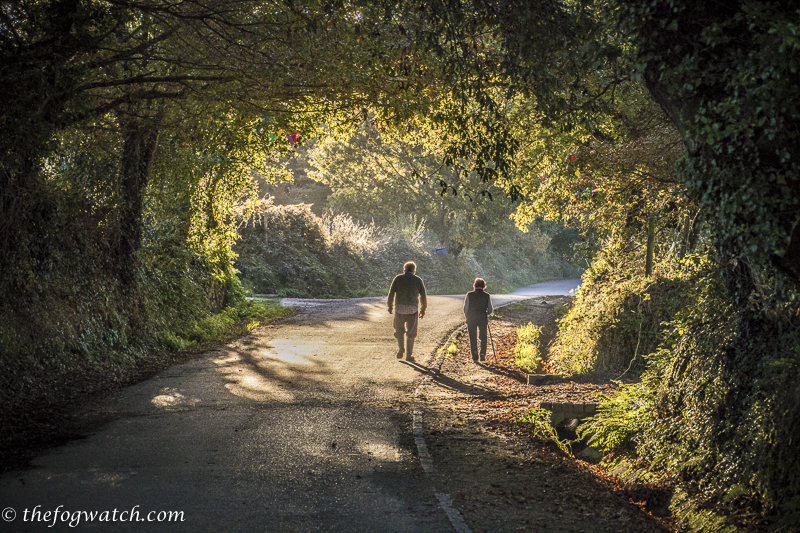 Learn to ask for help. This is something I'm not good at. We each walk our own Camino, but sometimes our own resources are not enough, and while I give help readily, I still find it difficult to ask for help – something I'm still working on.
There is no doubt that there are many other lessons to be found here, and as I reflect I will include them in future posts. And finally, a big thank you and hugs to all my Camino companions and friends – you have taught me so much and given so generously of your friendship. Buen Camino!
****************************
If you'd like to read more about our Camino Frances in 2016, visit the index page here for all my Camino posts
or click on the link above 🙂
****************************
________________________________________
Why not have these posts delivered to your in-box? Just enter your email address and click the 'subscribe' button in the left margin, and don't forget to respond to the confirmation email in your in-box 🙂