On the train to Bayonne, I thought about those who have gone before me on this path — and the weight of my fears. There was a light drizzle. The sign at the end of the carriage said 315kph. I wished we had trains like this in Australia. Farmlands stretched away, villages flashed past the window. A tunnel. And the air pressure abruptly changed. I swallowed to equalise the pressure. The cows glanced up briefly at the speeding train, before losing interest and returning to their grazing. A lone church in the distance with its flared square spire was soon lost to view. It is a dual journey we take on the Camino. The exterior physical journey, and the interior journey of the mind. Sometimes the one reflects the other. 
After struggling to find room for our bags I promised myself that next time, they will be smaller. But the bags contained more than our Camino packs. We had clothes for standard travel too. Three months feels long enough to taste the country, but too short for real travel. Last night I threw out more things, and transferred some for despatch to Santiago. And I knew we would repack again once we reached St Jean Pied de Port.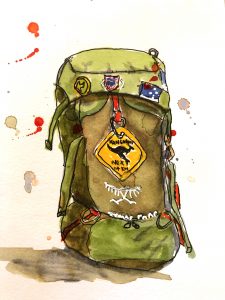 With two Caminos done, I wondered what fears remained to carry in my pack — they say that the weight of your pack is the sum of your fears. Once more, the outer journey reflects the inner one. And yes, my fears have physical dimension and weight. This surely is the answer to how many angels can dance on the head of a pin. If fears are my guardian angels, they've been putting on weight lately. 
The restaurant car was three carriages away. The train swayed and I lurched my way back to the seat with sandwiches and railway tea. We are fortunate and grateful that we do not have to travel as they did in times past. 
When the American diplomat and writer Washington Irving decided to do a road-trip to Granada with his close friend (a Russian diplomat) they had to join an armed convoy of merchants as banditry and lawlessness prevailed throughout the country in the mid-1800s. Today the Camino is perhaps the safest travel you can do. 
And our comfort contrasts greatly with that of Georgiana Goddard-King, who made the pilgrimage in the 1915 Holy Year over the Pyrenees:
  "Where the railway ended we should take a diligence (stagecoach), or if there were none, a carriage; where wheels did not go we should take mules; where rocks were too steep we should essay them on foot"
Can you imagine taking a stagecoach on rutted dirt roads, half-flooded due to snow-melt? I found a description of the Diligence-type carriage: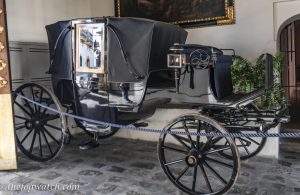 "the body of the carriage rests upon large thongs of leather, fastened to heavy blocks of wood, instead of springs, and the whole is drawn by five or seven horses."
At Bayonne where we change at the railway station for St Jean Pied de Port.  The single-carriage 'Pilgrim Express' wasn't running this time due to work on the line, so our 'Diligence' was a luxury coach, well sprung, air-conditioned, and very comfortable. The driver let us off at the entrance to the old historic centre, so we wouldn't have to walk 3kms back from the St Jean railway station. 
The journey to Bayonne had taken just four hours, rather than the several days it would have taken in the past. We collected our bags and dragged the wheeled sports bags over the cobblestones up towards our accommodation. We didn't have too far to go. And there are stairs (of course there are stairs), but the room was fairly spacious and we opened our bags to find our backpacks and prepare our final pack.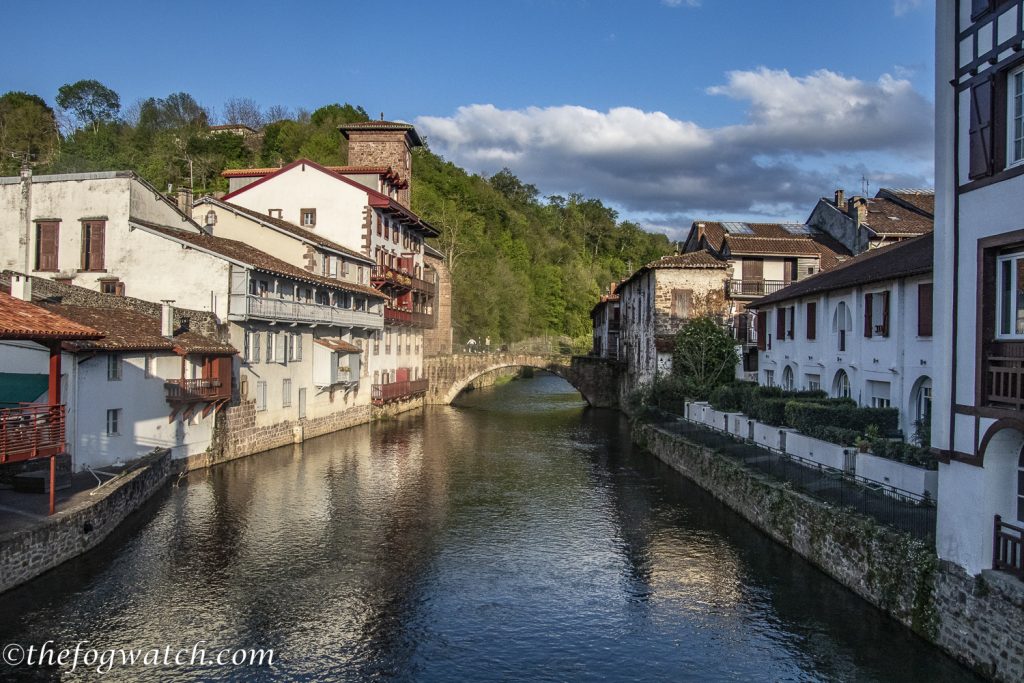 We took one look at our bags and decided as one to find a place to eat and deal with the bags later. We have a couple of days here, so there is plenty of time to procrastinate…. er … make sure we have everything we need — especially food and a decent coffee. It's about priorities, isn't it? Seneca reminds us that life is short — eat dessert first… or something like that. Actually, he talked about ensuring you have the right priorities and getting on with the business of living as our time is limited. So, food and coffee in order to sustain life doesn't sound so bad. Especially if it's accompanied by a chocolate Napolitana (or Pain Chocolat, as we are still in France). We encountered an older Australian couple trying to find a police station, as they were trying to replace their passport and credit cards that had been stolen in Paris. They were remarkably composed about it. And they had accepted they would have to go back to Paris in a few days, then rejoin the Camino at Pamplona, as they had booked and paid for their accommodation along the whole Way. We wished them luck and hoped it would all work out for them. The Camino itself is very safe, but major cities like Paris have many scammers and pickpockets.
Back to the final packing and we soon had our fears (the packs) down to around 7.5kg without water. By that time most places were closed and we walked around exploring this delightful medieval town. We walked up onto the Town Wall and saw reused carved stones from times past that had been used in its construction and maintenance. Sometimes a fragment of an inscription would appear like some ancient cypher.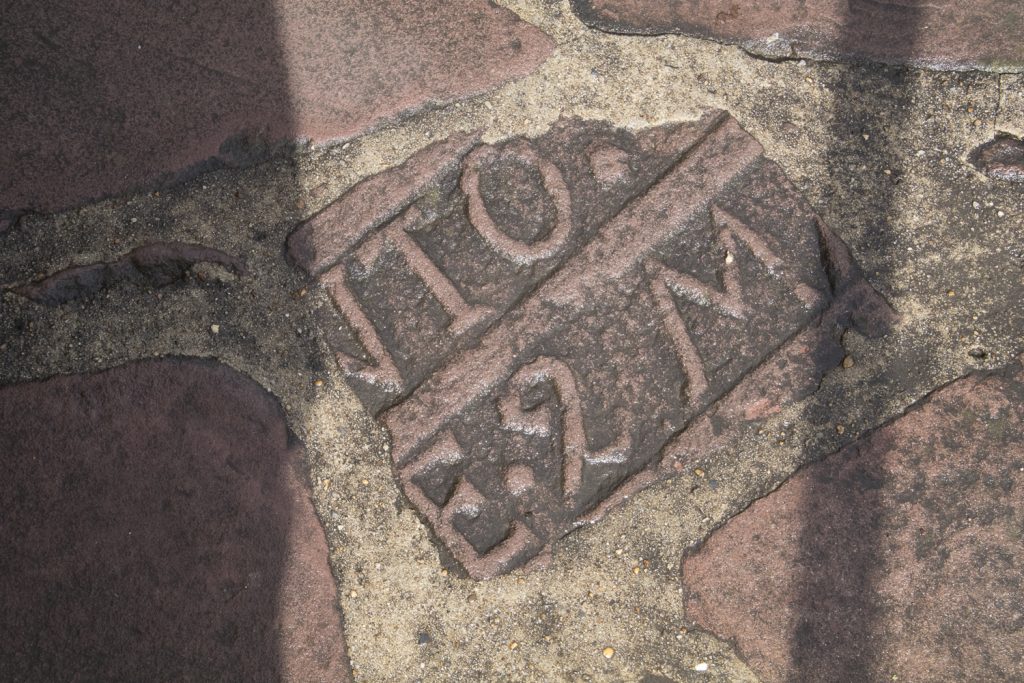 The next day we were up early, and headed out for breakfast. We discussed the day ahead, and after another coffee, we headed to the Pilgrim's Office to get our credentials and our first stamp to show we are on our way. But not just yet — we went across the road for the essential trekking poles and a replacement base layer. There is a lot of discussion about trekking poles. We find them indispensable as they take around 20 percent of the load off your knees when used properly. They are our Pilgrim Staff — I wrote a separate post about trekking poles here. They are very inexpensive even for good ones in St Jean Pied de Port at the Pilgrim shop (no affiliation, just a happy customer) right opposite the Pilgrim Office. 
Packing lists are a good starting point for planning what to take, but of course, each person's fears are different and has different concerns and abilities. But it can be useful to think of the pack as your contingency against things you can't control.
The Greek Stoic philosopher Epictetus tells us:
"Whenever planning an action, mentally rehearse what the plan entails." "Consider what is, or is not in your control." 
He goes on to identify that what is in our control is how we think or feel about something. The list of what is not in our control is longer: our body (we can get sick) material possessions (they can break or be stolen), and our reputation (which depends on others). 
Things do happen on the Camino that are not in our control. Others may have a bad day and take it out on us; your accommodation may become unavailable for any number of reasons; our gear can break, tear, get soaked; the food may be bad, or our body can become sick or injured. All these things are out of our control and therefore, for Epictetus — or for the Stoic pilgrim — shouldn't upset us if they happen. The trick is to work the problem. And the first thing to remember is that, especially on the Camino Frances, there are plenty of shops for resupply; the water fountains are almost all on town water and perfectly safe; and help is never far away if you need it.