After two days in St Jean Pied de Port, we rose at dawn all packed and ready to go. We set out over the bridge with a quick stop for a selfie at the Virgin's Gate. The dawn chorus was in full song while the water rushed beneath our feet. Heading up towards the outer gate my nose caught a wonderful fresh baking smell. So I veered off into the bakery for a pan chocolat to munch along the way. Ah, temptation has already led me astray. So much for my strength of character!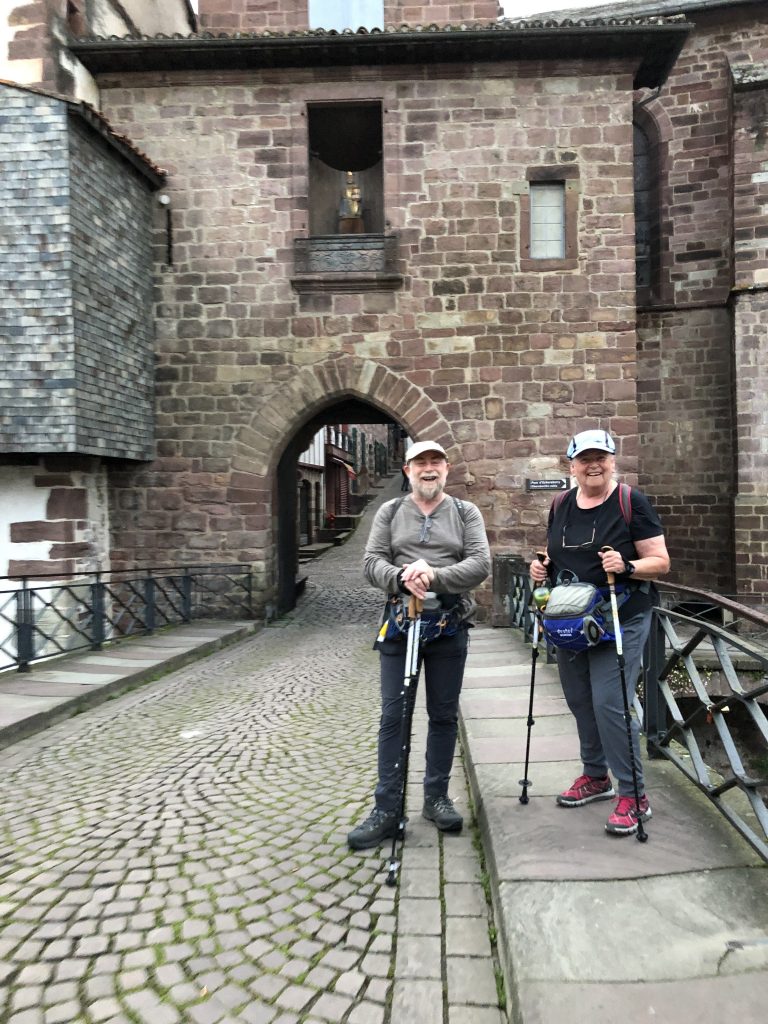 I anticipated getting a good photo of the Jerusalem Gate – at the outer wall of the Citadel but sure enough, a large white van stopped and parked halfway through the gate just as I was reaching for the camera. It was clear it would not be moving for quite some time. 'Thwarted!' I thought, a little disappointed, and put my camera away again. Oh well, it wasn't to be. I remembered that the Stoic philosopher Epictetus had mentioned something about anticipation.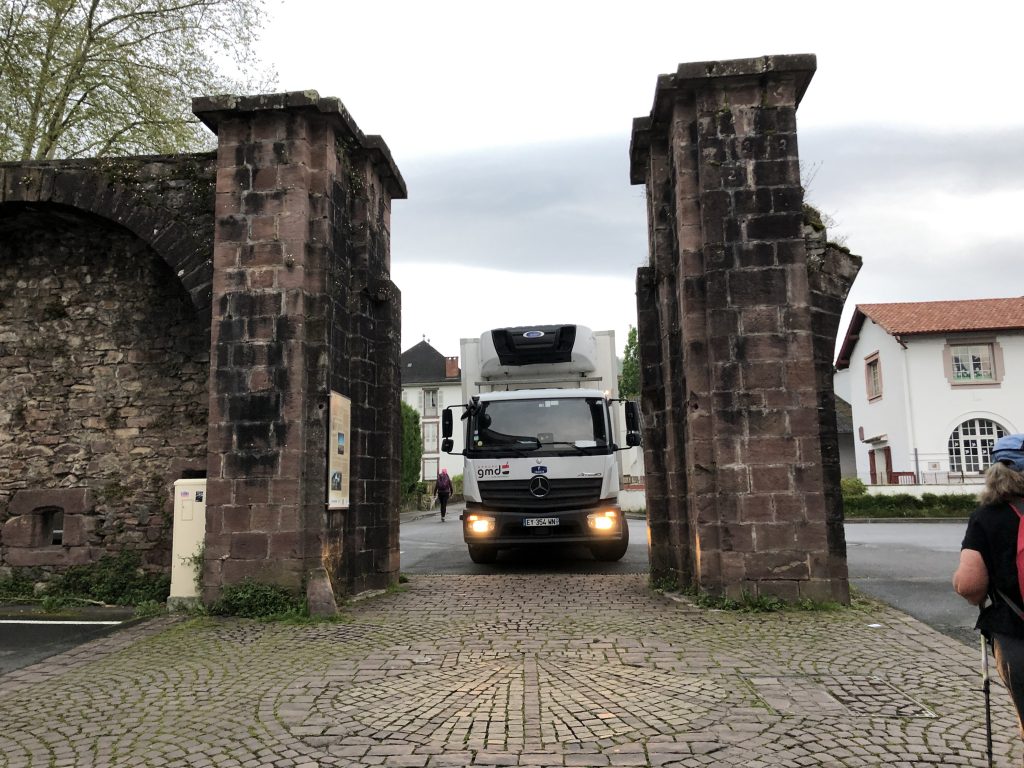 He was a great one for identifying what we can and cannot control, and only consider those things we control:
"Don't hope that events will turn out the way you want, welcome events in whichever way they happen: this is the path to peace"

[Enchiridion: 8/1]
I looked up and saw a Brown Kite circling overhead — the first of many I would see on this journey. I lifted my camera as he circled back and I saw him take note that I had seen him. Some might see it as some kind of portent, and perhaps it was a reminder to take the long view, what some might call the 'helicopter view'. Viewed from afar, my problems and frustrations are insignificant in the grand scheme of things. Will this moment be important after 800 kilometres? Probably not. I nodded in gratitude for the lesson in scale from that majestic bird of prey gliding on the mountain thermals. And so to the climb ahead.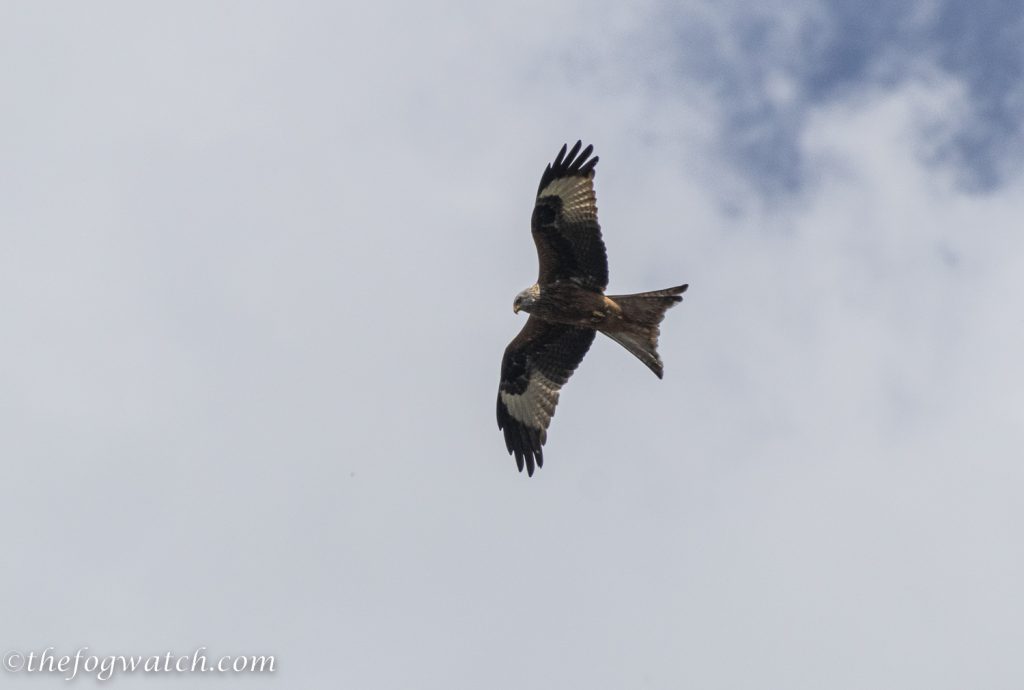 The road was well surfaced and quickly became quite steep. There were stocky horses in the field on the left. And on the right stood one of the last Albergues. The air was crisp and clear and we both felt strong. There was a steady stream of small vans passing us — one held our backpacks and we carried day-packs. I joked about being run over by our own pack when the Express Bouricot van went past at quite a clip.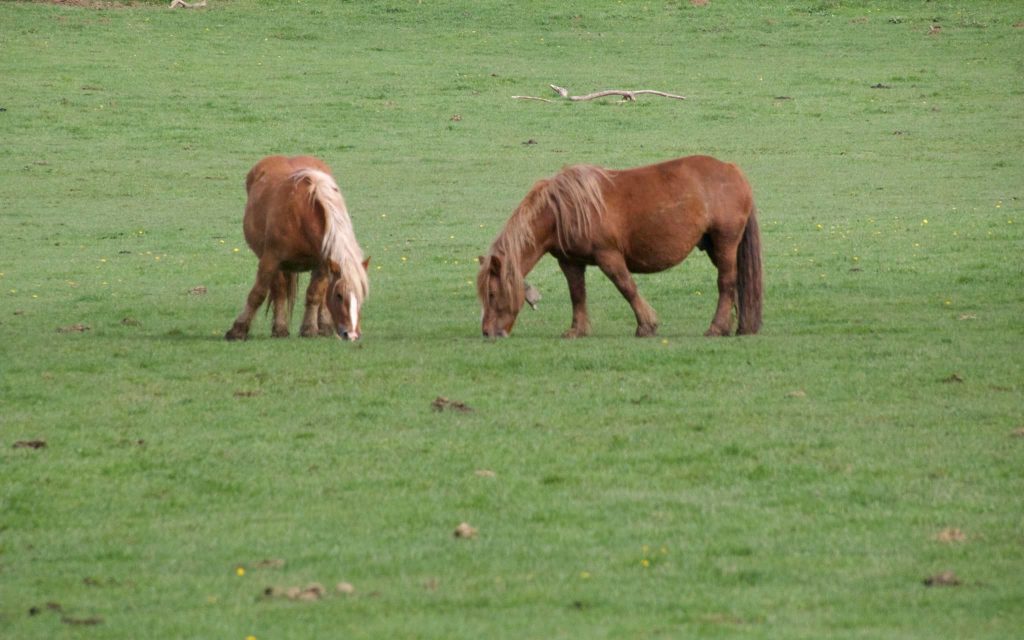 For me, the sound of the first day is always associated with cowbells. I looked out over the fields and paddocks, impossibly green and fertile in the volcanic soil. At that point, I remembered that the pink rock used in the buildings right across the Basque country was from a particular volcanic basalt that makes Basque buildings so distinctive.
I looked back surprised at how quickly St Jean Pied de Port had receded into a minuscule toy-town. We were climbing rapidly. And my breaths became a little shorter — Covid lockdowns had severely curtailed our training — and it showed. But we had at least trained for this and treated the physical aspects of the Camino seriously, as well as the mental aspects. When I had first suggested walking the Camino to my wife she thought for a moment, then said: "well, we'd better start training then."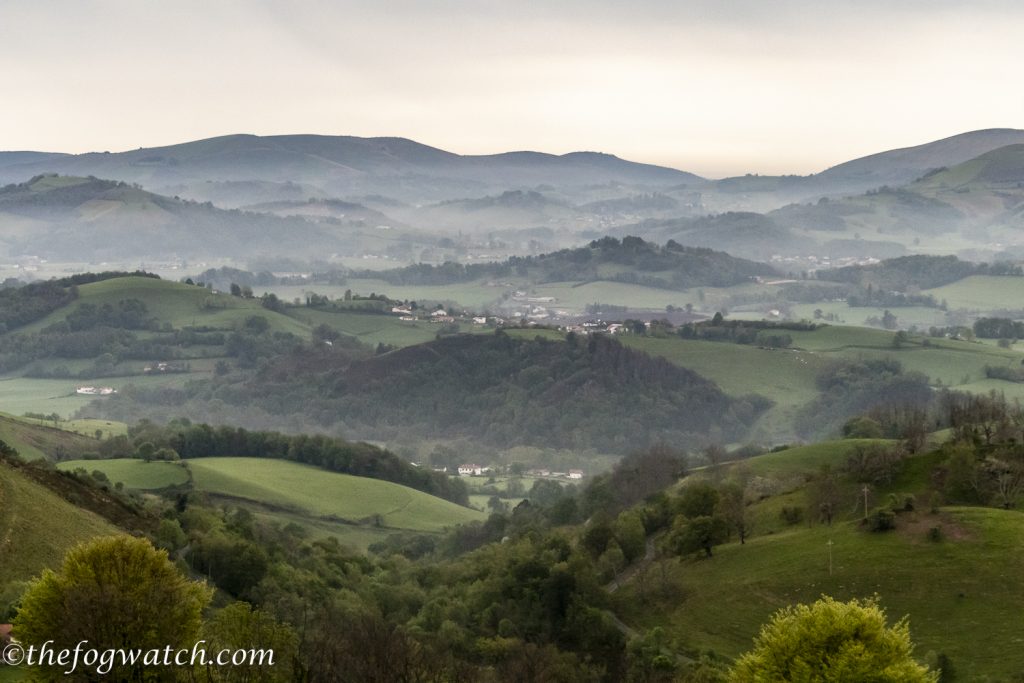 Epictetus tells us that to achieve anything we need to train seriously, not as a dilettante, or a child playing first as an Olympic athlete, then as a soldier, an actor, and so on, but to be prepared for the hardships of sustained training. He tells us to consider all the possible difficulties such as – carrying a pack, uncomfortable terrain, walking before breakfast and so on, and if you still want to do it, then train with all your heart, he tells us, and he's not wrong. The Camino is not a light undertaking:
"Consider all this and if you still want to, then give it a go. But if you don't think it through and follow through with your training, you'll end up doing what children do, playing at wrestler one minute, then gladiator, then actor, then musician"

[Epictetus: Enchiridion 29/3]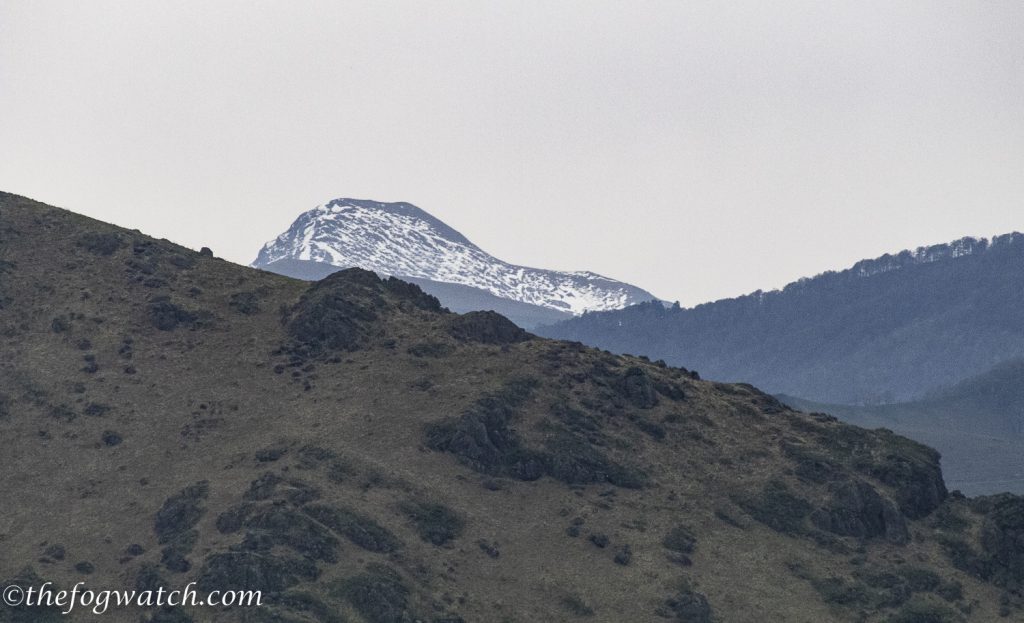 Soon, in the distance I saw snow on the mountains — there is less snow this year than in 2018. Perhaps it is because we are walking a couple of weeks later or perhaps we are in for a warm season — I quickly pushed that thought away as I realised the Meseta might be a hot crossing this time. But as the stoics remind us, we need to understand the big picture, while focusing on what is in front of us here, now, today. That, for me, is the secret to doing the Camino. Forget the enormity of the challenge — 800kms — all that matters is today's 18-20kms and the next water stop and the next meal. Time to worry about other things if and when they happen. Seneca reminds us to stay in the present:
"Two elements must be rooted out once and for all, — the fear of future suffering, and the recollections of past suffering; since the latter no longer concerns me, and the former concerns me not yet."

[Seneca: Letters 78: 12-14]
He is reminding us (and Lucilius) that we shouldn't live in our regrets, as the past is external and unchangeable. The future hasn't happened yet — and what we fear may not happen at all, so there's no point in worrying about it until it happens. So let's just deal with the bite-sized chunk of reality that is with us here, today.

A mist settled in the valleys and the sky overhead became overcast. When walking, 13°C does not feel cold — we walked in a base layer and lightweight trekking pants and felt comfortable — at least it wasn't hot.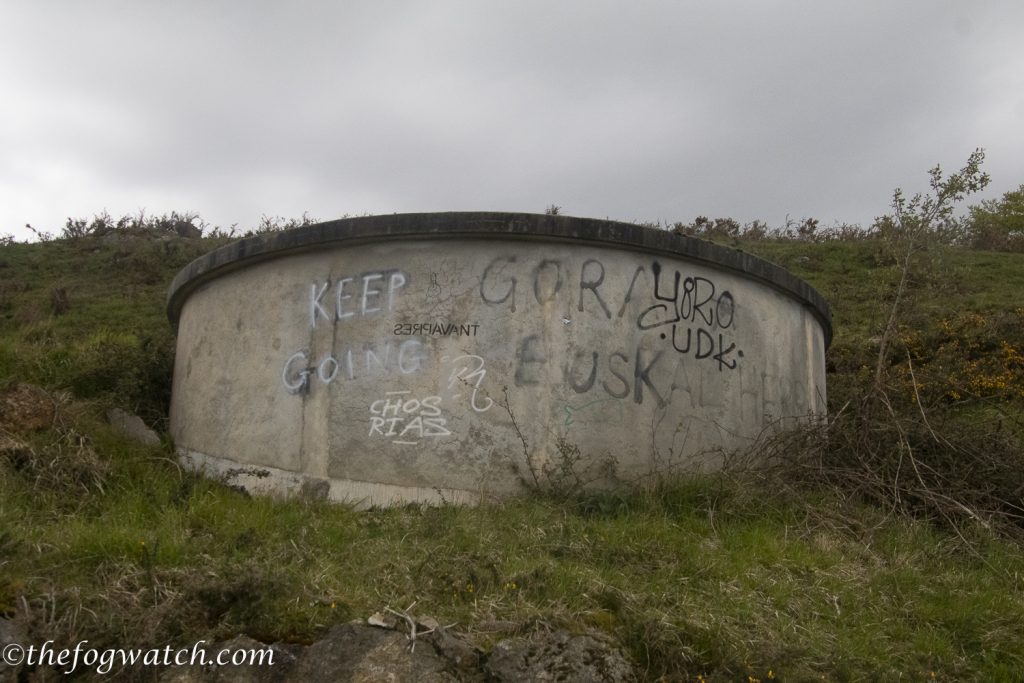 The large water tank below Huntto still had its graffiti messages to 'Keep Going', along with 'Gora Euskadi' which translates as 'Up with Basque country' — we would have many reminders that we are in a region that considers itself fiercely independent.
With our water bottles running low, we came to Huntto — an Albergue about four kilometres before Orisson — and we stopped to refill at their fountain and rested while we ate our Napolitanos and fruit. There we met a German guy who stopped and chatted with us, before moving on. Soon we left the road, passing the tractor parked across the path where it had been closed the day before. So began the long steep zig-zag up the hill to Orisson. We soon saw where the landslide had rendered part of their accommodation unsafe — the gash in the hillside was still fresh. At Orisson we stopped for lunch and took a good 2-hour break as our Albergue at Borda would not be open before 2.30pm.
We looked out over the mountains as they stretched off into the distance, and I thought about how the Pyrenees had kept the Iberian peninsula separate from the rest of Europe. Shellfish fossils were found in this area — a reminder that it was only 65 million years ago that the Iberian tectonic sub-plate crashed into the Eurasian plate — as it is still doing, increasing the height of the Pyrenees a tiny fraction of a centimetre each year. I felt those extra millimetres! These are young mountains, not yet worn down the way they are in Australia.
Another 15 minutes saw us arrive at our accommodation — Borda — a new Albergue with only about 12 beds and one private room. A fantastic dinner that night and Laurent was an amazing host.
Throughout the night it rained incessantly and we awoke to thoughts of 8kms of mud on the mountain. So, over breakfast I asked a couple of people about the Valcarlos route, thinking it was mostly road. They agreed, saying only about 400m of forest walking, but it's almost all on the road. We had not previously done that route, so we decided to take a cab to Valcarlos and walk from there.
And this was our first major mistake. There was some road, but from a time perspective, it was mostly forest walking on a narrow trail with a steep drop on one side and a steep hill on the other with room for one person on the track. We climbed then descended down to the river then back up and then down again. It's easily as steep as the climb to Orisson, except on a narrow track with what resembled a waterfall washing over the narrow path. It was beautiful, but terrifying in parts. And it took many hours slipping and sliding up the narrow track.
And we were carrying our packs, thinking this would just be good hill training on roads. Our trekking poles proved their worth, preventing a disastrous slip into the abyss on several occasions. I reminded myself to just work the problem. One step at a time.
I looked up into the mist at the fairytale scene, then back to putting one slippery foot in front of the other. Hours passed. This is not a good start to the Camino. At least we had a booking at Roncevalles so our accommodation was secure.
We stopped briefly to eat a protein bar. We had taken our decision on the best available information. So we had to accept that perhaps others had travelled this route in a dry season when it might literally have been a beautiful walk in the park. This was no park.
And as we later learned, the Napoleon route was much easier going for those that stayed on that path and took the road down. All day, we saw perhaps three pilgrims who trotted past us and soon disappeared. Mountain goats.
A slippery crossing on the Valcarlos path
Someone recently did a measured comparison of the climbs which showed definitively that the Valcarlos route has far more climbing than the Napoleon. It may be lower in elevation, but because it kept returning to the river and then climbing a bit more, it added up to more climbing overall — and it was quite steep in places.
It was late afternoon before we emerged on the road above Roncesvalles. We slowly made our way down the last kilometre. We were glad to have done the Valcarlos route, if only to learn to avoid it on future Caminos. By now we were both limping with sore knees and hips. We had made it, we had survived an adverse crossing. But it was getting late and we had booked the 7.00 pm dinner sitting.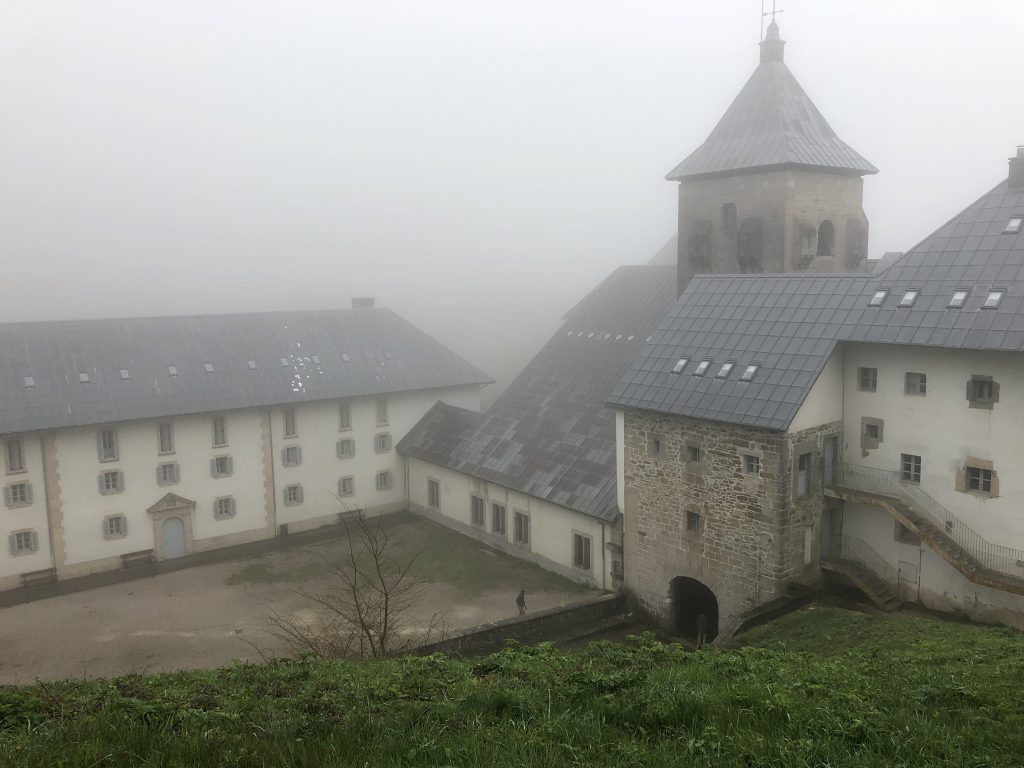 We found an entrance to the C13th monastery and made our way to the check-in where we were allocated our beds in a four-bed pod. I waited while Sharon showered, and she waited while I showered. I dressed with minutes to spare before dinner, so we headed with some haste to the bar/restaurant we had been allocated.
The whole place ran like a machine. The soup came out and was withdrawn almost before we had finished. They rushed us through the second course too! The second course was also rushed. I was reminded of school dinners as a child in the UK, with plates dished out, then snatched back before being told that coffee would be next door, as the next sitting was waiting.
There was little time for conversation. They had a timetable to meet. We had a range of nationalities, South African, Japanese, and one English, along with us two Australians. It should have been the start of our Camino family, but there was little time for small-talk. We decided against coffee and headed for the bar instead. Wine is a good muscle relaxant. And we ran into the English guy who sidled up conspiratorially and said "So, you've done this before haven't you?". We nodded "so, um," he continued "what's the secret? What's the inside running —How do you do this thing?" We laughed — perhaps not the response he was expecting — before telling him: "honestly? There're no shortcuts, you just walk. Forget the big distance and focus on today. All those todays will add up and you'll have walked to Santiago."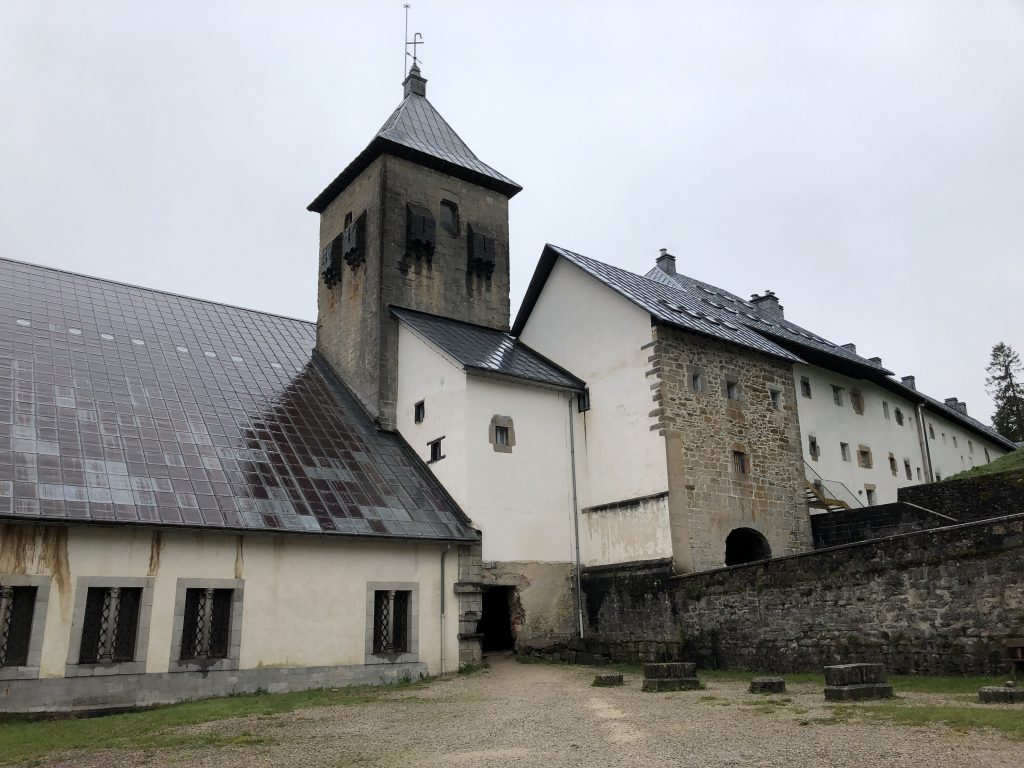 "That's it?" he asked
"That's it. It's more about the mental journey. If anything will stop you it's your own head, more than physical problems, although if they're serious enough, they can stop you too. But otherwise, don't stop walking :-)". He thanked us and headed off to retire for the night.
We walked outside and took in the evening, before masking up and heading in to retire for the night. The snorers did not disturb that night — it would have taken much more than that to wake us. Before lights-out at 10.00 pm I looked at my Garmin app and it said I needed four days' recovery time. At least tomorrow is a short day to Espinal.