Streaky Bay to Ceduna
From Streaky Bay it was time to fuel up and head back up the road around 90kms towards Ceduna. Ceduna itself is a sizeable town with some 3500 inhabitants. As a larger regional hub, it has plenty of services – and is the last comprehensive town before the Nullarbor Plain.
We knew immediately that we were back on the main highway as the road trains grew larger.
Ceduna is also a major fuel stop for traffic heading out on the plain or returning. We stopped for some breakfast to refuel ourselves, and then refuelled the car for the next leg. While far from low on fuel, it is worth topping-up at every opportunity, because you never know if the place you're aiming for might be closed for some reason. Besides, it provides an opportunity for a leg stretch and toilet break every couple of hours.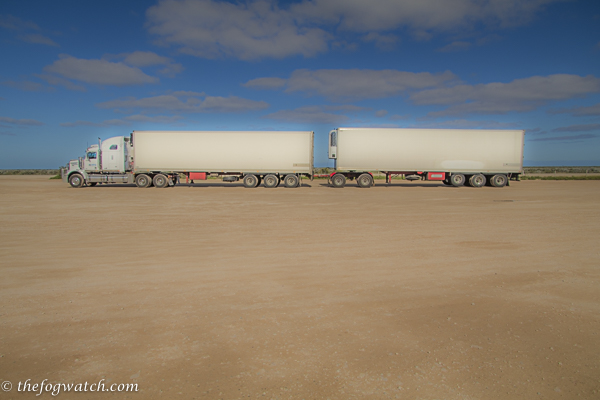 The tiny Citroen was running well, despite varying fuel quality and octane rating, and soon we saw Ceduna recede in the rear view mirror.
As we headed somewhat inland through agricultural land that was surprisingly green – a function both of recent rains and a successful land management campaign – we could see signs that the land was not always so healthy as we passed ruined homesteads that told of the vagaries of drought between the good years.
Warning signs
The road straightened and the wildlife warning signs became more exotic showing a procession of camels, wombats and kangaroos.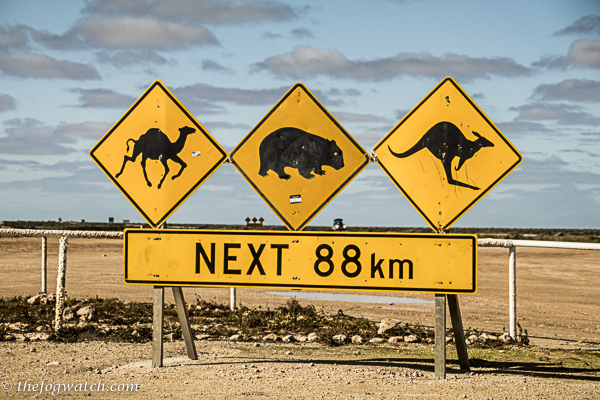 I would be worried if this sign was to scale as wombats can best be described as a cute fur coat wrapped around a large granite rock. They can burrow holes into clay harder than cement, and their capacity to blend in with the landscape makes them easily as dangerous on the road as a kangaroo or a camel – especially to those of us in a small car.
Fortunately, as they are nocturnal, we would be unlikely to encounter a live one on the road. A camel or kangaroo, on the other hand, would present a substantial risk. I hoped our wildlife whistles would deter them from approaching too closely.
Soon, however, we noted a warning sign of a completely human hazard. Did I mention the road was straight? How about straight enough and wide enough to be an aircraft runway?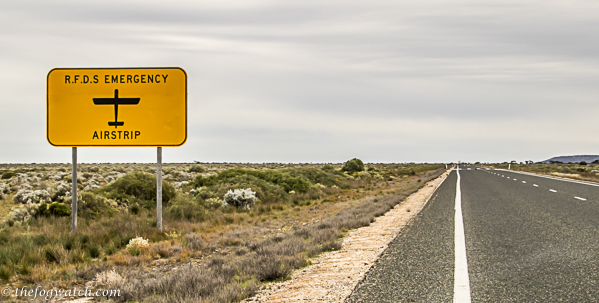 The Royal Flying Doctor Service provides the fastest means of getting medical help to someone in an isolated part of Australia. So in the event of an accident or someone being taken seriously ill – perhaps bitten by a snake or spider of which there are several deadly species in residence – then the flying doctor service provides their best hope for survival. To that end, several sections of the highway are reinforced and maintained as airstrips, with landing markers painted on the road. So if your passenger yells 'Duck!' then given the scarcity of ducks in this region you might want to consider diverting off the road to avoid a landing aircraft. It is a salutary reminder that we are in a challenging environment.