Why are bridges so fascinating?
Bridges hold a special place in every culture. They are a means to cross  from one place to another; over a hazard, a dangerous river or chasm. So bridges are both a connection and a marker for a division. When you step off the land onto a bridge you are in a space between where you have been and where you are going. Metaphorically, bridges can cross the gulf between cultures and across history.
Many cities have iconic bridges: Venice has the Bridge of Sighs, London has Tower Bridge, San Francisco has the Golden Gate, Sydney has the Harbour Bridge and Paris has Pont Neuf.
Van Gogh's Pont Langlois
Vincent van Gogh went to Arles in search of Japan – according to David Dale, author of A traveller's alphabet of essential places
.
In reality, he was looking for the light and colours that he saw in Japanese prints, and he found them in Arles. This post is about how we bridged the distance between France and Japan through Van Gogh's paintings.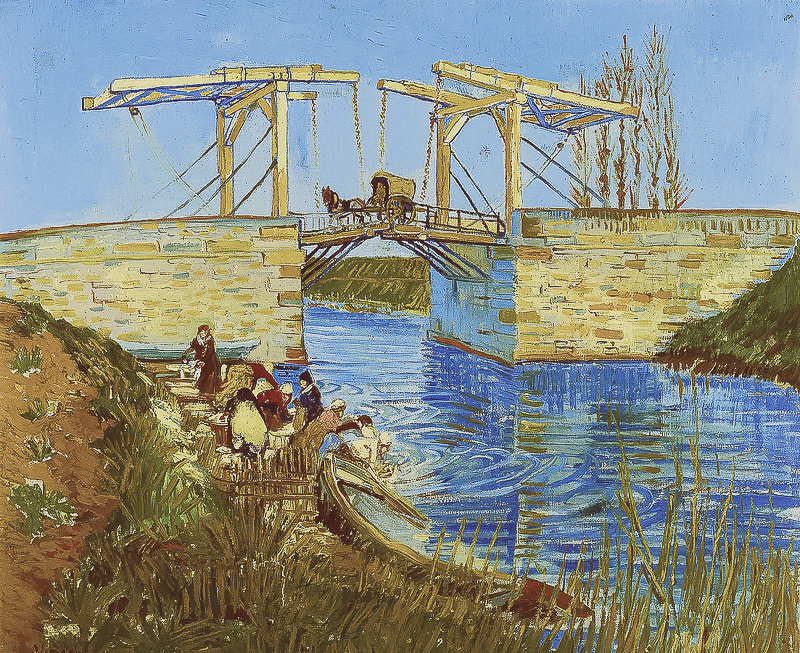 Vincent van Gogh did several versions of the Pont Langlois bridge at Arles in southern France. The original bridge traversed the Arles-to-Bouc canal. It was a simple but functional drawbridge enabling canal boats to pass underneath when raised. A series of these bridges were built along the canal in the first half of the 19th century. The one nearest Arles was called Pont de Réginel but was more popularly known for its keeper, Monsieur Langlois – hence it was known as Langlois' bridge.
Finding the Langlois Bridge
I had heard that the bridge was still around and could be seen today. Actually, that's not quite true, as we found. The original bridge became structurally unsound and was replaced in the 1930s by a concrete bridge. That, in turn, was destroyed by retreating Germans in 1944. They destroyed all but one of the bridges along the canal, leaving only the one at Fos sur Mer. This was one of the original bridges on the canal and was the same design as the one Van Gogh painted in 1888. In 1959 the Fos bridge was dismantled with a view to relocating it at the site of the Langlois bridge, but the canal had since been widened and it was decided to move it to its current location near the Montcalde Lock. It is not easy to find. You can find it here [Google maps link].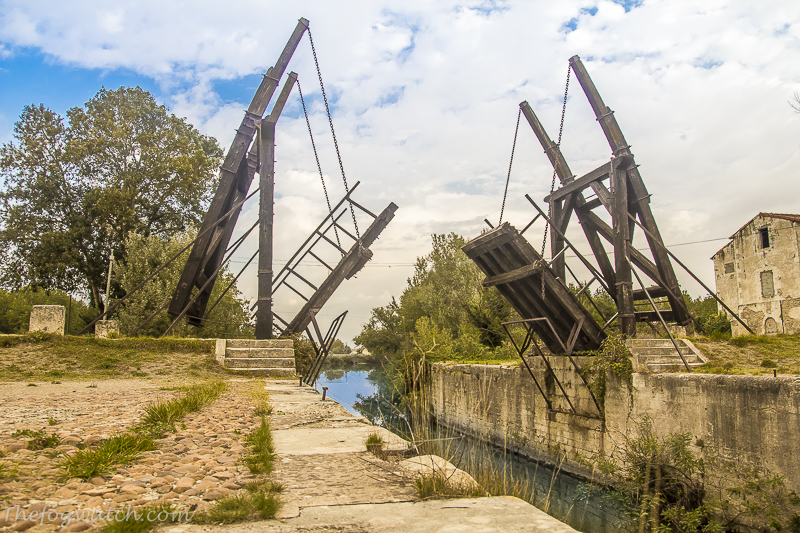 It took a few goes and finally, we turned down a little side street on the outskirts of the town and there was Pont Van-Gogh – its new name – restored to working order. Some might consider it a reproduction or a fake. But since it is from the original series and contemporary with the Langlois bridge, I think it is close enough. I was struck by how accurately Van Gogh represented the structure. You can see how he faithfully reproduced the chains, support beams and pulleys for raising the bridge.
He painted four oil paintings and one watercolour of the bridge and completed a number of drawings.
This version is in the Van Gogh museum in Amsterdam.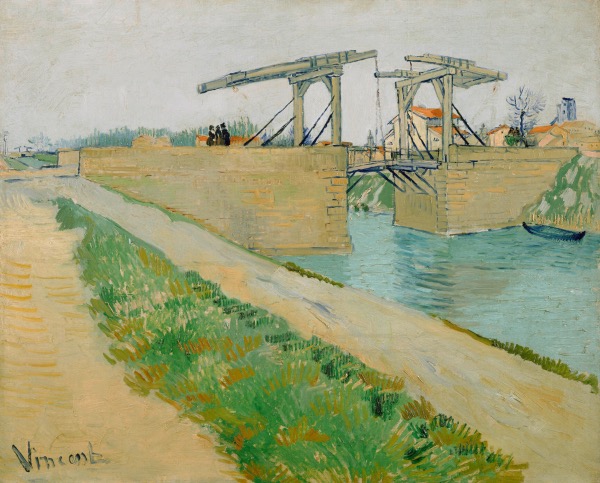 The link with Tokyo
Little did I realise that this bridge was a key to his link with Japan. In the late nineteenth century, Europe was Japan crazy. High quality lacquer furniture, boxes, ceramics and pottery were being exported to Europe by the shipload. As it turns out, many of these were wrapped in fine paper prints, some by famous Japanese artists. Others, like the prints of Japanese women were adverts for Geishas or high class escorts. Around 1857, Hiroshige – a Japanese artist of the Edo period – published a book in Japan called One Hundred Famous Views of Edo. This was soon after the great 1855 earthquake that had destroyed many key buildings in what is today called Tokyo. It was a record of the rebuilding, and of the surviving structures. At the time, it was the largest such collection.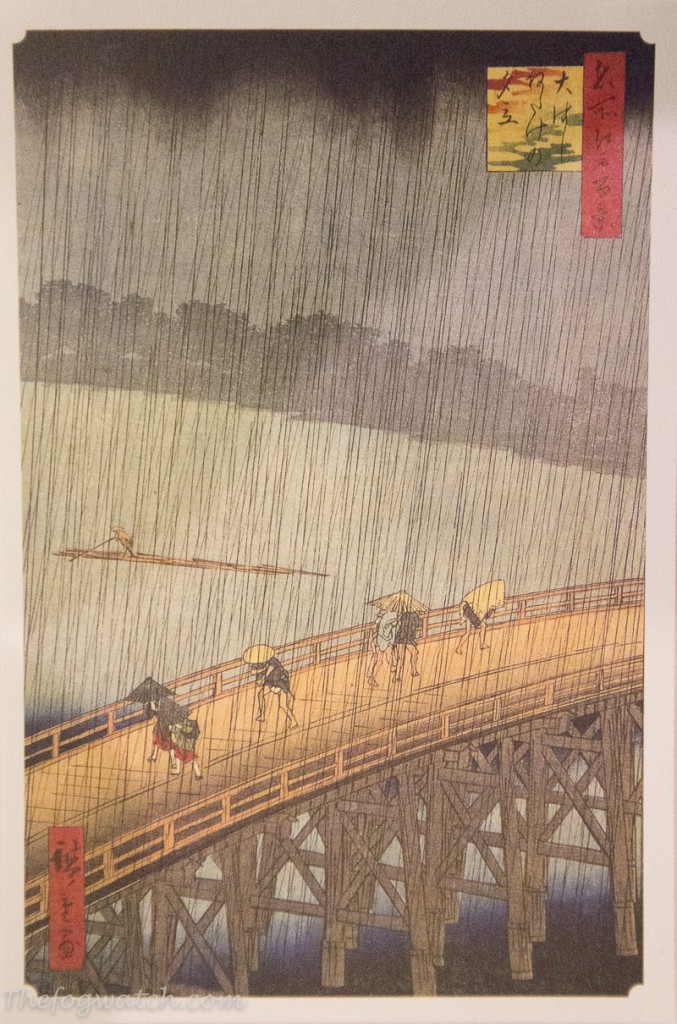 The post-impressionists were inspired to look differently at the world through the different perspective and flat use of colour in these images. Van Gogh amassed a large collection of Japanese woodblock prints. One such print was of the Edo period bridge that led into the Emperor's palace in the centre of what we now call Tokyo. Hiroshige's depiction of the bridge in a sudden storm, with its elegant lines and unusual foreshortening, inspired Van Gogh to paint a copy.
 And this is Van Gogh's version: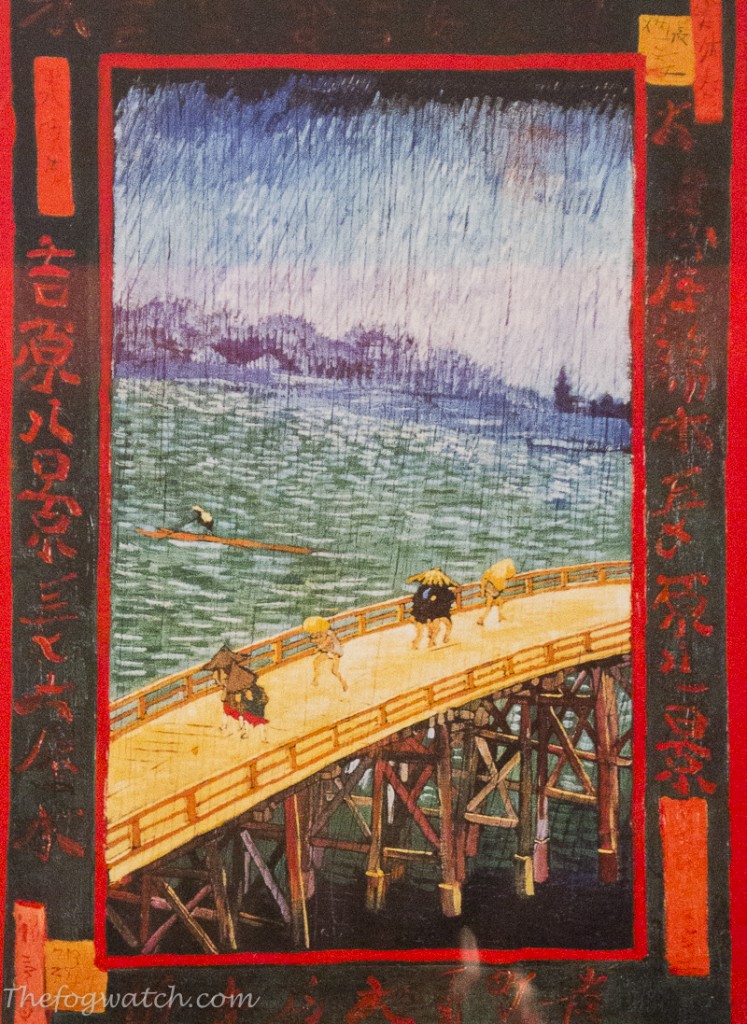 Edo Bridge
We found this connection in Tokyo, at the Edo-Tokyo Museum – which has a full-size replica of the Edo bridge. It is extraordinary and surprising how connections turn up in the places you least expect. Here is my photo of the replica bridge in Tokyo: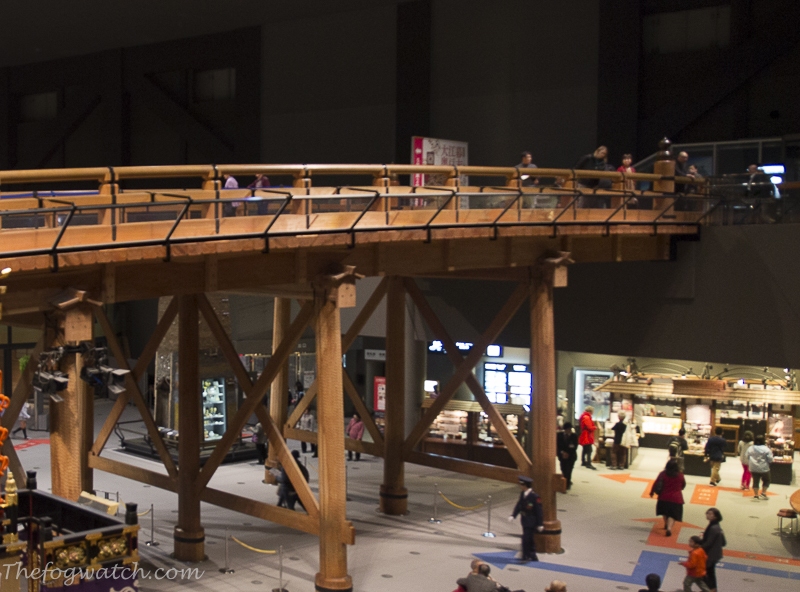 From a painting in the Musee d'Orsay, to a bridge in the South of France where Van Gogh sought to connect with his vision of Japan seen through a print of a bridge, we found an extraordinary connection with a reproduction bridge in a museum in Tokyo. This is what makes travel so worthwhile!
What connections have you made across the world in unexpected places? Let us know in the comments below…
You can have these posts delivered to your in-box by hitting the 'subscribe button to your left 🙂