Around 5km west of Caiguna on the Nullarbor Plain, you will see a blue sign pointing the way to the Caiguna Blowhole. The sign breaks the monotony of the view 🙂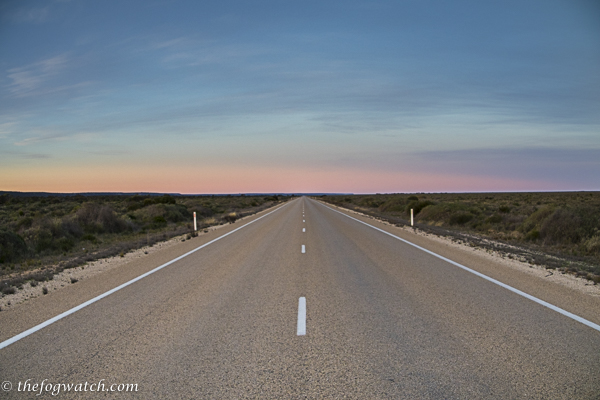 The Caiguna blowhole is disturbingly close to the highway, being only about 20m from the road, and it marks an entrance to the vast underground limestone cave system that lies beneath the Plain. And I briefly wondered how solid was the road foundation – a thought quickly put aside as hundreds of heavy hauling road trains criss-cross over it daily.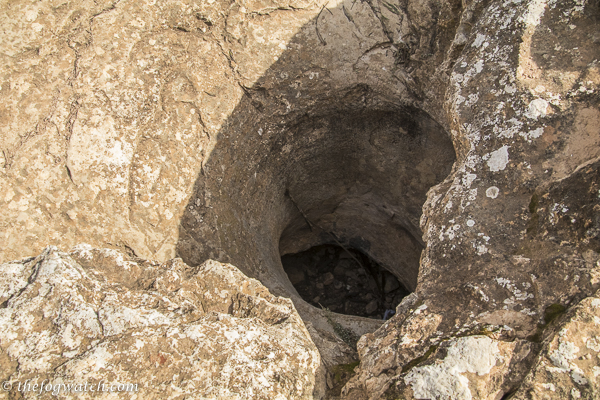 Blowholes are a result of weathering of the ground surface through to a cavity. The cave beneath the Caiguna Blowhole is between 0.5m – 1.5m (1.6 feet – 5 feet). Some blowholes on the Nullarbor have been measured with a wind speed of up to 72kph. Caves breathe out when the air pressure falls, and breathe in when the air pressure rises. The speed of air flow is dependent on the size of the cave entrance and the volume of air contained in the cave.
Some of the caves beneath the Nullarbor have been mapped for several kilometres, and many of them contain large reservoirs of water that collectively form the artesian aquifer. This aquifer supplies the region's bores and wells with fairly fresh water.
Caiguna blowhole is one of an estimated more than 100,000 blowholes scattered across the plain and it is certainly one of the most accessible. I noticed that someone had tied a piece of cloth to a stick placed at the bottom of the hole to show the air movement, so I made a short video…

You can have these posts delivered to your in-box by entering your email address and clicking the 'subscribe button to your left, then respond to the confirmation email that will be sent to you 🙂